Istanbul in my imagination has a color, and the color is greyish blue, the color of water and sky blending together so you can't separate one from another and it looks like the ships are swimming in clouds and the mosques are growing from water.
For somebody else Turkey's capital might be sunny, hot and bright. That is if you visit during the busy months of summer. But if you travel to Istanbul in winter or early spring like I did, you'll find that the city is mysterious, cool, and refreshingly empty.
I wish I had more time to explore not just Istanbul, but the whole country. One month in Turkey could be a good start to cover Pamukkale, Cappadocia, and Fethiye to name a few. Alas, this time it was only a short layover in Istanbul. But no matter how little I could see and feel in this 24-hour timeframe, it was all mine.
The best part and the most important reason of my brisk stop here is a chance to see my dearest Turkish friend Berna who flew in to Istanbul from Izmir to spend 24 hours with me. Friendship without borders – I love it. 1,5 years back we had a similar one day reunion in Istanbul. My mind holds on dearly to the memories of a rainy morning, us running across Taksim square, and the breakfast of a lifetime with a view of Bosphorus.
This time I arrive late in the afternoon, it gets dark soon, and I am wondering around in solitude waiting for Berna whose flight got delayed.
My one day adventure starts with a heart attack when at the supermarket I realize that my purse is open and wallet is missing. The poor cashier got pretty scared listening to me swearing out loud in Russian. Lo and behold, I found the wallet back at the apartment we rented lying on the bed where I left it before heading out.
The next several hours I spent walking down Istiklal street, having Turkish coffee and watching people – the best time passing ever. I was trying to read at first but couldn't keep my eyes down for long. The first thing to attract my attention was how many men there are in comparison with women. Second thing: apparently the word "Russian" is written across my face because street vendors would start talking to me in Russian straight away.
I am on my second cup of Turkish coffee trying to pass time while waiting for Berna . Things I didn't know about Turkish coffee:
– It's tiny. Especially in comparison with your regular Starbucks coffee cup. Not only the cup is small, but the drink only takes about 2/3 of the cup, the rest is coffee grounds.
– You cannot add sugar when the coffee is poured into a cup because stirring will make the grounds go up and make coffee muddy. Coffee and sugar are mixed together with cold water and then brewed. That's why a waiter will always ask you how sweet you want your coffee when taking your order.
– You can use coffee grounds that are left on the bottom of the cup to predict future. To do so you need to place the cup upside down on a saucer, let it cool down and then look at the patterns on the bottom of the cup.
There's an interesting article about Turkish coffee and the right way to drink it here and I thoroughly enjoyed reading it before my trip.
When Berna finally walks into the coffee shop I can't help but notice that nothing has changed between us. There are no borders for true friendship: no matter how long you haven't seen each other, you don't start over, you resume from the moment where you stopped last.
We decide that sleeping is not at all important and head out for dinner at 10 pm – just the right time to gorge on some bread and several (think 5 or 6) plates of appetizers that are called meze in Turkey. We stop by Meyhane Yare. Meyhane means tavern, Berna explains to me when we sit down and – first things first – order some drinks. Berna goes for raki – Turkish alcoholic drink made by distilling grape pomace. Anise – one of the main ingredients – gives the drink a strong medicinal taste, which I am not a fan of. I order wine.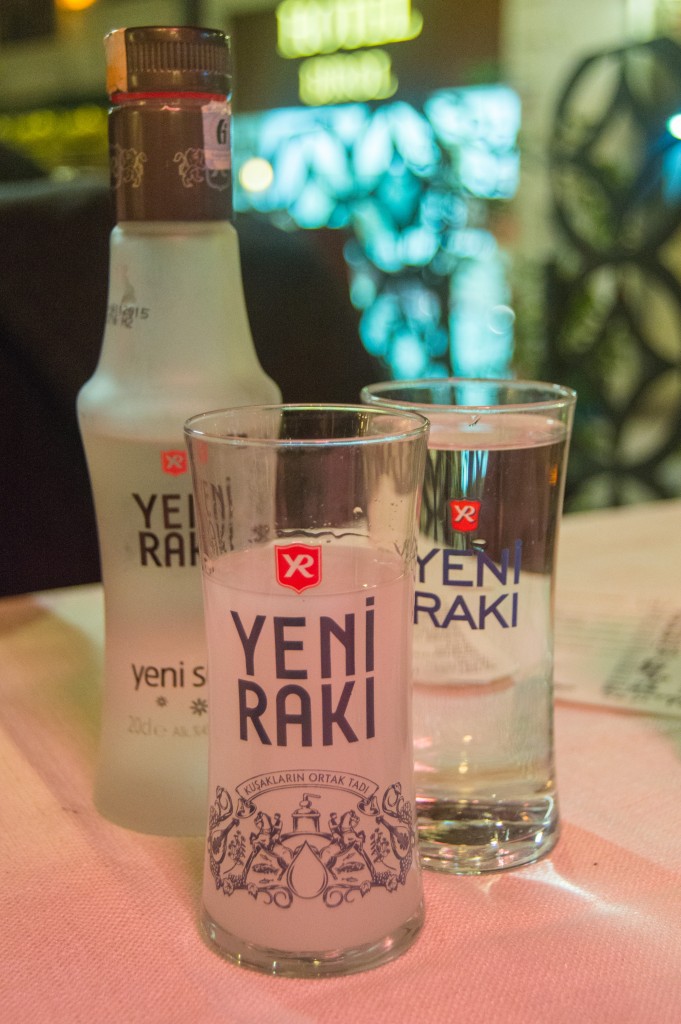 Next come mezes. Don't get scared at the amount of plates here – this is just to show all the options. Once we make up our minds the waiter takes this tray back to the kitchen and brings freshly made appetizers we chose.
Needless to say, this is very convenient on your first trip when you are still unfamiliar with local food and can accidentally order beef brain as a starter. Here everything is clear, beef brain is looking right at me and I am quite sure this is not what I am craving. Thanks, but no thanks.
I rely on Berna to choose mezes and we end up having a whole table covered with plates. First come cold appetizers. The one in the very back is patlican ezme, or mashed eggplant. Eggplants are smoked, peeled and pureed.
There's curd mixed with garlic, olive oil and fried chili peppers.
Sometimes I think that I wouldn't make a good chef because I am lacking this courage to combine ingredients like curd and chilies together. In my traditional mind curd goes with jam (maybe I should say, Russian mind). But in this meze creamy and spicy go together perfectly.
Fava (below) is a paste made of bakla beans that are boiled, peeled and mashed with salt and olive oil. Fava is served with dill on top, some lime and more olive oil. It's a must to have with raki.
This meze (below) called topik was my favorite of all we tried.
The top of the ball is made of chickpeas blended with boiled potatoes and tahini paste – something like a glamorized humus. Inside the ball is a filling of caramelized onions, currants and a lot of cinnamon so it has a distinct sweet flavor. This dish is Armenian in origin and cherished by Turkish people.
We also order one hot meze – beef liver fried in spices.
Here it's pan fried which is not common and Berna tells me that deep fried liver is way better and I should try that sometime. I personally find this liver tasty, but hey, what do I know about Turkish food?
All the mezes are meant to be spread or layered on top of bread that seem to never finish during our dinner. I lost count of bread pieces I ate which is a good thing – made me feel less guilty. Technically, we only had appetizers. No main, no soup, no dessert needed – I already feel like I had enough food for the next couple of days. We finish at 2 am and walk on deserted Istiklal street.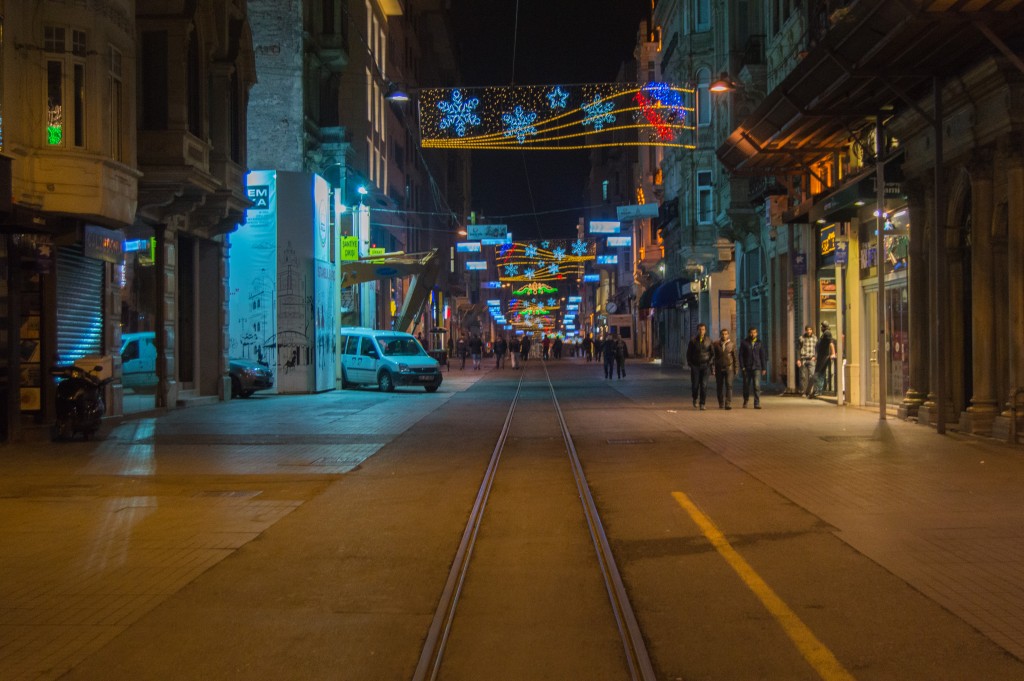 Small side streets are still full of people, though. In which other city but Istanbul can you find a place to eat and drink at 2 am on Monday?
Berna and I haven't seen each other for 1,5 years and it's very likely that our next meeting won't be any time soon. So we find a tiny place to smoke shisha and continue chatting outside.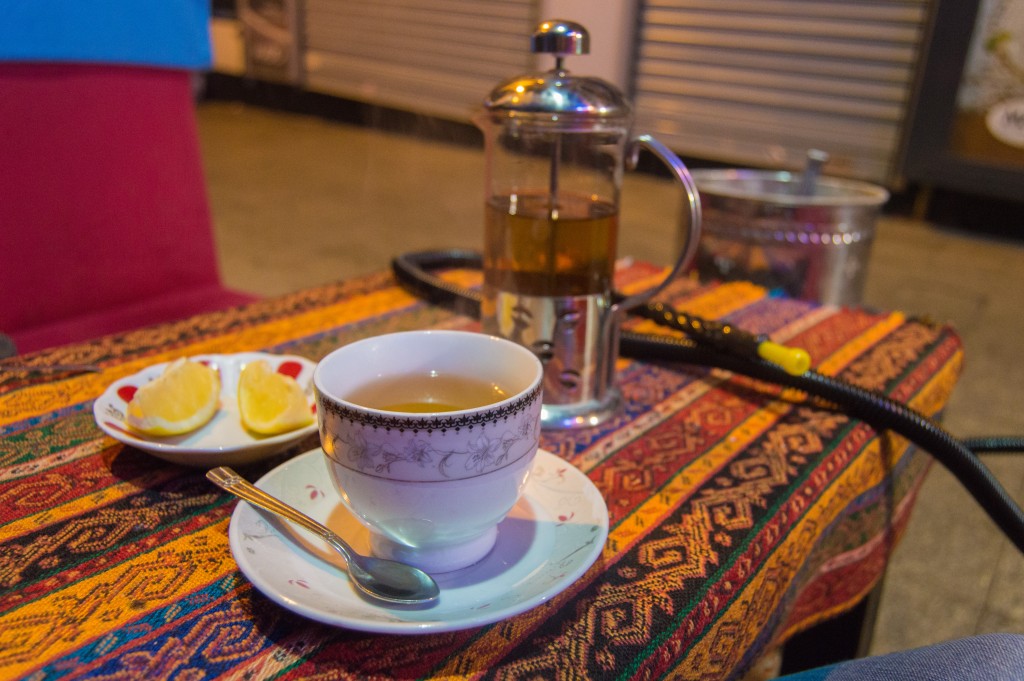 The most interesting conversations always happen at 2 am while smoking shisha and drinking, even if it's tea you are drinking. At 3.30 am we finally head back to our place to have at least a few hours of sleep: local market and Turkish breakfast are planned for the next day. Read more about the Spice market and traditional Turkish breakfast here and check out this guide if you have two days in Istanbul.
Meyhane Yare (for mezes) — Asmalı Mescit Cd. No:21, 34430 Beyoğlu/İstanbul, Turkey
The House Cafe (for coffee) — İstiklal Caddesi Mısır Apt. No: 163 Beyoğlu İstanbul
Pin for later: