This itinerary for 3 days in Istanbul is based on my experience of visiting the city 4 times over the past 5 years. Do I sound authoritative? Ok, good. Now let me be completely honest. I am not sure if the first three stays should even count as each of them was a 24-hour layover.
Thankfully, my latest visit to Istanbul included almost a week of explorations, a Turkish-Russian wedding, a few dozen cats I tried to pet with various degrees of success, and a traditional Turkish breakfast every single morning.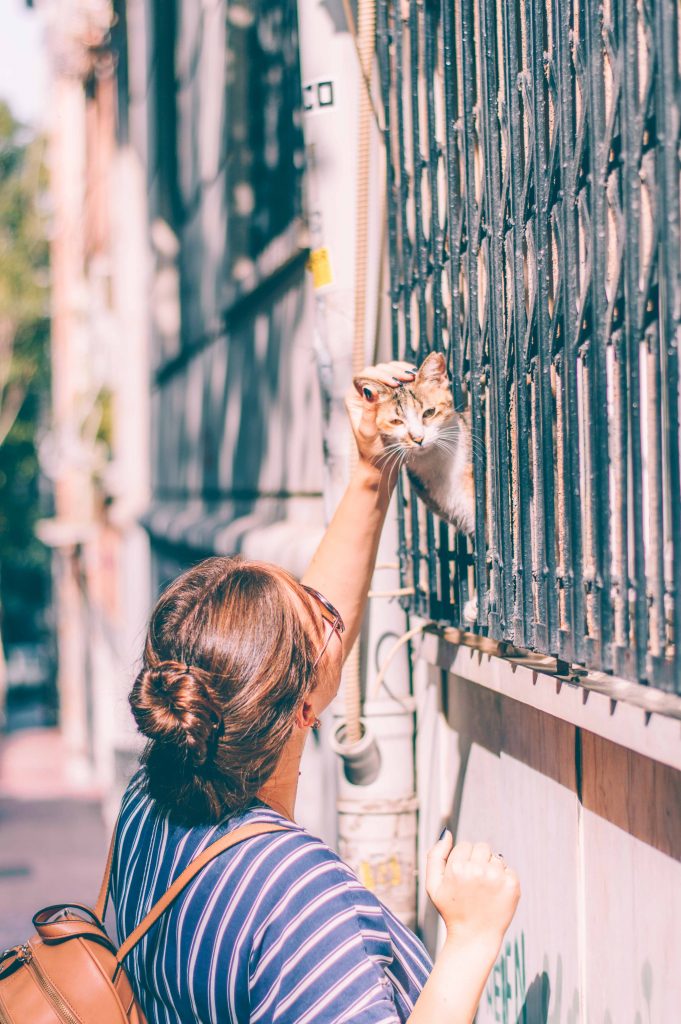 This time I finally explored beyond the major attractions: walked the streets of newly-gentrified hipster neighborhoods, took a ferry to the old Jewish Quarter, and had as much çay as my tea-loving Russian soul desired.
I am now ready to share with you my itinerary on how to spend 3 days in Istanbul. As all my guides, this one includes a step-by-step daily plan that will help you to see both the most popular attractions and lesser-known corners of the city.
But, most importantly, it includes suggestions for the best eats along the way! Because can you even say you've experienced Istanbul if you haven't had a bite of fatty doner or tried the best baklava with kaymak in town?
Disclosure: this post contains affiliate links which means if you buy something by clicking the link I will earn a small commission at absolutely no extra cost to you.
How to Spend 3 Days in Istanbul
Day 1 — Sultanahmet Square and Grand Bazaar
Distance: 3 km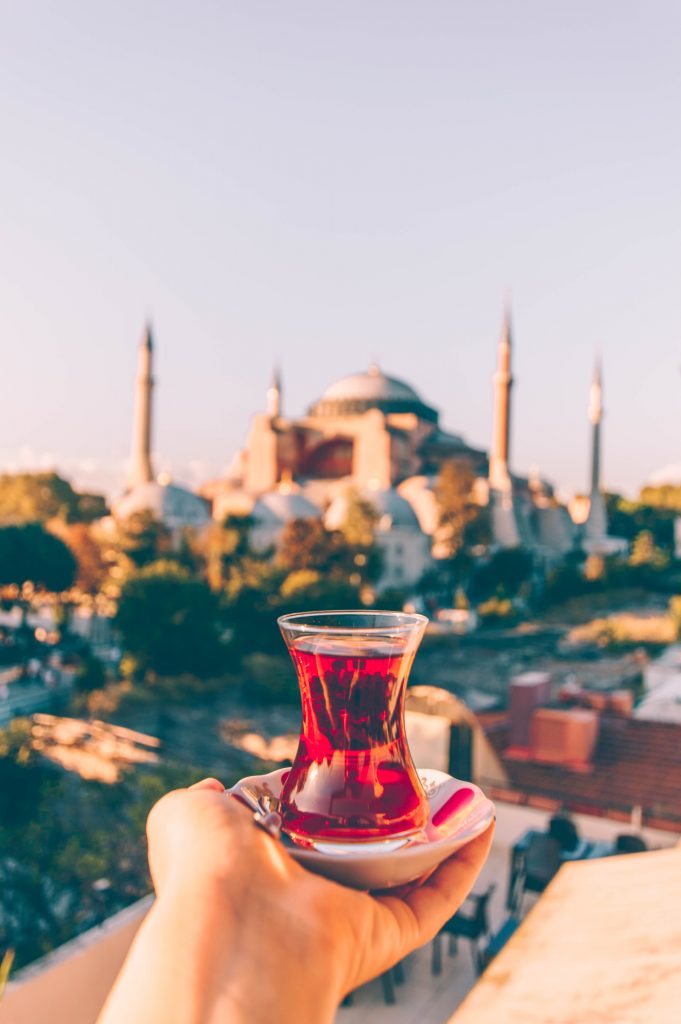 9.00 — Breakfast at Seven Hills
Thanks to the incredible views of Hagia Sofia and the Blue Mosque from its rooftop, Seven Hills quickly became a tourist hot spot. Hundreds of bloggers flocking here for a stunning shot only add fuel to the flame.
As a result, the place is crowded, so make a reservation beforehand. A breakfast here will also be on the more expensive side, but the views are definitely worth it. If your hotel is located near Sultanahmet square, start your day here.
If your hotel (or Airbnb) is located in a more residential area like Beyoğlu, Beşiktaş, or Karaköy, I'd have breakfast in a neighborhood cafe to avoid the crowds and high prices, then proceed with the itinerary. You can always have a cup of tea or coffee at Seven Hills in the afternoon, which is a more budget-friendly option.
Seven Hills — Cankurtaran, Tevkifhane Sk. No:8 Kat:3, Fatih/İstanbul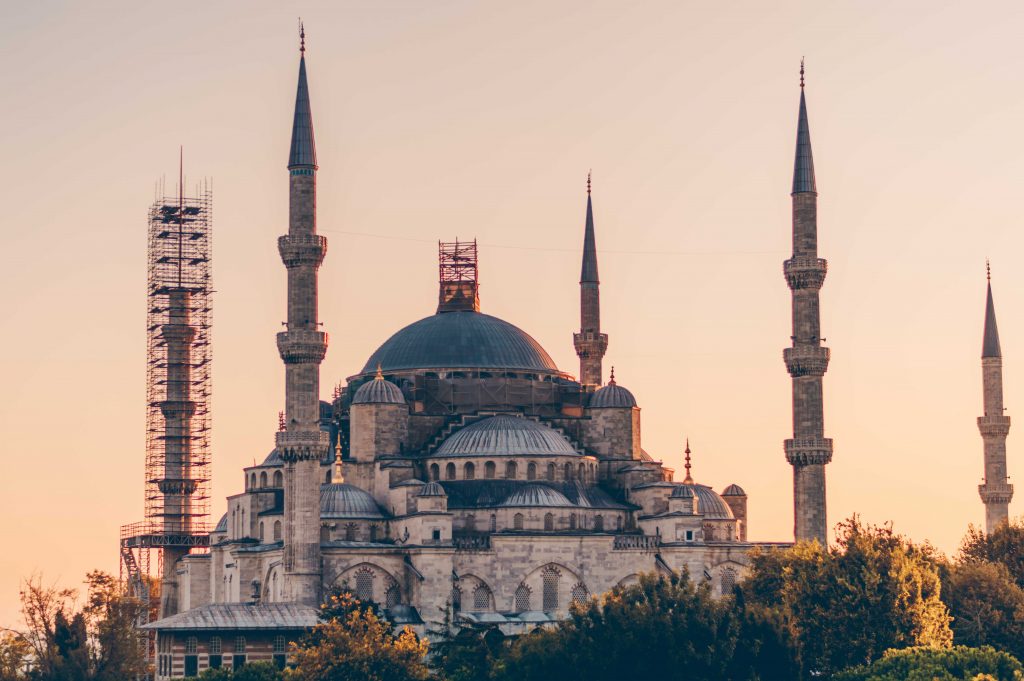 10.30 — Explore the Attractions of Sultanahmet Square
5 min walk from Seven Hills
The first of our 3 days in Istanbul will be all about the major attractions which are conveniently located in and around Sultanahmet square. You will stay here until afternoon to cover all the most popular sights. Here's what you need to visit.
Sultan Ahmed Mosque (Blue Mosque)
One of the most recognizable symbols of Istanbul, the Blue Mosque was built over 400 years ago by order of Sultan Ahmed I. The name "Blue Mosque" comes from the stunning interior made up of twenty thousand ceramic tiles. What sets Sultan Ahmed Mosque apart from other mosques in the city is that it has six minarets (instead of the usual two or four).
According to a local legend, Sultan Ahmed I asked the architect to build a mosque with "altın minare" (gold minarets), but the architect heard it as "altı minare" (six minarets). The rest is history.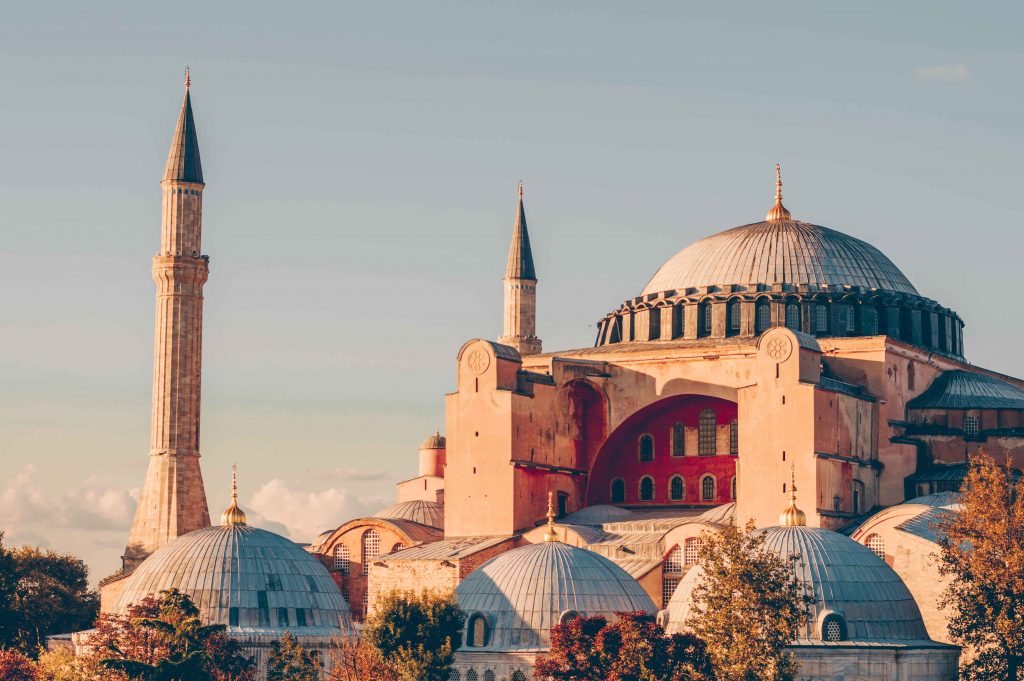 Hagia Sophia
Just across the square from the Blue Mosque you'll find Hagia Sophia. The intriguing thing about this mosque is that it was originally constructed as a Greek Orthodox Cathedral and served as such for almost a thousand years. In the XV century it was turned into an Ottoman mosque, and later, in 1935, the mosque was reopened as a museum.
Basilica Cistern
Mere 150 meters away from Hagia Sophia lies Basilica Cistern. In fact, there are several hundred ancient cisterns under the city of Istanbul, but Yerebatan Sarnıcı, as locals call it, is definitely the most popular one. It was built in the VI century in order to collect and store water.
Make sure to walk all the way to the back to find two columns that use medusa heads as their base. One head is positioned sideways, while the other one is upside down, and historians are still arguing why.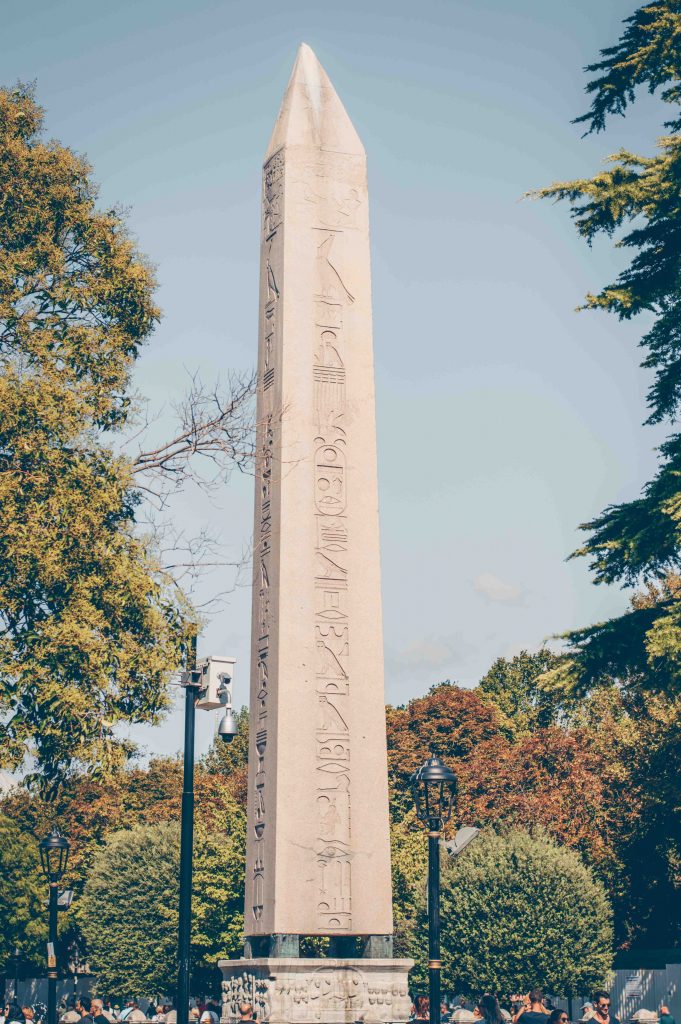 Hippodrome of Constantinople
What used to serve as the grounds for horse racing and chariot racing in Constantinople is turned today into a large rectangle park in Istanbul's Sultanahmet. You can still find a few fragments of the original structure and several important monuments in the park. The monuments include the Obelisk of Theodosius that was built over 3500 years ago and brought to Constantinople from Egypt, as well as the Serpent Column that used to have three serpent heads on its top that were, unfortunately, destroyed.
Topkapi Palace
Topkapi is a palace-turned-museum located in Sultanahmet. Built in the XV century it served as the residence for Ottoman sultans. Today, you can visit many of the rooms and chambers inside the palace, as well as the Harem (you have to buy an additional ticket to access the Harem). Not only will you see the jaw-dropping interiors, but a collection of ottoman clothes, weapons, and religious relics too.
The palace is enormous and will easily take you 4-5 hours to explore. If it's a priority for you, it's best to start your day at Topkapi palace, then proceed to the mosques and the cistern.
Tip: if you'd like to learn more about the history of Istanbul's major attractions, take a guided tour of the Topkapi Palace or skip-the-line tours of the mosques. A professional guide will help you to understand the country's past better and take note of little details that would otherwise be missed.
16.00 — Turkish Tea and Sweets at Hafiz Mustafa
10 minutes walk from Sultanahmet Square
Time to take a well-deserved break with a cup of Turkish black tea and an exquisite array of sweets! Hafiz Mustafa is a patisserie that was founded back in 1864 and has been continuously producing some of the best sweets Istanbul has to offer.
Order a cup of çay (tea) or Turkish coffee and choose a dessert to go with it from their extensive menu. I'd recommend to try a variety of Turkish delight or a traditional cheese dessert called künefe.
You might want to hold off on baklava — not because it's not delicious, but because I included the place that makes the best baklava in town on day two of this 3 days in Istanbul itinerary. Take it from a food blogger with almost 4 years of experience — there is such thing as too much baklava. 
Hafiz Mustafa — Beyazıt, Kalpakçılar Cd. No:22, Fatih/Istanbul (there are several locations in Istanbul, but this one is located perfectly on the way to our next stop).
17.00 — Shopping at Grand Bazaar
3 minutes walk from Hafiz Mustafa
One of the largest and oldest markets in the world, the Grand Bazaar features over 4000 shops attracting several hundred thousand visitors daily. One can easily get lost in the streets of this covered market while shopping for every thing imaginable: from jewelry to traditional sweets to porcelain to carpets and beyond. Keep in mind, though, that the market is not frequented by locals. Today it is a major tourist attraction, which doesn't make it any less beautiful or fascinating.
19.30 — Dinner at Şehzade Cağ Kebap
11 minutes walk from Grand Bazaar
You've probably tried doner kebap even if you've never stepped foot in Turkey. This street food dish is enormously popular, especially in Europe. What surprised me most is how many other types of kebabs one can find in the streets of Istanbul.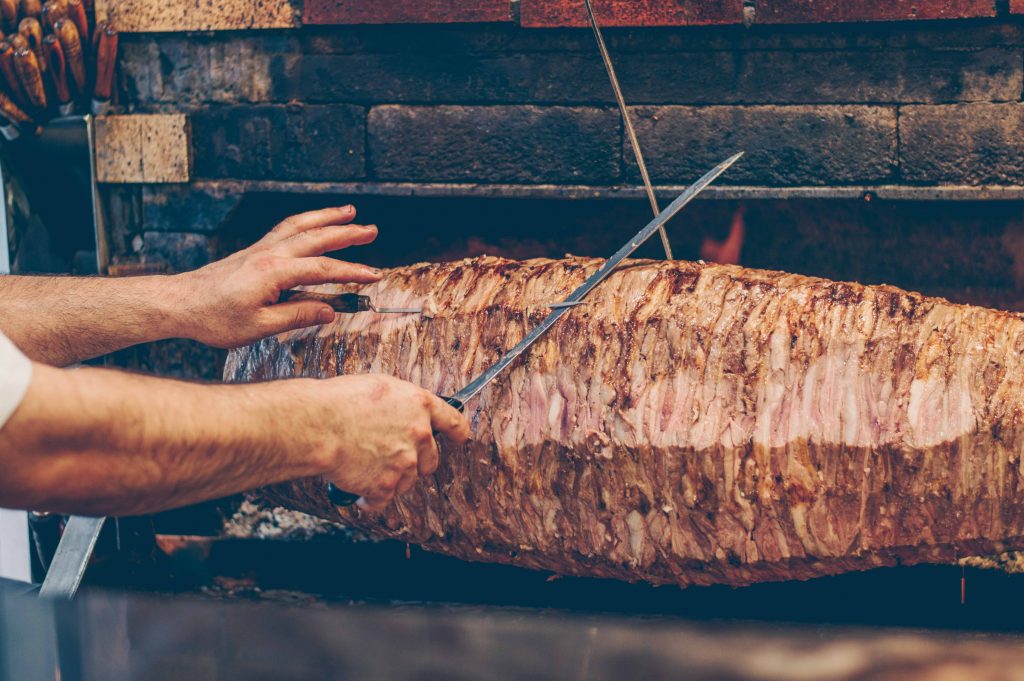 Cağ kebap looks somewhat like doner, only lying on its side. Lamb meat is marinated and stacked onto a horizontal pole that is rotating over fire. This preparation of lamb comes from Turkey's Erzurum province. Cooked meat is served on skewers with flat bread on top.
Şehzade Cağ Kebap is one of the best places to eat in Istanbul's old city which makes it really busy. The food arrives about three minutes after ordering. Don't forget to get ayran with your cağ kebap — this salty creamy drink goes perfectly with fatty meat. 
Şehzade Cağ Kebap — Hoca Paşa, Hoca Paşa Sk. No:6 D:4, Fatih/Istanbul
Day 2 — Istiklal Street, Çukurcuma, Karaköy
Distance: 6 km
9.00 — Van Kahvalti Evi breakfast
Van Kahvalti Evi is where I tried my first Turkish breakfast back in 2015, and I was excited to come back here 4 years later. They did not disappoint!
Set breakfast menu at Van Kahvalti Evi is inspired by traditional Kurdish dishes of the city Van, located near the Turkish-Iranian border. The table is hardly enough to accommodate all the tiny plates of cheese, hazelnut paste, jams, breads, and veggies.
The tea is bottomless — as it should be at Turkish breakfast. The second your tulip-shaped cup is empty, a new one full of hot black tea magically appears on the table.
Van Kahvalti Evi — Kılıçali Paşa, Defterdar Ykş. 52/A, Beyoğlu/Istanbul.
10.30 — The Museum of Innocence
5 minutes walk from Van Kahvalti Evi
The Museum of Innocence is a special treat for anyone who has read Orhan Pamuk's novel with the same name. If you haven't, don't rush to exclude it from your itinerary. The museum provides an insight into the life of Turkish upper middle-class society of the XX century.
Orhan Pamuk is one of the most celebrated modern Turkish authors who created both the novel, and the museum. The latter is located in the Çukurcuma neighborhood of Istanbul in a bright red XIX-century house. On display are over a thousand items that were used by (touched by, worn by) the characters of the novel.
Orhan Pamuk depicts the life and character of Istanbul in the end of XX century like no-one else. I highly recommend you read the book and visit the museum if you are traveling to Istanbul.
The Museum of Innocence — Firuzağa, Dalgıç Çk. No:2, Beyoğlu/Istanbul.
11.30 — Çukurcuma and Tom Tom Neighborhoods
3 minutes walk from the Museum of Innocence
Çukurcuma neighborhood, apart from being the home of the Museum of Innocence, is known for its many antique shops. Here you'll also find art galleries and lots of cozy cafes to have a cup of coffee.
It's best to wander around the neighborhood and walk into random vintage stores. But if you need to put a pin into Google Maps to get a sense of direction, look for Aslı Günşiray shop, famous for their interior design collection or Cuma, a popular neighborhood cafe.
Right next to Çukurcuma you'll find a neighborhood called TomTom featuring dozens of small designer stores. A few shops that I came across and loved are Vitruta and Laboratuvar Studio. The latter was so good I left with two rings, a bracelet, a vegan backpack, and a pair of socks!
14.00 — Dolmabahçe Palace
30 minutes walk or 10 minutes taxi ride from Çukurcuma
From Çukurcuma take a short taxi ride to the neighborhood of Beşiktaş where Dolmabahçe Palace is located. If you are up to it, a walk will take you about half an hour. You can also take a tram.
Dolmabahçe Palace is the largest in Turkey and served as a home to six Sultans. It is notoriously famous as the place where Mustafa Kemal Atatürk, the founder of the Republic of Turkey and its first President, spent his last days.
Visiting some of the 285 opulent rooms of the palace is possible via a guided tour (the tours are compulsory, you cannot visit the palace on your own). You can get your ticket at the ticket office near the palace, however, the lines tend to get quite long.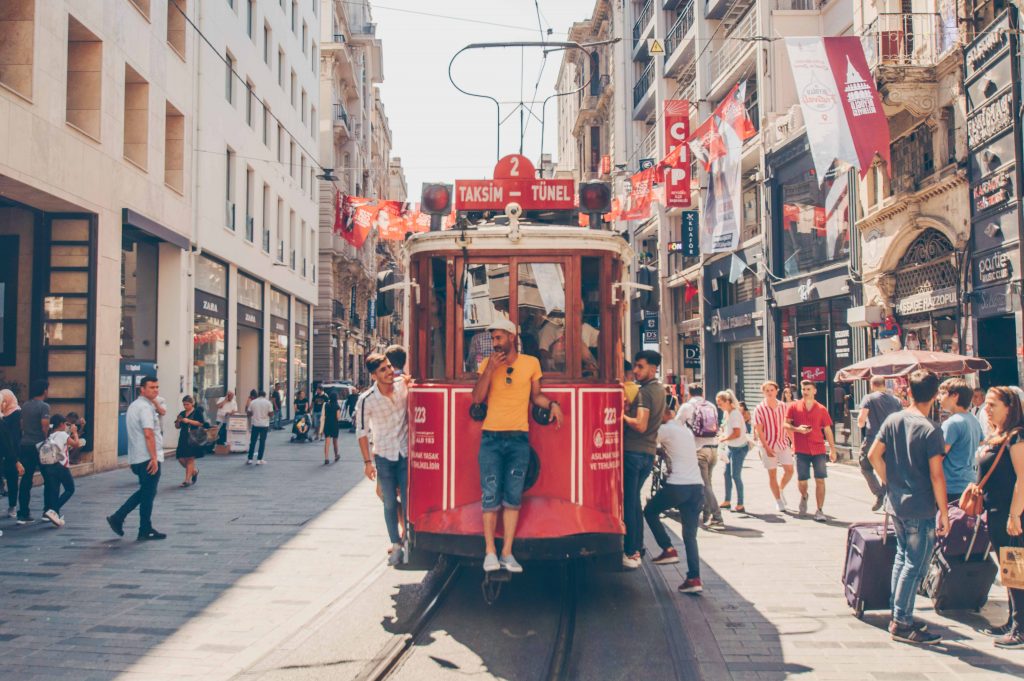 17.00 — Istiklal Street (from Taxim Square to Tünel Square)
20 minutes walk or 8 minutes ride from Dolmabahçe Palace
From Dolmabahçe Palace head to Taxim Square where Istiklal street takes its start. You can walk (20 minutes), take a taxi ride (8 minutes) or use a bus (12 minutes).
Istiklal street is one of the most famous and lively avenues in Istanbul stretching for 1.4 kilometers from Taxim Square to the neighborhood around Galata Tower. Istiklal Caddesi, as it's called by locals, is home to multiple boutiques, restaurants, art galleries, nightclubs, book stores, churches, and what not.
A few things you don't want to miss are Galatasaray Square and Tünel Square. Galatasaray Square is located approximately in the center of the avenue and that's where you will find the magnificent gates to the Galatasaray High School.
Tünel Square is located at the southern end of Istiklal street. Here, you will find the upper station of the two-station underground train that goes between Beyoğlu and Karaköy neighborhoods. The Tünel is the second oldest urban rail line in the world, after the London Underground.
Lastly, don't forget to take a ride on the historic Istiklal Caddesi tram that runs from Taxim Square to Tünel Square. The bright red tram is the only transport allowed on the pedestrian street of Istiklal.
18.30 — Karaköy Neighborhood
10 minutes walk from Tünel Square (the southern end of Istiklal Street)
Once you reach the end of Istiklal Caddesi, head to the nearby Karaköy neighborhood where we are going to finish the second of our three days in Istanbul.
Karaköy is a small neighborhood inside the bigger Beyoğlu district. In a few words, it's a hip and cool area that has become increasingly popular in the last few years. Karaköy is home to a multitude of cute little coffee shops, late-night bars, design boutique-stores, and art galleries.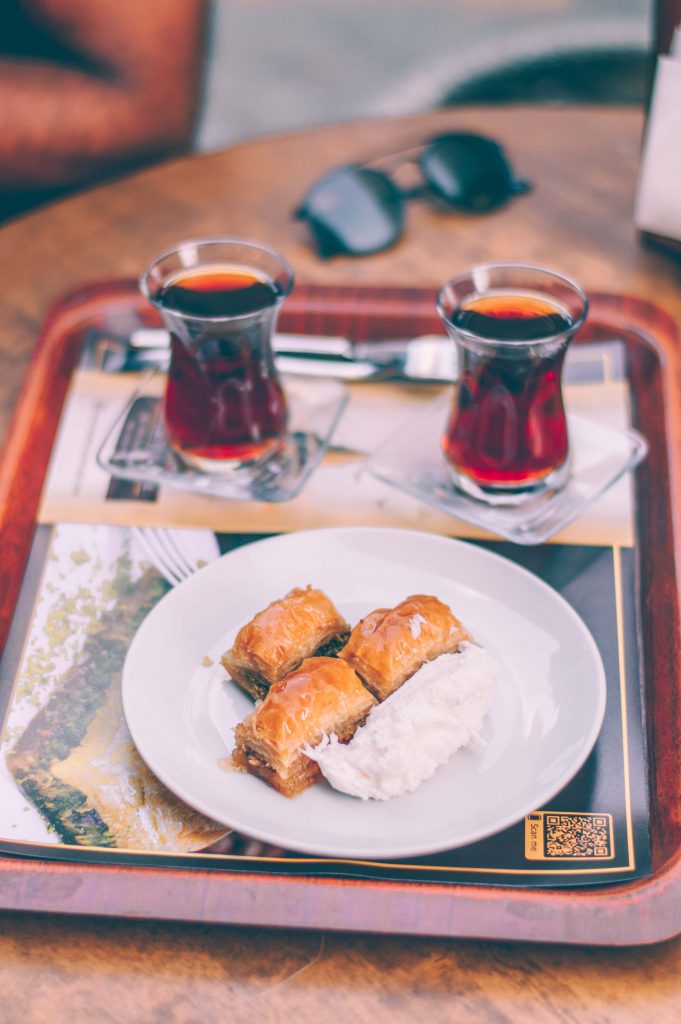 One thing you must do here is try the famous baklava at Karaköy Güllüoğlu. It is not up for discussion: order the pistachio baklava with a side of kaymak (heavy clotted cream) and a cup of tea (unsweetened!). Enjoy your well-deserved treat outside, if weather allows, among dozens of locals and tourists alike.
If you are craving a good cup of coffee, Karabatak is the place to go. They serve third-wave coffee in a metal-workshop-turned-cute-cafe with plenty of outside seating.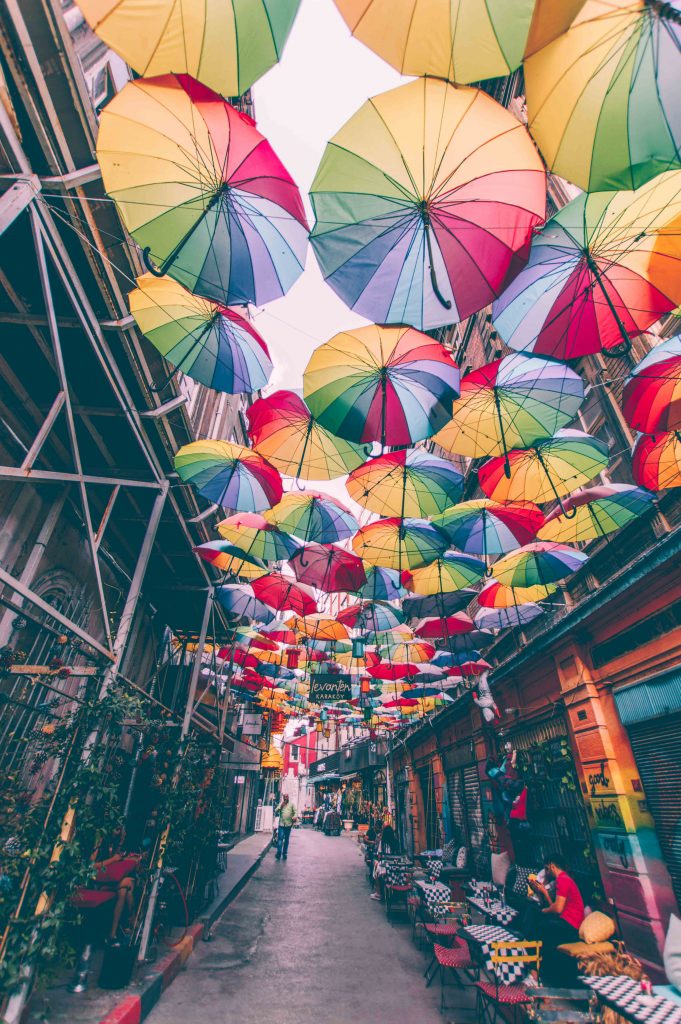 Looking for an Instagram-worthy shot? Find the umbrella street, one of the most photographed streets of Karaköy (it's marked on Google maps as "Umbrellas Street" and is located mere 3-minutes walk from Karaköy Güllüoğlu).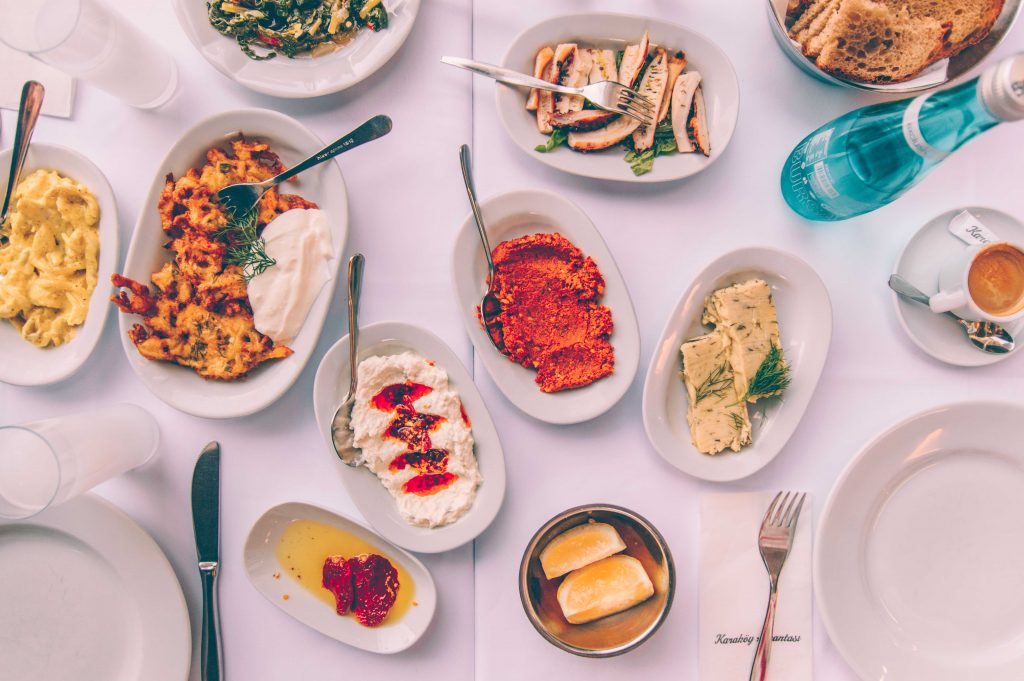 20.00 — Turkish Meze for Dinner at Karaköy Lokantasi
2 minutes walk from Karaköy Güllüoğlu
Finish the day with an array of meze at Karaköy Lokantasi. Just like traditional Turkish breakfast, Turkish meze for dinner (preferably accompanied by a glass of raki) is a culinary experience you shouldn't miss.
Meze are tiny plates of appetizers that can be prepared of virtually anything: from veggies to meats to fish. But don't let the word "appetizer" confuse you. Although the plates are small, you end up with at least a dozen of them on the table. After hours of eating meze, drinking raki, and having a conversation, you won't even think of ordering a main dish.
Karaköy Lokantasi offers a few dozen meze every night. Apart from delicious food, their beautiful tiled interior alone is worth making a stop here.
Karaköy Lokantasi — Kemankeş Karamustafa Paşa, Kemankeş Cd. No:37 A, Beyoğlu/Istanbul.
Day 3 — Galata Tower, Spice Bazaar and Balat Neighborhood
Distance: 6 km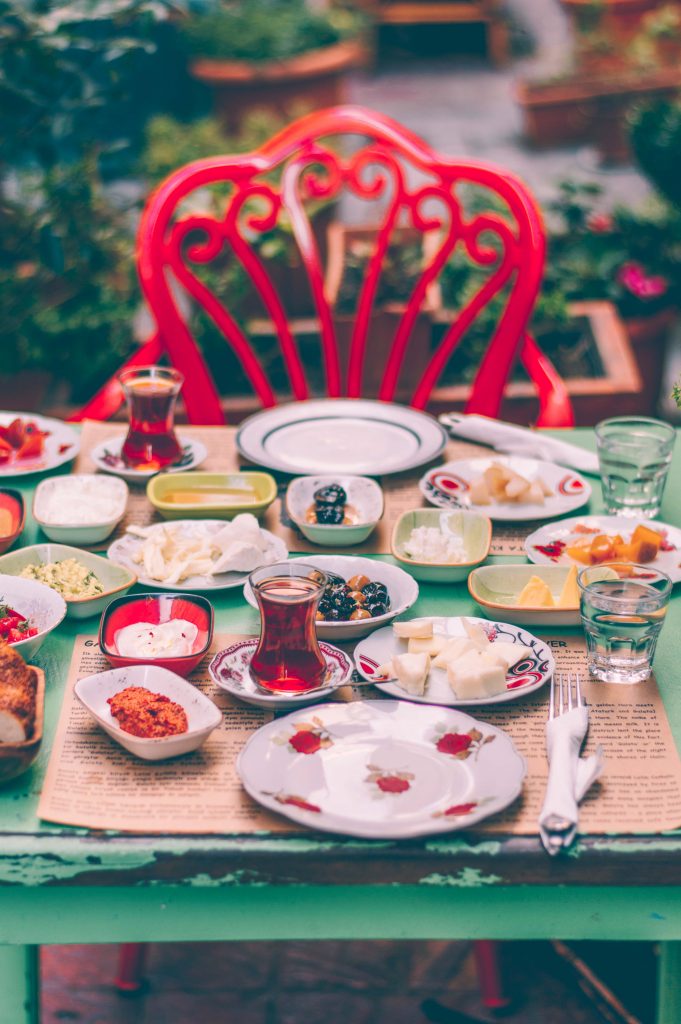 9.00 — Breakfast at Cafe Privato
With only 3 days in Istanbul, I suggest you have Turkish breakfast every morning. It's not often that one gets to enjoy such a lavish meal in the early hours, so don't feel guilty. Especially that Cafe Privato does breakfast like no-one else.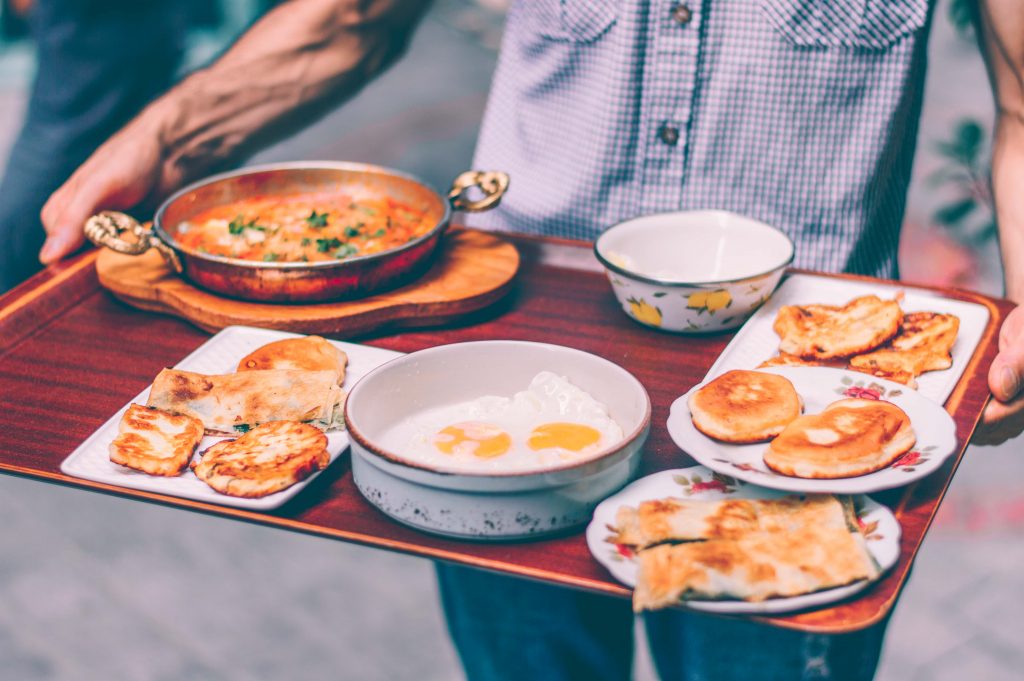 There was hardly enough space on the table to accommodate all the little plates when they arrived. Turned out, that was just the first round. 10 minutes later a server brought another tray full of hot foods: pancakes, eggs, and borek. Plan to spend at least an hour and a half here. It is physically impossible to finish all the food faster.
Cafe Privato — Şahkulu, Tımarcı Sk. No:3, Beyoğlu/Istanbul.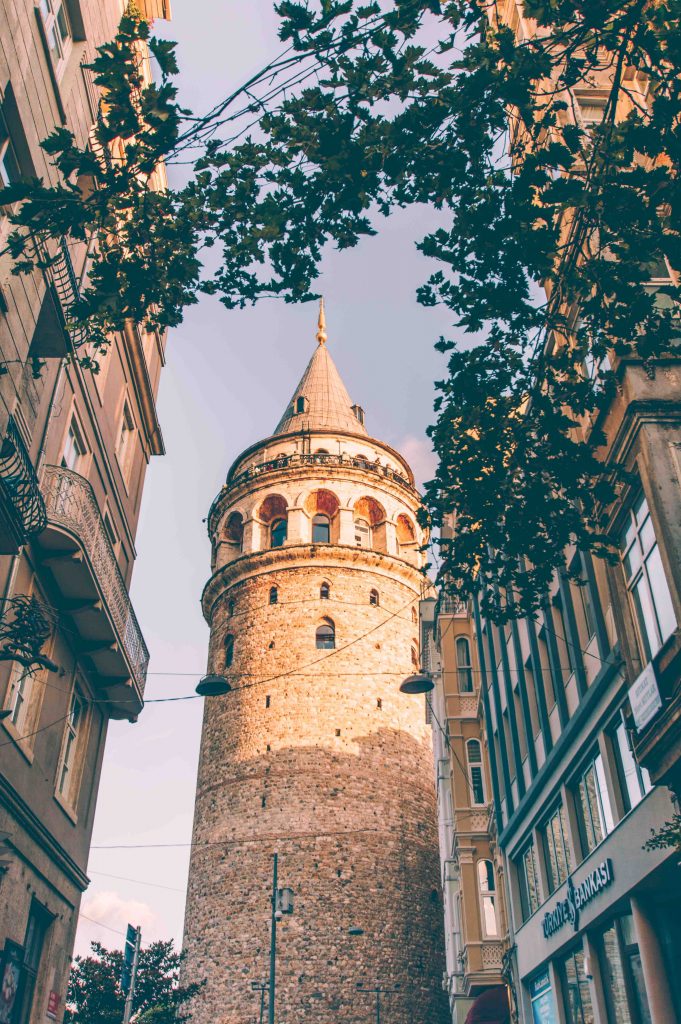 10.30 — Galata Tower
2 minutes walk from Cafe Privato
Right around the corner from Cafe Privato is Galata Tower, one of the most recognizable symbols of Istanbul. At the time of its construction in 1348 it was the tallest building in Istanbul. The narrow streets leading to Galata provide picture perfect views of the tower itself, while the observation dock on the top boast gorgeous 360 degree views of the city.
The tower is nine stories tall, but visitors easily get to the top with the help of two elevators. Beware that the line to get tickets gets pretty long: I spent 40 minutes to get inside on my visit.
12.30 — Karaköy Fish Market
10 minutes walk from Galata Tower
From Galata Tower head towards Galata Bridge. By the northern side of the bridge is located a small, but charming Karaköy fish market (you can find it on Google Maps by using the Turkish name "Karaköy Balik Pazari").
The market is really just a dozen stalls by the shore of Golden Horn, but it's worth making a quick stop. By the way, this was, hands down, the cleanest fish market I have ever seen in my travels.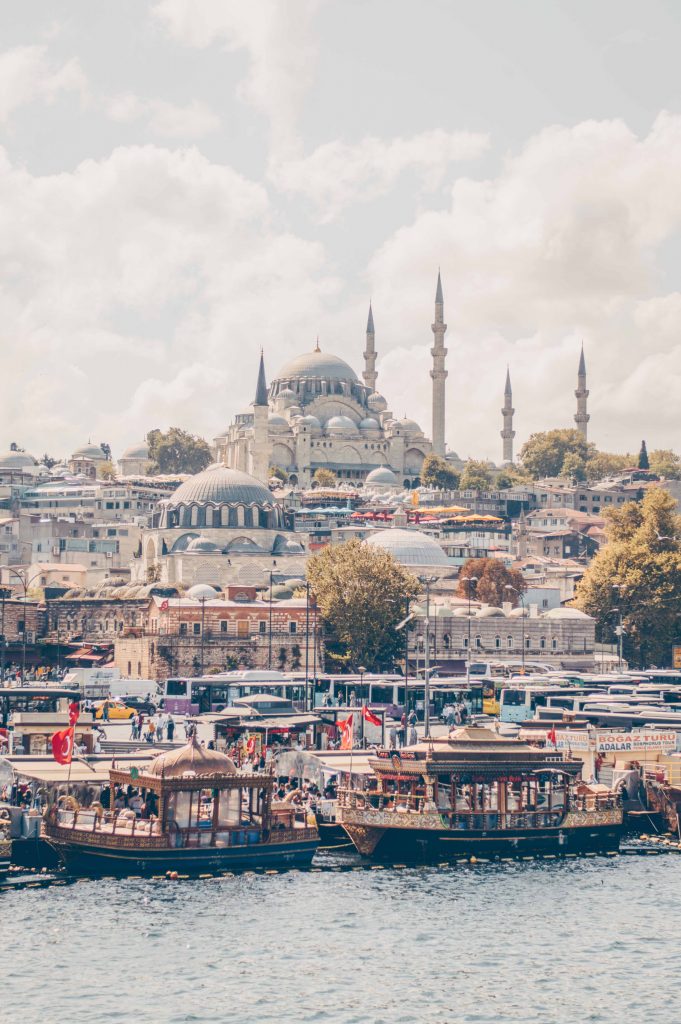 13.00 — Galata Bridge
1 minute walk from Karaköy Fish Market
Although crowded, Galata Bridge that spans the Golden Horn connecting the neighborhoods of Karaköy and Eminönü, is one of my favorite places in Istanbul. Primarily because of the incredible views it provides: Galata Tower on the one side, Süleymaniye Mosque — on the other, and local men fishing right on the bridge, not paying slightest attention to tourists.
In order to get to the next stop on our itinerary, you need to cross the bridge. If by this point you feel hungry (which is highly unlikely after the Turkish breakfast, but just in case!), this is the place to get yourself balik ekmek, a grilled fish sandwich.
Once you reach the southern end of Galata Bridge, you will see boats docked by the shore. There you can get a quick snack of locally caught fish grilled and stuffed into a loaf of bread.
13.30 — Spice Bazaar
5 minutes walk from Galata Bridge
The Spice Bazaar (also known as Mısır Çarşısı or Egyptian Bazaar) is the second most popular covered market in Istanbul, after the Grand Bazaar. It may be smaller in size with 85 shops selling spices, Turkish delight, and gold, but is just as beautiful and full of character.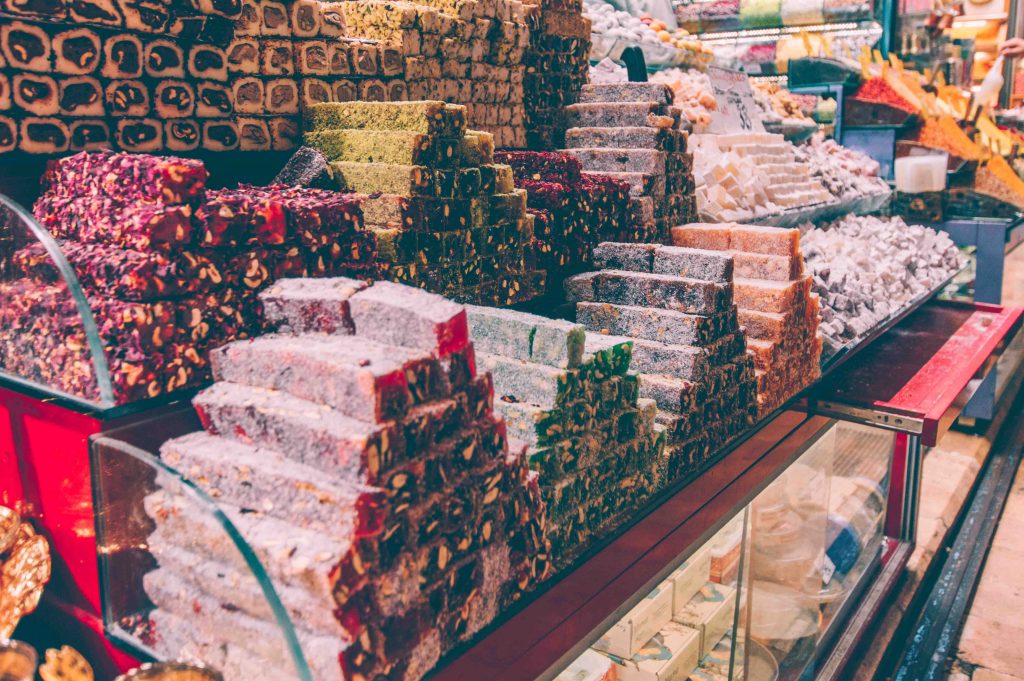 Outside the L-shaped building, you will find more shops selling cheese, olives, and sweets. Usually the shops in the street offer better prices. One spot not to miss here is Kurukahveci Mehmet Efendi that sells fresh coffee grounds. The line to the shop is always long, but moves incredibly quickly. Make sure to choose what you want and have money in hand by the time you get to the window!
16.00 — Süleymaniye Mosque
10 minutes walk from the Spice Bazaar
Remember the magnificent mosque you've seen while crossing Galata Bridge? Well now it's time to visit it! Süleymaniye Mosque is the second largest in Istanbul and one of the most beautiful. There are way less people than in the Blue Mosque or Hagia Sofia which makes your visit more enjoyable.
Important: make sure to check prayer times! As Süleymaniye Mosque is active, it closes several times a day for prayers. Check the time online and arrive either before or after the prayer.
If you find yourself at the mosque during prayer time, it's not a big deal. The mosque has a beautiful courtyard and incredible views over the Golden Horn. Explore outside first and head inside once the mosque reopens.
18.00 — Balat Neighborhood
10 minutes taxi ride from Süleymaniye Mosque
Balat used to be one of those off-the-beaten-track neighborhoods in Istanbul, but thanks to Instagram it is slowly turning into quite a popular attraction. Its colorful houses serve as way too pretty a background for bloggers.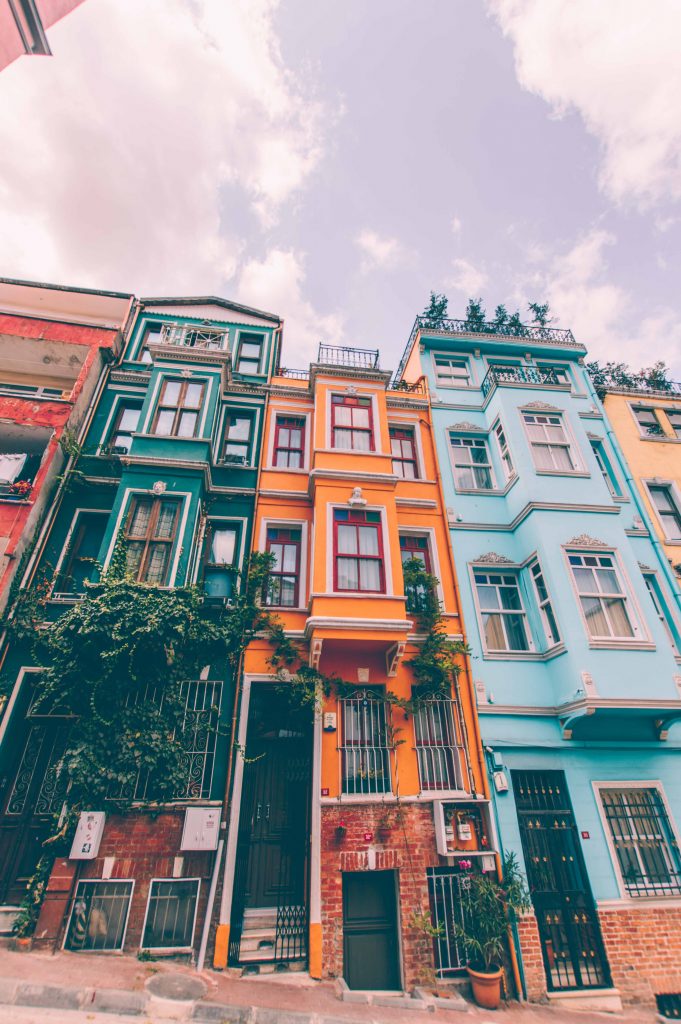 It is much less crowded than Sultanahmet or Galata, but there's definitely an influx of tourists in Balat, even though it's located slightly away from the city center. From Süleymaniye Mosque you can get here on foot (30 minutes), by bus (17 minutes) or by taxi (10 minutes).
I took a bus, but the walk from the mosque to the bus station was through some dodgy neighborhoods, so next time I'd take a taxi.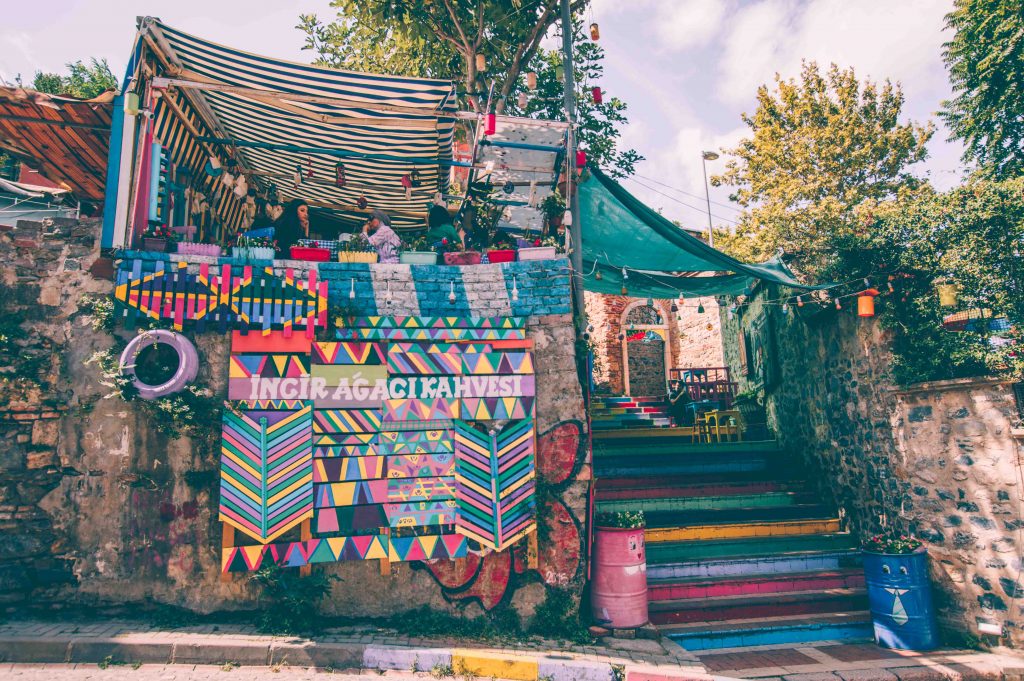 A few spots that are most popular with visitors are the colorful houses at Kiremit street, the rainbow staircase at Incir Agaci Kahvesi cafe, and Phanar Greek Orthodox College. The best way to explore Balat, though, is to simply get lost in its colorful streets. The neighborhood is quite small, so even if you get lost for real it's not for long.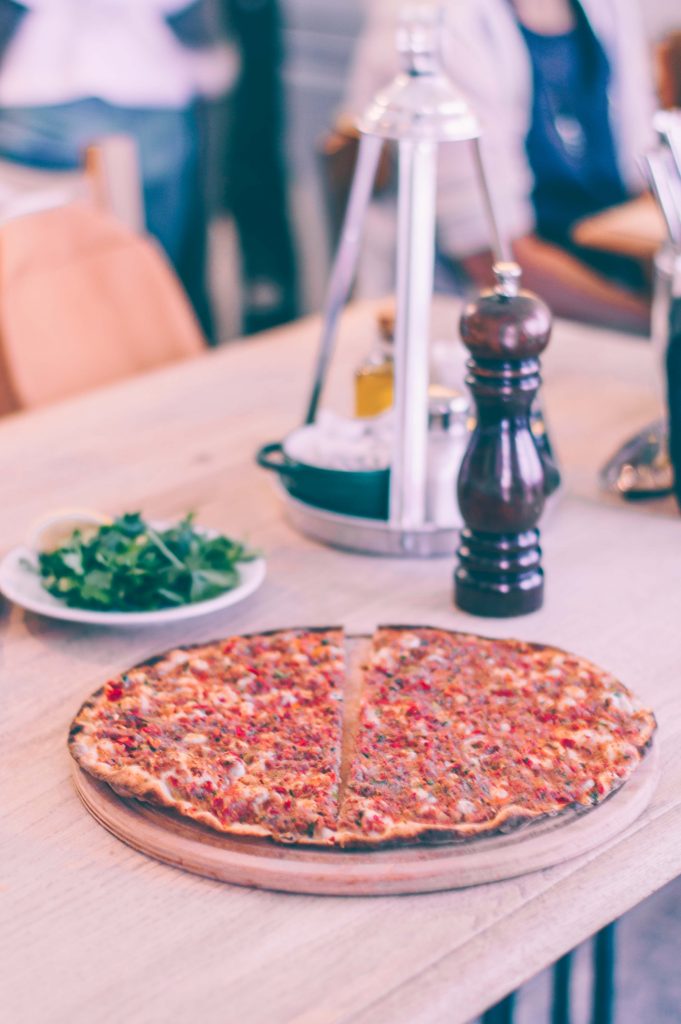 19.30 — Traditional Lahmacun and Pide at Forno Balat
Once you are done exploring the neighborhood, head to Forno Balat, a restaurant famous for their traditional lahmacun and pide, some of the must-try Turkish dishes.
Lahmacun (the letter "c" is pronounced as "j") is somewhat like a pizza, only with much thinner dough and minced meat, tomatoes, and peppers on top.
Pide is boat-shaped dough with fillings varying from meats to cheese to vegetables, that comes from the region of Anatolia.
At Forno, the ingredients are locally sourced and stone oven is used for baking. The setting is simply, but cozy. I am sure this will be an incredible place to finish off you 3 days in Istanbul.
Forno Balat — Balat, Vodina Caddesi, Fener Kireçhane Sk. No:13/A, Fatih/Istanbul.
Where to Stay During Your 3 Days in Istanbul
Modern Design in a Hip Neighborhood — Miller Hotel
I can wholeheartedly recommend this beautiful hotel in Karaköy neighborhood. As you probably already figured from this guide, Karaköy is an incredible place to stay. You are within walking distance (or a short public transport ride) from major attractions. But the best part is that all the hip little coffee shops and late-night bars are just across the street from Miller hotel.
I stayed in a double room which was spacious, stylish, and clean. The floor-to-ceiling window provided lots of light and a gorgeous view of the city. On top of that all, the rooms are reasonably priced — much less than what I expected from looking at the pictures.
Check the Price
Don't Forget About Travel Insurance!
I can't emphasize enough how important travel insurance is when you are planning a trip to a foreign country! So many things can go not exactly as planned (like that time I got food poisoning and got robbed of all my luggage in San Francisco).
I use World Nomads in my travels. You can buy and claim insurance online (even if your trip has already started). And their service is impeccable: fast and polite. You can get a customized quote for your trip below!
I hope this guide for 3 days in Istanbul will help you to see the best sights and try the most delicious foods this city has to offer! If you know other great places to check out in Istanbul, comment below! And definitely let me know if you used this itinerary for your stay in Istanbul!
Pin for Later: