Foodie souvenirs are my favorite kind of souvenirs, and Sri Lanka has abundance of crazy delicious food that is easy to take home with you. Below you'll find some of the best Sri Lankan souvenirs for the foodie in you (or your foodie friends) that the island is famous for and that will remind you of your stay after you return back home.
Ceylon Tea
Let's start with the obvious! Ceylon tea is famous all around the world, and the tea plantations are a symbol of Sri Lanka. I personally have been drinking Ceylon tea my whole life since it's the drink of choice in Russia where I was born. It was all the more amazing to finally visit the country where the tea is produced and see the whole process from picking the leaves to withering to packaging with my own eyes. 
If you are traveling in the hill country (Kandy, Nuwara Eliya, Ella), you'll pass a lot of tea plantations on the way, where you can stop to enjoy the views and pay a visit to the tea factory. The factories always have a shop with overpriced tea. I would definitely visit a factory, but I'd skip on buying anything at the tea shops unless it's a souvenir for someone else and you need a pretty box. If you are buying tea for yourself, get it at any supermarket. Or if you are in Colombo, visit Sri Lanka Tea Board. 
Brands: some of the most famous local brands are Lipton, Dilmah, and Zesta.
Where to buy it: any supermarket. In Colombo, visit Sri Lanka Tea Board at 574, Galle Road.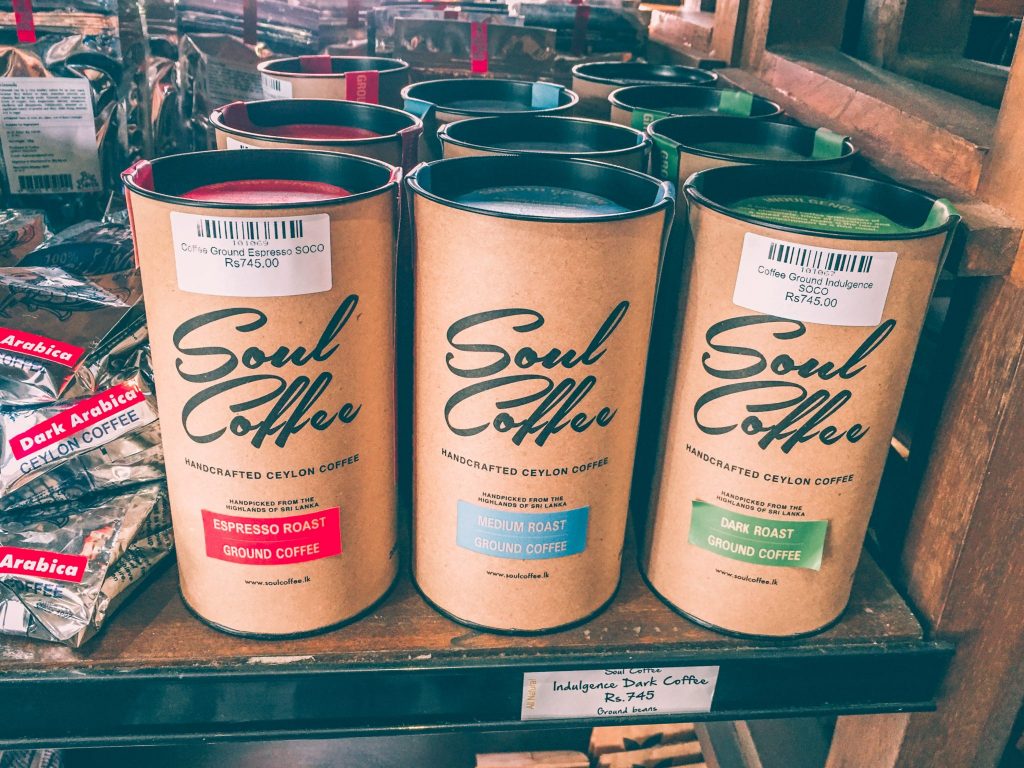 Ceylon Coffee
This might come as a surprise, but before Sri Lanka was famous for its tea, it was one of the largest producers of coffee in the world. In the XIX century, coffee industry was thriving with the British starting large scale commercial production. Unfortunately, in the end of the century the plantations were hit by coffee leaf rust that destroyed the crops and wiped out the whole industry. 
The production has never returned to the scale of the XIX century, but nowadays the industry is going through a revival with many coffee shops serving locally grown beans. Not all local coffee brands are created equal, though. 
Brands: the three brands I buy myself and highly recommend are Whight and Co, Soul Coffee, and Hansa Coffee.
Where to buy it: Whight and Co coffee is only sold at their coffee shop in Colombo, Hansa Coffee is sold at the Good Market shop (Colombo), Soul Coffee is sold at the Good Market shop and Plus Nine Four cafe (Colombo).
Kithul Treacle
This one is a little tricky to take back home since kithul treacle is a local sweet syrup packed in glass bottles. But with the right proofing (bubble wrap or a few layers of clothes around the bottle) it can survive a long flight. Kithul, or fishtail, is a palm tree common in Sri Lanka. Experienced tappers climb the trees to collect the sap of kithul flowers, the sap is then boiled down until it becomes sticky with intense sweet flavor. In texture it reminds of honey or maple syrup, but the flavor — floral and smoky— is unmistakably different.
Brands: Raja Gedara, Yaka, Kimbula
Where to buy it: in supermarkets, by the side of the road when you travel around hill country, at the Good Market or Good Market shop in Colombo.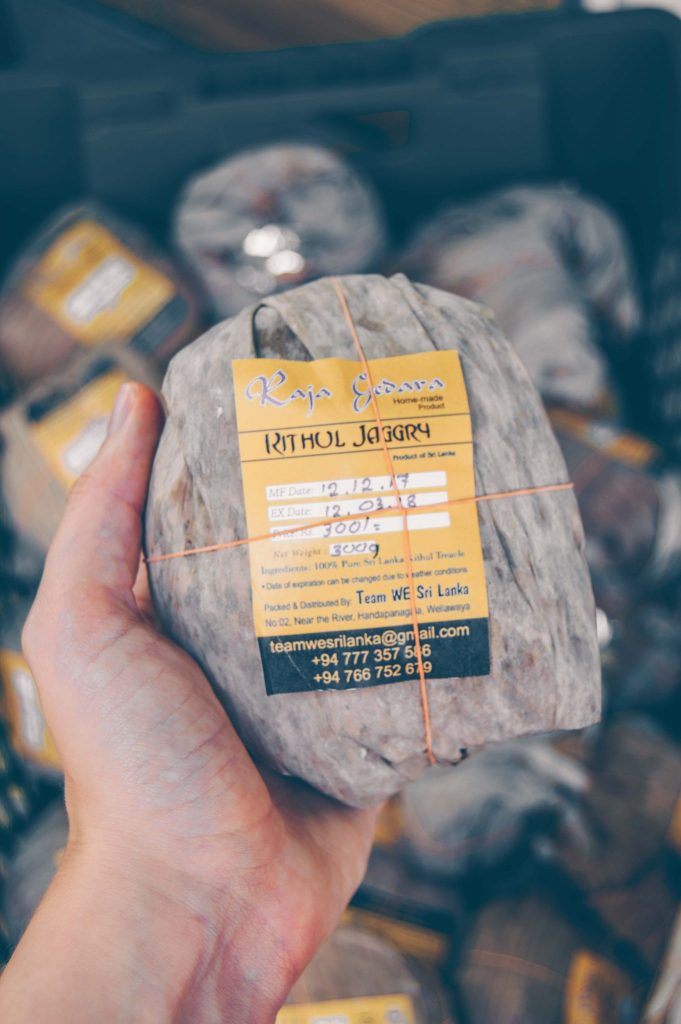 Jaggery
Jaggery is kithul treacle's brother, in solid form. To make jaggery, kithul treacle is further boiled down and poured into molds that are often fashioned out of empty coconut shells. Jaggery, or hakuru as locals call it, comes in the form of semi-spheres or blocks that you can break into pieces with a knife. If I had to choose one foodie souvenir to bring from Sri Lanka, I'd bring jaggery every time. It is best enjoyed with a cup of unsweetened black tea. Take a bite of jaggery, sip on tea, repeat.
Brands: Haritha Lanka, Raja Gedara
Where to buy it: you can find jaggery in supermarkets, but I prefer to buy mine at the Good Market shop (Colombo).
Spices
Sri Lankan cuisine is notoriously famous for using a whole bouquet of spices to create flavorful curries. Best of the spices are homemade, of course. But there are several brands of good quality that you can find in shops. 
What spices to buy? If you want to recreate Sri Lankan curries, you'll need chili powder and chili pieces, turmeric, roasted curry powder, and raw curry powder. You can also buy coriander seeds, fenugreek seeds, cinnamon (Sri Lanka is famous for its cinnamon production), cloves, mustard seeds, and goraka (black sticky paste used in meat and fish curries to add sourness and make meat tender).
Brands: some of the brands I personally like are Ma's Happy Life Kitchen and Saaraketha. 
Where to buy it: supermarkets
Cashew Nuts
Cashew nut production takes place in the eastern province of Sri Lanka where local women go through the laborious and time consuming process of extracting kernels from cashew nuts with great care not to damage them. Whole kernels are sold at significantly higher prices than broken ones. Cashews are used in Sri Lankan cuisine for making creamy cashew curry, as well as an ingredient in many desserts like watalappan and milk toffees. 
Brands: Ranscrip, Royal Cashew, Sri Lanka Cashew Corporation.
Where to buy it: all of the above brands have their own shops around Colombo and Sri Lanka, but you can also find them in supermarkets. If you are traveling from Colombo to Kandy, you'll pass by the famous Kajugama, a little town where local women have been selling cashew nuts by the road for at least a century. 
Thala Bola, Thala Karali, and Rulang Cake
If you have a sweet tooth, these candies might be a good pick for you. Thala in Sinhalese means "sesame seed", so thala bola is a sesame ball and thala karali is a sesame roll. Both candies have similar ingredients: sesame seeds, coconut, and jaggery, but thala bola is hard in texture and crunchy, while thala karali is soft and chewy. The former is definitely my favorite between the two. 
Another local candy is called rulang cake (or rulang aluwa) and is made of semolina (rulang) mixed with grated coconut and cashew nuts. 
Brands: Raja Gedara
Where to buy it: supermarkets, Good Market shop, or buy no-brand candies by the road while you are traveling. 
Murukku Mix, Manioc Chips, and Roasted Dhal
Mostly deep-fried and not particularly healthy, Sri Lankan snacks are an awesome addition to any party, especially if they accompany alcohol. Murukku mix is a popular local choice. The mix includes deep fried thin strings of dough, roasted dhal (lentils), peanuts, curry leaves and spices. You can also buy spiced roasted lentils or peanuts separately. My personal favorite, though, is manioc chips. 
Where to buy it: there are street shops that sell snacks by weight or you can buy a pack at the supermarket.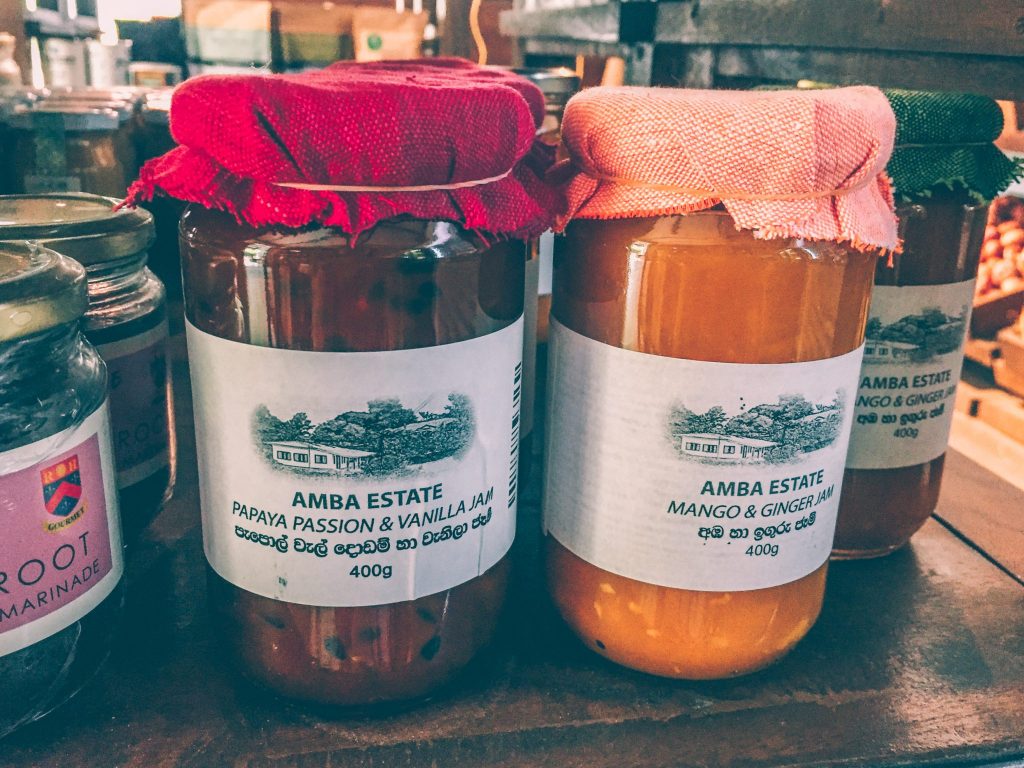 Jams and Chutneys Made of Local Fruits
Where else but in Sri Lanka will you find papaya passion fruit and vanilla jam or sweet mango chutney? With its abundance of fruits, Sri Lanka has some seriously amazing jams and chutneys, you just have to make sure they are made of local fruits. I once came across a strawberry jam that was made of melon with added strawberry flavors. Aim for mango, passion fruit, guava, papaya, lovi, narang, pineapple, or any other locally grown fruits.
Brands: Amba Estate, Yummy Goodness, Jagro (for strawberry jam made of locally grown strawberries)
Where to buy it: my favorite jams and chutneys are sold at the Good Market shop. Although supermarkets offer a range of jams, those usually have flavors and colors. Read the labels well.
Curry Mixes
The easiest way to recreate Sri Lankan curries when you return home is if you bring some of the curry mixes with you. I know that pre-made, pre-packaged curry mix sounds like something artificial and unhealthy, but it's not the case here. What we are talking about is simply a mix of Sri Lankan spices that will make your shopping and cooking process easier since one curry can easily combine a dozen different spices. The mixes can be dry or in a form of a paste. All that's required from you is to marinate meat, fish, or whatever ingredient you are cooking in the mix and follow the instructions on the box.
Brands: my favorite curry mixes are made by Ma's Happy Life Kitchen. Another popular brand is Koluu. 
Where to buy it: supermarkets, Good Market Shop (Colombo)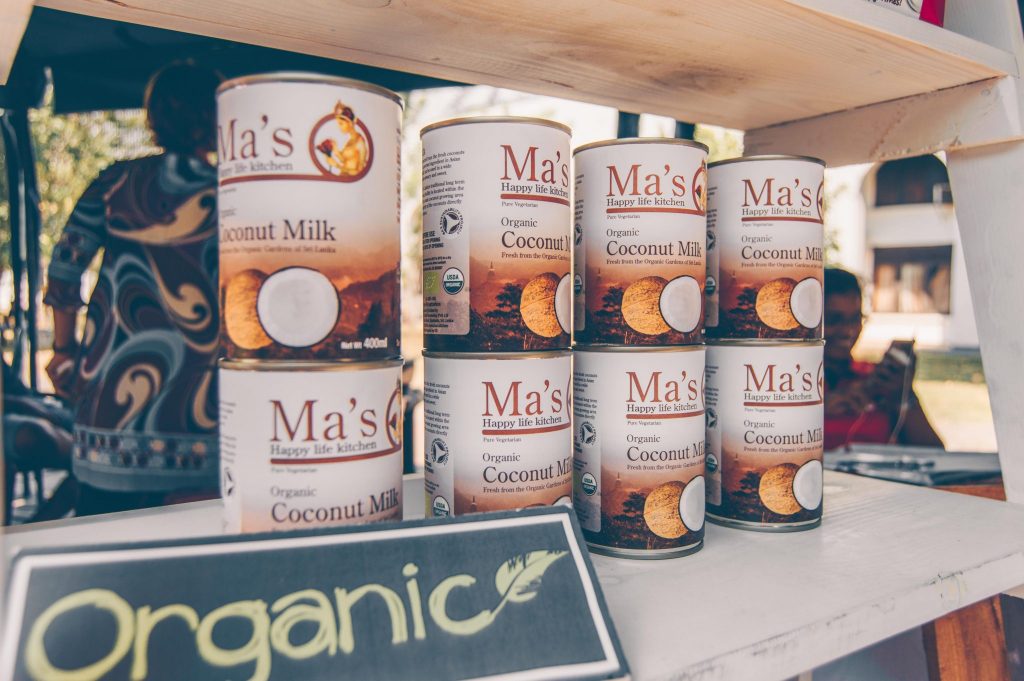 Coconut Milk and Coconut Oil
Coconuts are the lifeline of Sri Lankan cuisine. Used for everything from producing coconut oil to extracting coconut milk to using scraped coconut flesh for making desserts, coconuts are a staple in every Sri Lankan kitchen. Coconut oil has been somewhat of an obsession among people who take care of their health, so it can be a great present for your friends who are into healthy lifestyle. 
Tinned coconut milk is not something Sri Lankans use often since women prefer to extract fresh coconut milk on a daily basis, but I think tins are totally justified in the Western world, especially that you can find organic options with no additives. 
Brands: For coconut oil look for Coconut Miracle, Ceylon Coconut Company; for coconut milk — Ma's Happy Life Kitchen.
Where to buy it: supermarkets
Lemon Puffs, Hawaian Cookies, Ginger Cookies
These biscuits are not something traditionally Sri Lankan or particularly healthy, but their artificial taste — for there's very little (if any) lemon, ginger or coconut there — is what brings memories of the island for anyone who ever visited. These biscuits are a common snack on road trips and a popular accompaniment for afternoon tea. 
Brands: Munchee, Maliban
Where to buy it: supermarkets 
Tips for Finding the Best Sri Lankan Souvenirs
You'll come across many souvenir shops while traveling the island, but I strongly believe that it's best to buy food where locals do, and that is either markets or grocery stores. You'll be able to find the majority of foodie souvenirs I mentioned in regular supermarkets. Think as a local and buy as a local, it will save you a lot of money.

 

If you are in Colombo on a Saturday, make sure to stop by the Good Market, a local farmers market where you can find all natural, organic, locally-produced goods. This is my favorite place to shop in Colombo. The market takes place at the Racecourse Grounds every Saturday.
If you are in Colombo on any other day, don't worry! The market has a shop that is open every day and where you can find a lot of the same goods. The Good Market shop is located at 14 Reid Avenue.

 

Check the regulations of your home country to learn which food categories are allowed to be brought in from abroad.

 
Any other ideas for foodie souvenirs to bring back from Sri Lanka? Let me know in comments! This list is ever-growing!
Pin for later: