If I could give you only one advice about traveling in Istanbul, it would be to skip hotel breakfast. Yea, get that Istanbul card for public transport, yea, watch your belongings in crowded spaces, blah-blah-blah… But above all that, get out of your hotel early morning and go to a neighborhood cafe to experience the food coma that is breakfast in Istanbul.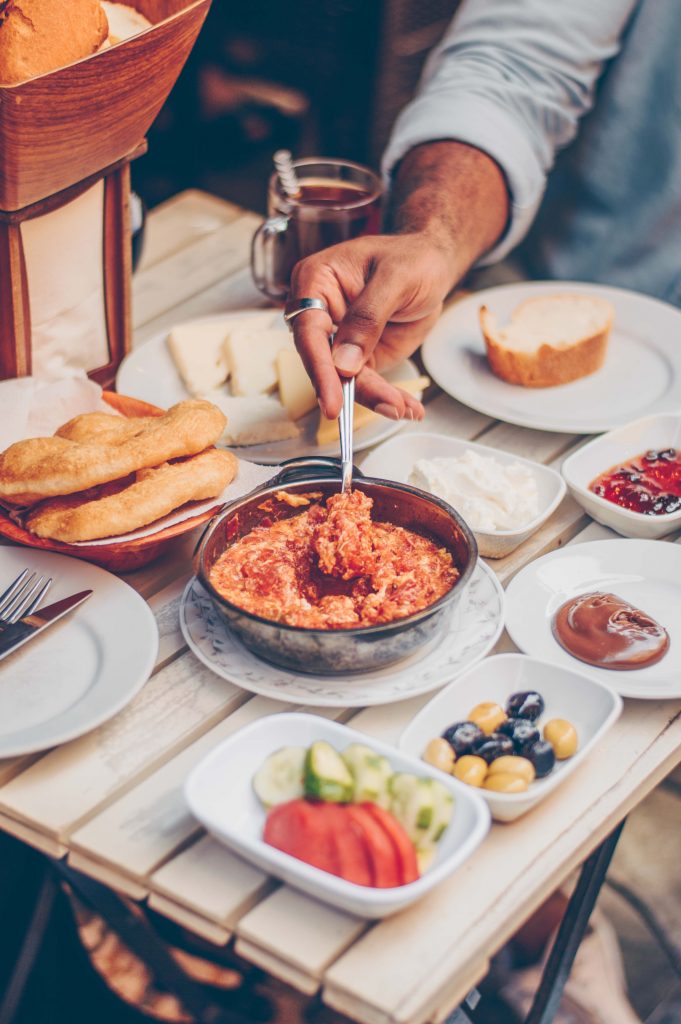 You see, breakfast in Istanbul is too special and magical of an experience to leave it to chance. If I were to use one word to describe traditional Turkish breakfast, the word would be "abundance". Dozens of tiny plates cover the table in front of you until you cannot see the tablecloth anymore. Every plate features freshly prepared food: from eggs, cheeses and olives to fruit jams, nut paste, and honey.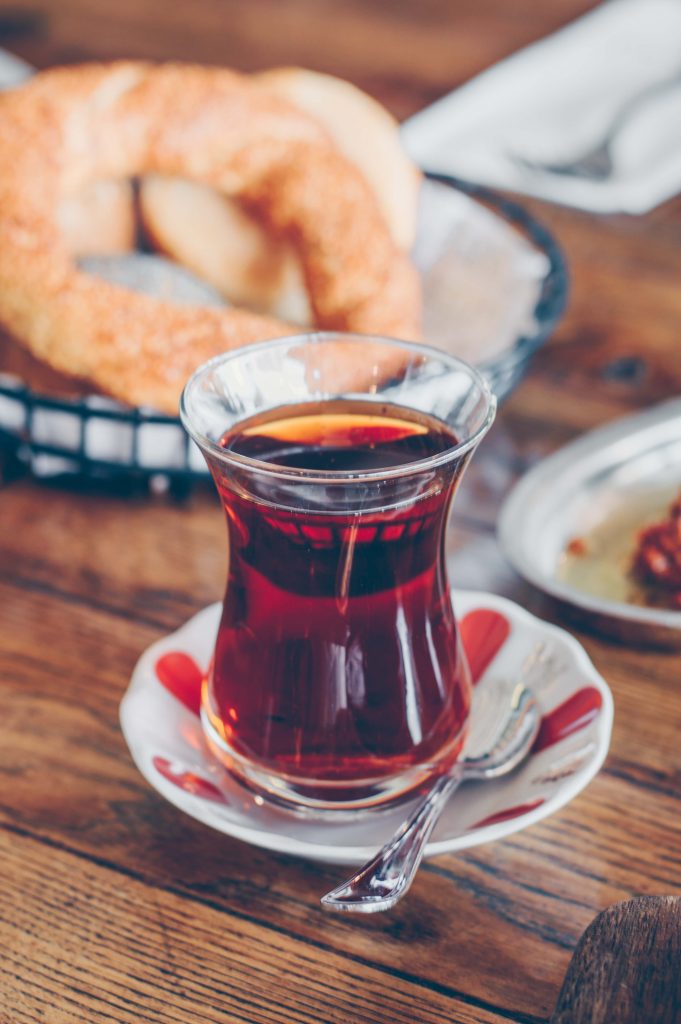 And then of course, there's all the tea. Not a sad teabag swimming on the bottom of a cup that you so often get in USA and Europe. But strong freshly-brewed Turkish tea served in a tulip-shaped glass that is filled up to the brim over and over again — as many times as your heart desires.
Now without further ado let me tell you about 7 fantastic places for breakfast in Istanbul I have tried and absolutely loved! All of them are located in popular neighborhoods and near major attractions, so it's a good way to start your day of explorations.
Disclosure: this post contains affiliate links which means if you buy something by clicking the link I will earn a small commission at absolutely no extra cost to you.
Where to Find Turkish Breakfast in Istanbul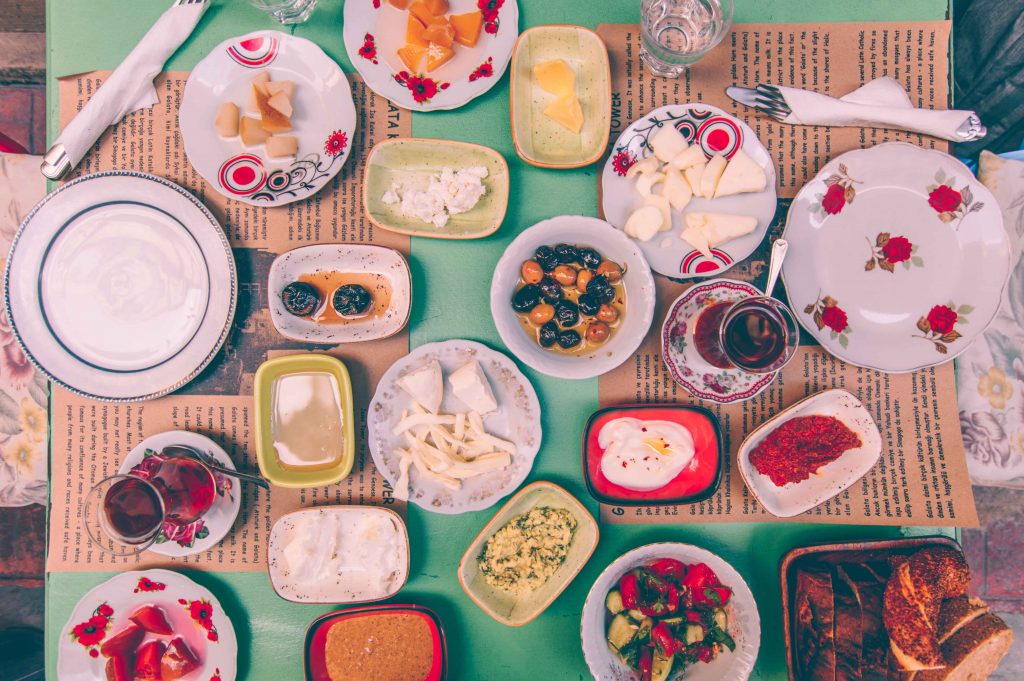 Cafe Privato
Pretty much every list of the best places for breakfast in Istanbul includes Cafe Privato, and for a good reason. First of all, the ambience is fantastic. Somewhat hipster, somewhat old-school. If you are there during the warm months of summer and fall, make sure to get a table outside. They have plenty of outdoor sitting with colorful tables and chairs.
Enormous breakfast for two at Cafe Privato.
Second, the food is ah-mazing! And there's a ridiculous amount of it. I've had a fair share of traditional Turkish breakfast in Istanbul, but the spread at Privato Cafe blew my mind completely. First came vegetables, cheeses, olives, jams, and honey.
I counted at least 15 plates when the waiter reassured me that the hot dishes are yet to come! The second round included eggs, gözleme, and pancakes. Tea is, of course, bottomless.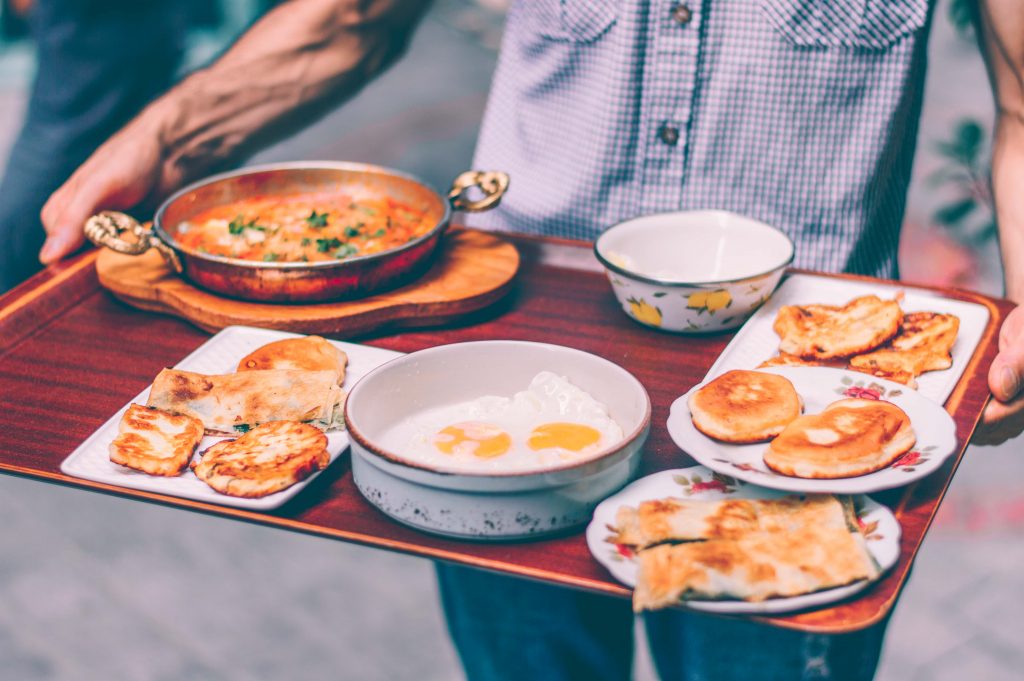 Plan to spend at least one and a half hours here, as it is physically impossible to finish all the food in less time. The price for breakfast is rather high in comparison with other spots on this list, but the spread is much bigger and will sustain you until late in the evening.
Cafe Privato — Şahkulu, Tımarcı Sk. #3, Beyoğlu.
Location: Cafe Privato is a great way to start your day if you are planning to visit Galata Tower. The cafe is located literally 2 minutes walk away.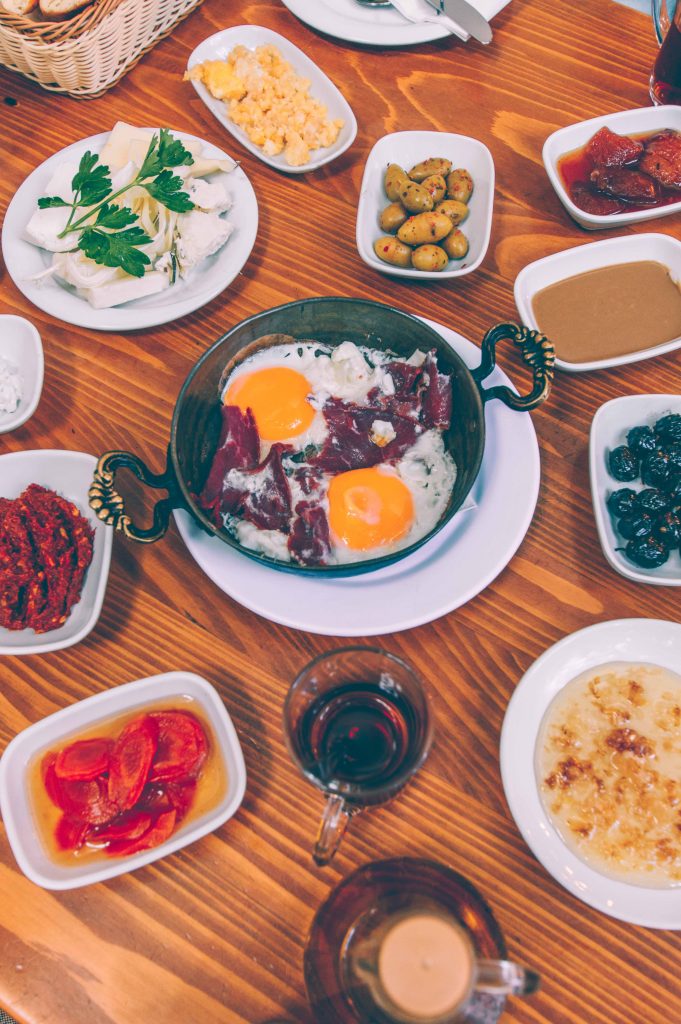 Van Kahvalti Evi
This place was my introduction to Turkish breakfast some four or five years ago. On my recent trip to Istanbul (you can check my 3 days Istanbul itinerary here — awesome time with lots of good food guaranteed!) I returned to check if it still lives up to its reputation. Reporting back: it totally does.
Van Kahvalti Evi serves Kurdish-inspired breakfast. "Van" in the name stands for the city of Van located on the Turkish-Iranian border with predominantly Kurdish population. Some of the Kurdish specialties you can try here is otlu peyniri, salty white cheese mixed with herbs from the region, as well as murtuga, eggs scrambled with butter and flour.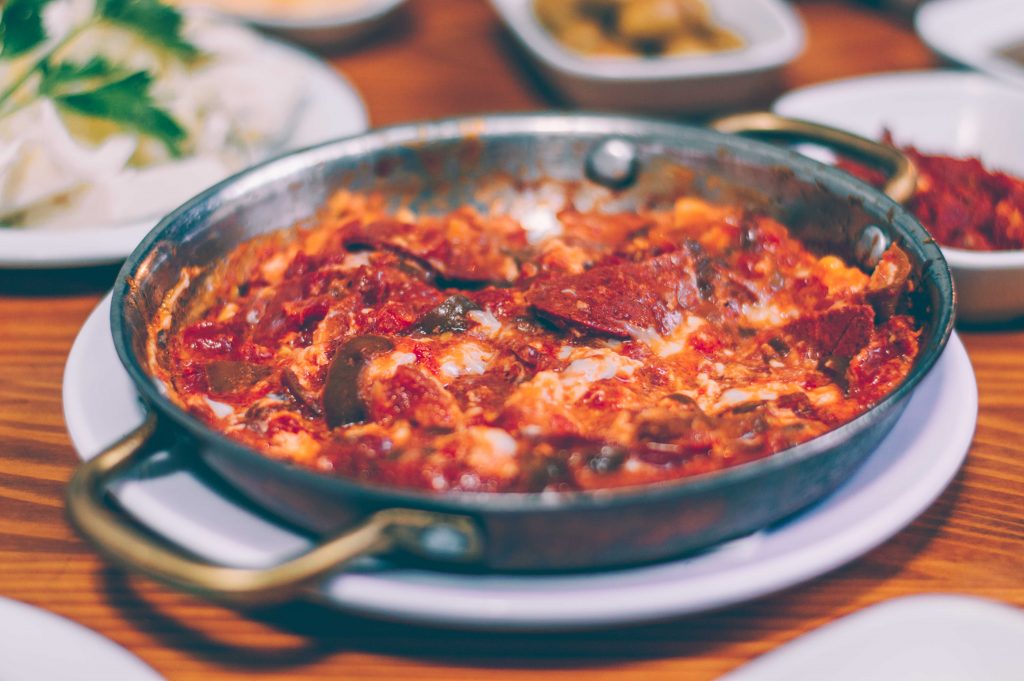 The tea is bottomless, needless to say. But instead of refilling your glass, a waiter who walks around the cafe with a tray of tea glasses puts a new one in front of you every now and then.
Van Kahvalti Evi — Kılıçali Paşa, Defterdar Ykş. 52/A, Beyoğlu.
Location: Van Kahvalti Evi is located in Cihangir neighborhood. One of the main attractions nearby is the Museum of Innocence which is a must-visit if you read Orhan Pamuk's novel with the same name. The nearby neighborhood called Çukurcuma features plenty of vintage shops, boutiques and art galleries.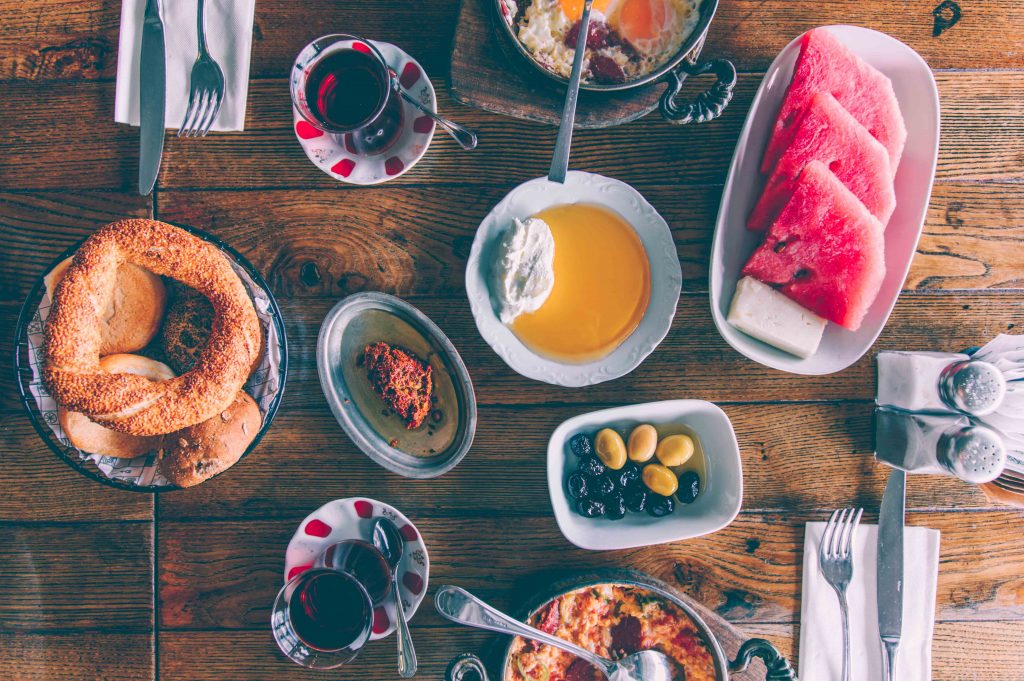 Lokma
While in most of the restaurants you'll find set breakfast menu for a set price, at Lokma you can mix and match the dishes to suit your individual taste. I probably wouldn't go to Lokma for my very first Turkish breakfast in Istanbul as you are yet to learn the basics and which dishes go well together. However, if you've already had some experience, choosing exactly what you love is exciting.
Another advantage is that you are less likely to overeat when ordering just a couple of dishes in comparison to a set menu which features a few dozen plates. My husband and I went for eggs— menemen with sucuk (eggs with spicy sausage) for me and simple fried eggs for him — as well as fresh watermelon served with cheese, a couple of freshly baked simits (the best I've had so far), and my personal favorite — honey with kaymak (clotted cream).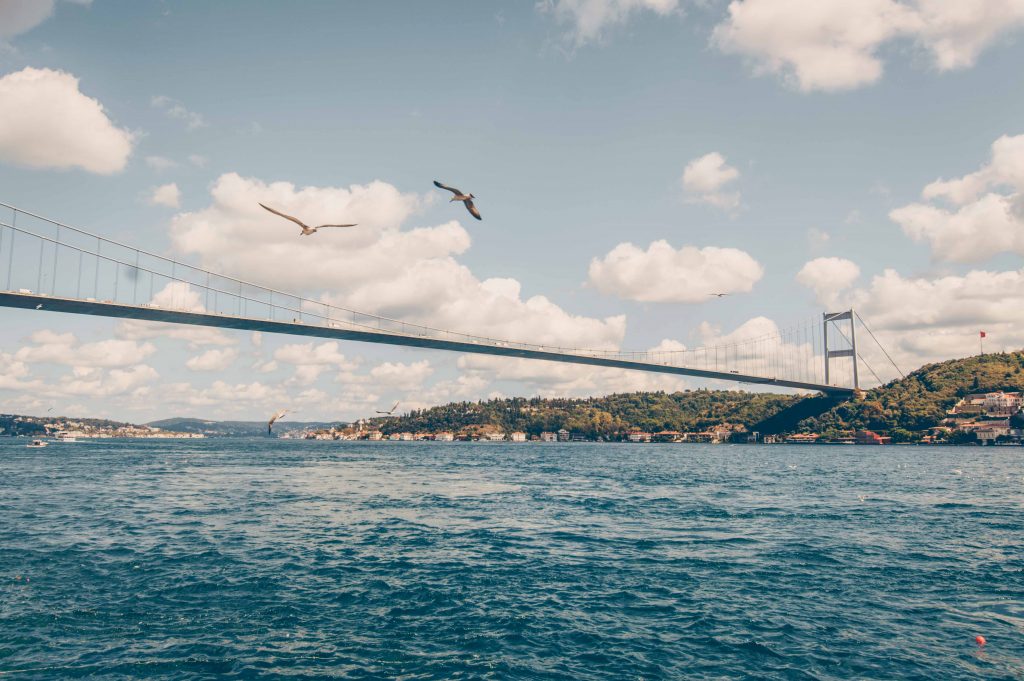 Apart from delicious food, another reason to spend your morning here is the gorgeous view of Bosphorus.
Lokma — Rumeli Hisarı, Yahya Kemal Cd. #18, Sarıyer.
Location: Lokma is located right by the waterfront where you can take a walk after breakfast. Only 10 minutes away is Rumelihisarı fortress, one of the major attractions in Istanbul.
The House Cafe
The House Cafe which takes its origins in Istanbul, currently features 15 branches in Turkey and around the world. Only in Istanbul you'll find 9 locations, but the one I've tried and recommend is the House Cafe Ortaköy.
Just like Lokma, The House Cafe is worth stopping by if only for the beautiful vista of Bosphorus. Make sure to book a table at one of the two large terraces where you can sit right by water with a view of Ortaköy Mosque. The indoor area is no less impressive with eclectic design suitable for fine-dining.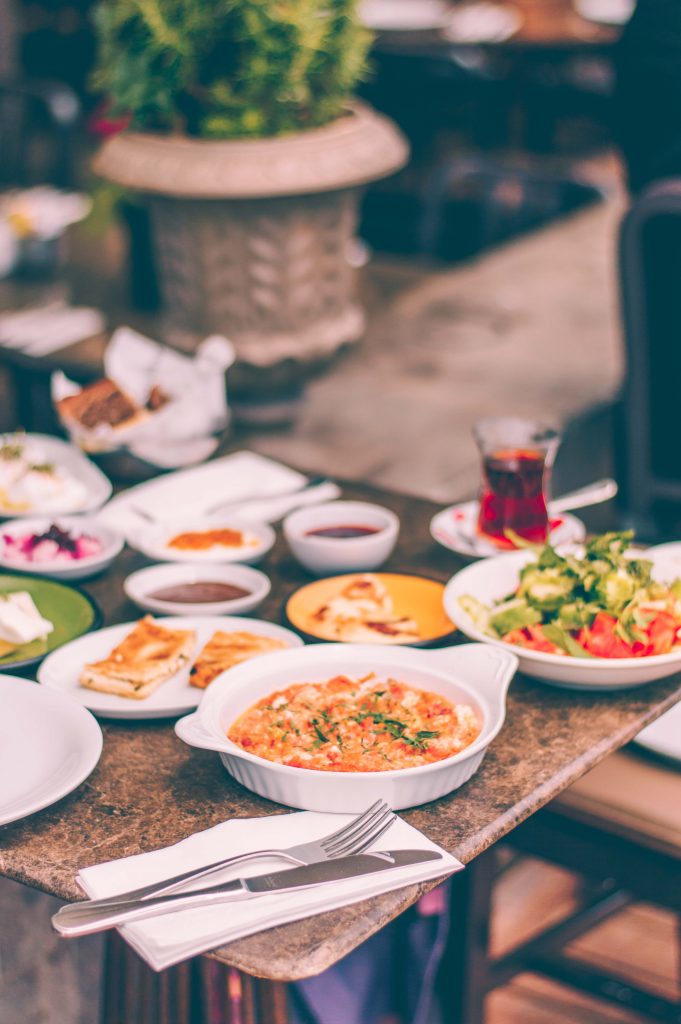 I can't vouch for their lunch and dinner options, but the breakfast selection was great. Fresh food and brisk service, despite the fact that the cafe accommodates up to 450 people.
The House Cafe — Yıldız, Salhane Sk. #1, Beşiktaş.
Location: there are 9 locations in Istanbul, but the cafe in Ortaköy has the most amazing views and tables set right by the water. Afterwards, you can visit Ortaköy Mosque or take a ferry ride through Bosphorus strait from the Ortaköy pier.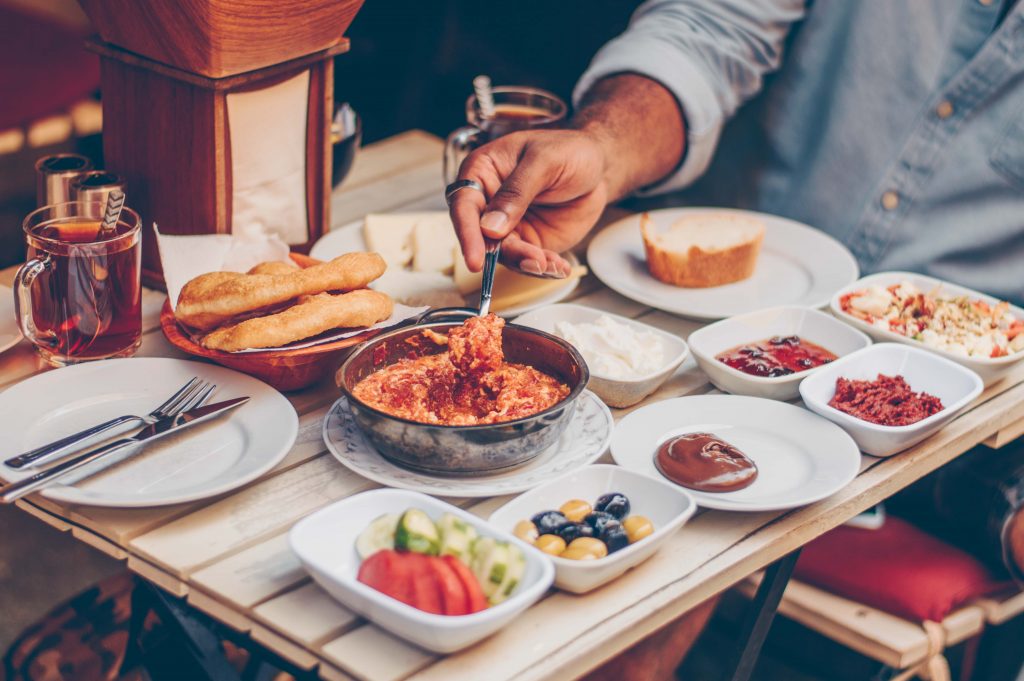 Çakmak Kahvaltı Salonu
When talking about breakfast in Istanbul I simply have to mention the breakfast street of Beşiktaş. Yes, there's a whole street laden with dozens of cafes exclusively serving breakfast — how awesome is this! In fact, it's not just one street, but a U-shaped enclave of amazing morning food.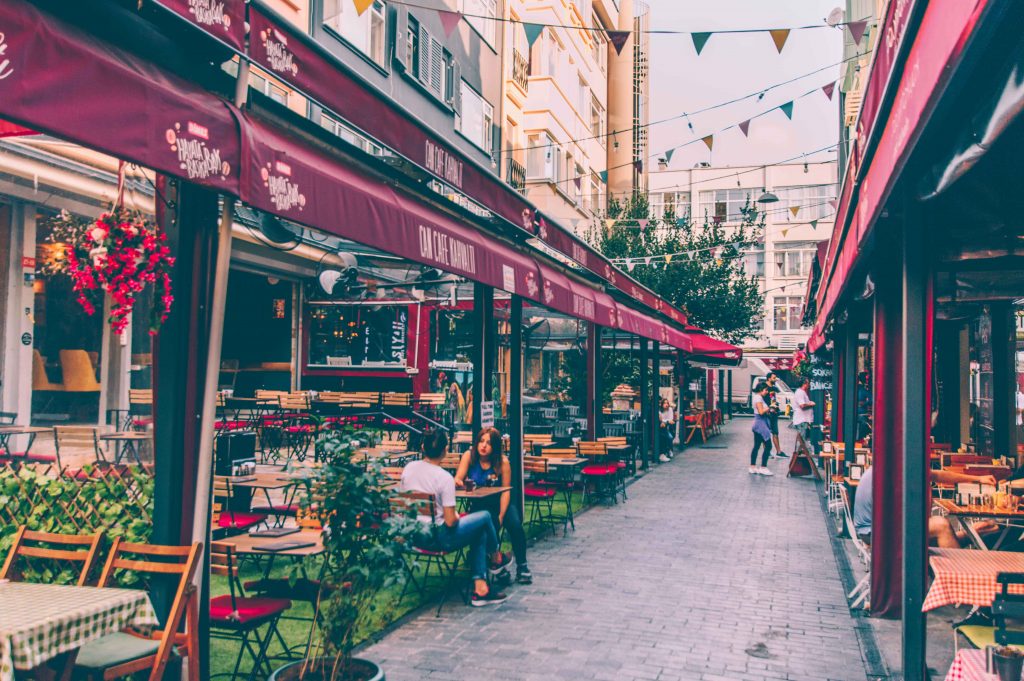 With dozens of cafes in this tiny spot, it may be hard to choose just one. I suggest to start at the origins. The breakfast street is said to have started with Çakmak Kahvalti Salonu. Almost 15 years ago Şah Ismail Çakmak from the city of Erzincan opened his cafe on the street formerly known as Eskiciler Sokağı. While it was an odd location in the beginning, soon other cafes started opening next door.
Pişi, fried dough served for breakfast.
One of the specialties you have to try at Çakmak is pişi, fried dough that is not unlike donuts.
Çakmak Kahvaltı Salonu — Sinanpaşa, Çelebi Oğlu Sk. #8, Beşiktaş.
Location: Çakmak Kahvaltı Salonu is located in the neighborhood of Beşiktaş, which is highly residential and will give you a real look into the lives of Turkish people. After breakfast you can walk around its busy streets, visit the neighborhood fish market, or explore the Dolmabahçe Palace which is only a 13-minute walk away from the breakfast street.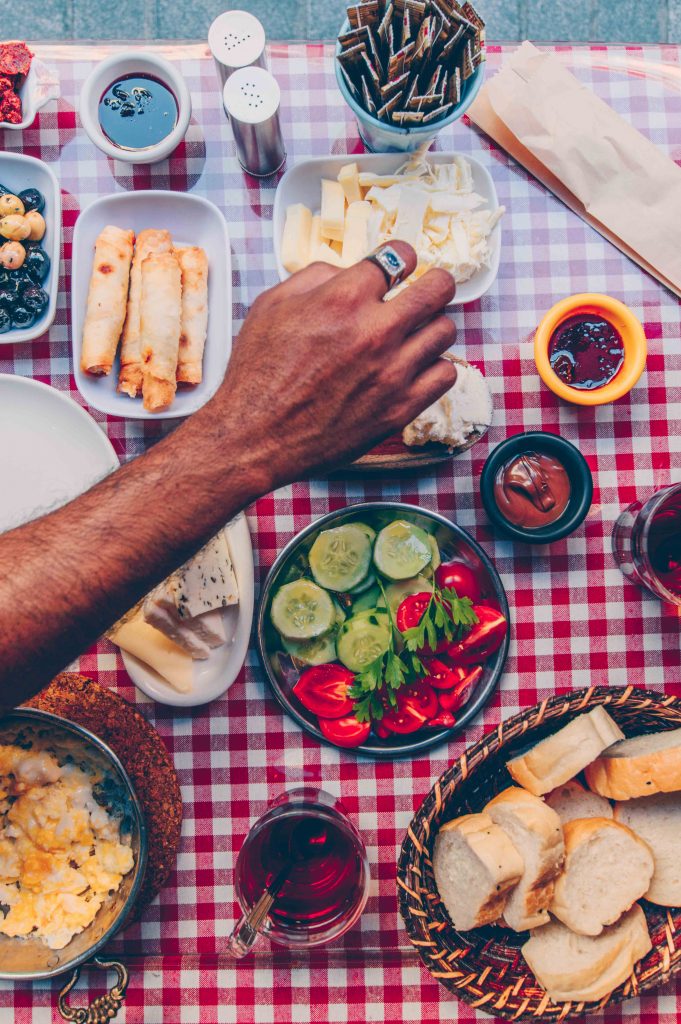 Peynir Ekmek Cafe & Kahvalti
Peynir Ekmek is yet another cafe along the breakfast street of Beşiktaş. I happened to live in the neighborhood for a few days during my last visit and the breakfast street was how I started my each and every day.
What sets Peynir Ekmek apart from other spots on the street is their focus on cheese. In fact, "peynir" in the name refers to fresh white cheese commonly consumed at breakfast. But the reason why I came here over other cafes is to try traditional Turkish mihlama.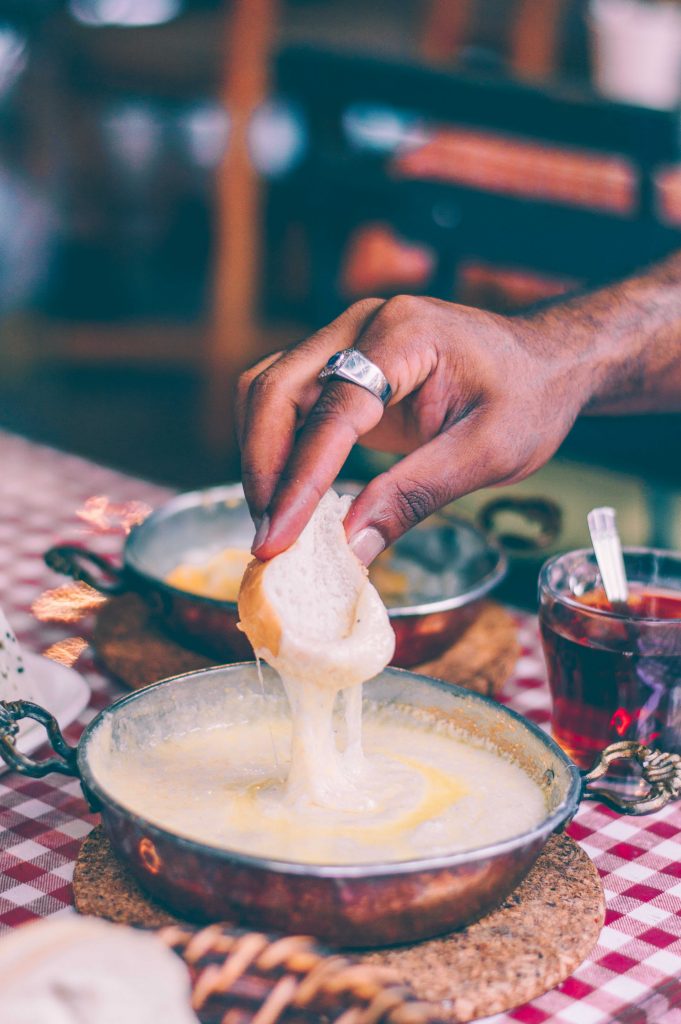 Mihlama is a blend of melted aged cheeses mixed together with coarsely ground cornmeal. Although it is served as a breakfast item all over the country, the dish originally comes from the Black Sea region. Served in a small pan to retain the heat, mihlama is meant to be scooped up with pieces of fresh bread. No utensils necessary.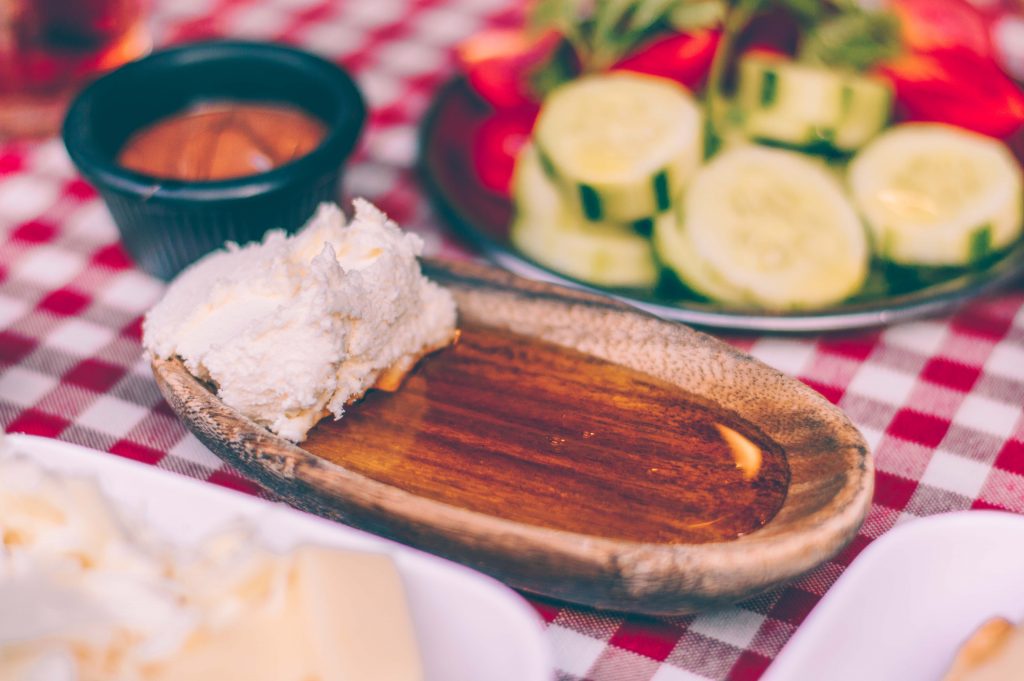 By the way, most of the cafes on the breakfast street, including Peynir Ekmek and Çakmak are affordable. You'll pay twice less here than, say, in Privato Cafe or Lokma.
Peynir Ekmek Cafe & Kahvalti — Sinanpaşa, Çelebi Oğlu Sk. #14, Beşiktaş.
Location: Peynir Ekmek is located in the neighborhood of Beşiktaş, which is highly residential and will give you a real look into the lives of Turkish people. After breakfast you can walk around its busy streets, visit the neighborhood fish market, or explore the Dolmabahçe Palace which is only a 13-minute walk away from the breakfast street.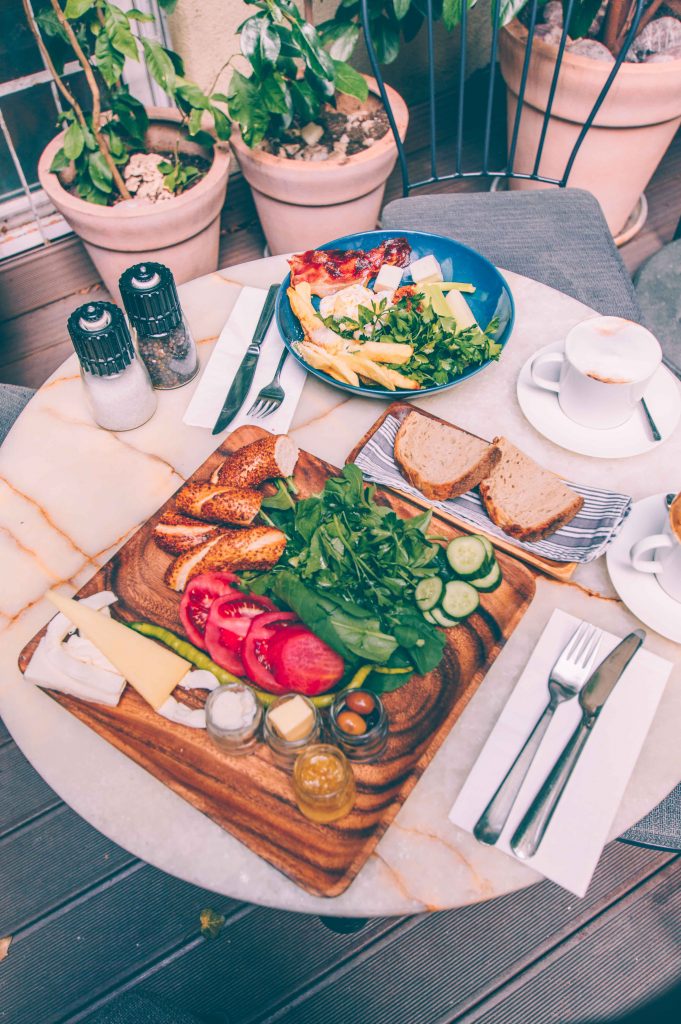 Journey Lounge
My last suggestion for a fantastic breakfast in Istanbul is Journey Lounge, perfect for when you still want to indulge in something Turkish, but your companion cannot fathom eating another menemen.
I honestly thought Turkish breakfast is impossible to get tired of. Turned out I was wrong. 7 days is what it took to crave something light and healthy in the morning.
At Journey Lounge, natural and seasonal ingredients are the way to go: homemade breads and pickles, organic milk and yogurt, organic chicken from a nearby farm.
Another reason to visit Journey Lounge is their grumpy cat!
Their Journey Breakfast features all the traditional Turkish breakfast elements you'll find in other cafes, only set on a single board instead of tiny platters. The portions are also smaller which makes it a perfect breakfast for one.
If you are more into something Western, they offer pancakes, English scones, granola and yogurt.
All in all, this is more of a hip and modern cafe in comparison with other places on this list, which is only fitting given that it's located in the cool Cihangir neighborhood.
Journey Lounge — Kılıçali Paşa, Akarsu Ykş. 21/A, 34425 Beyoğlu.
Location: Journey Lounge is located in Cihangir which is famous for its many vintage stores, boutiques and art galleries. Take your time to explore its narrow streets after breakfast.
* * *
I hope this guide helps you to find fantastic breakfast in Istanbul no matter in which neighborhood you start your day. This is definitely only the tip of the iceberg, and I hope to include more restaurants in this guide when I return to the city.
A Few Ideas for Your Stay in Istanbul
If you are still not decided on your plans in Istanbul, check out my 3 day itinerary for the city which covers major attractions, a few hidden corners, and lots of amazing food, of course.
In my opinion, one of the best ways to understand a city's food scene is to go on a food tour with a local. You can explore the delicacies in the historic center of the city, eat your way through the neighborhood of Kadikoy, or take a longer 5-hour tour that covers both Asian and European sides of Istanbul.
If you are looking for a place to stay, I highly recommend Miller Hotel in Karaköy neighborhood. I stayed there during my last visit and it was perfect in every possible meaning: location, interior design, and cleanliness are top notch, and the price is reasonable.
Lastly, if you try one of my suggestions, let me know in comments how it went and what your favorite breakfast dish was! Nothing makes me happier than when readers follow my tips and order "what she had".
Pin for Later: