My 2 days in Philadelphia started off with a heat wave in the morning, followed by a thunderstorm in the afternoon, and – a cherry on top of the cake – it was the first day of Democratic National Convention. How is my timing? Despite the crowds overflowing the streets, journalists on every corner, and heavy rain that made me hide in City Hall fearing for my well-being, I had a great time.
Not only did I get to see the city, but I also had fun trying to get into the frame of a camera man waving from behind the reporter like an idiot; watching a protest against literally everything – racial discrimination, immigrants' deportation, Hilary Clinton, animal cruelty – all in one tiny square; and spotting a BMW with a number plate that said  "celebrity". I tried to convince the driver to tell me who is that poor humble celebrity hiding inside, but had no success.
My itinerary for 2 days in Philadelphia was packed to the brim, but that's how I prefer it when I have little time in a new destination. I also have to mention that I love walking, and it's my preferred way of getting from one attraction to another when I travel. But you are free to use public transport or Uber if you follow my plan. Here's my 36 hours in Philadelphia guide!
Disclosure: this post contains some affiliate links which means if you buy something by clicking the link I will earn a small commission at absolutely no extra cost to you.
How to Spend 2 Days in Philadelphia
Day 1
Have Breakfast at Sabrina's Café
I have to admit, I had no idea Philadelphia restaurants scene is so impressive. Just last year, for example, the James Beard Foundation named Philadelphia's Zahav "Best Restaurant in America". I didn't get a chance to try it out, but you definitely should.
Another local gem is Sabrina's where you should head for breakfast. It's a locally owned chain of cafes famous for their all-day breakfast and brunch. There are four cafes around the city. To make the most of your first day in Philly go to their Art Museum location and try one of Sabrina's signature breakfast items like stuffed challah French toast. It's delicious, flavorful and also bigger than my head. We tackled it with full force of 5 family members and won! If I were to be left one-on-one with this monster, I would be defeated, no doubt.
Address: 1804 Callowhill St.
Website: http://sabrinascafe.com/

Marvel at Rodin's Sculptures
Only 7 minutes-walk away from Sabrina's café is Rodin museum housing one of the most comprehensive collections of Rodin's artworks outside of Paris. I loved the cozy feel of this "intimately scaled museum" as it's described on the official website. The museum is surrounded by a French garden with Rodin's sculptures that is free for public year-round.
Address: 2151 Benjamin Franklin Pkwy
Website: http://www.rodinmuseum.org/
Cost: admission to the Rodin Museum is Pay What You Wish; the garden is free year-round.
Get the Full Rocky Experience
Walk for another 9 minutes towards Philadelphia Museum of Art, find the Rocky statue at the bottom of the museum stairs and take a picture. There's usually a short line to the statue, but you won't wait for more than 5 minutes.
Now the fun part begins. You have to turn on "Gonna fly now" on your phone as loud as possible (download beforehand if you need to!) and run up the stairs with determined expression on your face. Then take another picture Rocky-style facing the city with your hands triumphantly in the air.
Since you are right in front of the art museum, you might want to check it out. But with only 2 days in the city, I didn't have the time and didn't include it in the plan.
Address: 2600 Benjamin Franklin Pkwy
Cost: free
Visit Eastern State Penitentiary
The walk from Rocky steps to the penitentiary will take you 12 minutes. Eastern State Penitentiary is considered to be the world's first true penitentiary with revolutionary system of incarceration that encouraged separate confinement. The system later became a model for over 300 other prisons worldwide. Some notorious criminals like Al Capone and bank robber Willie Sutton were held inside.
I have to say, visiting this place was the most eerie experience during my 2 days in Philadelphia. The long empty corridors and bare walls with pictures of prisoners give you chills. And Steve Buscemi's voice on the audio guide doesn't help either. To feel the atmosphere of the penitentiary check out some amazing pictures here and the history of the place here.
Address: 2027 Fairmount Ave
Website: https://www.easternstate.org/
Cost: $14 for adults
Enjoy Well-Deserved Dinner
After the tour I wondered around the city in no particular direction and ended up having dinner at Steve's Prince of Steaks, which is about 30 minutes away from the penitentiary. If you are not as crazy about walking as I am,  you can have dinner at London Grill. It's only 3 minutes-walk away from the penitentiary and serves new American fare. There's also OCF coffee house nearby, if you prefer a cup of coffee and a quick snack. Both of the places were recommended to me by a travel blogger Stephanie Craig of the History Girl who used to live in Philadelphia.
Steve's Prince of Steaks — 41 S 16th St
London Grill: 2301 Fairmount Ave
OCF Coffee House. Address: 2100 Fairmount Ave
Day 2
Today we are going to explore the most iconic sites of Philadelphia: Independence Hall and Liberty Bell, so there might be a little bit of waiting in lines and maybe even elbowing your way through the crowd. But it really isn't that bad if you plan ahead.

Visit Independence Hall
Let's admit it, one of the main reasons you come to Philadelphia for the first time is to see the birth place of Declaration of Independence and Constitution.
You can get the tickets for free in the nearby Independence Visitor Center. But they are limited and distributed on the first-come, first-served basis. To secure your spot you can book the tickets online for $1.50 per person and pick them up at the Independence Visitor Center before the tour. All tours are guided and timed.
Address: 520 Chestnut St
Website: https://www.nps.gov/inde/planyourvisit/independencehall.htm
Cost: free if you pick up the tickets before the tour at Visitor Center, $1.50 if you reserve tickets online beforehand.
If you didn't have breakfast at the hotel or Airbnb where you are staying, try out Knead Bagels that is located 6 minutes-walk away from Independence Hall.
Knead Bagels: 725 Walnut Street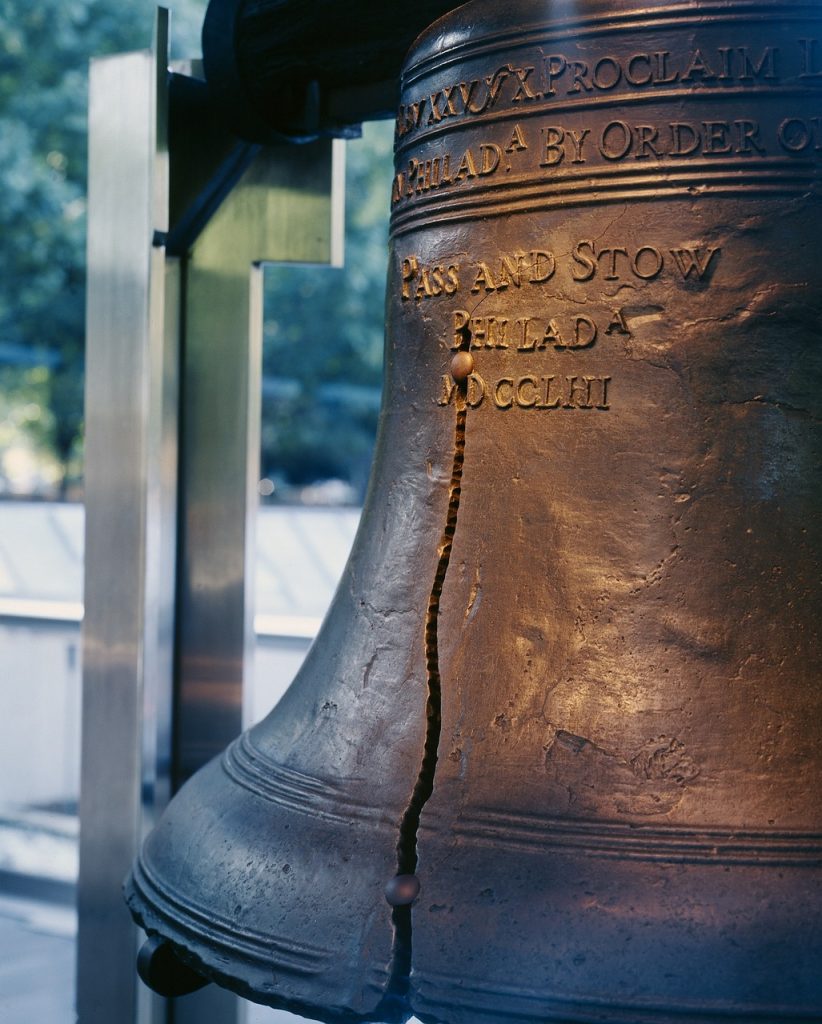 Visit the Liberty Bell Center
Another must-see landmark of Philadelphia, the Liberty Bell, is located across the road from the Independence Hall. It will take you no more than 1 minute to get there. Admission is free and tickets are not required.
Address: 6th St & Market St
Website: https://www.nps.gov/inde/learn/historyculture/stories-libertybell.htm
Cost: free
Have Lunch at the Reading Terminal Market
Walk 15 minutes to the Reading Terminal Market that will provide you with immense amount of lunch options: from seafood to hoagies to Indian curries. Take your time to walk around and try out samples. But if you need recommendations, Kamal's Middle Eastern Specialties makes amazing falafel, Carmen's has delicious cheesesteaks approved by President Barack Obama himself, and Termini Bros has mind-blowing ricotta-cheese cannoli (the chocolate one was a bit underwhelming, though).
Address: 51 N 12th St
Website: http://readingterminalmarket.org/

Walk Around the City Hall
Walk 6 minutes to the gorgeous Philadelphia City Hall, then have a little rest at the Dilworth Park, located right at the foot of the City Hall. It has a Great Lawn, computer-programmed fountains and a picture-perfect Love Sculpture.
Address: 1401 John F Kennedy Blvd
See the Wanamaker Organ
The largest playable organ in the world is located in the Wanamaker Building, literally two minutes away from the City Hall. You need to go inside Macy's and walk all the way to the back to see it.
Address: I can't find the official address of the building. Search for the Wanamaker Building in Google maps and it will come up.
Website: http://wanamakerbuilding.com/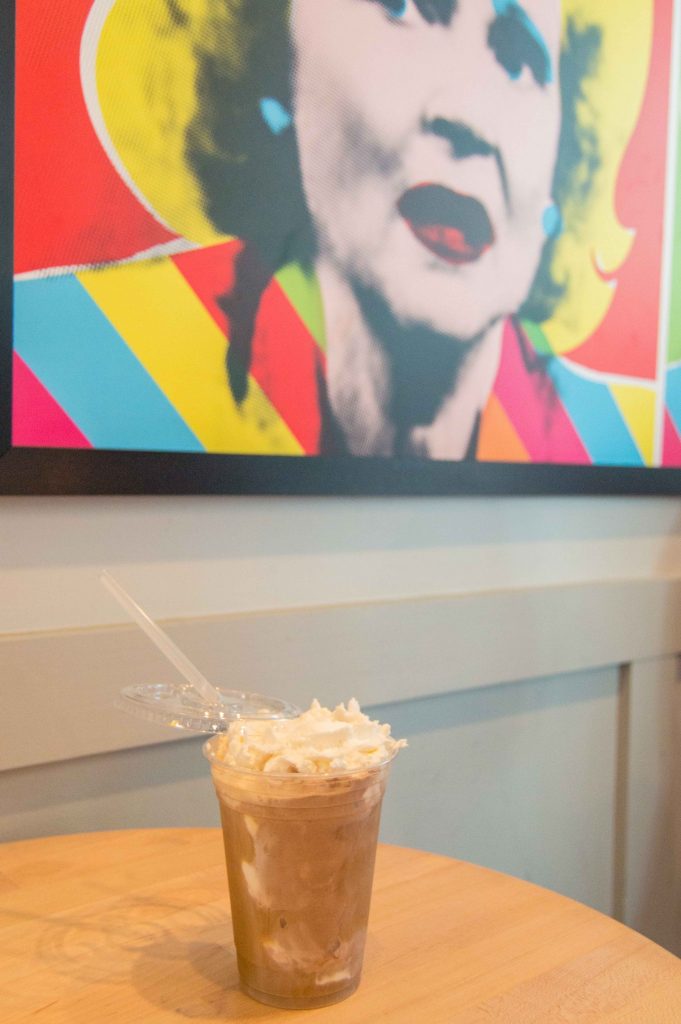 Try Affo'gay'to at Big Gay Ice Cream
You can take Uber or public transport to get to Big Gay Ice Cream or you can also walk there, it will take 30 minutes. I am not as crazy as to ask you to take a taxi just for the sake of ice cream: this awesome ice cream shop is located right next to Philadelphia's Magic Gardens and that's the next stop on our itinerary.
First of all, I couldn't miss a café with such a catchy name. I know it's temping, but don't ask the counterperson what's so gay about this ice cream and whether eating it is going to make you gay. Apparently, they get asked these questions a lot, so the answer is printed on the menu. Second, ice cream is good. I've tried the affo'gay'to – their own version of Italian affogato – great refreshment for a hot summer day.
Address: 1351 South St. (between Broad Street & Juniper Street)
Website: http://biggayicecream.com/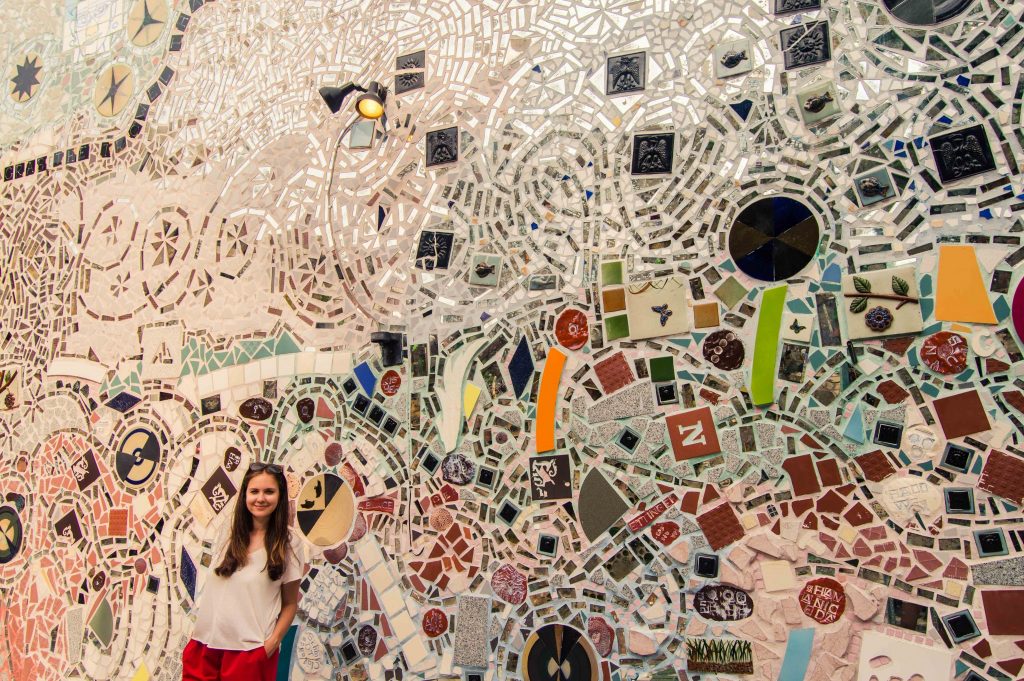 Explore Philadelphia's Magic Gardens
Magic Gardens is an outdoor art gallery occupying half a block on South Street in Philly. The space is created using non-traditional materials like glass bottles, mirrors, found objects, toys, bicycle wheels and what not.
I loved the installation, but what's even more amazing is the story behind it. The artist Isaiah Zagar along with other activists turned the neighborhood into artistic haven and helped to stop construction of a highway that would have eliminated South Street. Initially he used several empty lots to start this project.
In 2002 the Boston-based owner (who, apparently, had no idea that his land is being used) decided to sell the land, but was confronted by community that was against destroying the art-project. There was a two-year legal battle. And guess what? The owner lost! Moral of the story: if you have property, don't leave it unattended.
Apart from outdoor gallery, there's also a small indoor museum featuring modern art works. My favorite part, though, was the restroom inside the museum!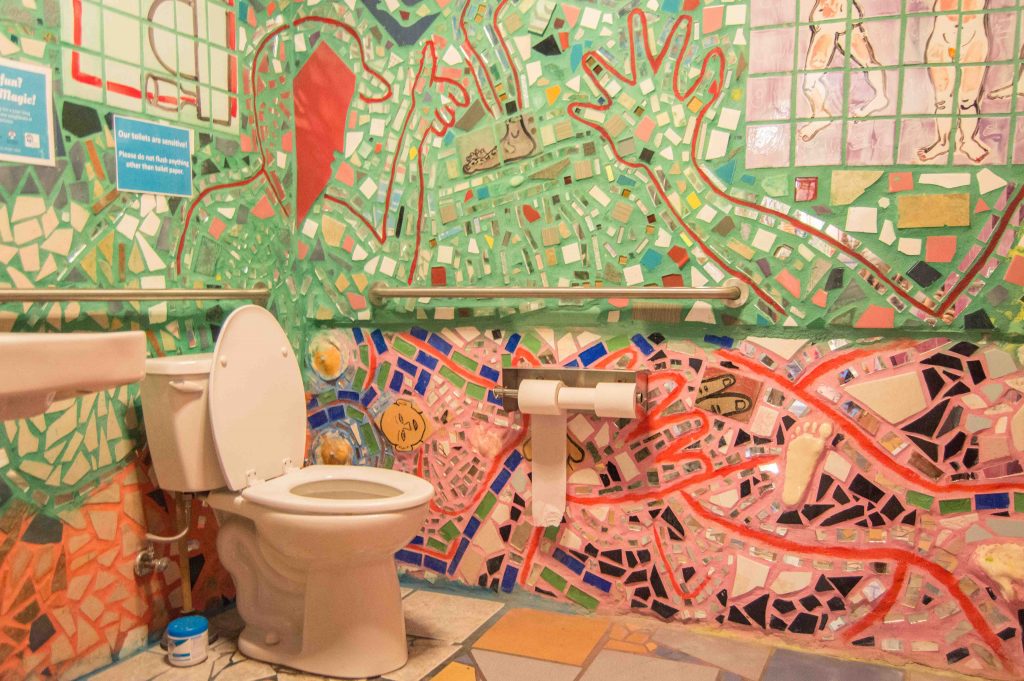 Address: 1914, 1020 South St
Website: https://www.phillymagicgardens.org/
Cost: $10 for adults
Finish the Day With a Hearty Dinner
After Magic Gardens I headed to my Airbnb apartment and cooked a dinner myself. But if you are looking for a place to eat out, you can try a cheesesteak at George's sandwich shop or Ishkabible's, both within 10 minutes-walk from Magic Gardens. You can also check out this list of restaurants on South Street, recommended by Philadelphia's Magic Gardens.
George's sandwich shop — 900 S 9th St
Ishkabibble's — 337 South St
Important tip: make sure neither of the two days in Philadelphia fall on Tuesday, both Rodin museum and Philadelphia's Magic Gardens are closed on Tuesdays.
Where to stay in Philadelphia
Home Away from Home, Only Better — Lokal Hotel
A small boutique hotel with 6 rooms and no concierge. As the owners describe it, "the midcentury meets industrial designed lofts make you feel like you're at home, but a much better, calmer and less cluttered version of home." 
Not only did they design a beautiful space, but Lokal introduced "invisibe service" which means all your needs are taken care of without anyone actually being present in your space. There are iPads with room service apps, web-based music, and curated guide-book to Philadelphia that will help you explore it like a local. To really appreciate what an amazing job the designers have done, check out these before-after photos of the historic building turned into a dream-hotel.
Another homely experience but, unlike Lokal Hotel that is all about industrial chic, La Reserve is cozy like your grandmother's house. The B&B is located inside one of the 19th-century townhouses lining Pine Street in a residential neighborhood. It's quiet, yet Rittenhouse Square is only a few minutes walk away. 
If you are looking for a budget stay for your two days in Philadelphia, Apple Hostels is a good option. Like all hostels, it provides minimum comfort for a low price, plus you get to have a fun community to hang out with. The hostel is centrally located, with Liberty Bell only a few blocks away.
If you have any suggestions what to do and eat in 2 days in Philadelphia, comment below!
Pin for later: