"Overwhelmed" should be defined in the dictionary as the feeling you get when trying to choose the best dining options on your first visit to New York. Even if you google "the absolute best most delicious critically acclaimed must-try foods in NYC" you are likely to go through dozens of lists that include 50+ dishes. When you travel to New York for the first time with only a few days to spare, where do you even start in terms of great food?
To avoid feeling like I am missing out, I usually come up with a theme every time I travel to NYC. One time it was restaurants featured in movies and TV-shows, on another trip I explored the dining scene in East Village where I was staying, but my very first trip was all about the most iconic NYC restaurants.
From pastrami sandwich to bagels to pizza, this list includes must-try New York foods and where to find them. Pretty much for every food on this list you'll have to wait in line, but they are totally worth it!
Disclosure: this post contains affiliate links which means if you buy something by clicking the link I will earn a small commission at absolutely no extra cost to you.
1. Pastrami Sandwich at Katz's Deli
One cannot leave New York without trying a pastrami sandwich from Katz's Deli. It's not my opinion, it is a fact.  First of all, the deli is over a hundred years old! It was opened in 1888 under the name of Iceland Brothers. Over time the deli changed names and locations a few times until it found a permanent home on Houston Street as Katz's Delicatessen (Houston is pronounced "House-ton", by the way).
Katz's Deli is most famous for its pastrami sandwich that is so big, there's a sign inside that dares you to finish it on your own. Pastrami here is prepared the old-school way: first curing for 3-4 weeks, then smoking for up to 72 hours, and finally boiling for 4 to 6 hours. After that, you can cut the meat with a butter knife. 
If you are still not convinced, Katz's Deli doesn't only have amazing food, but it served as a filming location for movies like When Harry Met Sally and Across the Universe. I wrote all about my experience at Katz's in this post.
Katz's Delicatessen — 205 East Houston Street (corner of Ludlow St)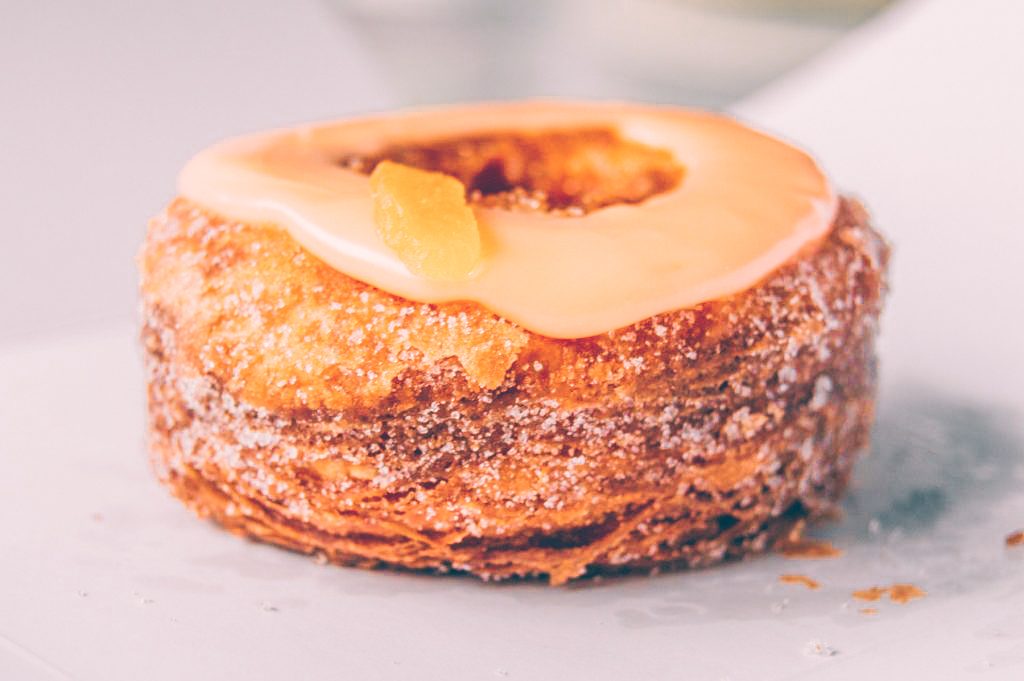 2. Cronut at Dominique Ansel's Bakery
Dominique Ansel's Bakery quickly turned from a "must-try on the first visit" to "must-try on every visit to NYC" for me. I simply adore the genius of Dominique Ansel and can't wait to try his new creations every time I am back. He has many pastries and desserts that will blow your mind, starting from DKA (Dominique Koign Amann) to madeleines made to order and served piping hot to a milk shot presented in a cookie cup. But the one pastry Ansel is most famous for is cronut, a combination of croissant and donut that changed the baking game and made the world go crazy.
There's only one flavor of cronut sold at the bakery at any given time, but the flavor changes every month. In the past the bakery offered fig mascarpone cronut, Valrhona chocolate champagne cronut, and even matcha golden pineapple cronut. Cronuts are sold from the opening hour until sold out which is usually only a couple of hours. You can read about my experience of standing in line to get one here. 
Dominique Ansel Bakery — 189 Spring St
3. Banana Pudding at Magnolia Bakery
Magnolia Bakery is on my lists of both iconic restaurants and filming locations in New York. Not only has it been producing some of the best cakes in the city for the past decade, but was also featured in the third season of Sex and the City when Carrie and Miranda dropped by to have cupcakes and discuss Aiden.
Magnolia bakery is most famous for their banana pudding which is layered with vanilla wafers and freshly cut banana. There are several branches around New York, but if you want to visit the original location (and the one featured in Sex and the City) head to West Village.
By the way, if you are a fan of Sex and the City, visiting Carrie's apartment should definitely be on your list of things to do in NYC. It's located steps away from the bakery. 
Magnolia Bakery — 401 Bleecker St (the original location)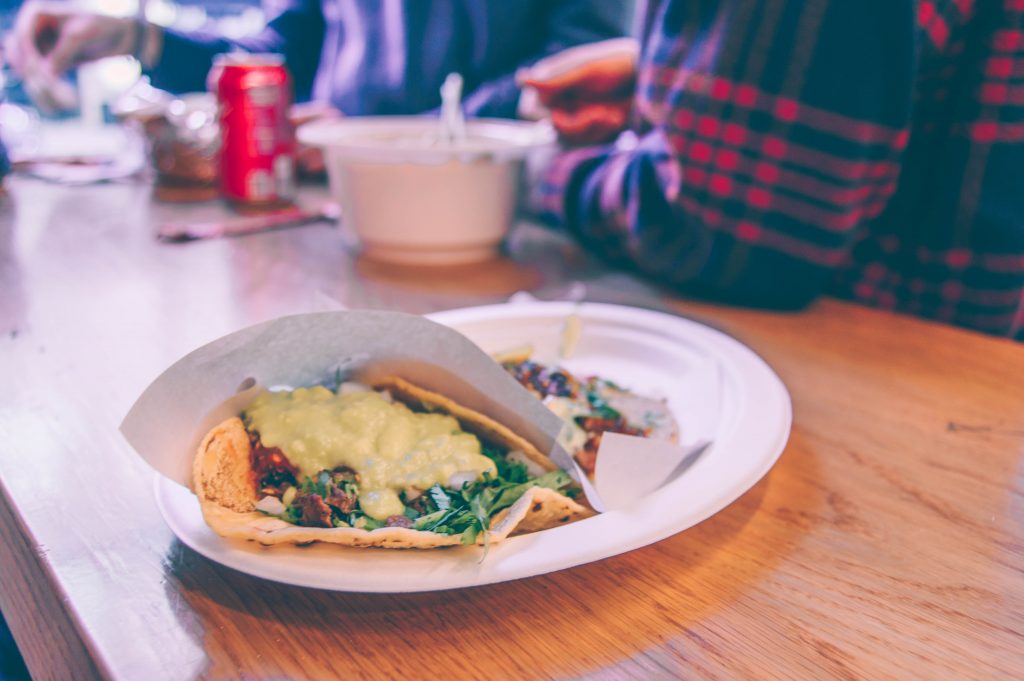 4. Tacos at Los Tacos No.1 (Chelsea Market)
I'd say Chelsea Market in general is a must-visit in NYC for anyone who travels for food, but as I have to choose one dish, I'll go with tacos from Los Tacos No.1. Chelsea Market is an indoor market and dining space located in a building that formerly served as the headquarters for National Biscuit Company. It has dozens of restaurants inside from simple and affordable like Los Tacos No. 1 to high end like Buddakan.
The menu of Los Tacos No.1 is short and sweet with only four varieties of tacos available. But the few options they serve are impeccable. Take it from a person who lived in Austin for two years and is now spoiled for life by Texan tacos. Their adobada (marinated pork) and carne asada (grilled steak) tacos are worth waiting in line for (The line moves fast. It took me only 15 minutes to get the order). 
Los Tacos No.1 — 75 9th Ave (inside Chelsea Market)
5. Bagels with Lox at Russ & Daughters
Russ & Daughters is another New York Institution that has been around for over a century and is still owned by the same family. In 2009 it has entered its fourth generation of ownership. The original store was opened in 1914 on Orchard street by Joel Russ, an immigrant from Poland, but was moved to Houston street in 1920 and that's where you can still find it today. 
A century after the shop was opened, Joel Russ' great-grandchildren opened Russ & Daughters cafe. You can choose whether to drop by the shop and get your bagels with cream cheese and lox to-go or to have a proper brunch at the cafe. The latter might require some waiting in line. 
Both the shop and the cafe have been praised by every publication imaginable from the New York Times to Eater to the New Yorker. And their brunch was named one of Oprah's favorite things in 2018. 
Russ & Daughters — 179 E Houston St
Russ & Daughters cafe — 127 Orchard St
6. Pizza at Joe's Pizza
A tiny unassuming joint located on Carmine Street in Greenwich Village, Joe's makes one of the best pizza in NYC beloved by locals, tourists and celebrities alike. In their own words, Joe's Pizza has "no glossy corporate backing, no fancy pants pies, no pretentious nonsense and no gimmicky budget pizza either."
Joe's offers classic New-York-style pizza. The recipe is the same as it was in 1975 when the joint first opened and the cooking process is still overlooked by Joe Pozzuoli, who immigrated to the USA in 1950s from Naples, Italy.
At the moment, Joe's has 4 locations in New York. The original restaurant in Greenwich Village is crowded, but the line moves fast. While waiting to order, check out the walls inside to spot your favorite actor. It seems like everyone from Leonardo DiCaprio to Ann Hathaway to Bradley Cooper love this place!
Joe's Pizza — 7 Carmine Street (the original location)
7. Burger and Milk Shake at Shake Shack
Unlike Katz's Deli and Russ & Daughters that have a century-long history, Shake Shack is a relatively new player that was opened in 2004. Nevertheless, a burger from Shake Sack is a classic New York bite. In Los Angeles you go to In&Out, in the South — to Waffle House, in New York — to Shake Shack. 
Having started as a hot dog cart in Madison Square Park, Shake Shack grew into a nationwide chain of restaurants serving gourmet burgers and custard-based milkshakes. What separates it from other fast food chains is the attention to the quality of ingredients. The meat in burgers is all-natural Angus beef, vegetarian fed and humanely raised. They also promise to never use hormones or antibiotics. Multiple locations around New York and affordability are added advantages.
Shake Shack — multiple locations around NYC
*Full disclosure: I haven't tried the next three foods myself yet. But they belong on this list and I am looking forward to going back to New York and checking them out. If you try them, let me know how you liked them!
8. Chicken Over Rice at the Halal Guys
Chicken over rice is the ultimate NYC street food! Ok, the second ultimate right after hot dog… which is funny because that's how The Halal Guys started — as a hot dog cart on the intersection of West 53rd Street and Sixth Avenue by a few guys from Egypt. After opening their original cart in 1990, they quickly realized the demand for halal food from Muslim cab drivers and switched to making rice with chicken and gyro instead. 
Twenty eight years later, a single cart turned into a conglomerate of sorts with multiple locations across the country and even abroad. The original cart on 53rd and Sixth Ave still exists and usually has a long line of locals and tourists alike. There are also plenty of copycats around New York now, so if you want to try the real thing, double-check the address of the branch online and look for yellow and red uniform the staff is wearing. 
You need to order chicken over rice or lamb over rice, but they say the secret is in the sauce that comes with them. Take both the white and red sauces and mix them in — it makes all the difference.
The Halal Guys — corner of 53rd Street and Sixth Ave (the original location)
9. Hot dog at Gray's Papaya
We've already covered the classic New York foods like pizza, bagels, and pastrami sandwich. Now to hot dog! While there are plenty of hot dog carts around the city, there's one place in particular that deserves a detour — Gray's Papaya. 
Anthony Bourdain featured Gray's Papaya on his show No Reservations which is reason enough for me to choose this joint over any other. There are two locations in NYC with original one in Upper West Side. Obviously, get a hot dog, but also add a papaya drink to your order. Apparently, the "papaya" in the name refers to the drink they sell (they have other options too).
Gray's Papaya — 2090 Broadway (the original location)
10. Chocolate Chip Walnut Cookie at Levain bakery
While you are in Upper West Side, stop by Levain Bakery and try their world's greatest chocolate chip cookie (as per fans of this cozy neighborhood bakery and their official website). The bakery was founded in 1994 by two friends, Connie McDonald and Pam Weekes, who started out by making artisan breads for restaurants. Today, the main reason a line forms every day in front of Levain is because of their 6-once chocolate chip cookie which is somewhat of a celebrity among NYC desserts. Nevertheless, almost every review I've read states that the cookie lives up to the hype and exceeds all expectations. 
Levain Bakery — 167 West 74th St (the original location)
NYC Food Tours
If you prefer a local to show you the city and its best bites, booking a food tour is a good idea. NYC has dozens of tours around its many neighborhoods. Here are a few: a dessert tour of NYC, food tour of Greenwich Village, or Little Italy food tour.
I hope this list of iconic NYC foods will be helpful in planning your first trip to New York! Do you know other iconic restaurants that should be added here? Let me know in comments!
Pin for later: