I have a magnet from Singapore on the fridge, but it doesn't speak to me. Not one particular memory comes to mind when I look at the piece of plastic shaped as Singapore skyline. On the other hand, edible Singapore souvenirs I brought home stir a whole range of emotions in me.
A tea spoon of kaya jam revives memories of my first breakfast in the Lion City and the inevitable sugar shock that comes with it. Pineapple tarts will forever associate with the rushed departure to the airport because who remembers to check time when you are out and about in one of the most amazing cities in the world? And durian chocolates will, hopefully, be a good reminder to never-never again buy anything that has durian in it.
When it comes to making one miss a city or country more than ever, food does a much better job than any magnet ever could. Want to truly remember your days in Singapore? Then stock your luggage with these edible Singapore souvenirs!
Best Singapore Souvenirs For the Foodie in You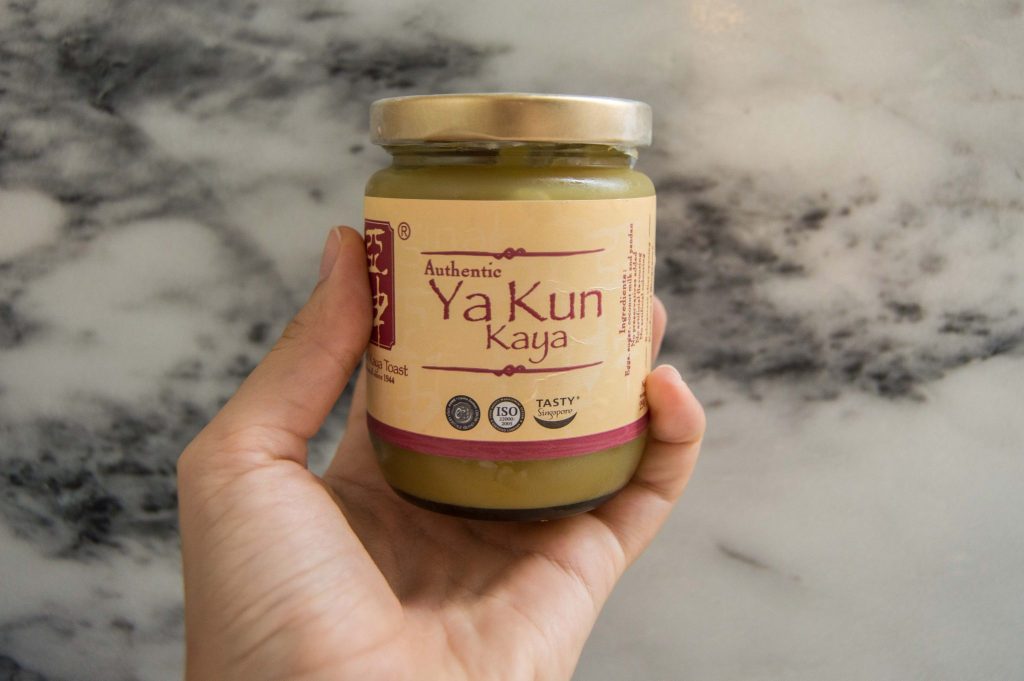 Kaya Jam
Even if you are only visiting Singapore for a couple of days, chances are one fine morning you'll find yourself in a kopitiam – local coffee house – drinking extremely sweet coffee and having a toast with kaya jam and a chunk of butter smothered on it. Add to that a plate of soft-boiled eggs and you got yourself the most authentic Singaporean breakfast.
Kaya jam is one of those foods that disguises its true nature under an unrelated name, because kaya jam is not jam at all, but curd made of caramelized sugar, coconut milk and eggs. The curd is infused with popular in Singapore pandan – bright green leaf – that tints it with greenish color.
The legend has it that kaya jam was a creation of Chinese kitchen workers who served on British ships. They used coconut, eggs and pandan when fruits were not available to make jam. The resulting curd was so popular that when the Chinese settled in Southeast Asia they introduced kaya toast in kopitiams.
Where to get it: the easiest way to buy kaya jam is from one of the cafes where you are having breakfast. One of the most popular chains that serve Singaporean breakfast is called Ya Kun Kaya Toast. They have multiple locations in Singapore.
Pineapple Tarts
I am not sure what it is with Singaporian foods and their names, but their only goal, it seems, is to confuse unsuspecting travelers. Just like kaya jam is not really a jam, pineapple tarts are not really tarts. The looks of these famous pastries vary from one bakery to another, apparently following no logic or rules, but only the imagination and creativity of a person who makes them. Sometimes they look like balls, other times like rolls, and on certain occasions like cookies. But almost never like tarts, meaning open pastry cases with filling.
No matter the shape, the taste remains outstanding. When done right, the tarts made of buttery crumbly short dough and filled with pineapple jam melt in your mouth. Singapore boasts many pineapple plantations and an important role in global pineapple-canning industry. According to Miss Tam Chiak,
"The creation of pineapple tarts was largely attributed to the Peranakans who were strongly influenced by the Portuguese settlers in Malaya, who in turn were well-known for their pastries and tarts. With the abundance of pineapples in the area, it was being turned into pineapple jam/paste. Combining the pastries and pineapple paste gave birth to the popular pineapple tarts today."
Where to get it: I got mine from Bengawan Solo, one of the oldest chains of bakeries in Singapore famous for their traditional cakes. They have an outlet in Changi Airport which makes it easy to find a foodie souvenir if you didn't have the time to get one during your stay. For more options check Miss Tam Chiak guide to 10 best pineapple tarts in Singapore.
Pandan Chiffon Cake
Can't say it was one of my favorites, but definitely one of the lightest, softest, cloud-like cakes I've ever had. Why get it? Because pandan chiffon cake was recently named Singapore and Malaysia's national cake by CNN. Malcolm Lee, the chef of Candlenut, one-Michelin-starred restaurant in Singapore, explains that
"A good pandan chiffon cake is moist and fluffy on the inside and a nice golden brown colour on the outside."
Although it's difficult to track the origins of the cake, one can confidently say that it is a result of combining Western pastry-making techniques with local ingredients. To reach the light texture egg whites are beaten into soft peaks and mixed with freshly squeezed pandan leaf juice.
Where to get it: like pineapple tarts, I bought my pandan chiffon cake from Bengawan Solo at Changi Airport. You can get a whole cake or a slice. For other options check this guide to the best pandan chiffon cakes in Singapore.
Tip: eat pandan chiffon cake within a day or two after returning home. It is best enjoyed fresh!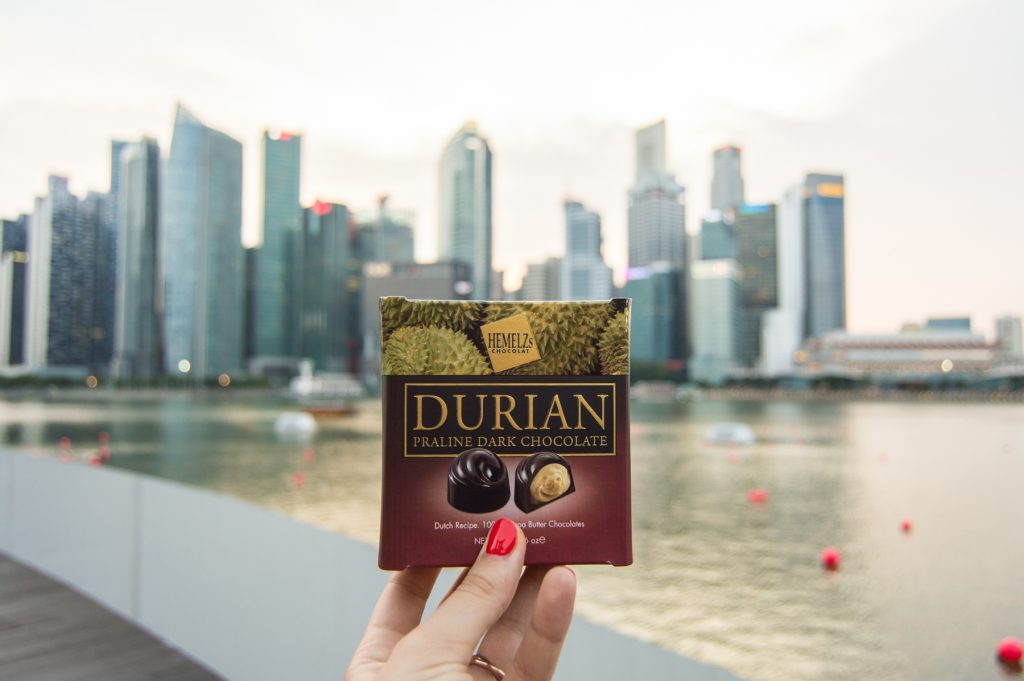 Durian Chocolates
I always write recommendations based on the foods that I tried and, most importantly, liked. By this logic durian chocolates shouldn't be on the list, because even though I put one in my mouth, I couldn't finish it for the life of me.
These candies were a tricky way to cheat my taste buds into liking durian. Maybe, just maybe, covered in a thick layer of chocolate, disguised as a candy, this slimy smelly weird fruit will find its way to my heart (so I thought to myself). It took exactly one bite to realize my body is smarter than I gave it credit for.
But I understand that people have different tastes. So, for all of you completely normal people who are willing to eat something that requires you to stop breathing, these candies will make a great foodie souvenir! Since durian itself is prohibited from airplanes (once again, nothing weird about people who love to eat something that smells so bad it's not allowed in airplanes!), candies filled with durian paste are the next best thing.
Where to get it: supermarkets. If you only have a few days and spend your time in touristy areas, there's a grocery shop  Cold Storage Specialty in Marina Bay Sands (#B2-46).
Tip: read the ingredient list and make sure the candies are not flavored with durian, but have actual durian inside.
Now that we got all your foodie souvenirs sorted, maybe get that magnet, just so that friends who come to your place know you've actually been to Singapore. Because let's face it you are not going to share the precious pineapple tarts or kaya jam with anybody! Maybe share the durian candies. Yea, give them to somebody as a present!
Pin for later: