So you are planning a visit to my Motherland? This truly makes me happy. As a person who was born in Russia and knows about its beauty, historical and cultural heritage, and warm hospitality, I often feel frustrated by the lack of interest to my home country around the world. Ok, I'll rephrase that. There's a great deal of interest and curiosity, but very few people end up satisfying that interest at the source. I don't mean you. You are already planning a trip… unless you are some kind of weirdo who reads tips for traveling to foreign countries in your spare time.
What I am trying to say is kudos to you for choosing my home as your next destination! I hope you will have a great experience, and I am here to help with a few travel tips for Russia. Being Russian is both an advantage and a disadvantage in writing this post. On the one hand, I know my country better and on a deeper level that travelers who come for a few weeks. On the other hand, I cannot experience Russia as a foreign visitor who can't speak the language, doesn't know Cyrillic alphabet, and has never eaten kholodets.
To bring the best of the two worlds, I asked my foreign friends who had been to Russia what they wish they knew before the trip. Below is a mix of Russia travel tips from me and my friends.
Disclosure: this post contains affiliate links which means if you buy something by clicking the link I will earn a small commission at absolutely no extra cost to you.
50 Tips for Traveling in Russia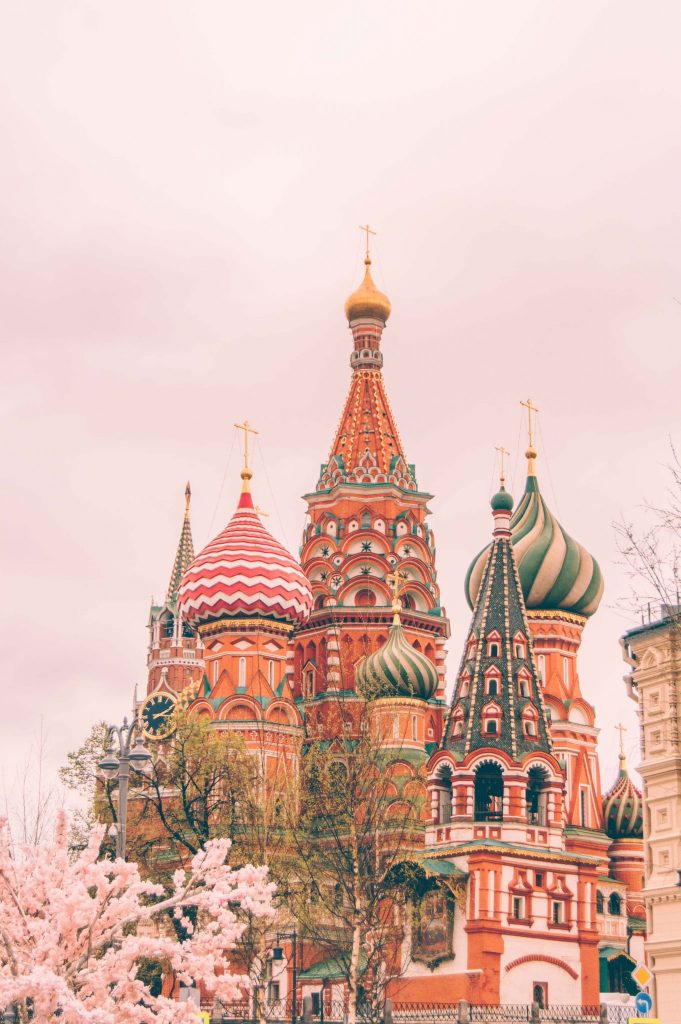 What to See in Russia
I am going to sound banal, but start with Moscow and Saint Petersburg. First, you cannot go to Russia and not see those cities, it just doesn't make any sense. The amount of historical and cultural sites in Moscow is mind-blowing. And Saint Petersburg with its beautiful churches, hidden courtyards, and majestic palaces is one of the most romantic cities in Europe. You can spend a month in each city and still not cover all the attractions. And second, these are the two cities easiest to explore if you don't speak Russian. Street signs, metro map and stations names, menus in restaurants are all translated into English.
Don't limit yourself with Moscow and Saint Petersburg. Just think of it: Russia is THE largest country in the world and takes up 1/6 of the land mass. There is innumerable amount of beautiful towns and villages, forests and mountains, lakes and rivers to explore. Some of the places on my personal wish list are the Golden Ring of Russia, Sochi, Kazan, Lake Baikal, Altai region, and Kamchatka. Also, consider visiting my home of Yekaterinburg.
If you are doing the full length of Trans-Siberian train journey, make breaks and go out to explore cities on the way. I know it's a dream for many people traveling to Russia, but I have to say, no Russian ever dreamed of traveling by train for seven days (which is how long it takes from end to end) just for the sake of it. When a foreigner asked me for the first time if I had done the full length of Trans-Siberian, my answer was genuine "why would I do that?" That is not to discourage you, I just find it funny.
Weather, Time Zones, and the Best Time to Visit
Russia is divided into eleven time zones which means when you travel from region to region it's important to check in which time zone you are. Daylight saving time is not observed.

Contrary to what you might have heard, there is such a thing as summer in Russia. And no, it doesn't snow in summer. Russia is a large country, so climate changes from region to region. But, overall, the weather is warm and enjoyable from May to September which is when you should visit. On average, the temperature in summer is around 20-25°C (68-77°F).
If you are looking for adventurous and memorable vacation, visit Russia in winter. As Siberians say, "A Siberian is not the one who isn't afraid of cold, but the one who dresses up properly". Yes, it will be cold and you'll have to wear layers and layers of clothes, but you'll get to do all the fun winter activities: ice skating, skiing, making a snowman, tobogganing, and so on. And you can't imagine what a satisfying feeling it is to have a cup of hot tea with varenie (jam) after a long day outside.

The one season I wouldn't recommend for a trip is early spring (March-April). This is the time when snow starts melting, creating huge dirty puddles on the road. Overall, it's grey, grimy, and depressing.

Plan you trip around holidays if you want to celebrate with Russians. The two holidays we love and celebrate big are New Year (31st of December) and Victory Day (9th of May). Spending New Year in Moscow is one the coolest things you can do (and you might as well stay for Russian Orthodox Christmas on the 7th of January).
Packing
Packing, of course, depends on the season. I assume, you'll figure out what to take for summer? For winter, pack layers. Make sure to take tights, a hat, a scarf, mittens (no leather gloves!), sweaters, a really good warm jacket. As for winter shoes, Russians opt for boots made of genuine leather with genuine fur inside (faux leather and fur are considered very low quality and will not keep you warm). Next one is funny, but I have to say it. Russians are very stylish, especially girls. So even in winter, with all the layers, people still think about how it will all look together.

The single most important clothing item in your luggage should be comfortable shoes. Moscow and Saint Petersburg are made to be explored on foot. You'll end up walking for 6-8 hours a day on average. Pack something comfy, that won't make a walk around the city a struggle.

Pack a shawl and a skirt for those days when you are planning to visit churches. Women have to wear skirts below the knee and put on shawls on their heads when entering a church, men have to remove any hats/caps. Some of the most touristy churches and temples have skirts and shawls you can borrow at the entrance.
If you are planning to go out in the evening, pack something nice. As I mentioned above, Russians like to dress up. You won't see a girl wearing tights and a hoodie, with no make up on going out and about. Special occasions, like a theatre play, a dinner at a fancy restaurant, or a night out in a club require some dressing up.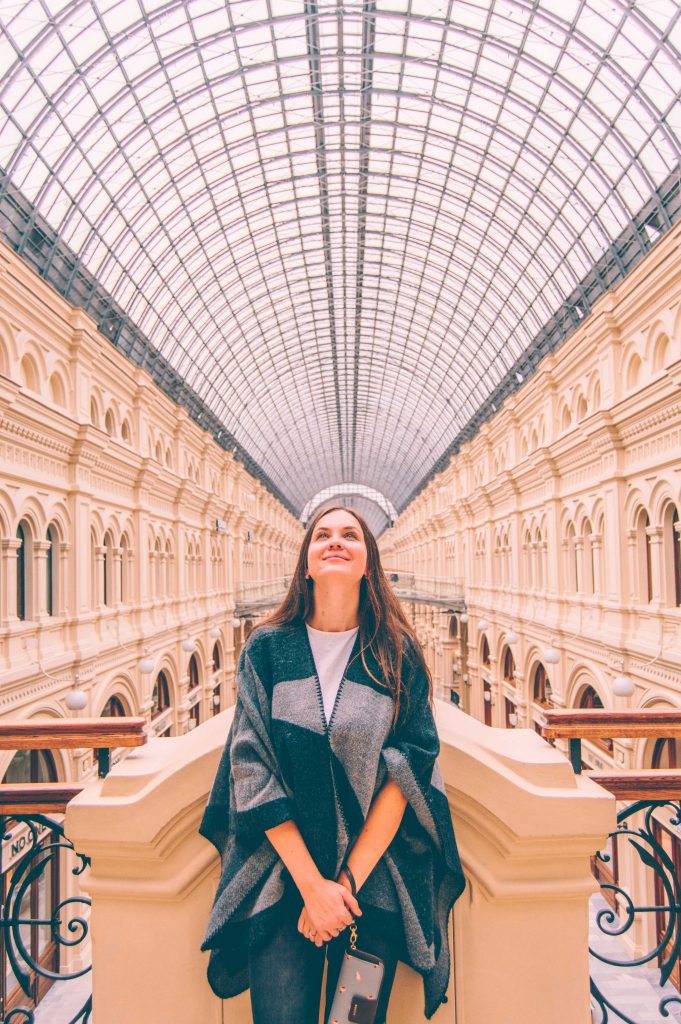 Money
Local currency is Russian Ruble. It's best to exchange money in banks. The most famous and trustworthy bank in Russia is Sberbank. Other well-known banks include VTB, Alfa-bank, Bank of Moscow, VUZ bank. They sometimes have a slightly better exchange rate than Sberbank.
Take the most perfect newest banknotes on your trip. Make sure there are no torn parts and no marks. Don't fold them. A lot of banks in Russia charge a commission to exchange US dollars or Euros into Rubles if the banknotes are not "picture-perfect". Sometimes even the tiniest crease can be a cause to charge you extra. This is infuriating, but is a common practice. I noticed that banks in Moscow and Saint Petersburg do this less often than banks in smaller cities.
Credit cards are accepted pretty much everywhere: in hotels, restaurants, and supermarkets (even in smaller towns). However, you might encounter problems with paying by credit card online, for example, for internal air tickets or hotels. I personally had trouble booking flights from Moscow to Ekaterinburg and buying tickets to Bolshoi Theatre with a card issued by a US bank. It's always worth trying to book your tickets directly first, but if the payment doesn't go through, the best way is to book through a third party. I used Expedia to book my internal flights. If you have a friend in Russia you can ask them to book tickets for you and refund the money later.

In comparison with USA, where tips usually constitute a major part of a waiter's salary, in Russia, tips are seen only as a way to show appreciation. Generally, we leave 10% tip in restaurants. We don't normally tip taxi drivers, hair dressers, nail specialists.

Unless you are at a Chinese market (you'll be surprised, but we have one in almost every big Russian city), bargaining is not a thing. Probably, another exception would be souvenir vendors near all major attractions in Moscow and Saint Petersburg, but I wouldn't recommend buying from them anyways.
Connection
If you are traveling from USA, bring an adapter. The power sockets in Russia are of type C and F. The standard voltage is 220 V; standard frequency is 50 Hz.
If your phone is unlocked, get a local sim-card — it will save you a lot of money. The major carriers in Russia are Megafon, MTS, Beeline and Tele2. In Russia, you get a sim card for a particular region. If you are traveling outside of your region, you'll be in roaming mode. If you are planning to visit several regions of Russia, explain it to the salesman when buying a sim card. A passport is required to get a sim card.
The easiest way to refill your phone balance is by using a Qiwi machine. These machines are somewhat like ATMs, only they are meant for payments. You can pay with cash or credit card. The machines are spread out across cities. Usually, you can find one in supermarkets.
Wi-Fi is everywhere: in restaurants, cafes, hotels, even in Moscow metro and buses.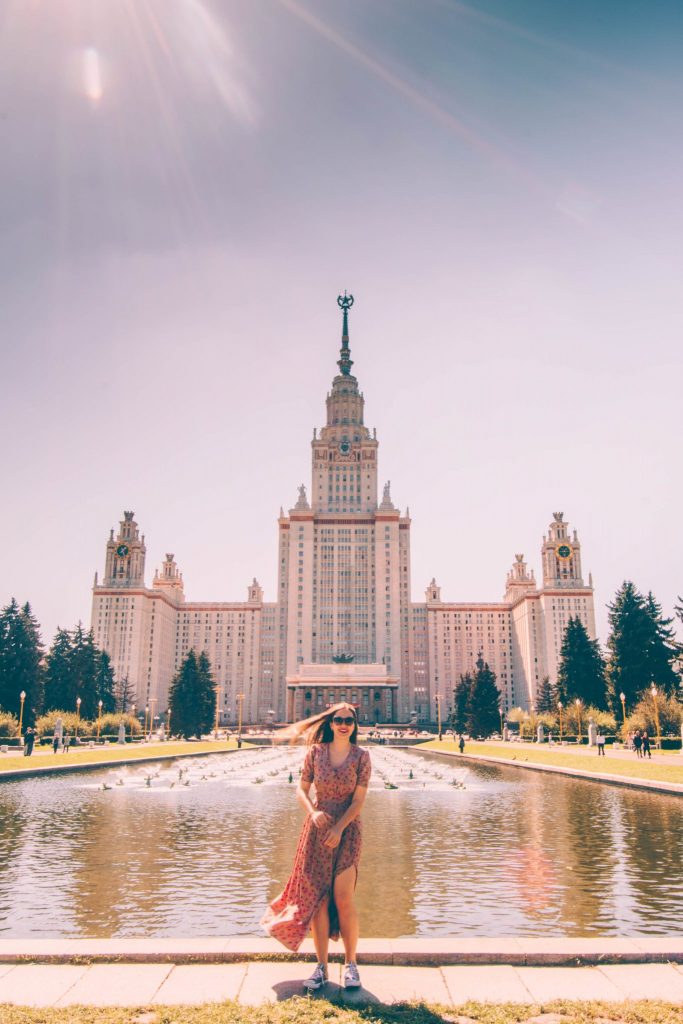 Transport Between Cities
To get from one city to another within Russia, you can use one of the local airlines. Some of the most popular ones include Aeroflot, Rossiya, S7 airlines, Ural Airlines, Utair. Pobeda is a local low-coster. Make sure to read all the rules carefully to avoid being charged at the airport for luggage or other extra services.
Train is another very popular way of traveling. Trains are generally comfortable and clean. Kupe, or a closed compartment for four people, is the best way to go. Platskart, an open dormitory-style carriage, is a cheaper option, but will provide no privacy whatsoever. Russian Railways (Российские Железные Дороги) is the official site for all information on train schedules and tickets.

A train-travel hack: show your train ticket at the train station restrooms, otherwise you'll have to pay.
The most comfortable option to travel between Moscow and Saint Petersburg is a new fast train called Sapsan which takes you from one city to another in only 4 hours. The price depends on the day and time of your trip, but if you are flexible you can buy a ticket for as little as $30. There are also regular overnight trains which are cheaper.
Public Transport in Cities
Public transportation system is well developed all around Russia and especially in big cities. You can get around without a car easily. Some of the main types of public transport include metro, buses, street cars, trams, and marshrutka (a privately owned van for about 12-15 people).
In Moscow, buy a card called Troika that will allow you to automatically pay for metro, bus, and street car. Not only is it comfortable, but it'll save you money too. You can buy it at any metro station or in special kiosks near bus stops. You can refill the card when the balance is low.
In Saint Petersburg, the same type of card is called Podorozhnik. It will allow you to use three types of public transport without having to deal with cash and tickets every time.

If you need taxi, use Uber app or a local app called Yandex.Taxi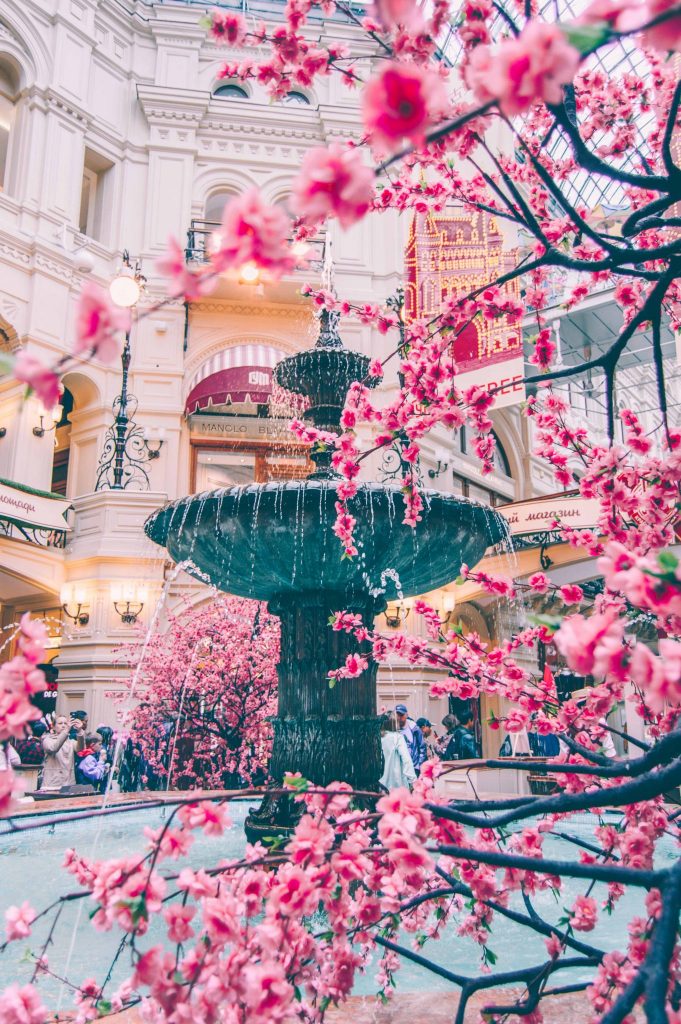 Safety
I consider Russia a safe country to travel, but I recommend to take the same precautions as you would in any other country. Don't hang out late at night in some shady little streets, don't walk around with your bag wide open, don't flash money, be especially careful around train stations and touristy attractions. I always recommend to get a travel insurance, especially if you are traveling to a new and unknown country. I always use World Nomads in my travels. Give it a try!
Hate to say it, but if your skin color is not white, you'll have some extra attention in Russia. That doesn't necessarily mean anything bad, but people are curious about what they haven't encountered and they will stare. You won't feel it much in Moscow and Saint Petersburg, where locals are used to tourists from all over the world. But the further away you travel from big cities, the more attention you'll draw.
Culture
Politics is politics, and people are people. Despite everything that is going on in the world right now, despite the tensions between Russia and the Western world, Russian people are generally nice, friendly, and welcoming. That is not me praising my nation, that is what my foreign friends who have been to Russia shared with me.

The notorious "no smiling rule" in Russia. I can't explain it, but it's true that Russians don't smile much in the streets. We joke and laugh a lot in a company of friends, but smiling at strangers is regarded a little weird. I've even read somewhere that looking at someone for more than two seconds is considered rude, that is bs. You can smile all you want — checking out people's reaction is priceless.
We don't do small talk. It makes us feel awkward.
Because Russians don't smile and don't do small talk, we often come off as aloof and cold. In reality, Russians are some of the most kind and generous people once you get to know us. We don't pretend to like anyone, we don't smile at strangers, we can be blunt to the point of being rude, but if you make a Russian friend, he will "give his last shirt away" to help you. One thing I really love about my people: we don't pretend. If someone actually smiles at you, they mean it.
Russians have a loooot of superstitions. Don't whistle inside the house — you'll have no money. Don't keep a handbag on the floor — again, no money. Don't sit on the corner of the table — you won't get married. Don't keep an empty bottle on the table — no idea what will happen, just don't. Sit down before going on a long journey — it will bring luck.
Russian men are galant and courteous around women. Opening a door, giving up a seat in public transport (this one is becoming less common these days), and helping with a heavy bag are fairly common. A man usually pays the bill if he invited a woman out, even if it's not a date.

We have a saying in Russia "Theatre starts with a cloakroom". Walking into a theatre wearing an overcoat is rude. Leave it at the cloakroom where a surprisingly fast babushka will take it from you. Similarly, there are cloakrooms in art galleries, museums, cinemas, and restaurants in Russia.

If you are planning a night out in a club, dress up! Apart from "dress code", there's also so called "face control" in Russian clubs. I know how ridiculous it sounds. The bouncers don't really check whether your face is pretty enough, they estimate whether you are able to spend money inside. So if you want to get in, you have to look fancy AF.

If you are invited into someone's house, bring something "k chayu" — sweets to have with tea. Usually when Russians invite you home, it means a big meal, so the least you can do is bring a dessert or a bottle of wine.

Remove shoes at the entrance when coming into someone's home. It's considered rude to leave the shoes on.
Language
English is not very widespread in Russia. Nevertheless, younger generation can usually communicate on a basic level. If you are looking for help, stop someone in their twenties. Language-wise, Moscow and Saint Petersburg are the easiest cities in Russia to visit. All of the street names, metro maps, the names of the stations, menus in restaurants are translated into English.
The further away from big cities you travel, the less people will know English. Use Google Translate or Yandex.Translate to help you communicate.

The latter is developed in Russia and tends to do a better job.

Majority of my foreign friends who have been to Russia said that knowing Cyrillic alphabet helps a ton when traveling around the country. It's worth investing some time in learning the alphabet before the trip in order to feel more confident once you are in Russia.
Some useful words in Russian include: privyet – hello, paka – bye, spasiba – thank you, pazhalusta – please, izvinite – excuse me, pryama – straight, naprava – to the right, nalyeva – to the left. Counting form one to five: odin, dva, tree, chetirye, pyat'. Ya ne piyu – I don't drink. The last one is a joke, you got that, right?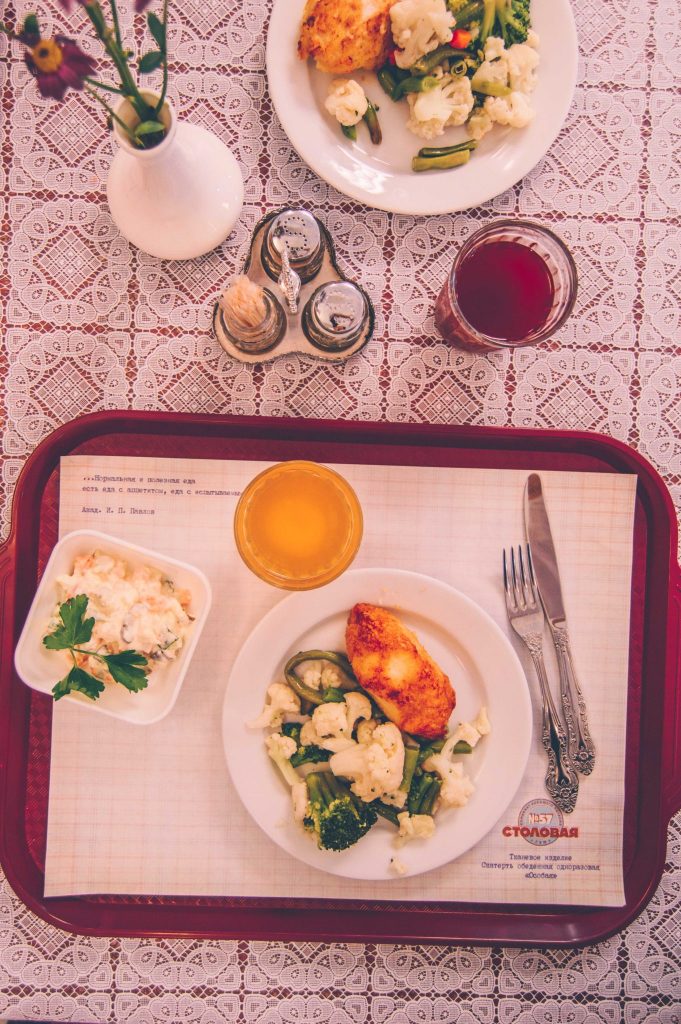 Food and Drink
In Russia, eat what Russians do: lots of soups, mayo filled salads, potato and cabbage in all possible forms, add a slice of bread to everything, and don't forget about baked goods and pastries. Also, drink lots of tea. By lots I mean six cups a day. If you want to learn more about the way Russians drink tea, read this article. And to learn how to eat like a Russian — read this.

Apart from Russian food try Georgian, Armenian, and Uzbek cuisines. Food of the former Soviet republics is very popular in Russia and is so incredibly good! Also — but don't laugh ok? — try Japanese rolls. They are probably nothing like what you'd find in Japan, but so delicious! Philadelphia roll is a must.
If you are looking for a cheap meal, check for stolovaya — canteen. Canteens were a popular dining option in Soviet times and are still a great way to have a good affordable meal. If you want a nice setting, look for a restaurant that offers "business lunch". Many restaurants and cafes offer lunch at lower prices than their normal menu.
Not all Russians drink vodka. We don't start our day by having a shot. We don't drink every single day. We don't drink to warm up in winter.

We do drink when there's a special occasion. If you want to drink vodka like the Russians, have a shot and follow it up with a pickle or by sniffing on a slice of rye bread.

There's no "Cheers!" in Russian language. Instead, we say a toast before every drink. It can be something as simple as "Let's drink to love/friendship/your health!" or an elaborate story with a moral lesson. Whatever you say, do not say "na zdorovie!" I've no idea how this stereotype spread out, but a lot of foreigners think "na zdorovie!" is Russian for "cheers!" It is not. You can say "za zdorovie!" which means "to your health!", but Russians wouldn't say the same toast over and over again. Be creative!
Don't Forget About Travel Insurance!
I can't emphasize enough how important travel insurance is when you are planning a trip to a foreign country! So many things can go not exactly as planned (like that time I got food poisoning and got robbed of all my luggage in San Francisco).
I use World Nomads in my travels. You can buy and claim insurance online (even if your trip has already started). And their service is impeccable: fast and polite. You can get a customized quote for your trip below!
Hope these Russia travel tips were helpful! If you are a first-time traveler, try to forget all the stereotypes you have heard and keep an open mind. If you have any questions, comment below!
Pin for later: