The great thing about Washington D.C. is that most of its attractions are located inside the National Mall, a spacious park downtown. Everything you need to visit is within walking distance: from Lincoln Memorial, to Washington Monument, to US Capitol and the White House (which you can tour, by the way). And if you are traveling in spring, the National Mall is also the place where you can see cherry blossoms in Washington D.C.
The downside is that your dining options are limited to the restaurants in the area. If you have just a few days in the city, like I did, you can't afford to go to remote neighborhoods for lunch or dinner.
In this guide, you'll find a few restaurants near the National Mall that I've tried on my visit. These precious little gems are located minutes away from the main attractions and have outstanding food.
5 Restaurants Near the National Mall You Must Visit
Paul
6 min walk from Smithsonian National Museum of Natural History
7 min walk from National Gallery of Art
Small charming bakery in Penn Quarter will steal your heart as soon as you step inside. With its distinct French atmosphere, sun-lit dining room, and mouth-watering selection of pastries, this place is a perfect choice for breakfast. Paul is a world-wide chain of bakeries, which started its operation over a century ago in France. Apart from pastries, they have a range of sandwiches and salads, so lunch here is a good idea too.
What to try: eggs benedict, salami sandwich, mille-feuille
Paul — 801 Pennsylvania Ave NW
Teaism
9 min walk from Smithsonian National Museum of Natural History
8 min walk from National Gallery of Art
Located just two blocks away from Paul bakery, in Penn Quarter, is a simple Asian-inspired tea-house. Don't be misled by the name "tea-house", they have an extensive food menu, including salads, soups, sandwiches, breakfast options, bentos and much more. I am usually suspicious of places with such long menus, but this café proved me wrong: everything we tried was excellent, fresh and beautifully balanced.
What to try: Korean brisket sandwich, tea-cured salmon with pita bread and raita, Udon noodle soup, Chai (hot tea), iced Tisane (cold tea).
Teaism — 400 8th St NW
&pizza
9 min walk from The White House
10 min walk from Smithsonian National Museum of American History
No pizzaiola, no hand-stretched dough, no wood-fired oven. Instead: assembly-line ordering (think: Chipotle). Pizza is made in front of you by a line of people: one preparing dough rounds (which are not rounds, but ovals here), another spreading sauce, next – adding toppings of your choice. Then, into a conveyor-belt oven it goes! It's not your classic pizza, but despite breaking all the rules (or, maybe, thanks to it), these guys created delicious pies famous all around the city. Another reason to choose &pizza for lunch is their dedication to natural, locally-sourced ingredients. The dough is organic and cheese – house-made.
What to try: The OG (classic Margherita), Maverick (for meat-lovers)
&pizza — 1005 E Street Northwest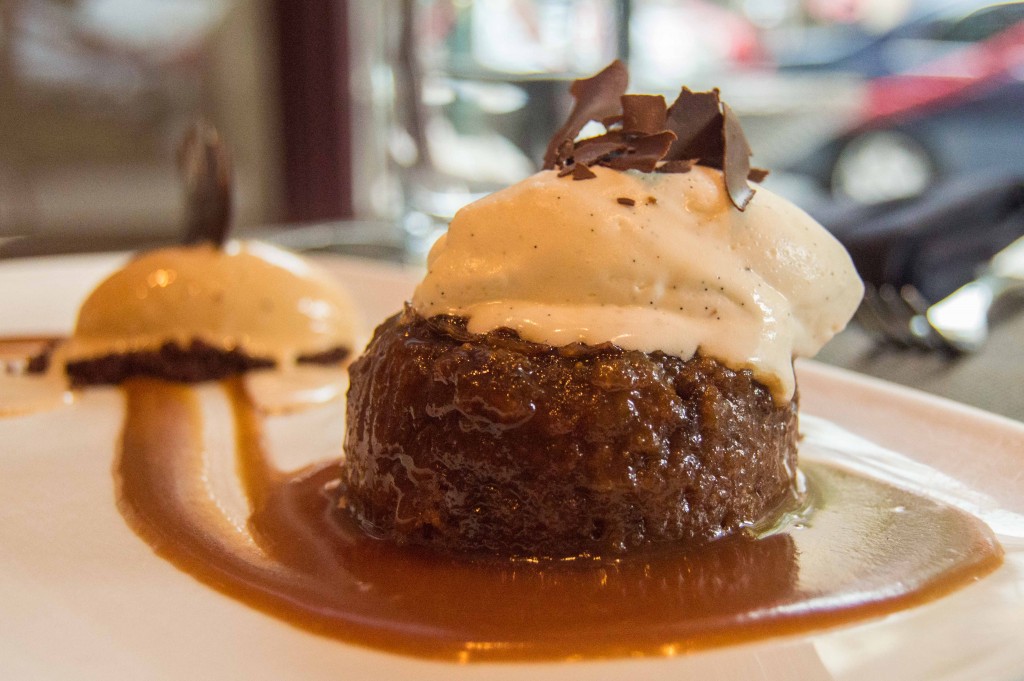 Co Co. Sala
9 min walk from Smithsonian National Museum of Natural History
Co Co. Sala, an award-winning restaurant and chocolate boutique, is a perfect place to unwind after a busy day of sightseeing. Sink into a cozy couch, relax and enjoy a craft cocktail and a 5-course dessert menu. My love for chocolate made this restaurant an obvious choice for my birthday dinner. According to their website, "all chocolates are made in-house using the finest ingredients such as Valrhona couverture without any preservatives or additives". Desserts are definitely a must-try here, but there's a full dinner menu, too, if you get hungry.
What to try: chef's 3-course or 5-course dessert experience, craft cocktails
Co Co. Sala — 929 F Street Northwest
Tip: if you are into all things sweet, do try afternoon tea at the Willard Intercontinental Hotel. I didn't get a chance to experience it myself, but it is said to be one of the best in the country, and the hotel is located only two blocks away from the White House.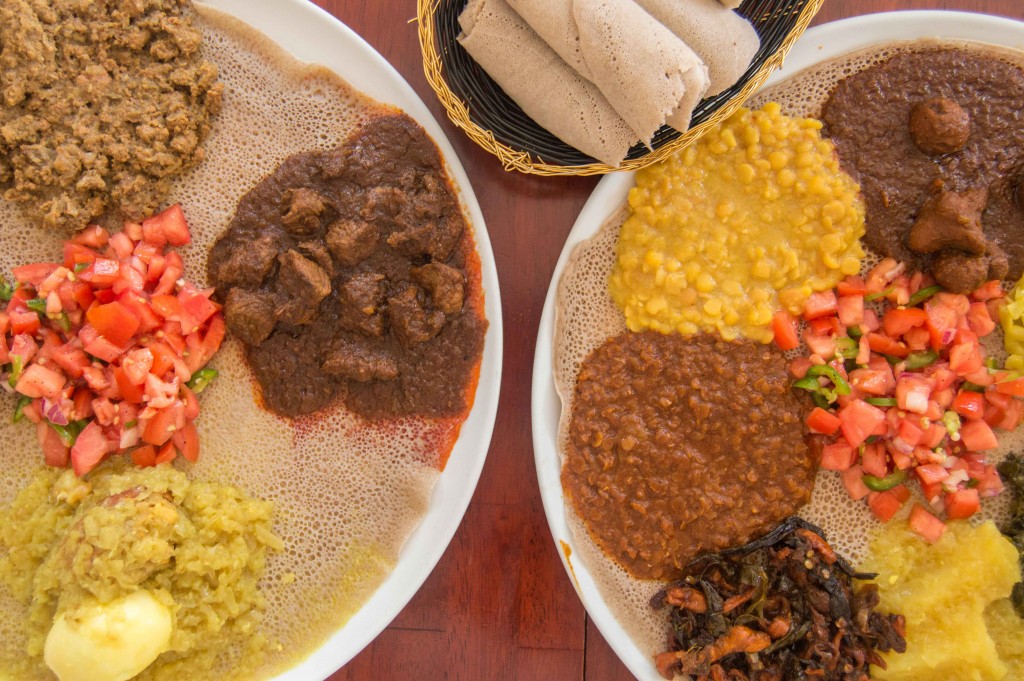 Ethiopic
23 min walk from United States Capitol
This restaurant is the furthest from the National Mall on this list, but it's so worth the 20-minute walk! As you, probably, guessed from the name it serves Ethiopian food. Exquisite meat and vegetable dishes served on top of traditional injera bread are so good you won't be able to stop eating until the plate is scraped clean. Besides, Ethiopian food is perfect for sharing and is meant to be eaten by hands which makes it even tastier. A cherry on the cake is Ethiopian honey wine.
What to try: beef and chicken wot sampler or vegetarian sampler with injera bread, honey wine.
Ethiopic — 401 H St NE
Hope this guide to the best restaurants near the National Mall will make exploring the capital easier! If you are looking for things to do in Washington, D.C. check out this 2 day guide to the capital and this guide to the best hiking trails around the city!
Pin for later: