My first acquaintance with Munich happened during Oktoberfest, three days after I moved to Germany. Clearly, a beer festival that attracts 6 million people is not the best time to truly get to know the city. But one day in Munich was enough to hook me up.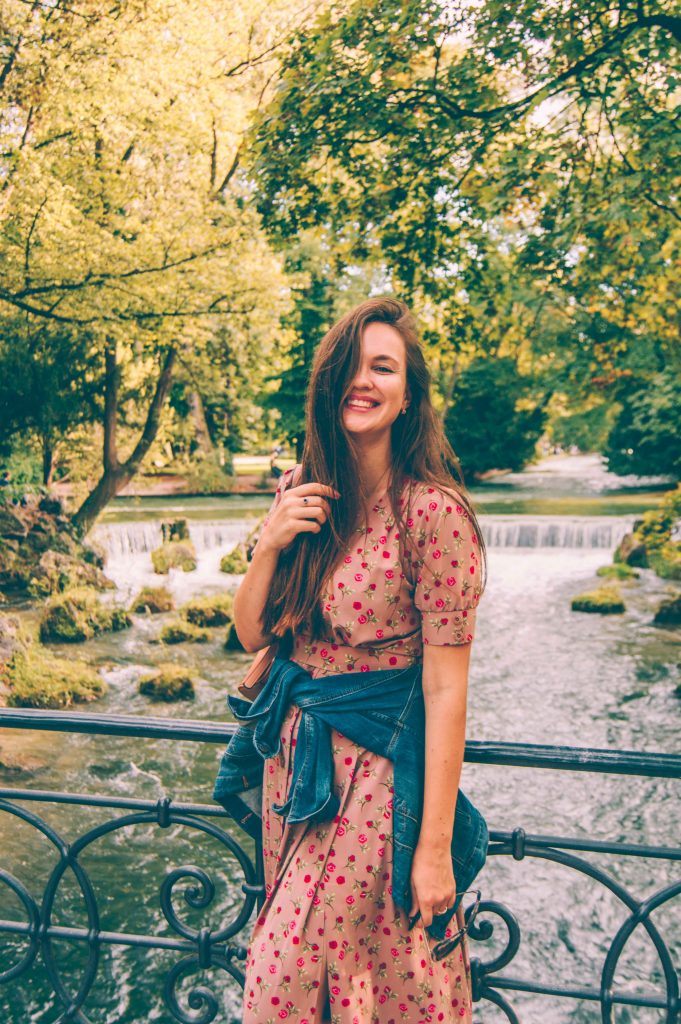 My first impressions? Grandiose architecture with bits and pieces of history on every corner, seriously good coffee (had my cuppa at Man vs. Machine), and unbelievable amounts of pork served by unbelievably rude servers.
For the past two years I have been living in Nuremberg, only two hours away from the capital of Bavaria, and traveled to Munich every chance I got. The Neues Rathaus is still magnificent, the crackling on shcweinshaxe crispy, and the service as terrible as can be. The latter, though, is more amusing than offensive.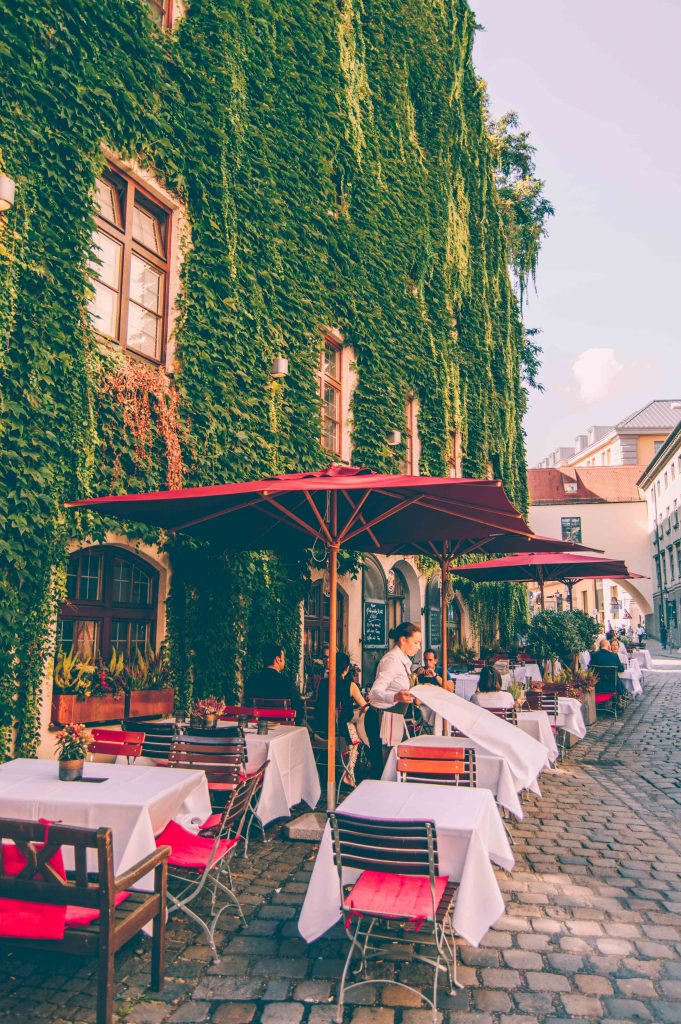 This itinerary doesn't lay claim to be original. After all, with one day in Munich you'll only have time to cover the most popular attractions. We'll wander around Marienplatz, stop to check out the freshest produce at Viktualienmarkt, and freak out at the sight of actual surfers conquering the Einsbach wave in the middle of the city. In other words, we'll check off all the things one must do in Munich in one day.
But I'd like to think that this guide has an added benefit of amazing food recommendations. From traditional Bavarian specialties to modern Bavarian cuisine to the best cocktails in town — we'll try it all!
Disclosure: this post contains affiliate links which means if you buy something by clicking the link I will earn a small commission at absolutely no extra cost to you.
A Few Tips for Visiting Munich in One Day
This itinerary can be done on foot. The total distance is about 6 km. So wear comfortable shoes.
I included time for each activity. Of course, it is not set in stone. My intention is to give you an idea how long every item on this guide will take.
If you are staying for more than one day in Munich, the city card might be useful. It gives you access to many attractions and free public transportation.
Book your travel insurance in advance. You never know what's going to happen (like that time I got robbed of all my luggage in San Fransisco) so better be prepared! I use World Nomads.
Munich is an awesome starting point to explore more of nearby cities and countries. You can do a day trip to Nuremberg (where I live), spend one day in Salzburg, visit Neuschwanstein Castle, Dachau Concentration Camp, or, if you have more time, do the whole romantic road.
Itinerary for One Day in Munich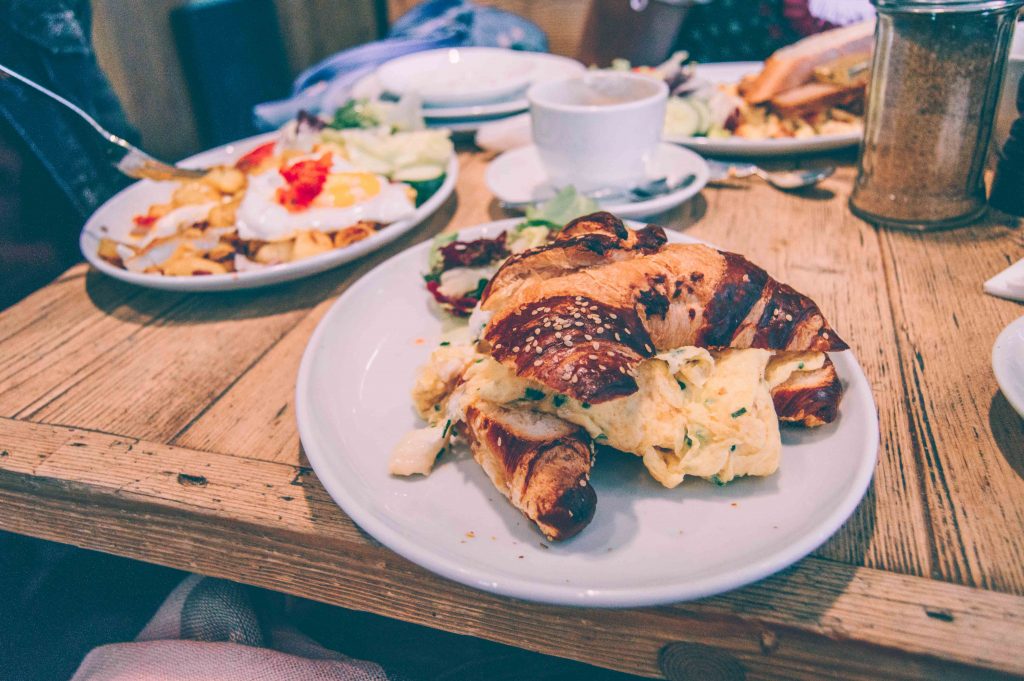 9.00 — Have Breakfast at Cotidiano
Cotidiano is a small chain of casual restaurants with four locations in Munich. They serve breakfast favorites like avocado toast, scrambled eggs with smoked salmon, and open sandwich with house-made hummus, to name a few. Freshly pressed juice and coffee are non-negotiable. But what you really must try is their almond croissant, one of the best I've tried anywhere!
I've taken my family and friends to different branches of Cotidiano on multiple occasions, and the food and service have been consistent. For the purposes of this itinerary, start your day at Cotidiano on Promenadeplatz.
Cotidiano — Maxburgstraße 4.
10.30 — Head to Karlsplatz
One of the biggest squares in the city, Karlsplatz, will be the next stop on our itinerary. Right in the middle of the square you'll find a fountain, and beyond the fountain — a large gothic gate that dates back to XIV century. That is Karlstor, one of the gates to Munich's Old Town. Walk through it onto Neuhauserstraße where a pedestrian zone begins. Neuhauserstraße eventually turns into Kaufingerstraße. Both are popular for shopping and dining.
10.45 — Find the Devil's Step in Frauenkirche
The two towers of Frauenkirche are a recognizable part of Munich's skyline and a symbol of the city. While I could go into historical details in describing this magnificent late-gothic-style church, I think the myth surrounding it is way cooler.
According to the legend, the architect Jörg von Halsbach ran out of money to finish Frauenkirche and sought out the help of the devil. In return, the devil requested that the church has no windows. When the building was completed, the devil returned and stood in the foyer, admiring perfect darkness.
Unbeknownst to him, two rows of columns were blocking every window in the church. Having realized he was tricked, the devil stomped his foot and stormed out. You can still see the devil's footprint inside the church. And from that exact spot you really cannot see the windows.
11.00 — Compare the New and Old Town Halls at Marienplatz
Marienplatz is the central square of Munich and one of the city's main attractions. Spend some time admiring the gorgeous Neues Rathaus (New Town Hall) with its almost 100-meter-long heavily-decorated facade.
The Old Town Hall looks new…

…while the New Town Hall looks old.
Don't miss the smaller and less ornate Altes Rathaus (Old Town Hall) on the east side of the square. Finally, in the center, you will find the Mariensäule (Mary's Column) which was erected to celebrate the end of Swedish occupation.
While you are at Marienplatz, you can explore more of the New Town Hall. Option one is to take a guided tour of its halls if your one day in Munich happens to be on a Saturday (book your spot in advance). Option two is to go 85 meters up to the New Town Hall's tower and get a bird's eye view of Munich. The tower is open daily, and there's an elevator for an easy access. You can buy your tickets for the observation deck online or get them at the tourist information office inside the Town Hall.
Last, but not least, pay attention to the Glockenspiel, an ornate clock on the facade of Neues Rathaus, when it comes to life at 11 am and 12 pm daily.
If all of this seems a bit complicated and you'd rather go on a guided tour of the city, here are a few options: Night Watchman's Rounds tour, Third Reich tour, and beer halls and breweries tour.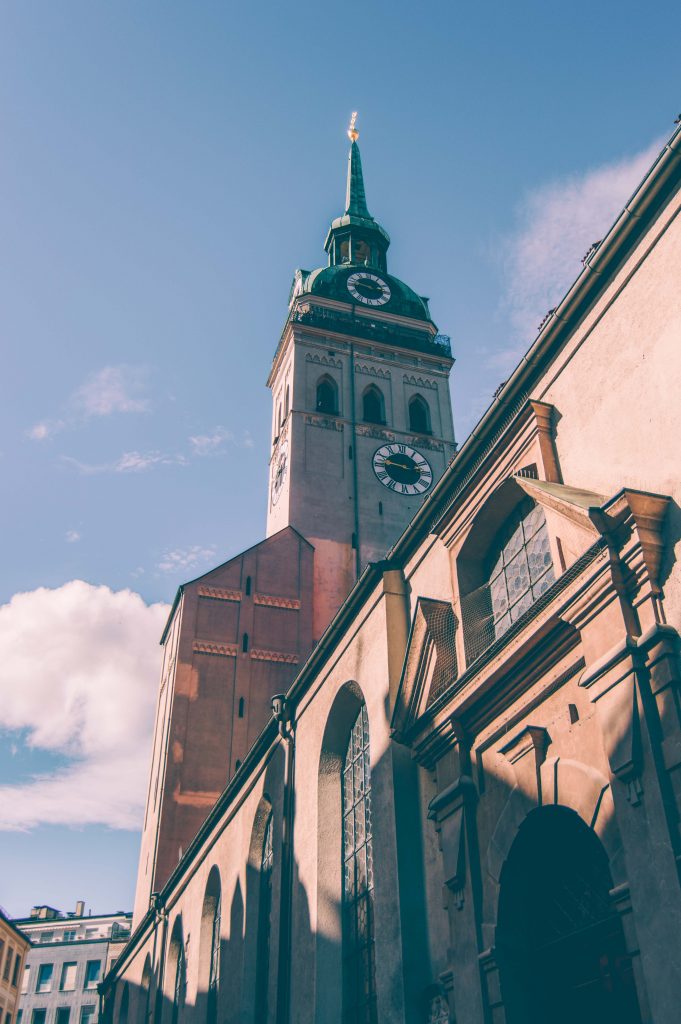 11.30 — Visit the Old Peter
The Peterskirche (St. Peter's Church) is only a minute away from Marienplatz. Alter Peter (Old Peter), as locals affectionately call it, is the oldest church in Munich. For a couple of euro you can climb its 299 steps for a view from its observation deck. Unlike the New Town Hall, there's no elevator here.
12.00 — Browse through Viktualienmarkt
When Marienplatz became too small for the growing food market back in 1807, King Maximilian I issued a decree to move it south-east of the main square. This is where the market still stands today, over two hundred years later.
Known as Viktualienmarkt — "viktualien" being Latin for "food" — the market houses over 140 stalls with fruits and vegetables, meat and poultry, baked goods and flowers.
If you are feeling like a snack, seek out Schlemmermeyer bratwurst stand at the market and try their sandwich with roast pork or Thuringian sausage.
Then walk a few steps away from Viktualienmarkt to Schrannenhalle, a beautiful building of wrought iron and glass that houses Eataly Munich. Here you can have a cup of good coffee, enjoy an authentic gelato, or shop for Italian foods.
Tip: you can take a guided tour of Viktualienmarkt with a local and try samples of food!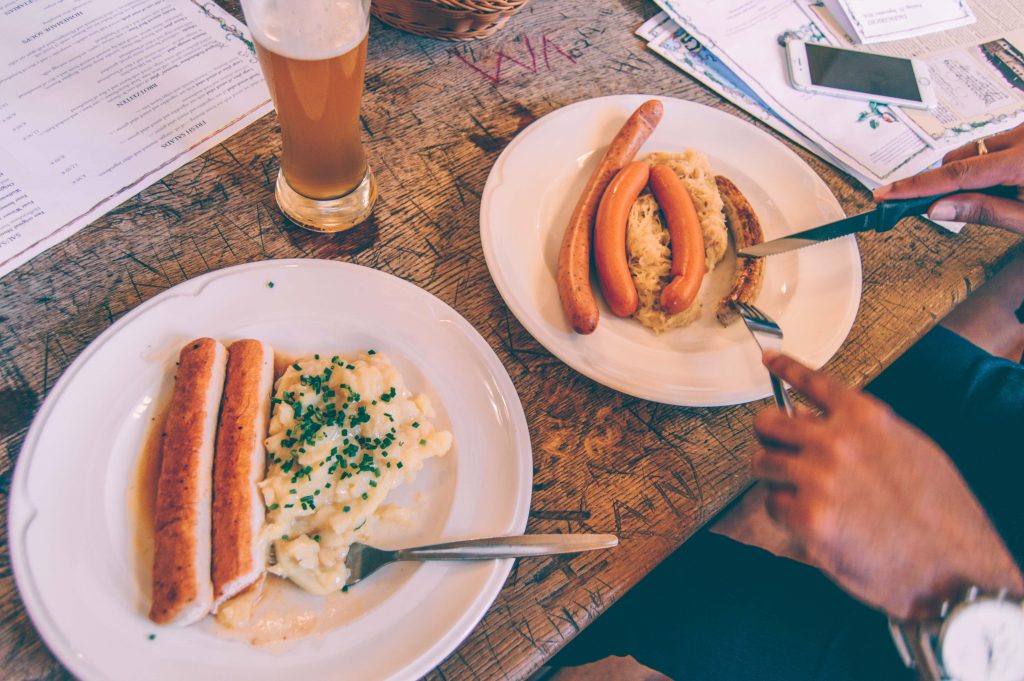 13.30 — Traditional German Lunch at Historic Hofbräuhaus am Platzl
Hofbräuhaus am Platzl is probably the most famous beer hall in the world. Built in the end of XVI century, Hofbräuhaus first served as a brewery that supplied beer to the court.
Today, the enormous building houses many dining halls and a beer garden. The historic Schwemme, the largest and most popular dining room located on the ground floor, is where the beer was brewed. It sits up to 1300 people. There's room for another 400 in the beer garden.
A few tips before you head to the most touristy restaurant in Munich! There might be a line in front of Hofbräuhaus, but it moves quickly. Once you are inside, find a table yourself. You can share a table with strangers — that's normal. When the waiter comes, be ready to order. If you linger a few seconds he'll just turn around and leave.
They serve traditional German specialties, like sausage, pork knuckle and schnitzel. There are a few vegetarian options, but if you are vegan, this may not be the best place for lunch. Despite Hofbräuhaus being incredibly touristy, it's an awesome experience and the food is delicious.
Alternative: if you prefer a less-touristy place for lunch, I loved Beim Sedlmayr, a smaller restaurant where locals outnumber foreigners. The food is amazing and it is located only a few minutes away from Viktualienmarkt.
Hofbräuhaus am Platzl — Platzl 9.
Beim Sedlmayr — Westenriederstraße 14.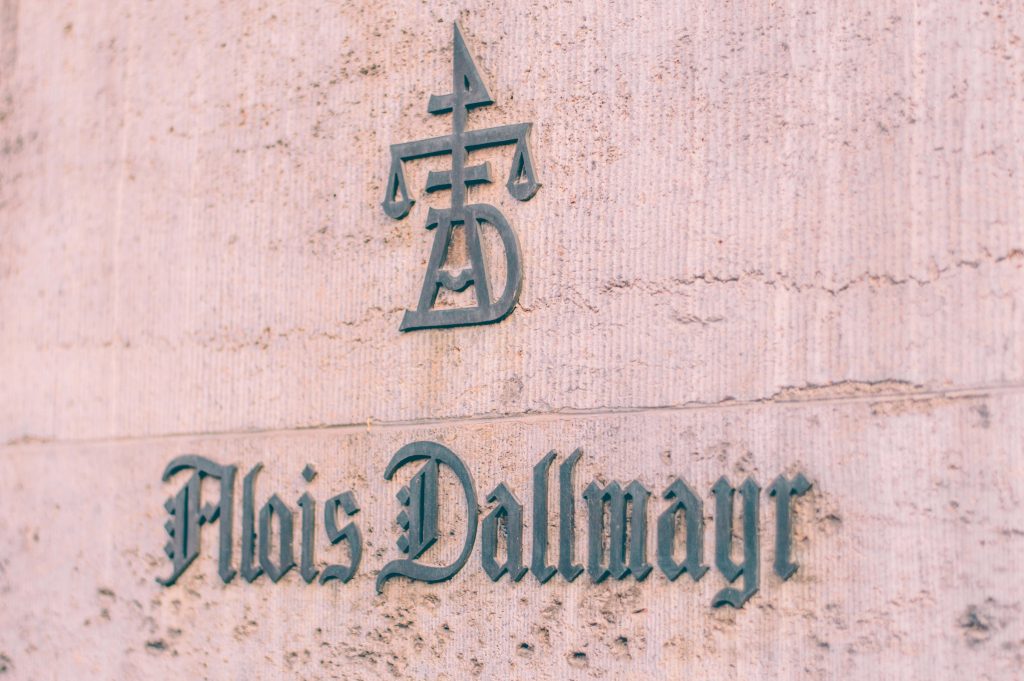 15.00 — Get Food Souvenirs at Dallmayr Delicatessen
Next, we are going to Odeonsplatz, but not without checking out a few cool places on the way. First, make a stop at Dallmayr Delicatessen.
The history of Dallmayr spans 300 years. The company used to be a royal Bavarian court supplier in the beginning of XX century. Today, it's the largest delicatessen business in Europe. The original store, Dallmayr Stammhaus at Dienerstraße, is an attraction in and of of itself visited by almost 3 million people yearly. Stop here to wander through 19 departments (from coffee to wine to cheese and beyond) and maybe buy a food souvenir.
Dallmayr Delicatessen — Dienerstraße 14-15.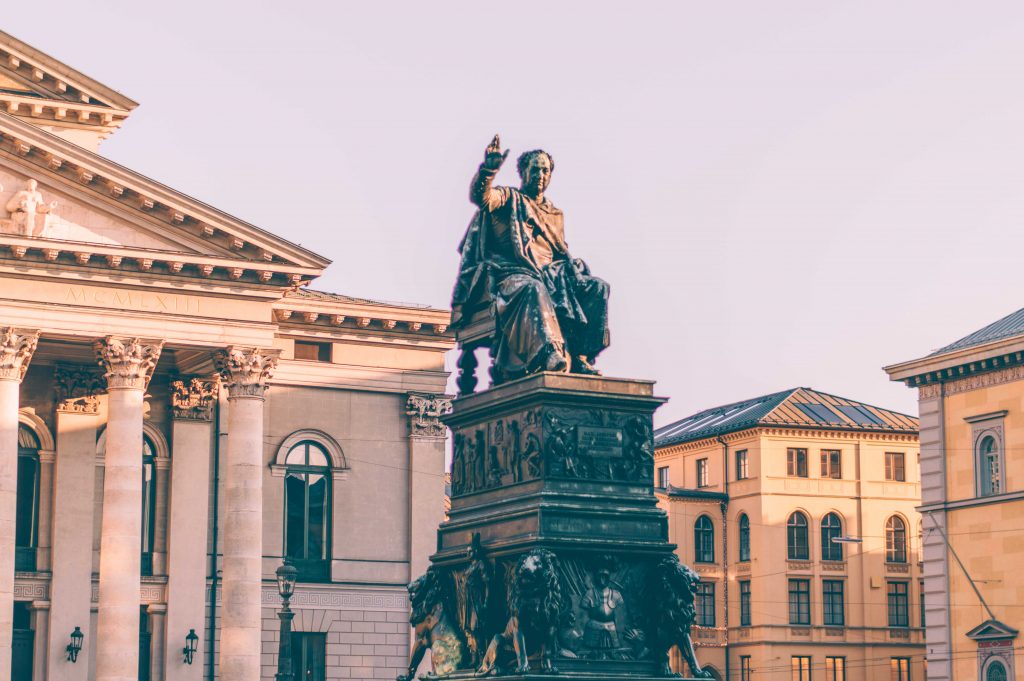 15.15 — Stop at Max-Joseph-Platz
Our next stop will be Max-Joseph-Platz. If you face the statue of King Maximilian Joseph in the center of the square, you will see the National Theatre in front of you, the Munich Residence on the left, and Palais Toerring-Jettenbach on the right.
15.20 — Rub Lions' Noses for Luck
Munich Residence was once the palace of Bavarian emperors. Given that this itinerary is meant for only one day in Munich, there's no time to marvel at the beautiful halls inside. What you can do is explore the building from the outside, including the courtyard. But, most importantly, find the four bronze lions guarding the entrance to the palace on Residenzstraße and rub their noses for luck!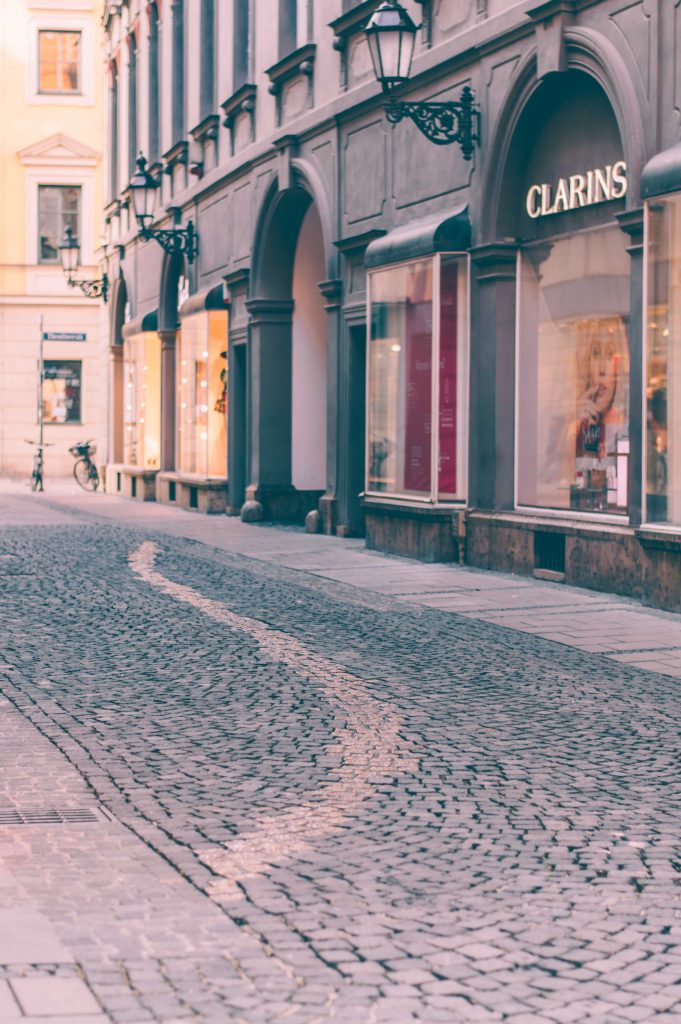 15.25 — Spot the Golden Path on Viscardigasse
After rubbing lions' noses turn around and look across the road — you'll see a narrow alley. Its official name is Viscardigasse, but it is often referred to as Drückebergergasse (Dodger's Alley). The name comes from the 1930's, when some Munich citizens used the alley to avoid walking by the Nazi memorial on Residenzstraße.
The memorial was erected to honor 16 Nazis who died in Beer Hall Putsch, and anyone passing by was supposed to give the Hitler salute. Some people were "dodging" the unpleasant duty by sneaking through the alley, hence the name. Look down at the cobblestones and you'll see that some are golden color and make up an s-shaped path.
Tip: to learn more about history of the Third Reich in Munich, you can take this guided tour.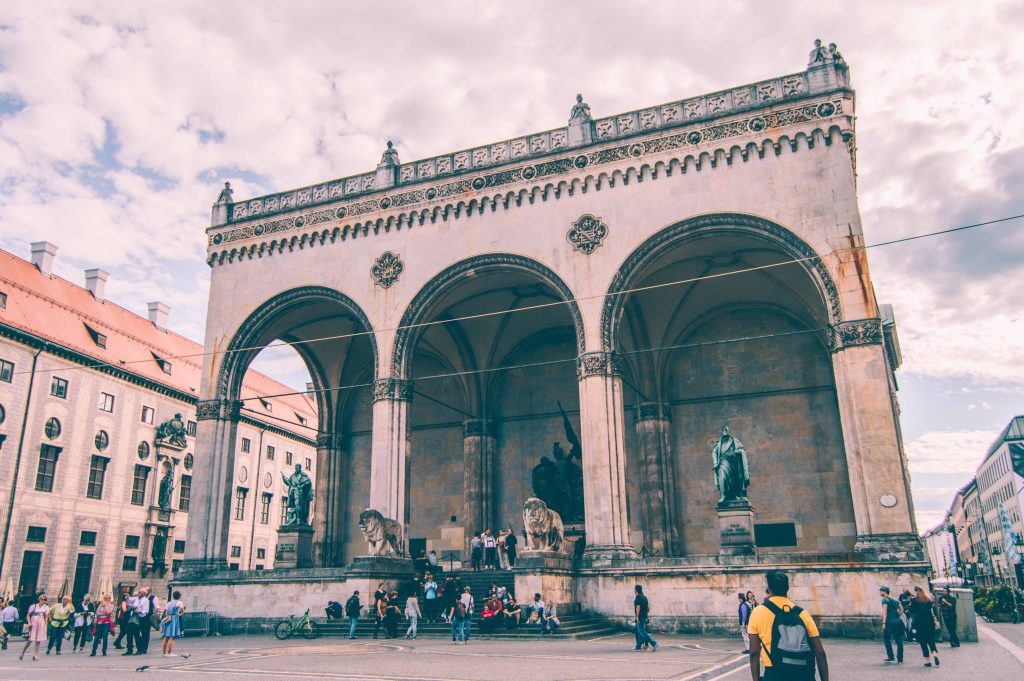 15.30 — Enjoy my Favorite Spot in Munich, Odeonsplatz
Odeonsplatz is Munich's central square. I can't logically explain why one of the most touristy spots in the city is so dear to my heart, but seeing people chill on the steps of the Feldherrnhalle always brings a smile to my face.
Feldherrnhalle on Odeonsplatz

Inside the Theatine Church located on Odeonsplatz.
The Feldherrnhalle is a beautiful loggia inspired by the Loggia dei Lanzi in Florence. It was built in 1841 to honor the Bavarian Army.
If you face the loggia, you'll see the Theatine Church on your right. Bright yellow on the outside and snowy-white on the inside, it is one of the most impressive churches I have visited in Germany.
16.00 — Stroll Around Hofgarten
The Hofgarten is an Italian-Renaissance-style garden right by Odeonsplatz with a beautiful gazebo in the center. The gazebo is never without a performer inside, so stop by to listen to classic music before you head to the east side of the garden where Bavarian Staatskanzlei (or State Chancellery) is located.
16.30 — Watch Surfers Conquer the Waves on the Eisbach River
Hands down, the coolest thing you can do in Munich! Watching surfers is not something you expect to do in a land-locked city. Yet, here they are, riding the waves of the Eisbach River day or night, rain or shine.
The Eisbachwelle where the action takes place is located at the entrance of the English Garden, a large park in Munich city center (look for "surf English Park Munich" on Google Maps). The place is famous among surfers around the world as the biggest city center location for river surfing that has been around for the past 40 years.
17.00 — Explore the English Garden (or at Least Parts of It)
The Englischer Garten is one of the largest city parks in the world. Equivalent to approximately 640 football fields, it even surpasses the New York Central Park in size. The nature is so beautiful you can pretty much stroll in any direction and enjoy the views.
If you prefer to have a few pointers, check out the Japanese Teahouse; the Monopteros, a Greek-style temple on a hill; and the Chinesischer Turm (the Chinese Tower) where you'll also find a beer garden.
18.00 — Take a Moment at the White Rose Memorial
After a stroll in the English Garden head towards the Ludwig Maximilians Universität, one of the oldest and reputable universities in Germany. In front of the main building, on Geschwister Scholl Platz, you will find a moving memorial to the non-violent resistance group called Weiße Rose (White Rose). The group members were students of the University who distributed anti-Nazi leaflets and created political graffiti in Munich. They were arrested and executed by Gestapo in 1943.
Today, the square in front of the University is called after the siblings who led the resistance — Sophie and Hans Scholl. Geschwister Scholl Platz is German for Square of Siblings Scholl. If you look down, you will see bronze pamphlets embedded in the cobblestone pavement. This is where the members of White Rose were arrested.
White Rose Memorial — 1 Geschwister-Scholl-Platz.
18.10 — Admire the Siegestor (from Both Sides)
From the White Rose memorial you will see an enormous triumphal arch, Siegestor, or Victory Gate in English. Originally commissioned to commemorate the glory of Bavarian Army, today Siegestor has a deeper meaning.
The gate was heavily damaged during the WWII and only partially restored. The North side still bears all the heavy decorations of the past, while the South side is a startlingly empty monolith of stone with an inscription in German that translates to: "Dedicated to victory, destroyed by war, urging peace."
19.00 — Modern Bavarian Food for Dinner in Schwabing
Siegestor marks the border between the neighborhoods of Maxvorstadt and Schwabing. If you pass Siegestor and keep walking along Leopoldstraße, you'll find plenty of boutique shops, art galleries, restaurants, and bars, what with Schwabing being the bohemian neighborhood of Munich and one of the most expensive residential areas.
Since we've already covered traditional German food at lunch, let me suggest a modern take on Bavarian cuisine for dinner. Bapas is a cool place that serves creative Bavarian dishes in the form of tapas. Hence the name Bapas, get it? Sharing a dozen tiny plates must be my favorite way to eat!
Bapas — Leopoldstraße 56A.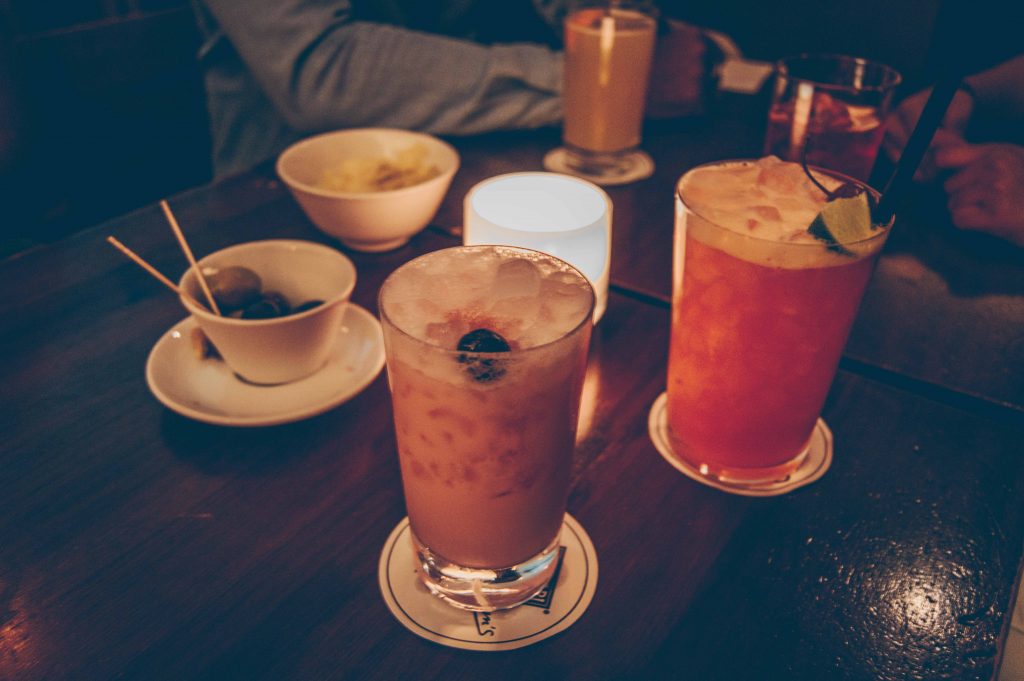 21.00 — Late Night Drinks at Schumann's
Your one day in Munich is coming to an end, so let's finish it in style, with some drinks at Schumann's Bar. For that, you'll have to circle back to the Odeonsplatz. Let me be clear, you can easily find a great bar in Schwabing, but Schumann's is a true institution not only in Munich, but in all of Germany. Its owner, Charles Schumann, is probably the most famous bartender in the country.
The menu is more of a small book than an actual menu, which is both exciting and overwhelming. When I asked the waiter if he could recommend something, he said "No", turned around and left. I kid you not. Service in Germany is a lot of fun! But don't be discouraged. The cocktails are top-notch, and the atmosphere is rather cool. Try to get a seat at the bar to see the bartenders at work.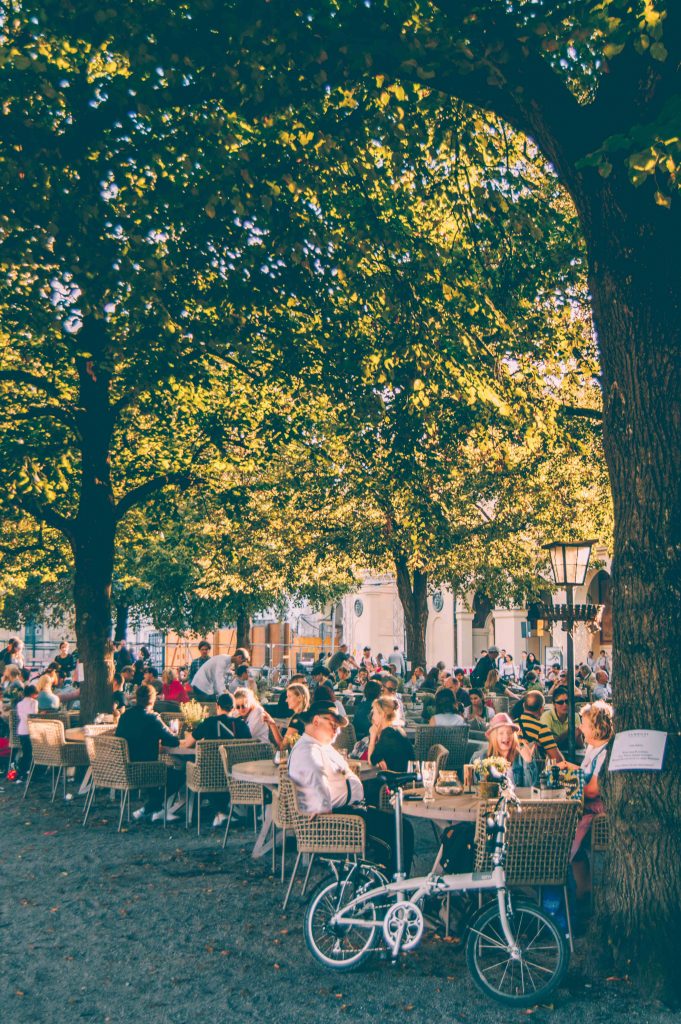 Where to Stay in Munich?
As I live only 2 hours away from Munich, I tend to do one day trips and come home for the night. The only time I spent a few days in Bavaria's capital was during Oktoberfest.
I stayed at an Airbnb as it was cheaper (hotels during Oktoberfest are crazy expensive). You can get a 40$ discount if it's your first stay at an AirBnB. If you prefer to stay at a hotel, below are a few options that I would consider.
A real gem of a hotel right by Munich Central Station (Hauptbahnhof). It's quirky, full of character, and has lots of amusing details like neon signs, chandeliers, and typewriters. If you can't stay here for the night, just drop by for a cup of coffee — it's that pretty!
Cocoon is a small chain of hotels born right here, in Munich. If you love fun design and quirky deco, this place is for you. Cocoon Hauptbahnhof, with its wood-paneled walls, huge paintings of cows, and enamel fixtures, will transport you straight to the world of mountains. Location by the main train station is simply unbeatable.
This modern hostel located only 10 minutes walk away from Oktoberfest grounds offers beds in dorm rooms, as well as twin and private rooms. The space is simple, but functional, with lots of bright colors. Many rooms even feature a balcony.
Finally, Don't Forget About Travel Insurance!
I can't emphasize enough how important travel insurance is when you are planning a trip to a foreign country! So many things can go not exactly as planned (like that time I got food poisoning and got robbed of all my luggage in San Francisco).
I use World Nomads in my travels. You can buy and claim insurance online (even if your trip has already started). And their service is impeccable: fast and polite. You can get a customized quote for your trip below!
Pin for Later: