We moved to Hamburg. I wish I wrote this piece on the train, on the way to the city that should become my — yet again — new home. Alas, in the train I was busy running after Kroshka, who was tremendously curious about what every other passenger was doing and wasn't afraid to show it. Toddlers make for a wonderful company on a five-hour train ride, trust me.
As I was walking to Hauptbahnhof, the main train station — boxes packed, apartment keys handed over — a myriad of memories passed through my brain: buying a bagful of greens every Friday at the market, sipping cappuccino at Rösttrommel, slicing into the one and only Tessino, a sourdough loaf from a bakery by my house. And suddenly — a tight feeling in my chest, a lump in my throat and, before I know it, my eyes are welling up. I never thought I'd cry about leaving Nuremberg.
It was not love at first sight. I doubt I have ever in the past three years said that I love Nuremberg. It started off with lots of anxiety: Nuremberg was my introduction to Germany. With about three German words under my belt and absolutely no clue about the culture or the ways of life in the country, I barricaded myself at home and refused to leave for days. Of all things, Oktoberfest helped me to snap out of it.
But even as I became more confident, I didn't feel the same way about Nuremberg as I did about Austin or Colombo which I am grateful to call my homes too. Nothing was good enough: the city too small, the Sundays too quiet, the winters too gloomy, you name it.
And when I started traveling that feeling only grew. Berlin, Munich, Cologne seemed so much more cosmopolitan and lively: a third-wave coffee shop on every corner, restaurants and shops open on Sunday, even the people seemed somehow different.
A waitress at a Cologne restaurant checked up on us so many times with a smile from ear to ear that I asked her if she was German. That was probably racist. She was German. In my defense, I once asked a German waiter if he could recommend a cocktail out of about three hundred on the menu, he said "no" and left. Now when a waiter smiles at me in Germany, I find it suspicious.
So not at home did I feel in Nuremberg, that for the whole first year I didn't buy a single thing for our apartment: not a plant, not a photo frame, not a candle. We rented the apartment with the furniture left from the previous tenant, and I let it be just so: her decorations, her kitchen ware, her curtains on the windows.
This apathy was also fueled by the thought "What's the point? We are anyways moving again" Not that there was any move on the horizon, but with the speed I've been changing homes in the past decade, I quickly learned to treat each new home as temporary. Why invest time and money into something that won't last?
It goes further, actually. Why invest energy and emotions into new friendships when in a year or two we'll be separated by an ocean? Because as cool as "I have friends all around the world" sounds, it breaks my heart to say goodbye every time I open myself to someone. I have soul mates in Moscow, Austin, and Istanbul, and we've been exclusively talking on the phone for the past several years.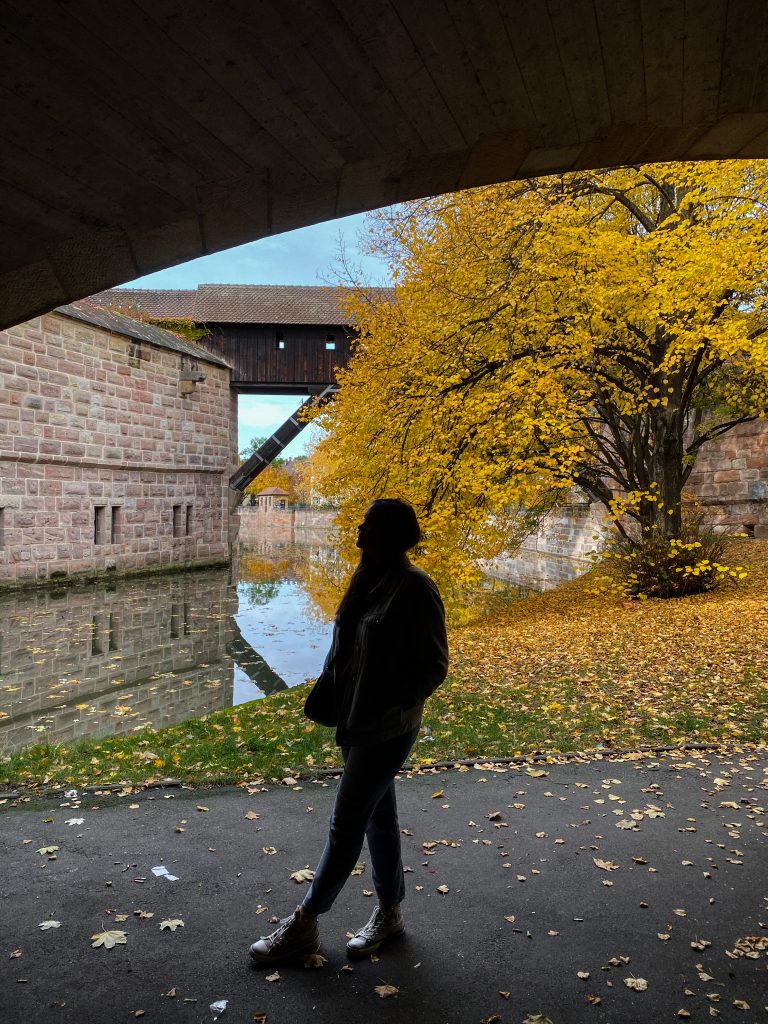 It took getting pregnant for me to finally realize this apartment was my home. Eight months in, when the so-called "nesting" stage of pregnancy set in, I got rid of every single item in the house that I didn't need or love, as per Marie Kondo. And soon enough, Nuremberg has gotten a special place in my heart as the city where my son was born.
The winter was still gloomy and supermarkets closed on Sundays, but now every place had a meaning: by the fountain on Stresemannplatz my husband and I had coffee and buns from Der Beck on weekends, at Rösttrommel Kroshka had his first babyccino, at the Brezen Kolb stall on Königstraße I finally had my pretzel with salami after not being able to eat cured meats for nine months.
I couldn't not like the city where my son was born, so I learned to love it. The key to loving a place is to know it deeply: its language, its terrain, its people. And so I started with the language. And once I could put a few words together I began talking to the vendors at my market. And that led to getting the freshest local produce.
I know that if you want to get your hands on freshly cut lavender or sorrel, you must come to the market square early morning on Friday, while the Demeter cart is still full and bursting with color green. I also know which coffee shop will be open at eight in the morning, so I can have a cup of perfect cappuccino after getting my greens. It's the Espressolab, right by St. Lawrence Church.
And if it's after ten, I might as well walk to Machhörndl and have an ice latte with a warm custard-y pastel de nata. This knowledge makes me feel privy to the secrets of the city only locals know. This knowledge — apart from the obvious benefits of buying organic produce and enjoying a well-made coffee — makes me feel like I am on intimate terms with the city.
The last two months in Nuremberg felt particularly like a honeymoon, if honeymoon was something you did right before a break up. It may well be because I knew we would be moving, but the city has never been so beautiful, so good to me. I tried to do all the things I loved so much: shop at the market more often, have my favorite affogato at Eis im Glück right by Kroshka's playground, stop by the bakery every day for a fresh loaf of Tessino. A quarter of a loaf, to be exact.
It felt almost unnecessary to move from such a wonderful town. Although all the signs were telling otherwise. I strongly believe in signs, you know. Before we even started to talk about the move, our apartment has made a decision for us.
While I wasn't in love with Nuremberg from the first sight, I did love our apartment from day one. It was in the most convenient neighborhood, fifteen minutes away from the Old Town, three minutes away from a lake with trails around. There were six bakeries, three flower shops, five supermarkets (two of which were organic), a tailor, a dry cleaner, a doctor, a pharmacy, and a döner shop within five minutes walk from the house. We hit the jackpot of apartment lottery.
It was, unfortunately, too small for the three of us. "How much space can a tiny baby take?" I thought, sure that we were going to stay in our cosy little space forever and ever. Fast forward six months and you'll see me spending three hundred euros on Ikea organizational systems in order to contain the mess. But that's beside the point.
The weird thing about the apartment — and what I consider a sign — is that everything in it started to break. Some things with our help, others all on their own. Within a span of two months the table of Kroshka's high chair got broken; I burned my favorite, not to mention expensive, pan; we went through not one, not two, but three vacuum cleaners; the washing machine stopped draining water; the shelf inside the fridge fell off with a piece of the inner wall; and the cord of my computer stopped charging the said computer. I think I am forgetting something. It was like the apartment was yelling: "Get out of here!". It was not, of course, the primary reason for moving to Hamburg, but it felt odd.
On the last day in Nuremberg, I woke up in a hotel in the Old Town with a view of Imperial Castle. Kroshka and I took a stroll around the deserted streets at eight in the morning and had a slow breakfast. Then I put him in the stroller, packed the few things I was taking in my backpack, mostly toys and snacks for the road, and off we went to the train station. My husband would drive a rented van with all of our boxes.
With twenty minutes left till the train's departure, I found myself across the road from Hauptbahnhof, when a passerby stopped and asked me: "Sind Sie von hier?" Not once in the three years I spent in Nuremberg did someone ask me, and in German at that, if I was from here. I hesitated for only a moment and then replied with "Ja". I guess for another twenty minutes I was still from Nuremberg.