As silly as it sounds, visiting  New York restaurants from movies and TV-shows I adore was one of the best things I did in the Big Apple. I usually don't have high hopes for food in such places, unless the restaurant was famous long before the movie came out. But then again gourmet cuisine is not the reason I come here. Reliving my favorite movie scene is. When food turns out to be great, it's a win-win! Here's a short guide to some of the most famous New York restaurants from movies and TV-shows!
New York Restaurants Featured in Movies and TV-Shows
Katz's Delicatessen
Movie: When Harry Met Sally
Katz's Deli is a perfect example of a restaurant that was famous among New Yorkers long before the movie came out. The deli was opened in 1888 and by the time When Harry met Sally opened in theaters in 1989, Katz's Deli was celebrating it's 100-years-anniversary. The classic line "I'll have what she's having", following the scene in which Meg Ryan is faking an orgasm to prove her point, is, probably, one of the most famous lines in the world cinematography.
The actual table where the scene was shot is marked with a sign hanging from the ceiling, which reads: "Hope you have what she had".
How is the food? It's mind-blowing good.
What to order: If you, too, want to have what she had, go for turkey sandwich. But the dish Katz's Deli is most famous for is their pastrami sandwich – it's absolutely amazing and definitely a must-try! Read more about the deli and their signature dish here.
Katz's Delicatessen – 205 East Houston street (corner of Ludlow Street)
Serendipity 3
Movie: Serendipity
Serendipity 3 was featured in one of my all-time favorite romantic comedies Serendipity with John Cusack and Kate Beckinsale. Although, the café was a phenomenon long before their characters, Johnathan and Sara, had a conversation about fate and signs over frozen hot chocolate here.
Soon after café's opening in 1954, Andy Warhol dropped in for a cup of coffee. And then again. And then he proclaimed Serendipity 3 his favorite sweets shop. Marilyn Monroe was a regular. So was Jackie Kennedy. As you see, there are many reasons for visiting the iconic café in Upper East Side. I wrote about Serendipity 3 in more detail here.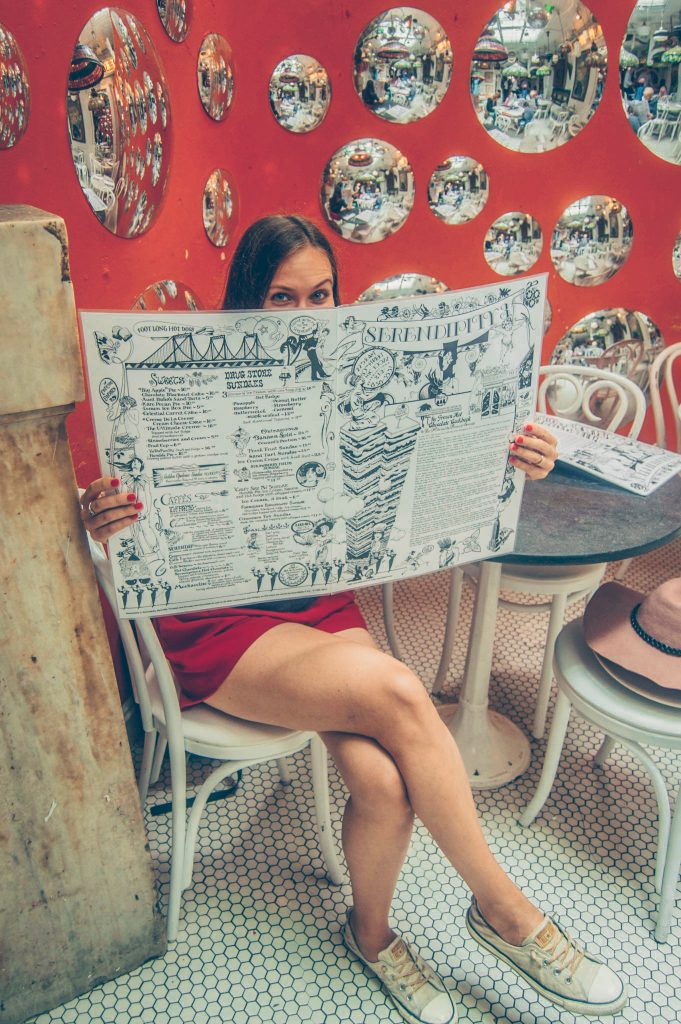 How is the food? Food is fine, but nothing to write home about. Their signature frozen hot chocolate is amazing!
What to order? Frozen hot chocolate! This is what Serendipity 3 is famous for and what Sara and Johnathan were having in the movie scene. John Cusack's character actually proclaims it "the ultimate blended drink"!
Serendipity 3 — 225 E 60th St
Tip: make a reservation in advance or come before opening on a weekday to escape long lines.
McGee's Pub
TV series: How I Met Your Mother
I wish I could tell you that MacLaren's Pub where Ted met Robin for the first time, where Barney was hitting on every girl in sight, and where Lily and Marshall brought baby Erickson for his first outing, exists… but in reality scenes in the pub were shot in a studio. Good news: MacLaren's was inspired by a real Irish bar called McGee's where creators of the show, Carter Bays and Craig Thomas, used to spend evenings while working for Letterman on The Late Show.
MacLaren's is named after Carter Bays' production assistant Carl MacLaren, who also gave his first name to the pub's bartender. The real McGee's pub has similar padded booths, pictures of actors on the walls and a special menu, dedicated to the popular series.
How is the food? Unfortunately, the food leaves a lot to be desired. But it's a pub, so concentrate on drinking instead of eating.
What to order: Cocktails with quirky names like The Slutty pumpkin, The Naked Man, and Robyn Sparkles.
McGee's Pub — 240 W 55th St
Magnolia Bakery
TV series: Sex and the City
Magnolia Bakery's original location in West Village is a tiny sweets shop with cute deco and cakes that are being iced right in front of you. In the 3rd season of Sex and the City Carrie and Miranda are sitting on the bench in front of the bakery enjoying cupcakes and discussing Carrie's latest crush on Aidan.
Magnolia was a local's favorite for many years and is sometimes credited for initiating a 1990s "cupcake craze", according to Wikipedia.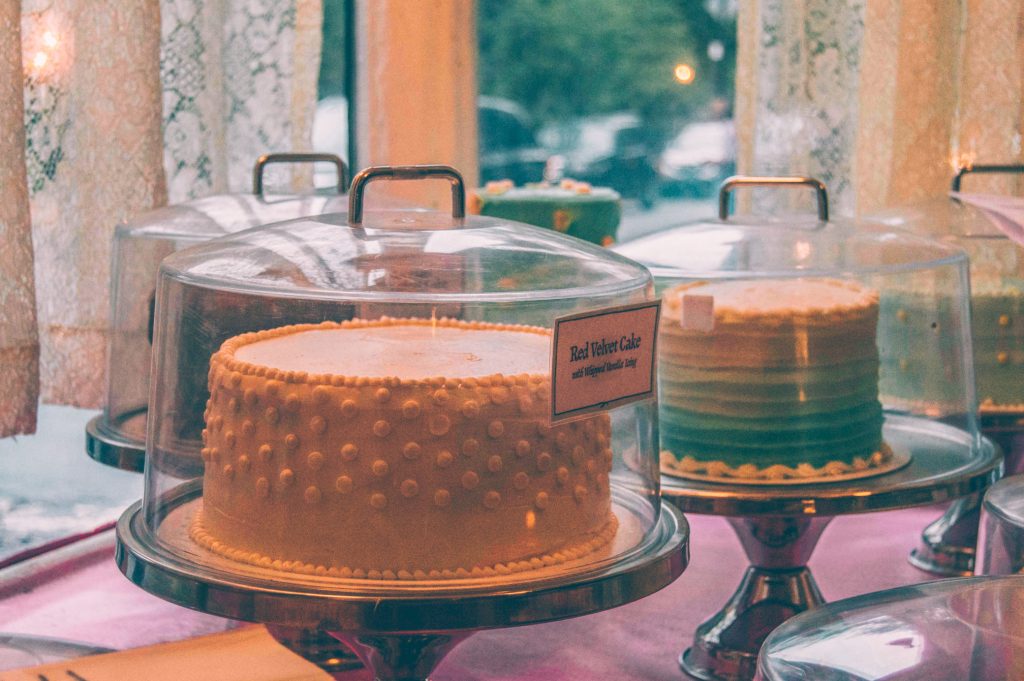 How is the food? It's amazing! Magnolia has opened several franchises in New York and around the globe. There's a reason why people go nuts over their pastries!
What to order? Cupcakes if you want to have a Carrie Bradshaw moment. Pretty much anything else if you want to indulge yourself, but especially banana pudding.
Magnolia Bakery — 401 Bleecker Street
Tip: Carrie Bradshaw's apartment is only 3-minute walk away from the bakery. Read about my experience visiting both the apartment and Magnolia bakery here.
Joe's Pizza
Movie: Spiderman-2
Joe's Pizza was named "Best of New York" by New York Magazine, included in the list of "Best 25 pizzas on Earth" by GQ Magazine and is referred to as "the quintessential New York slice". The tiny pizza joint is also the place where Peter Parker worked as delivery guy in Spiderman-2.
Joe's pizza opened in Greenwich Village in 1975 by Joe Pozzuoli, a native of Naples, where pizza was invented. His thin-crust pizza is popular among both locals and tourists, not to mention pretty much every A-list celebrity, including Leonardo DiCaprio, Anne Hathaway, Bradley Cooper, and Christian Bale.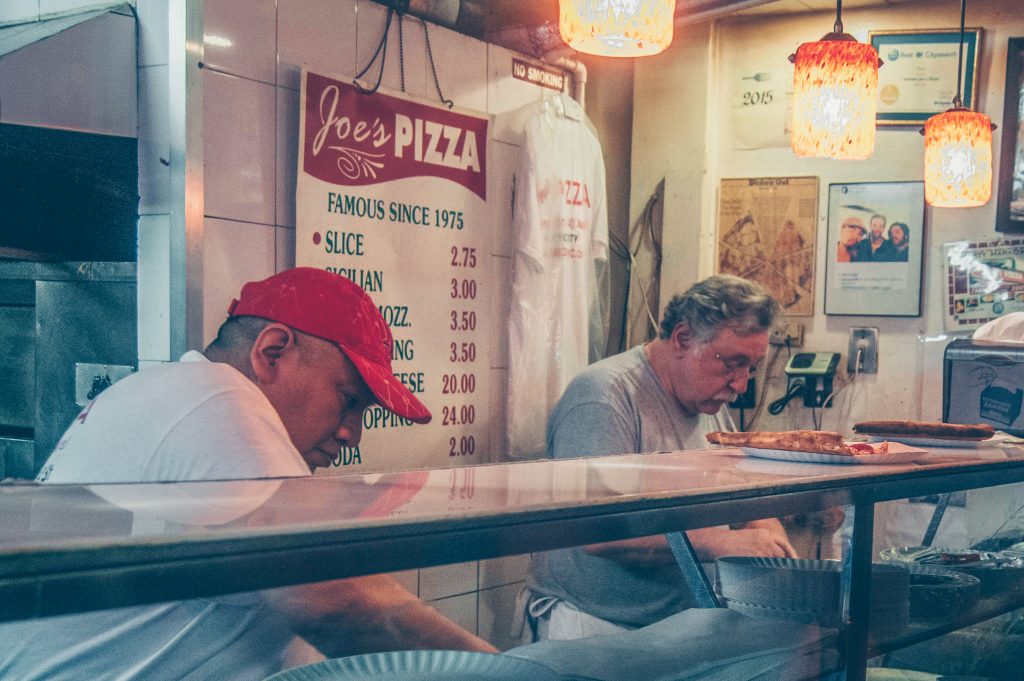 How is the food? Absolutely fantastic!
What to order: Joe's pizza doesn't have an extensive menu, only the most basic classic options. As they state on the website: "no fancy pants pies, no pretentious nonsense and no gimmicky budget pizza either". Try the plain cheese or fresh mozzarella pizza.
Joe's Pizza – 7 Carmine Street, @ Bleecker Street
Do you know of other NYC restaurants from movies and TV-shows? Let me know in comments! Tip: If you are a fan of visiting movie locations around the world check out this Pretty Woman's guide to LA!
Pin for later: