My first encounter with Canadian culture – as weird as it sounds – happened in Brazil where I shared an apartment with a guy from Canada. I remember how we discussed what food each of us, foreigners, missed most of all. Stephen was craving a French toast. Back in 2011 words "French toast" did sound mysterious to me and Stephen had to explain that it is bread dipped into egg mixture and fried. Then, he continued, you pour maple syrup over it.
Bread? Oh, yes! With eggs? Even better! Fried? Give it to me right now! Maple syrup… wait, what? Maple syrup on top of eggs? A little explosion happened in my head. To say I felt revolted is an underestimation. Little did I know that in a couple of years maple syrup will be a staple in my fridge and not only will I pour it over my toast but also over meat to make a maple-mustard coat, over couscous to add some sweetness and over tomato stew to reduce acidity.
When I finally made my way to Canada for a road trip through Quebec, a whole new world opened to me – a world of maple. How naïve I was to think maple syrup is all there is, when in fact there's also maple butter, maple fudge, maple sugar, maple candy, maple mustard, maple ice cream, maple tea, maple coffee, and even a whole maple syrup festival in Elmira, a little town in Ontario.
During the trip if there was an option of anything maple-related (and there always was) I would go for it. Here's my list of must-try sweets in Canada!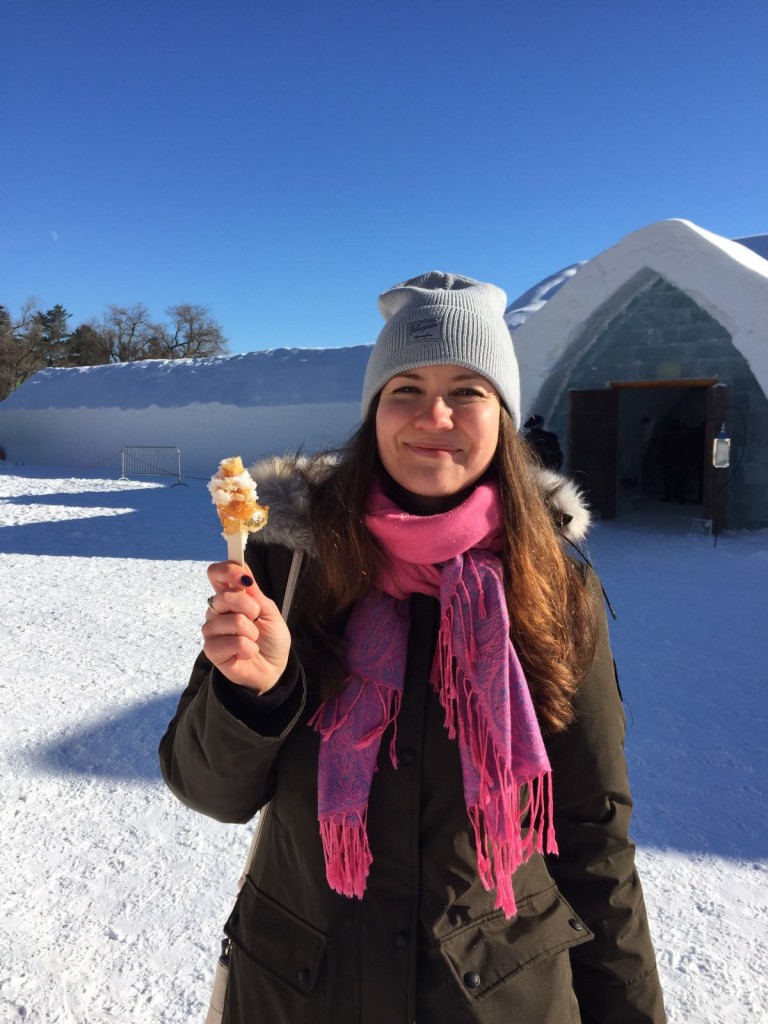 Tire D'érable Sur La Neige or Maple Taffy on Snow
The best thing made of maple you will ever try! Not only does it taste incredible, but the experience of making it is unforgettable. You don't just go to a store and buy yourself a candy. You travel to a remote cabane à sucre, or sugar shack, which is a traditional Canadian establishment originally used for boiling sap collected from maple trees into maple syrup.
Nowadays, sugar shacks offer local comfort food and maple taffy. The only drawback is that sugar shacks are only open during maple collecting season. In January, the sugar shacks in Quebec were still closed, so I tried my snow taffy at the Ice Hotel.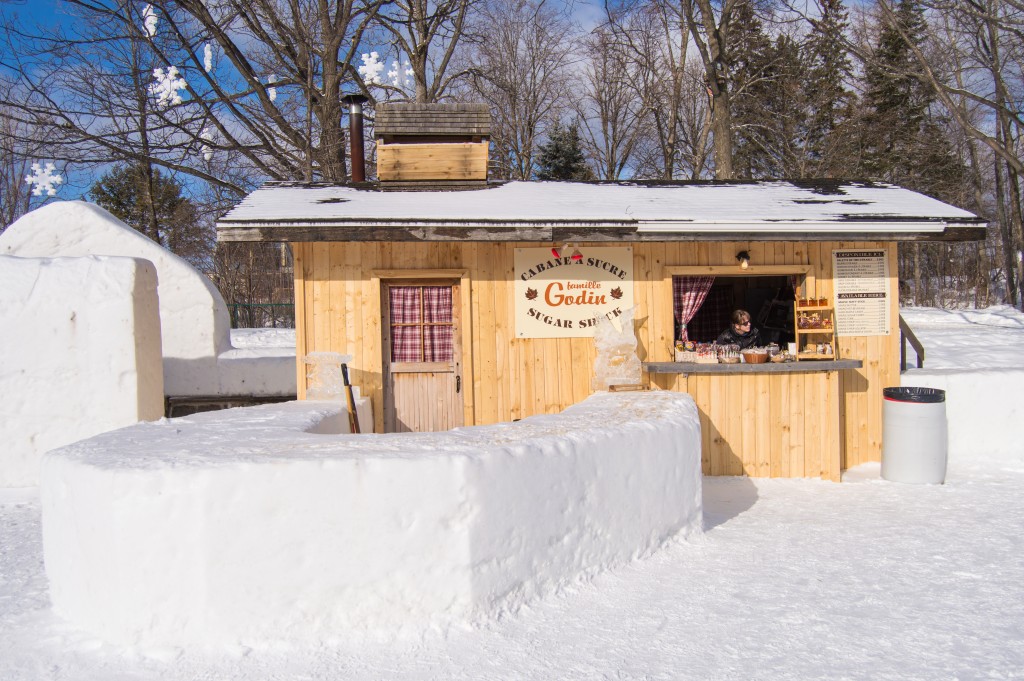 A must-try Canadian food, tire d'érable is made by boiling maple sap past the point when it becomes maple syrup, but not so long that it becomes maple sugar.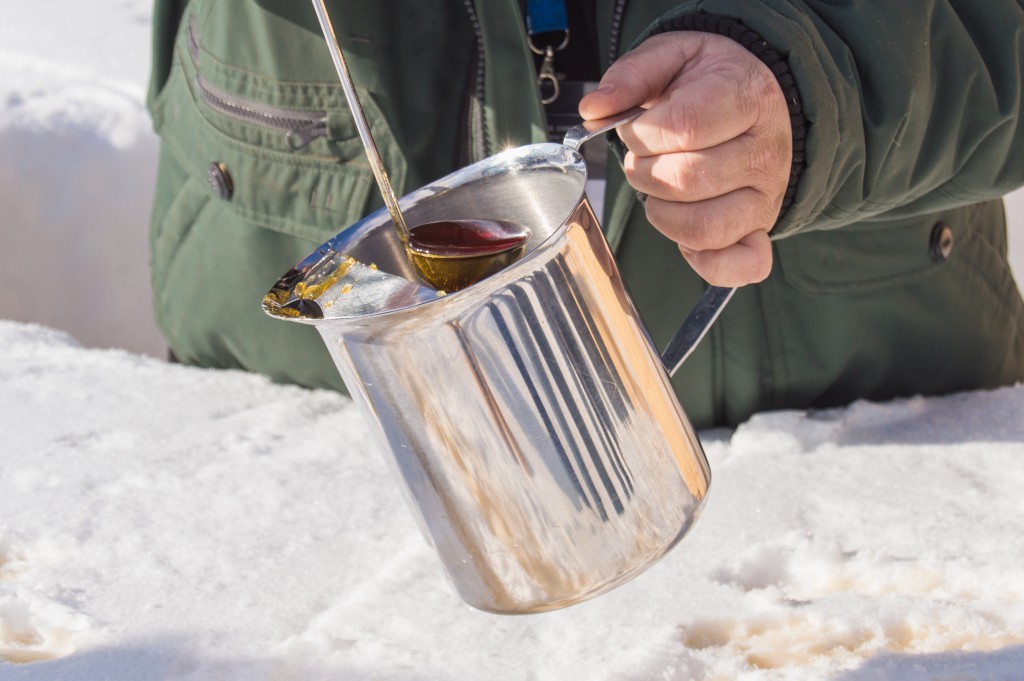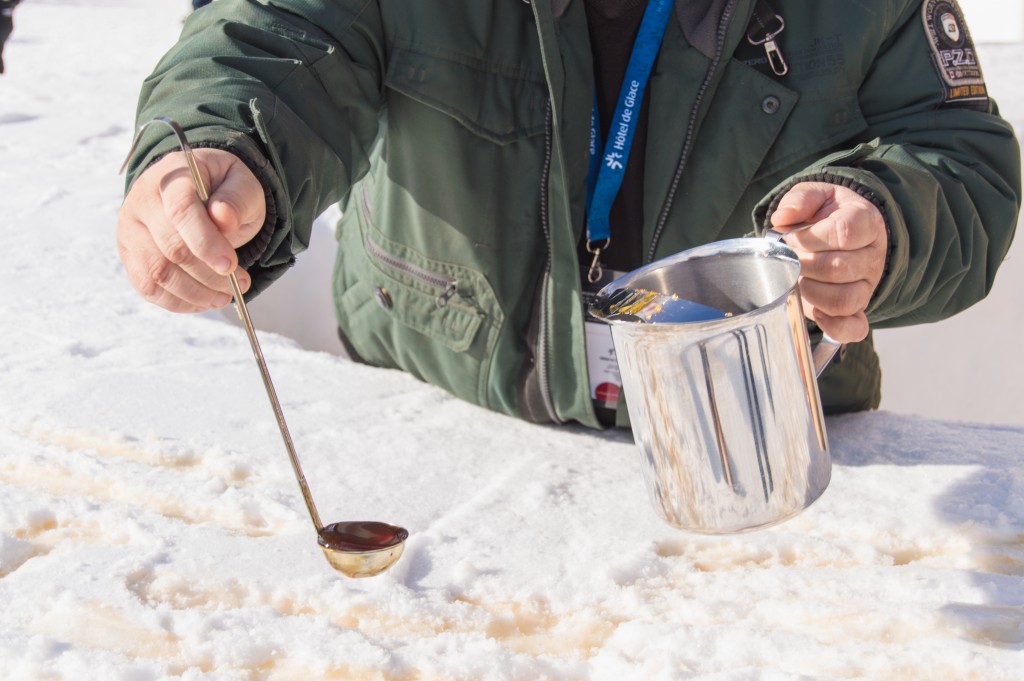 It is then poured onto a table made of snow in a form of a strip.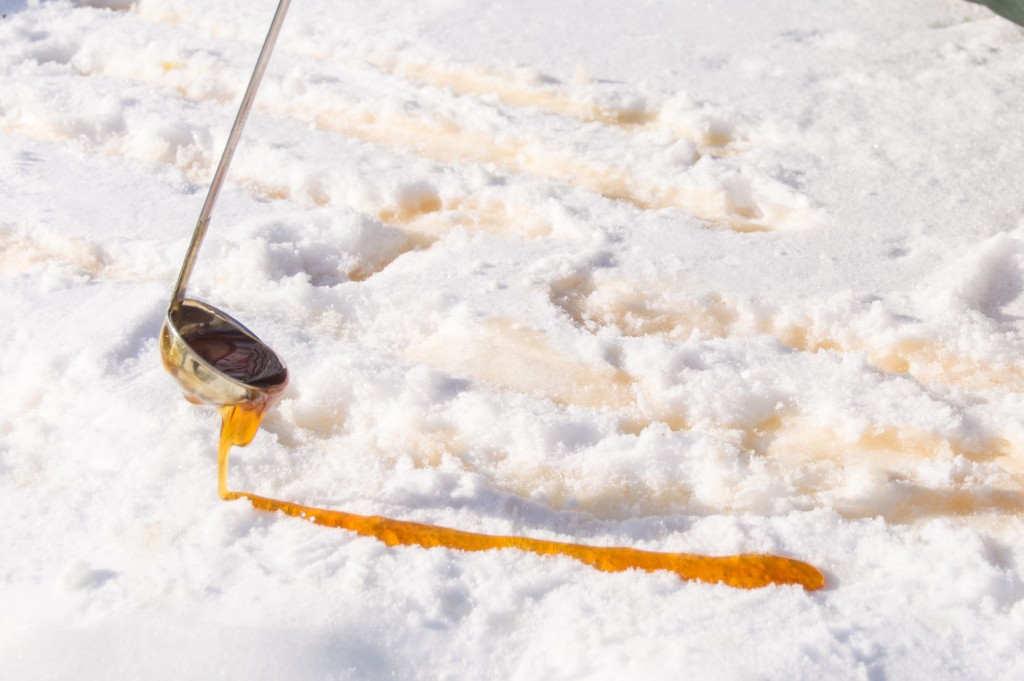 You are supposed to lift it up with a wooden stick and roll the taffy onto it.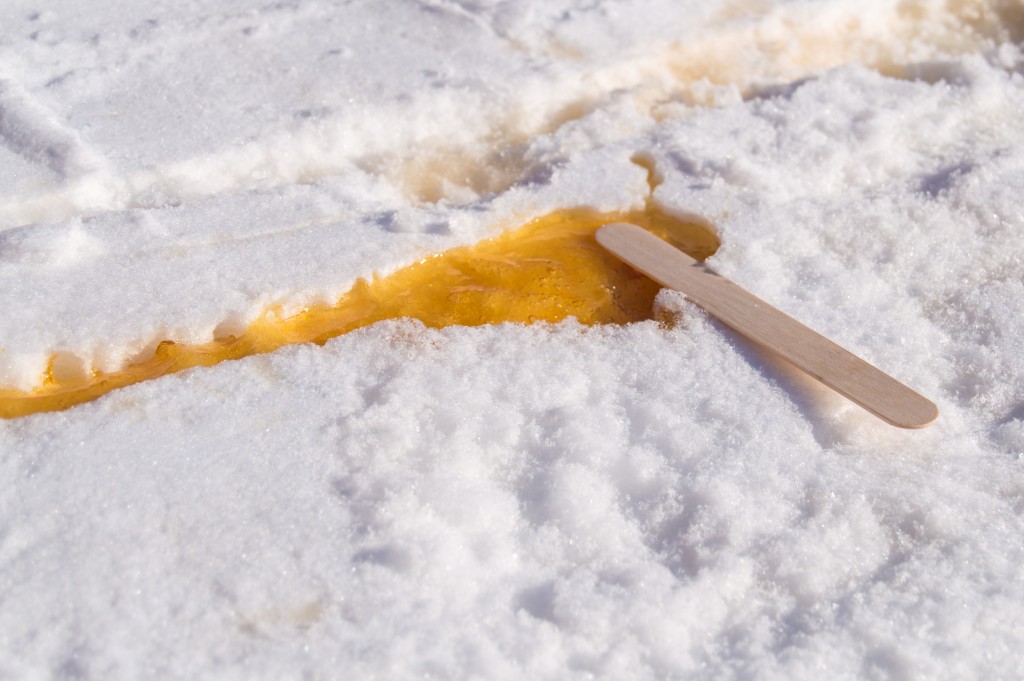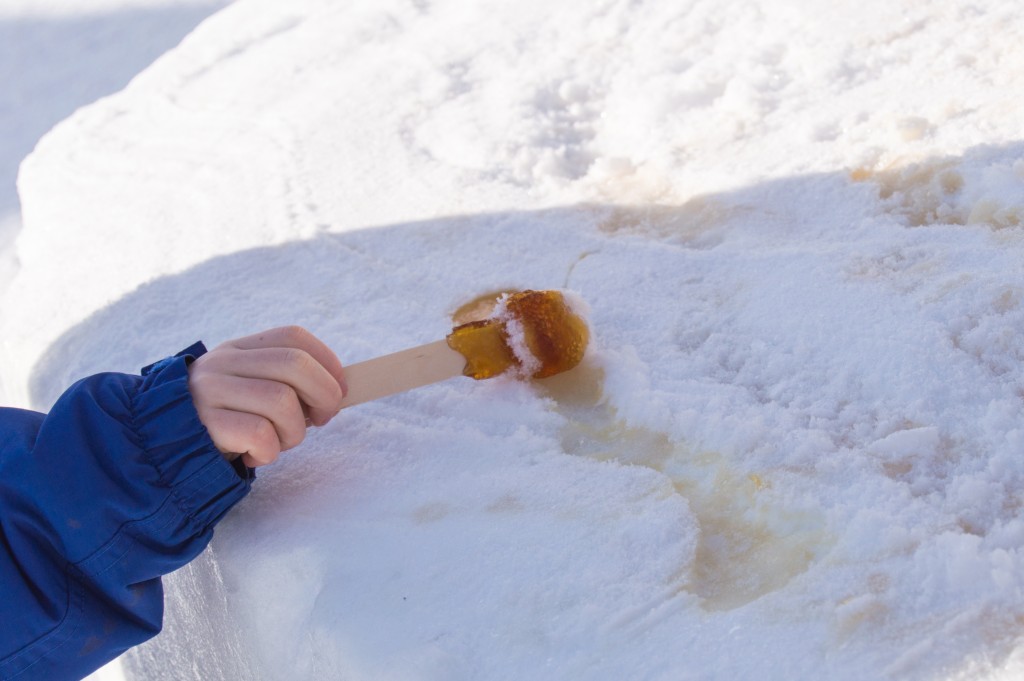 A new layer of clean snow is added to the table every once in while so nothing to worry about.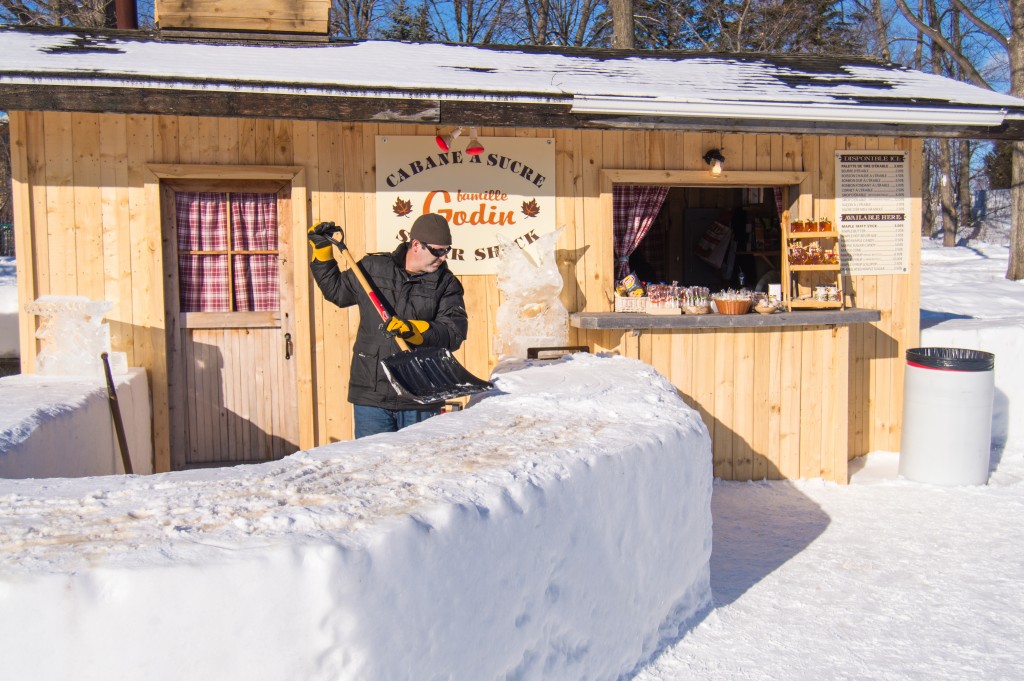 The best way to understand what is happening is to watch a video once so here you go.
Where to find it: in sugar shacks during maple season
As to other sweets in this post, they are not made of maple and it's not even a must to have them with maple. But am I in Canada or what?
Waffle with Maple Syrup
This morning favorite came from Gaufrabec food truck parked right outside of Montreal Bank. By the way, if you are passing it by (and you definitely will as the Bank is located just in front of Notre-Dame Basilica) go inside and marvel at the beautiful architecture. It's the most luxurious bank I have ever seen.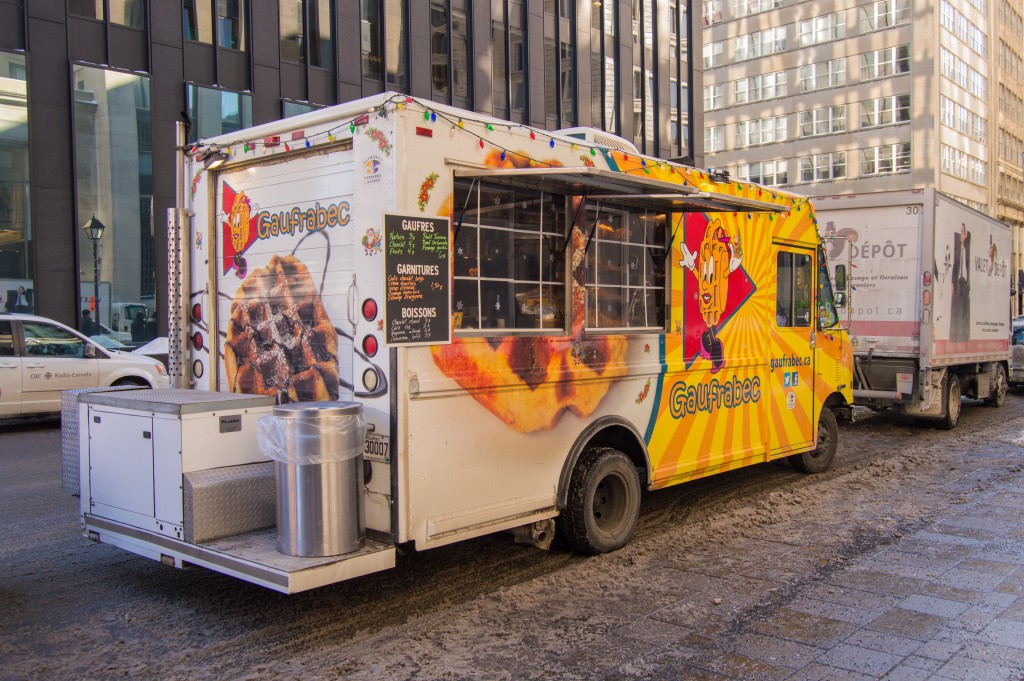 Back to the waffle. I might have had a breakfast 30 minutes before spotting the food truck but you can't miss out on a hot sweet waffle when you see one. I had a short argument with my inner self, justified this indulgence by planning to walk all day and headed to the food truck.
The waffles are made right in front of you and there are plenty of toppings to choose from, both sweet and savory. The main trick is how to eat a waffle covered in maple syrup and icing sugar in the middle of the street at -15°C and with no fork or knife at hand.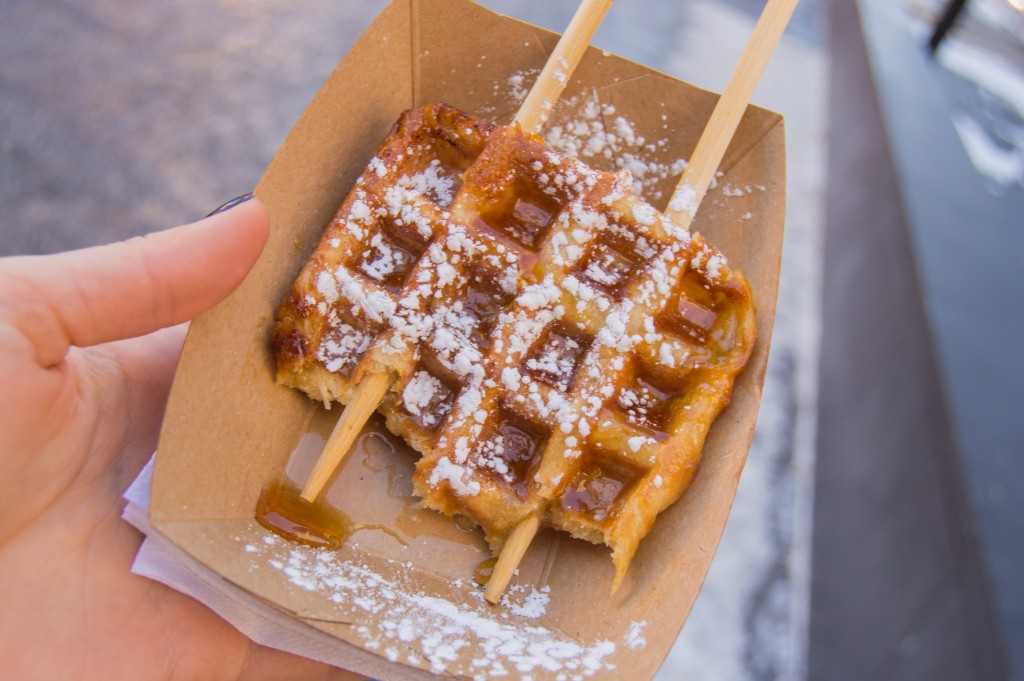 The answer is brilliant – have your waffle with chopsticks! Two chopsticks are inserted through the waffle so you can easily lift it and not get messy. I've never had a waffle on the go before and definitely received a few envious looks from passersby. Or maybe it was icing sugar on my nose that drew their attention.
Where to find it: check Gaufrabec website to find current location of the food truck.
Beaver Tail with Maple Spread
Got to love the name! "I've had a beaver tail on my last trip to Canada" is the best way to scare off your friends. Beaver tail is a whole-wheat pastry that is hand-stretched into long oval shape which resembles beaver's tail – Canada's national symbol. The pastries are then float-cooked on high quality canola oil and served hot, topped with butter and a choice of decadent flavors. You can go for classic sugar-cinnamon combination or choose something more sophisticated like chocolate-hazelnut spread topped with Reese's Pieces and peanut butter. I have chosen the one with maple spread and chocolate – surprise!
Where to get this treat? At Beaver Tails – the company that grew from a small store in Ottawa in 1980 to a chain of 100 locations today and turned into Canadian icon. You can also find Beaver Tails food trucks at local festivals like Fête des Neiges that I visited in Montreal. Queues de Castor is the French name for Beaver Tails.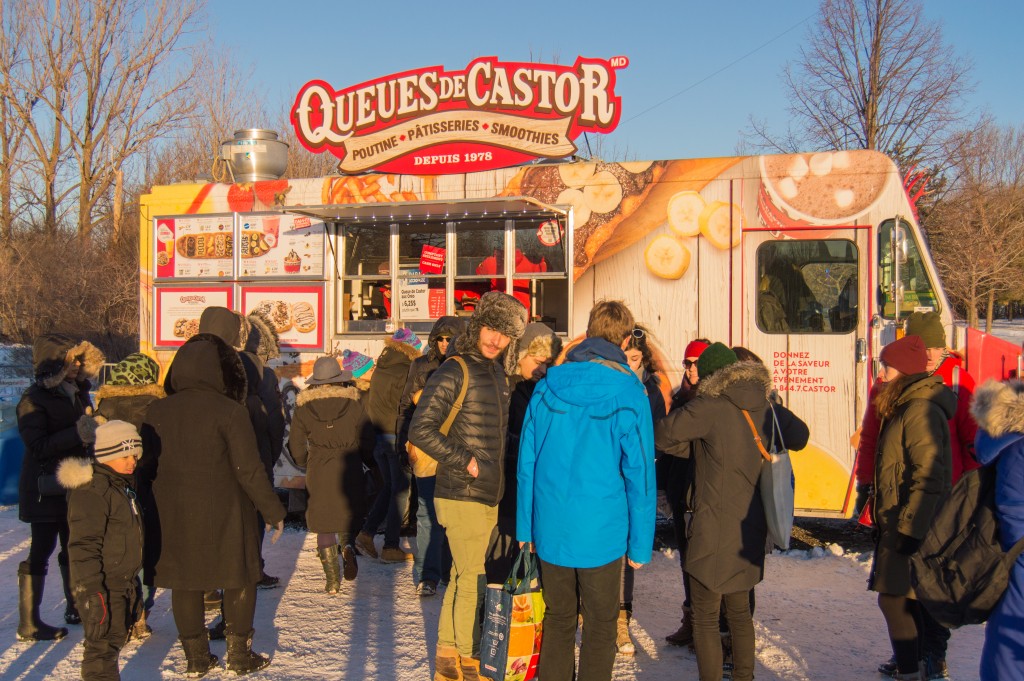 The queue to the truck never ceased during 3 hours we spent there, nevertheless the crunchy buttery goodness was well worth the wait and even frozen fingers. This time there was no way out of getting messy, but it's all fun when you are dancing in the snow (partly because of the festive mood, partly because it's too cold to stand still), drinking your steaming coffee from Tim Horton's and chewing on your very first beaver tail. By the way, maple butter is to die for! I could eat it straight out of a jar with a spoon.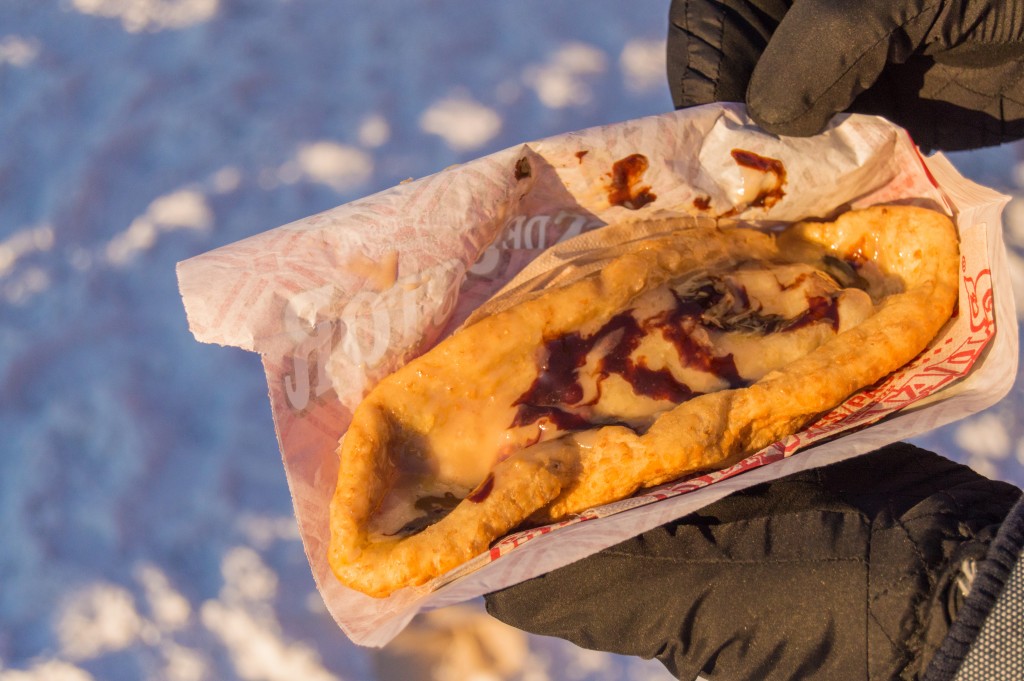 Where to find it: check Beaver Tails website to find a store nearby.
I believe the way you eat your food can influence its taste. I didn't realize before I sat down to write this post that all the sweets I loved in Quebec were enjoyed out in the cold. The wind is blowing in your face, there's no place to sit down, you are struggling to hold on to your food while wearing mittens, or you are struggling to feel your fingertips if you took the mittens off. All in all, you are uncomfortable and cold but for some reason extremely happy. This food wouldn't taste the same in the comfort of a cozy café.
Pin for later: