Austin has way too much great food for a human being to experience in a lifetime. In the last 6 months, since I moved to the capital of Texas, I am trying to keep up with all the restaurants that pop up every month and I have to admit, I am failing miserably. The amount of foods I absolutely must try in Austin according to numerous ratings and lists is only growing.
If you have a few days to explore the city, I suggest you concentrate on the iconic foods Austin is famous for, rather than on all the restaurants you must visit. Here's my list of must-try foods Austin is famous for! I give a few ideas on where you can get them also — those are my personal favorites.
Disclosure: this post contains some affiliate links which means if you buy something by clicking the link I will earn a small commission at absolutely no extra cost to you.
Barbecue
Home to some of the best BBQ joints not only in Texas, but in USA, Austin has some of the most delicious BBQ I've ever tried. The holy trinity of Texas BBQ is brisket, sausage, and ribs. Add to that a few sides like potato salad, beans or sauerkraut and you are set for a meal of a lifetime!
Where to find it:
Franklin BBQ is the most famous BBQ joint – famous not only for their exceptional meat, but for the longest waiting lines, too. It will take you about 4 hours to get your hands on the best BBQ in United States. And don't even think of cutting the line. The only person who was ever allowed to do that was President Barack Obama. Read about my experience at Franklin BBQ here!
Address: 900 E. 11th
Freedmen's Bar is a smokehouse, cocktail lounge and beer garden all in one. It's great if you want to eat some delicious meat without waiting for several hours. This is the place where I take all my friends and family members who come to visit Austin. Update: Freedmen's Bar has closed down, unfortunately. Try LeRoy and Lewis instead — Evan LeRoy, the owner of the truck, used to be the pitmaster of Freedmen's.
Address: 2402 San Gabriel St
Sam's BBQ is a hole in the wall but their food is going to blow your mind. The sign on the wall says: "You don't need no teeth to eat my beef". You really don't.
Address: 2000 E 12th St
Breakfast Tacos
There's an ongoing war between Austin and nearby San Antonio about who invented breakfast taco and who makes it better. The war grew to such ridiculous proportions that recently a petition was signed to make a journalist, who wrote an article suggesting that Austin created the term "breakfast taco", leave the state of Texas. About 500 people signed it in the first 11 hours.
This is such a delicate matter I am slightly scared to express my opinion. Let's just agree that breakfast taco is the best thing that can happen to you in the morning, and Austin has some really awesome options.
Where to find it:
Tacodeli is on every possible list of best tacos in USA and tacos to try before you die. Being so close to my house, this place is the most obvious choice for my meals when I am too lazy to cook.
Address: they have 5 locations in Austin, check their website to find the closest to you.
Torchy's Tacos are called "damn good" for a reason — they topped the list of the best tacos in Texas and USA on many occasions. Although the initial truck grew into a small Texas empire with many locations around the state, the quality is still high (although I wish they made tortillas by hand).
Address: they have 13 locations in Austin, check their website to find the closest to you.
Valentina's Tex-Mex BBQ combines the best of Texas by making tacos filled with BBQ. Nobody can beat that!
Address: 1150 Manchaca road
Tex-Mex
It might be difficult to distinguish Mexican from Tex-Mex even for Texans, let alone a Russian girl who haven't had any Mexican food before coming to USA 2 years ago. Over time Mexican and Texan cuisines were growing into each other and tangling up into a knot. Although it's hard to untie it, you can still find basic differences between traditional Mexican and Tex-Mex food. Mainly, ingredients make the whole difference.
Texans adopted Mexican recipes using ingredients available in their own land like beef, yellow cheese (cheddar), wheat flour, black beans and cumin. Predominant meat in Mexico is chicken and pork, while beef is what Texan ranchers would have in abundance. Wheat is another sign of a Tex-Mex dish; in traditional Mexican cuisine corn flour is more popular. There are certain dishes that are essential to Tex-Mex cuisine: nachos, chili con carne and fajitas.
Where to find it:
Chuy's is, probably, the most popular place in Austin for Tex-Mex food. Certainly, not the only one in the city. But so far the only one I can whole-heartedly recommend.
Address: they have 5 locations in Austin, but the most famous would be in Barton Springs.

Food Trucks
This is technically not a type of food, of course. But Austin is a city famous for its food trucks. Many businesses that are now legendary across Texas started from small trucks on the side of the road, like Franklin's BBQ and Torchy's Tacos.
You can kill two birds with one stone by having BBQ or tacos from a food truck. But the truth is you can get pretty much anything from a food truck in Austin: from biscuits and gravy to vegan food to sushi to cupcakes.
Where to find it:
There are way too many amazing food trucks in Austin for me to mention just a few here. Check out this list by Eater to get an initial idea of choices you have.

Local Beer, Ale and Cider
With so many great breweries in the city, you can't afford to have beer made anywhere else but Austin during your visit. Beer and cider are mostly all natural, some are sustainably-produced, and absolutely all of them are delicious. You can take a brewery tour, have a glass of local beer in one of the bars, or get a pack to take home in a supermarket.
Where to find it:
The ABGB is my favorite place for a glass of cider and live music. They brew their own beer, too.
Address: 1305 W Oltorf St
Whip In is an Indian restaurant offering Indian fusion food. Although Whip In doesn't produce beer of their own, they have a large range of local wines and beers.
Address: 1950 South Interstate Highway 35
For more options, check this guide of Austin's best brewpubs by Big World, Small Girl. Caitlin lives in Austin and writes exclusively about craft beer!
Pecan Pie
Because it's the official dessert of Texas. Also, because when done right it's incredibly good! With pecan tree being the official tree of Texas and pecan nut – the official nut, no wonder pecan pie is the official dessert and a must-try in Texas, and in Austin in particular.
What makes a great pecan pie? Soft and crumbly dough, gooey but not jelly-like center, and the best caramelized pecans. Try this ideal combination once and, I assure you, there will be no way back! You will order the same pie time and again, making all other pies needy for your attention.
Where to find it:
Tiny Pies has a miniature version of pecan pie that is my favorite in the whole city!
Address: they have two locations on Burnet Road and on South Lamar Blvd.
Upper Crust bakery makes delicious classic version of pecan pie.
Address: 4508 Burnet Rd
Péché is technically a bar, not a bakery, but their signature pecan pie is excellent. If you find yourself having one absinthe-based cocktail after another in this New Orleans-esque bar – absinthe is their specialty – don't hesitate to order the pie for dessert.
Address: 208 W 4th St
What Else to Do and Eat in Austin?
If you are a fan of good coffee, check out my guide to the best coffee shops in Austin.
If standing in line for 4 hours doesn't scare you, then trying the famous Franklin BBQ is an absolute must. Check out how I stayed in line for Franklin's here.
If you are in Austin for the weekend, read this awesome weekend guide with all my favorite things to do and places to eat in Austin!
If you want to go outside the city limits, consider a day-trip to Hamilton Pool, Krause Springs, Jacob's Well or Lyndon Johnson ranch in Stonewall.
To learn how to dance traditional Texan two-step, hit Broken Spoke! If this Russian chick learned how to dance two-step, so can you!
To explore more of Texas check this article with 30 of my favorite Texas photos for inspiration!
Where to Stay in Austin?
If you have come to Austin to experience true Texan vibe, the Driskill is the place to stay. Here, luxury meets Texan traditions. On the one hand, you see grand lobby with marble floors, columns, and stained-glass dome. On the other, there are couches made of cow skin and statues of cowboys throwing lasso at the Texan Driskill Bar. Whether you book a room here or not, stop by for a cup of coffee with French pastries at the 1886 bakery on the ground floor.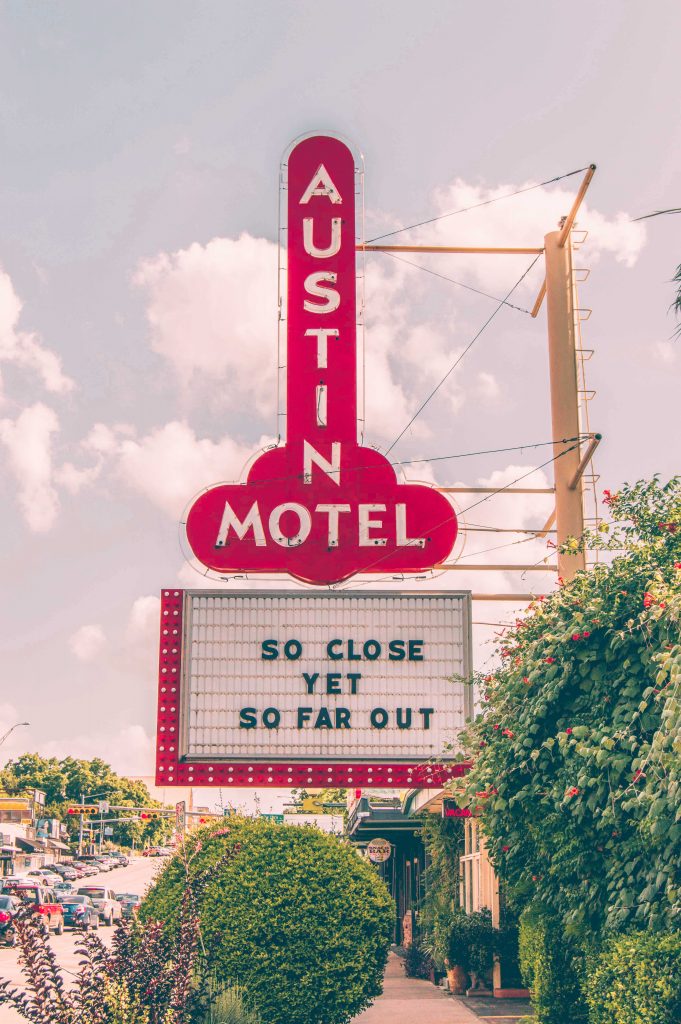 Austin Motel street sign is one of the most recognizable icons of the city and the South Congress avenue, where it's located. If you want to stay at one of the most popular and bustling neighborhoods of Austin, this is your place. Austin Motel is right in the middle of Austin's nightlife, shopping and dinning. The South Congress bridge where you can watch the bats at night and the iconic "Greetings from Austin" mural are walking distance from the motel.
The accommodation in Austin is far from being affordable, so it's especially nice to come across a place like Native Hostel. It might be called a hostel, but the interior design is nothing less than chic and stylish. The hostel features 4-bed and 6-bed dormitory-style rooms that have oversized single beds with privacy curtains, as well as two king suites with a private bath that can be shared by two people.
Pin for later: