I am a simple girl who's not used to have her food served on a golden plate. Going to fancy restaurants for dinner not only raises excitement inside of me, but also nervous hesitation: do I belong here? is it the right fork to use now? do I have something stuck in my teeth? I am feeling very much like Julia Roberts in "Pretty Woman" when her escargot went flying across the restaurant: "Slippery little suckers!"
Curiosity usually beats my fears. Because, let's admit it, sometimes you feel like having greasy fried potatoes in a hole-in-the-wall kinda restaurant, and sometimes you feel like eating something you can hardly pronounce in a candle lit dining room of a luxury hotel. What if I told you that you can have fine dining experience in a relaxed cozy atmosphere of a small local restaurant?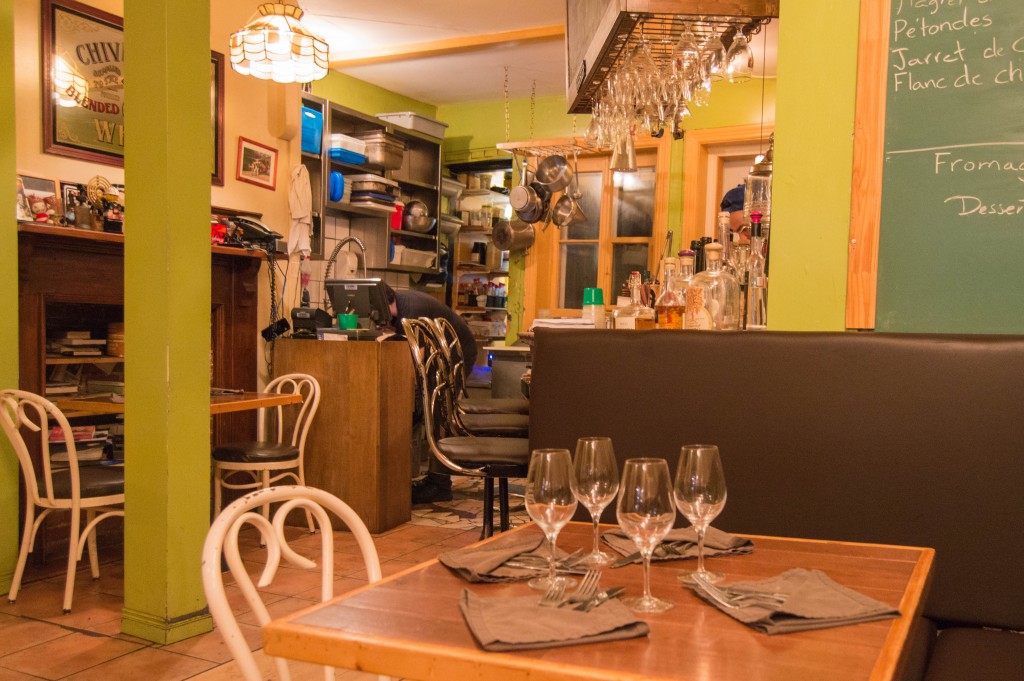 Following Anthony Bourdain in Quebec City
Approximately ten minutes after making the decision to travel to Canada, I found an episode of Anthony Bourdain's "Parts unknown" about Quebec and watched it. That's how I came across L'Affair Est Ketchup. I believe Anthony Bourdain knows a thing or two about good food, so if he recommends this place I surely want to try it. I called several days in advance, booked a table, and was anxiously anticipating what would turn out to be one of the best dining experiences of the trip.
L'Affaire Est Ketchup: Fancy Food in Casual Setting
For dinner, I wore my checkered sweater, jeans, and Timberlands. No judgment. The owners themselves were wearing funky T-shirts and jeans.
The space with only eight tables and an open kitchen tucked behind the bar counter was tiny. There was only one electric stove in the kitchen, and that poor stove was mentioned in every single review I had read. What can I say? It is truly amazing to see a masterpiece of a meal to be prepared with the most casual equipment.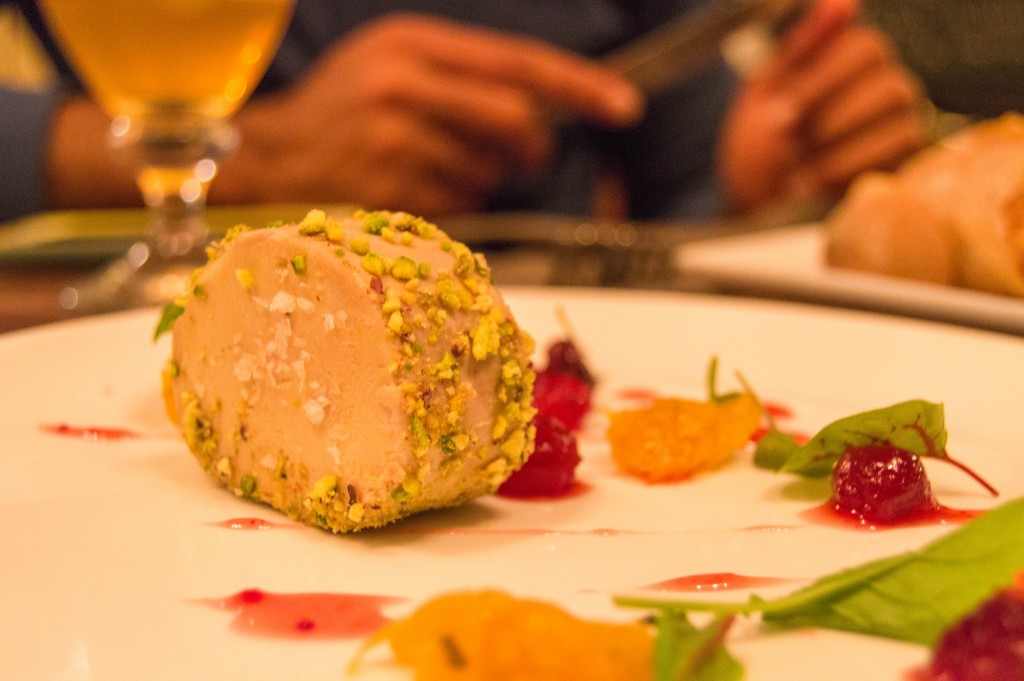 The menu was written in French, so the server had to translate it for us. But even translation didn't help in certain cases:
– Guinea fowl meat served with mushroom gnocchi…
– What meat?
– Guinea fowl.
– Guinea what?
– Guinea fowl!
– Mmm…ok…
I felt stupid to ask for the third time, so I pretended to understand. The server brought his phone and showed the picture of the bird. Now we are talking! This bird's meat was popular among Russian tsars but I've never had a chance to try it. So, yes, please!
We also ordered longe de porcelet (fried piglet loin) and foie gras as a starter. Foie gras was served with plum sauce and bread on side. I've never had it before, so I was trying to understand what all the fuss was about.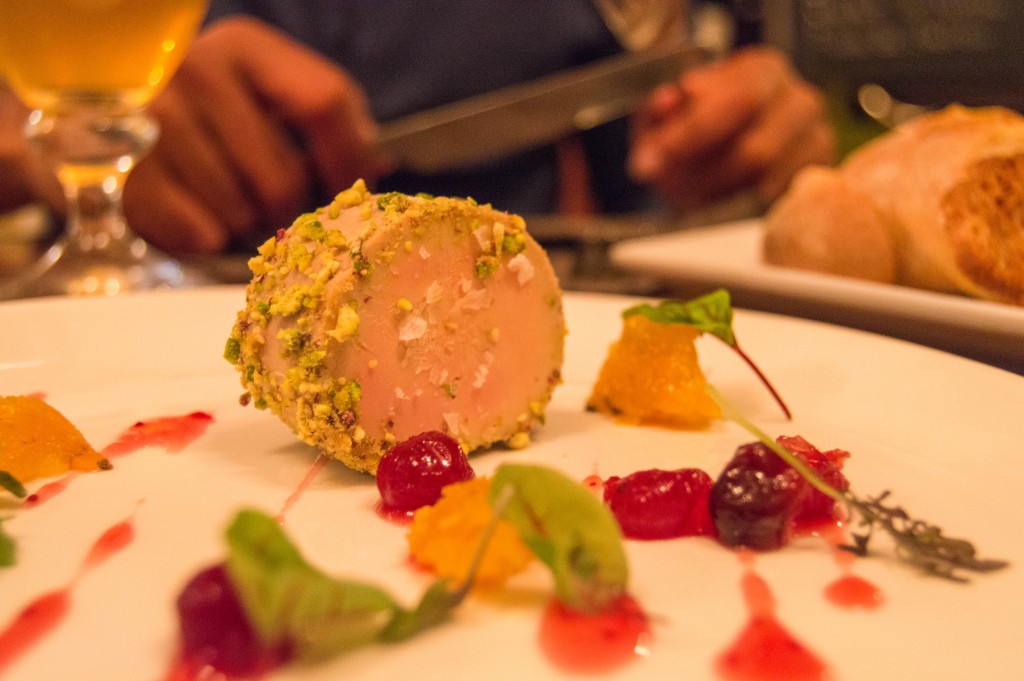 My Bourgeois Foie Gras Experience
On the one hand, I was enjoying the rich and creamy taste. On the other hand, I couldn't get the following little poem out of my mind:
Eat your pineapples
Chew your grouse
Your last day is coming
You bourgeois louse.
Proletarian poet Vladimir Mayakovskiy, whose poems were very helpful in Soviet propaganda, wrote these lines. In my mind, foie gras is something that celebrities have for breakfast… or maybe the Queen of England. Never in my wildest dreams did I think I will try it one day. But the first time might as well be my last one. Reading how foie gras is produced felt like a bucket of cold water was poured over my head.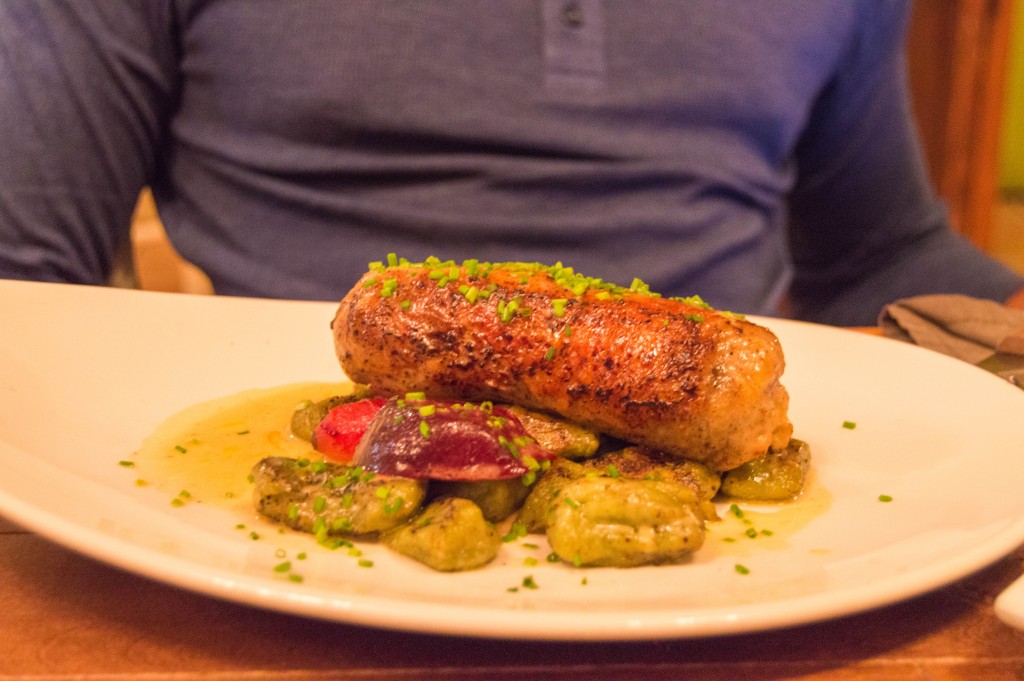 Our mains arrived in a while, and boy, did they look gorgeous! The guinea fowl was stuffed with trout and goat cheese and served with gnocchi and vegetables. Just think of it: a bird was stuffed with fish! Doesn't that sound like a wild idea? I had no clue how it worked, but it tasted heavenly. Though if I wasn't told there was trout inside, I would have never guessed.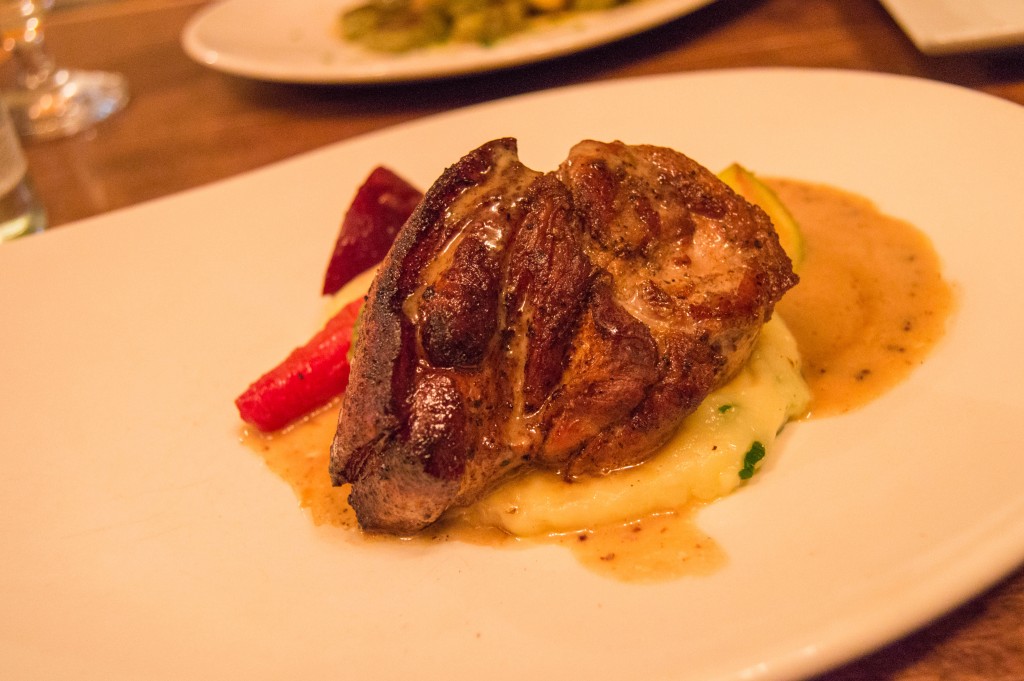 Piglet loin was pan fried and served with mashed potatoes and creamy mustard sauce. Meat was soft, perfectly seasoned, and fat in the best possible meaning of this word. This was one of the dishes you look at and think: this is too much; I will have to box half of it and take it home. In twenty minutes you stare at the empty plate: how the hell did this happen?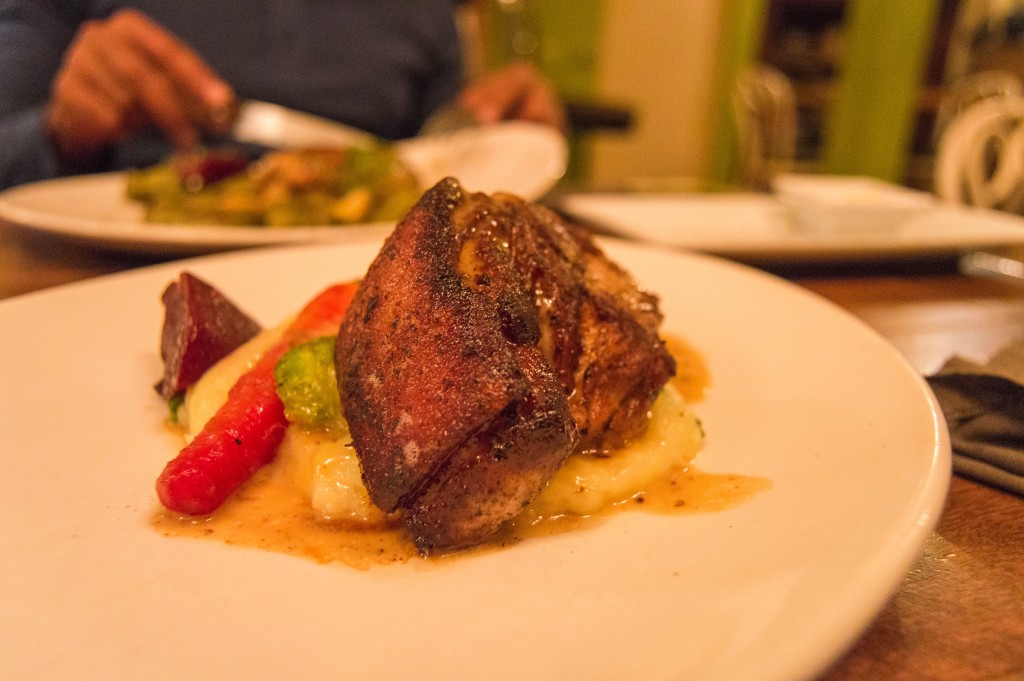 I had no room left for dessert, but this dinner was one of the best dining experiences I had in Quebec (and Canada) and a highlight of the trip. Eternally grateful to Bourdain for helping me discover a precious gem that is L'Affaire Est Ketchup.
L'Affaire est Ketchup – 46 Rue Saint-Joseph E, Ville de Québec
Pin for later: