"This is my Ranch and I do as I damn please!"
Lyndon B. Johnson
"All the world is welcome here" says the sign at the entrance to Lyndon Johnson Ranch. I can't tell you how refreshing, encouraging and reassuring these simple words sound today, how happy I was to see them in the time of confusion and shifting values.
Lyndon Johnson, although a popular figure in the United States and Texas in particular, isn't well known outside of the country. Saying I knew close to nothing about him before moving to Austin would be an exaggeration. I literally knew nothing.
My first encounter with "the president who wrote mercy and justice in the statute books by which America was governed" happened in LBJ Library. I spent half a day exploring the four floors containing innumerable artifacts of his life. Next in line was a trip to his hometown of Stonewall, Texas, and the ranch he loved immensely.
Coffee Pit Stop on the Way
The drive to Stonewall takes a little over an hour. You are going to be passing Dripping Springs on the way. Make sure to stop by Mazama Coffee. They offer coffee from Ethiopia, Costa Rica, Guatemala and Brazil and roast it on-site in historic downtown of Dripping Springs. I've had one of the best cortados at this café. If you prefer something stronger than coffee, check out this guide to the best breweries and distilleries in Dripping Springs!
Exploring  Lyndon Johnson Ranch and Beyond
The ranch is a part of Lyndon B. Johnson National Historic Park. Other sites in the park include the house where the 36th President was born, the school he attended, and the cemetery where he and his wife Lady Bird are buried. Initially, the ranch belonged to LBJ's aunt and uncle and he remembered himself coming there as a child. When his aunt offered LBJ to buy the ranch years later, he happily agreed and considered the house his home for the rest of his life. After the President's death in 1973, Lady Bird continued to live at the Ranch part time until her death in 2007.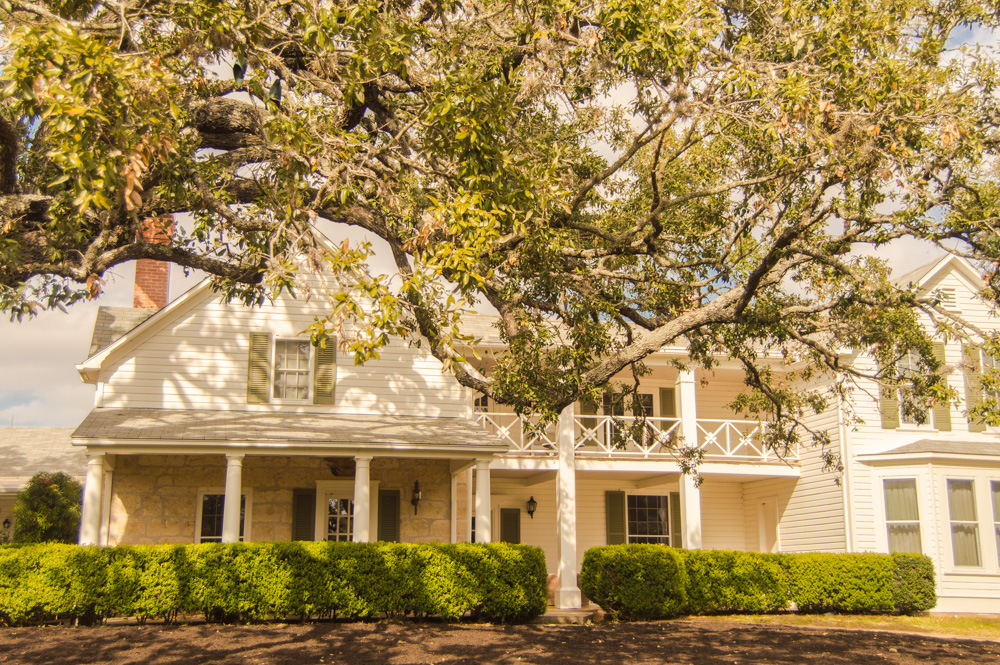 The House Tours
The park offers tours of the Ranch that cost only $3. The house was reconstructed to look exactly like it did in the years of LBJ's presidency with original furniture, paintings and private objects. Photography inside is prohibited so you would have to travel there and see it for yourself. Here's a little sneak peak of the gift shop that features phones you can use to listen to actual phone calls Lyndon B. Johnson made. Between 1963 and 1969 he secretly recorded roughly 800 hours of conversations, some of them are available here.
Behind the ranch is the hangar and the airstrip which were constructed soon after the Johnsons bought the Ranch.
Since Air Force One was too heavy for the runway, the President would use it to fly from Washington D.C. to Austin or San Antonio, then use this small aircraft called Air Force "One-half" to get to the Ranch.
Dinner Plans
On the way back to Austin, stop by Rolling in Thyme & Dough in Dripping Springs for dinner. I couldn't check this place out since they are closed on Sundays, when I did the trip, but I've heard a lot of good reviews of this place. You can also stop for a quick bite at Thundercloud Subs in Dripping Springs, like I did. This Texan chain never lets down with their delicious bread made from scratch, in-house made spreads, organic eggs and mostly local ingredients. My go-to is hot meat-ball sub.
Good food, the great outdoors and a little bit of history make for a perfect day trip. This one was also a very economical one with $3 coffee, $3 entrance fee and $3.99 for a sub. Lastly, if you haven't visited LBJ Library yet, I greatly recommend it. Spare at least 3-4 hours to learn more about the 36th President of the United States.
Lyndon B. Johnson National Historic Park — 100 Ladybird Lane, Johnson City, TX
Mazama Coffee — 301-B Mercer Street, Dripping Springs, TX
Rolling in Thyme & Dough  — 333 W Hwy 290, Dripping Springs, TX
Thundercloud Subs —598 East Highway 290, #230, Dripping Springs, TX
Pin for later: