You have to come here for two reasons: all kinds of incredible food and unique industrial design of the building. Before Chelsea Market was established here in 1997, the building used to serve as a factory for National Biscuit Company (or Nabisco), one of the largest manufacturers of biscuits in the country. Nabisco is the reason you are addicted to sandwich cookies – they gave Oreo to the world and it was created right here in the heart of Meatpacking district.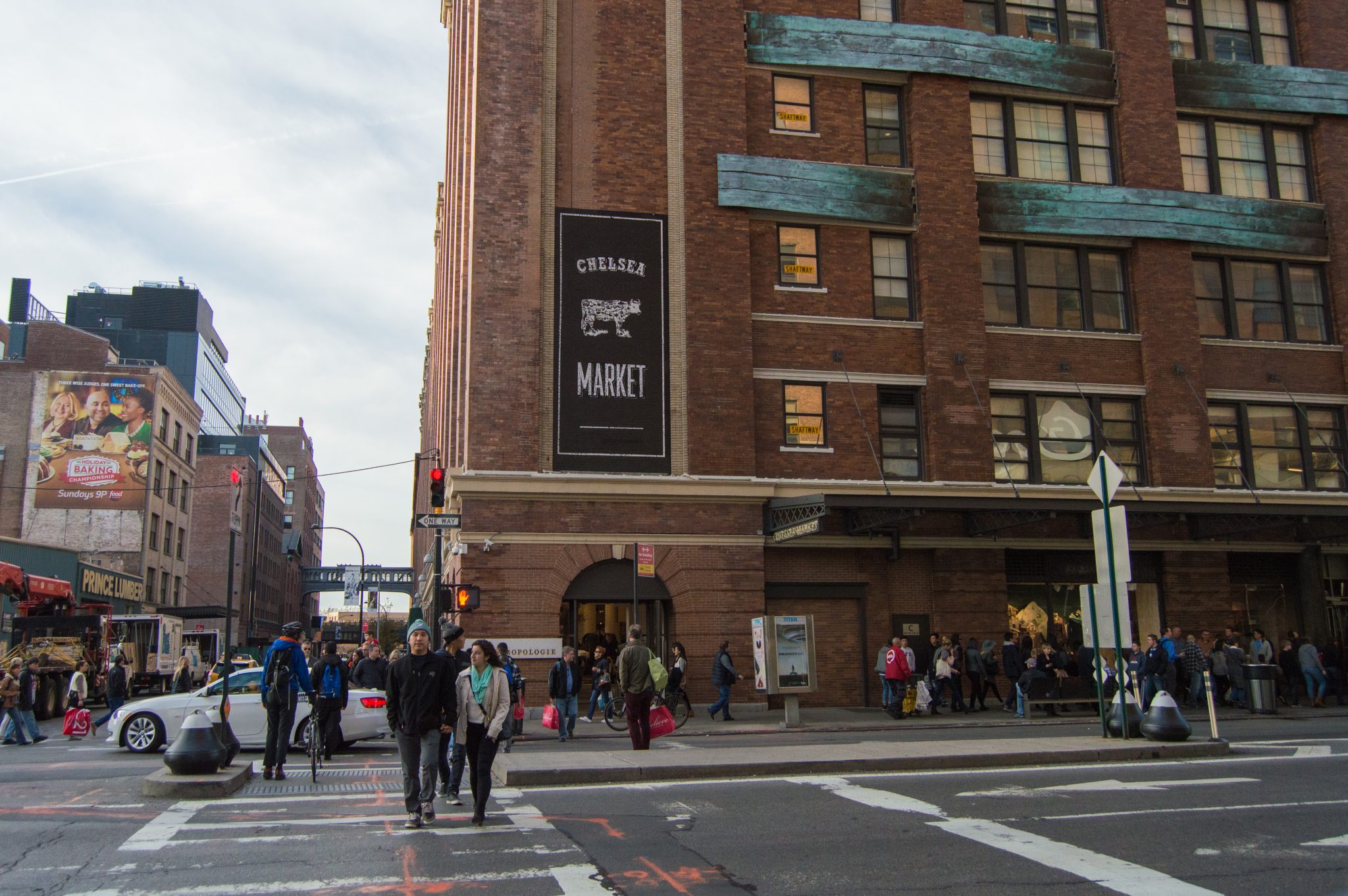 Although the factory moved out to New Jersey in the late 1950-s many highlights of the original design remained intact. That was the plan of the investor Irwin B. Cohen who "organized a syndicate to buy the principal National Biscuit buildings, from Ninth to 11th Avenue and 15th to 16th Street. Over the next several years Mr. Cohen reinvented the older complex, between Ninth and 10th Avenue… On the ground floor, he and his designers, Vandeberg Architects, created a long interior arcade of food stores"(*), now well known as the gastronomic mecca for tourists all over the world.
Walking through the long halls of Chelsea Market with its brick walls and factory floors instantly gives you the feeling of going back in time. Disused ducts, original murals and signboards are interspersed with grocery shops, cafes, bakeries and restaurants.
What I love the most about this place, apart from food and architecture, is the vibe. Trying to squeeze in between streams of people flowing in all directions, listening to the buzz of chopping, frying, grilling combined with tourists chatting and trying to make up their minds whether to have fresh lobster or Thai food. Add to that the view of people sitting on the floor, staircases, leaning against the walls and munching away their food.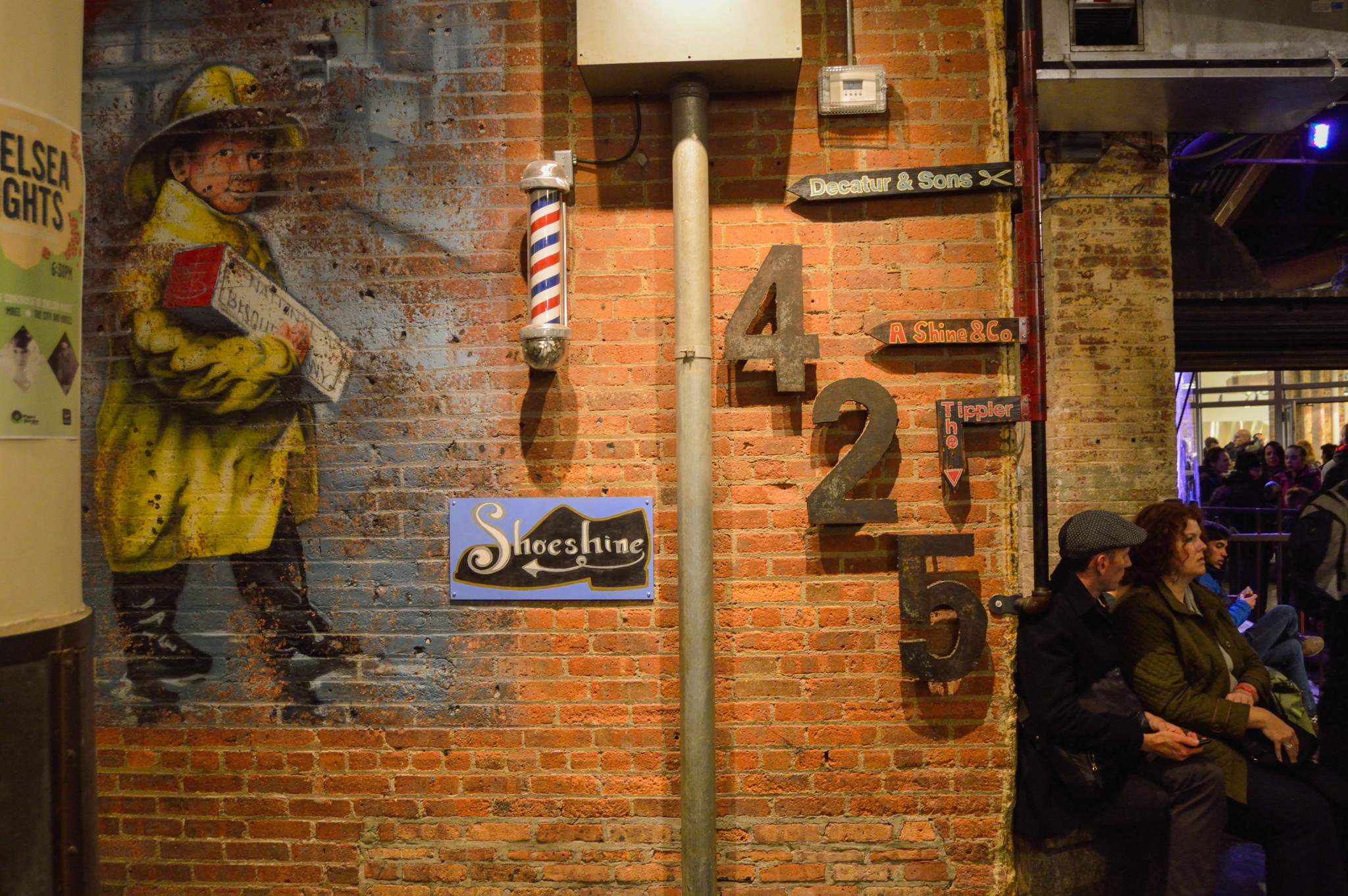 You can come to Chelsea market on you own and wander around or take a food walking tour with an expert. The market attracts 6 million national and international visitors annually thus making it one of the most trafficked and written-about destinations of any kind in NYC.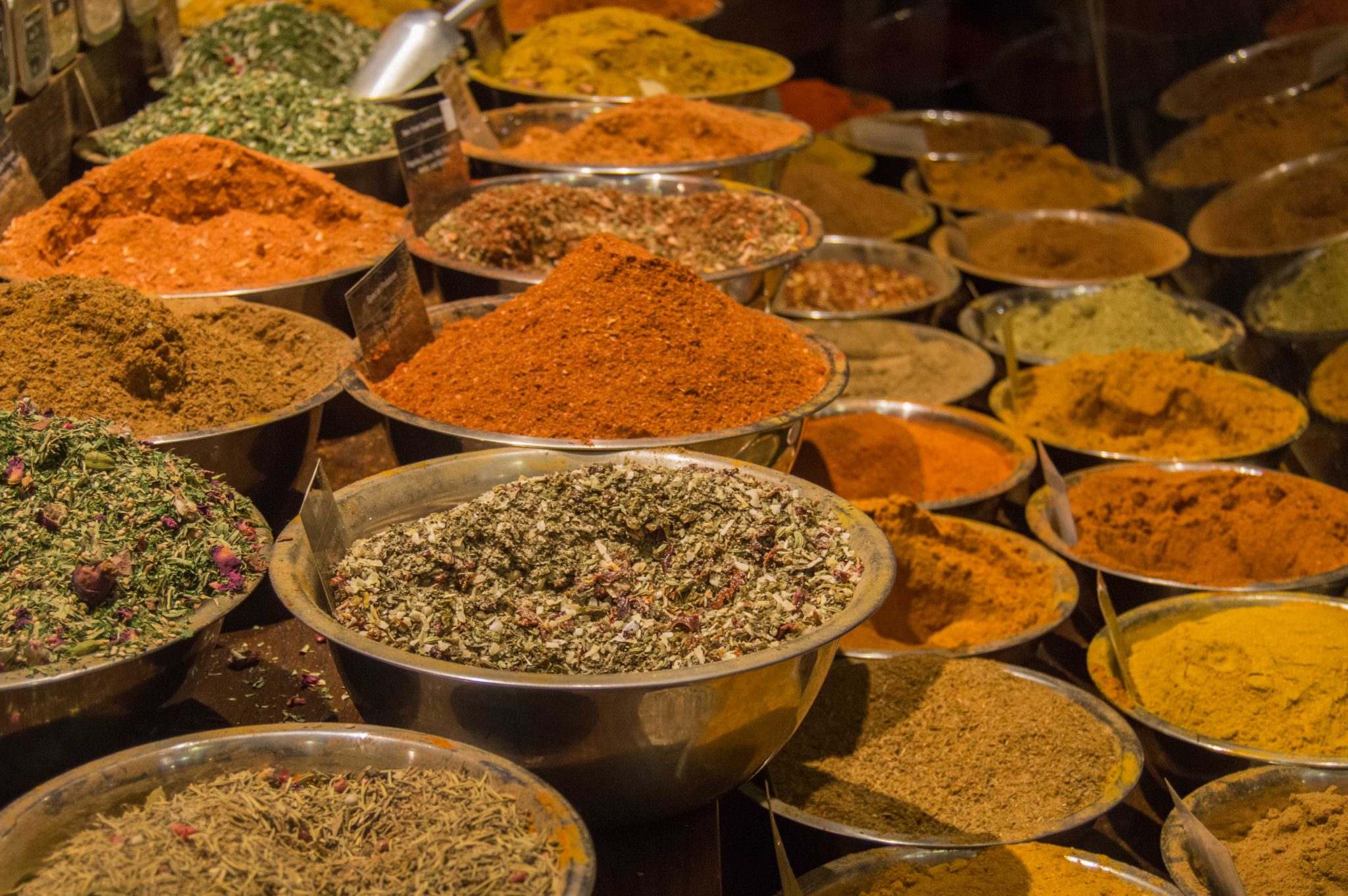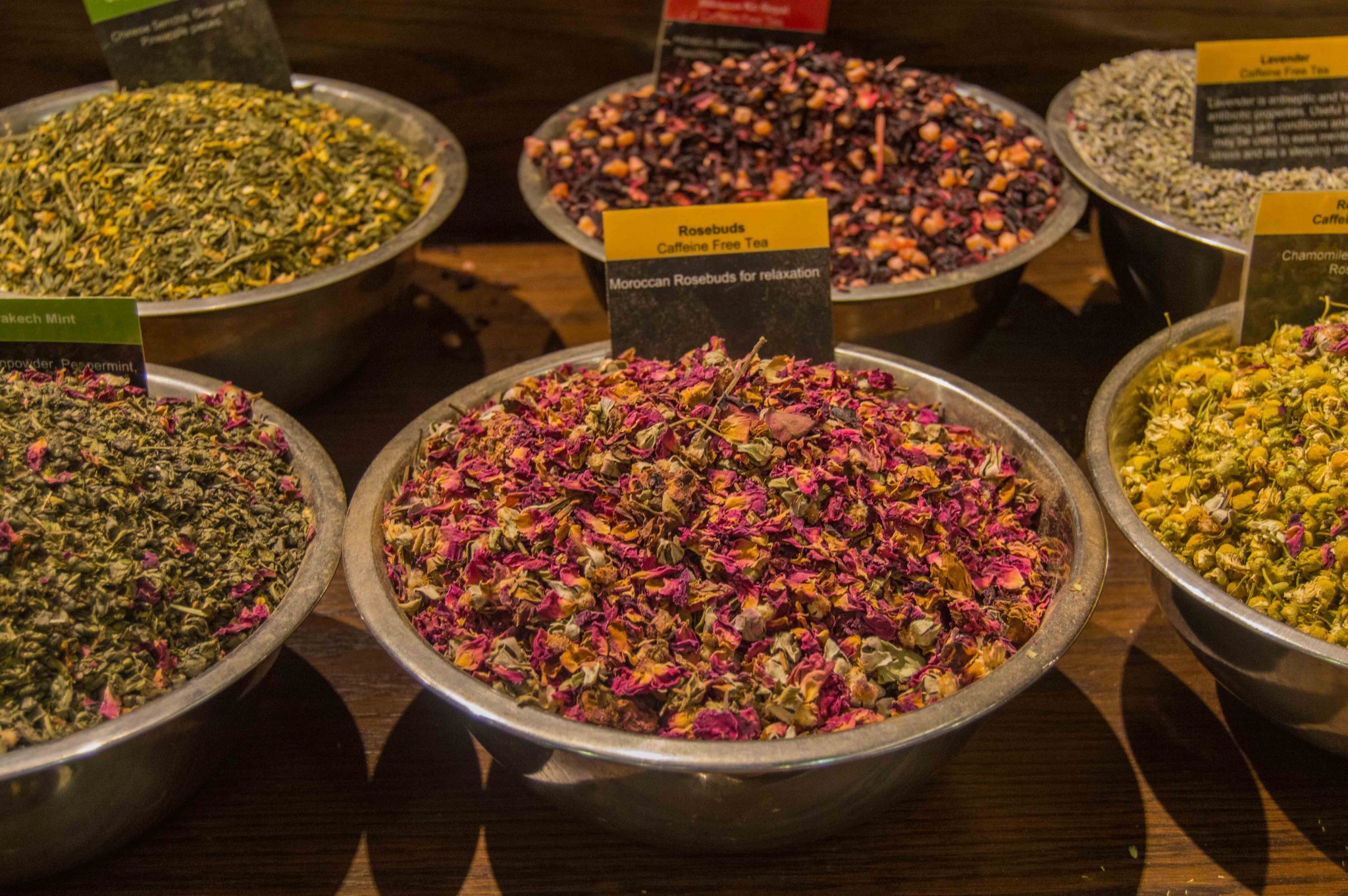 Once upon a time, Chelsea market was a hidden gem of NYC, frequented only by locals. New Yorkers say that the market is not the same anymore with thousands of tourists crowded inside. From a one-stop-destination for locals with butchery, dairy shop, bakery and restaurants serving high-class food the place turned into a food-court. Tables and chairs were removed to create more space making it uncomfortable to have a meal.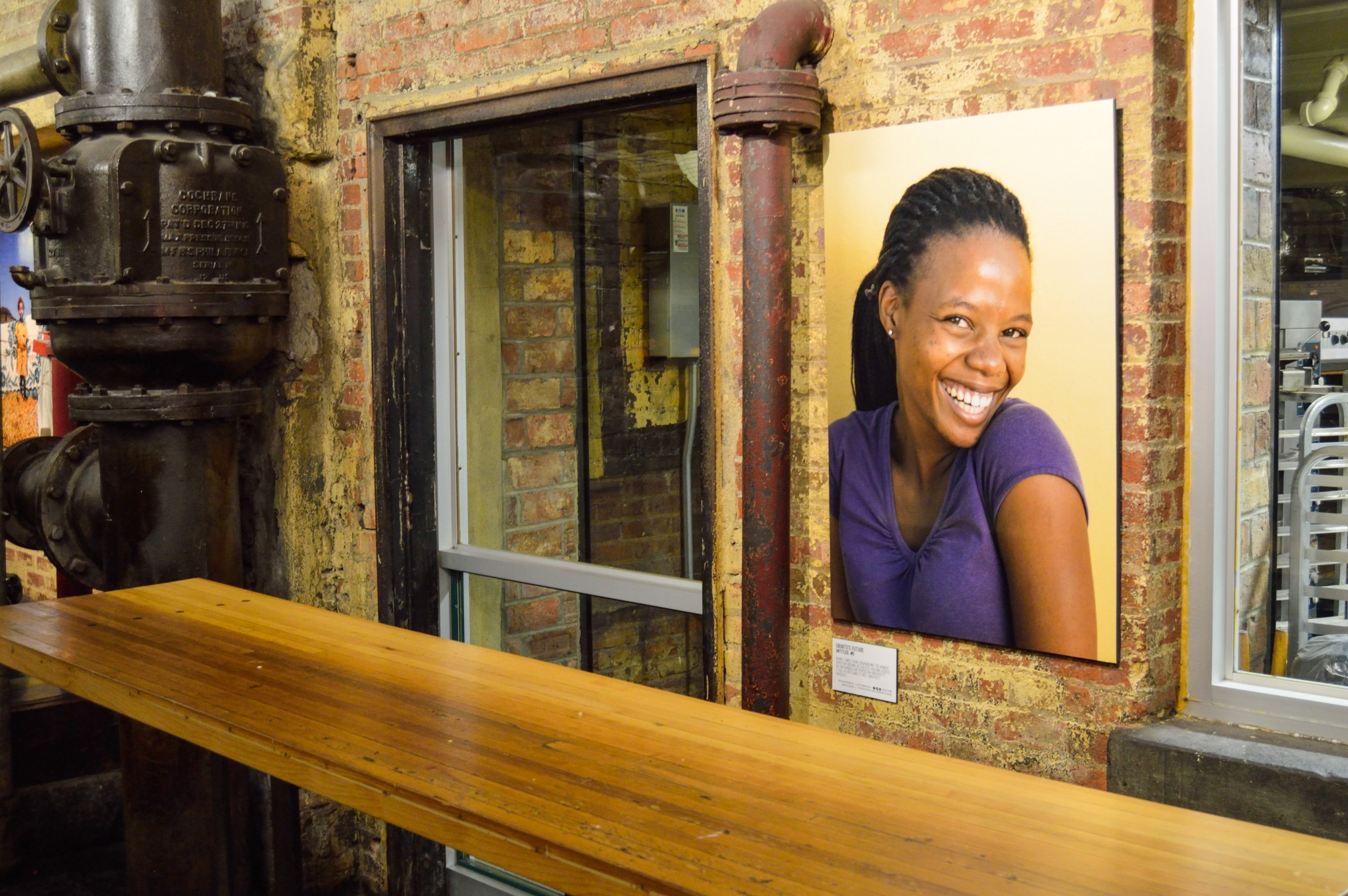 Well, maybe if I were a New Yorker I would have a similar point of view. But I am a tourist because of whom, according to one article, locals "are often frightened away" from the market. I am sorry, New Yorkers! But I have to say I love this place as it is. With its noisy crowds and with no chairs: there's something romantic about sitting on a stairwell with a pie in one hand and a cup of cappuccino in another.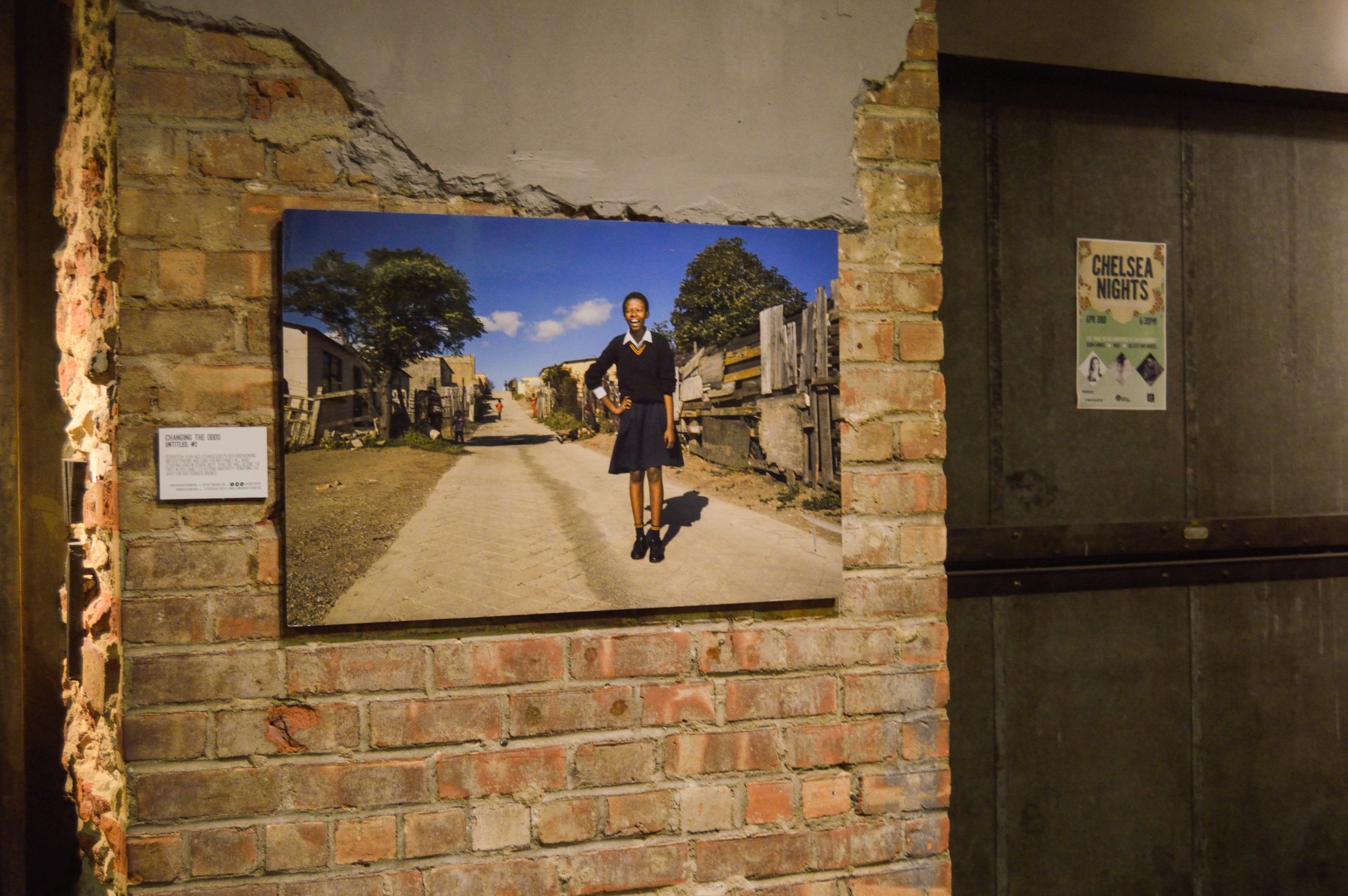 I am not going to get into the building's history which is pretty amazing but has been described by many other people more knowledgeable in the subject than I am. You can find links to interesting articles about Chelsea Market below. Now enough with the talking. It's a photo essay after all!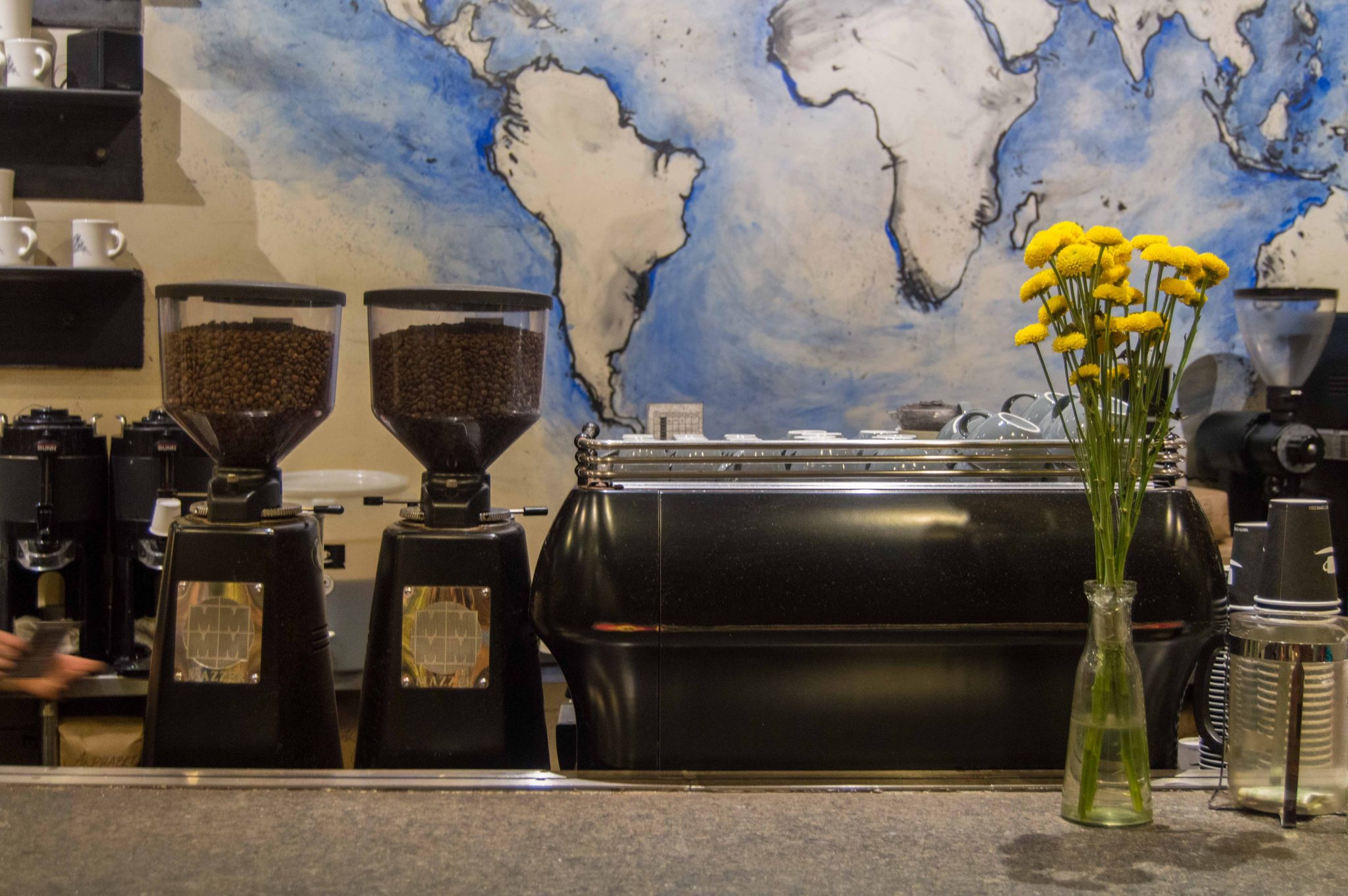 Fresh seafood selection.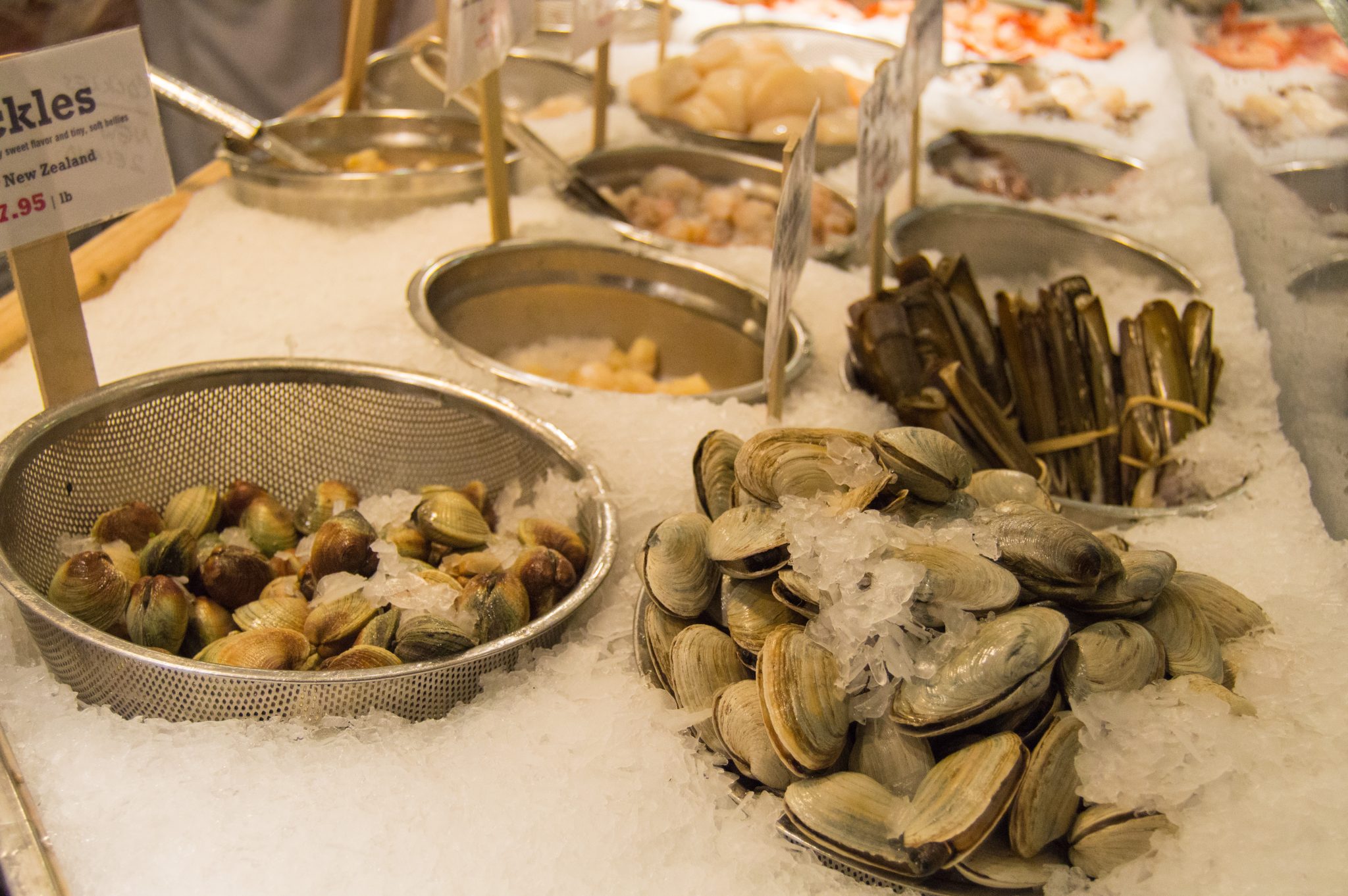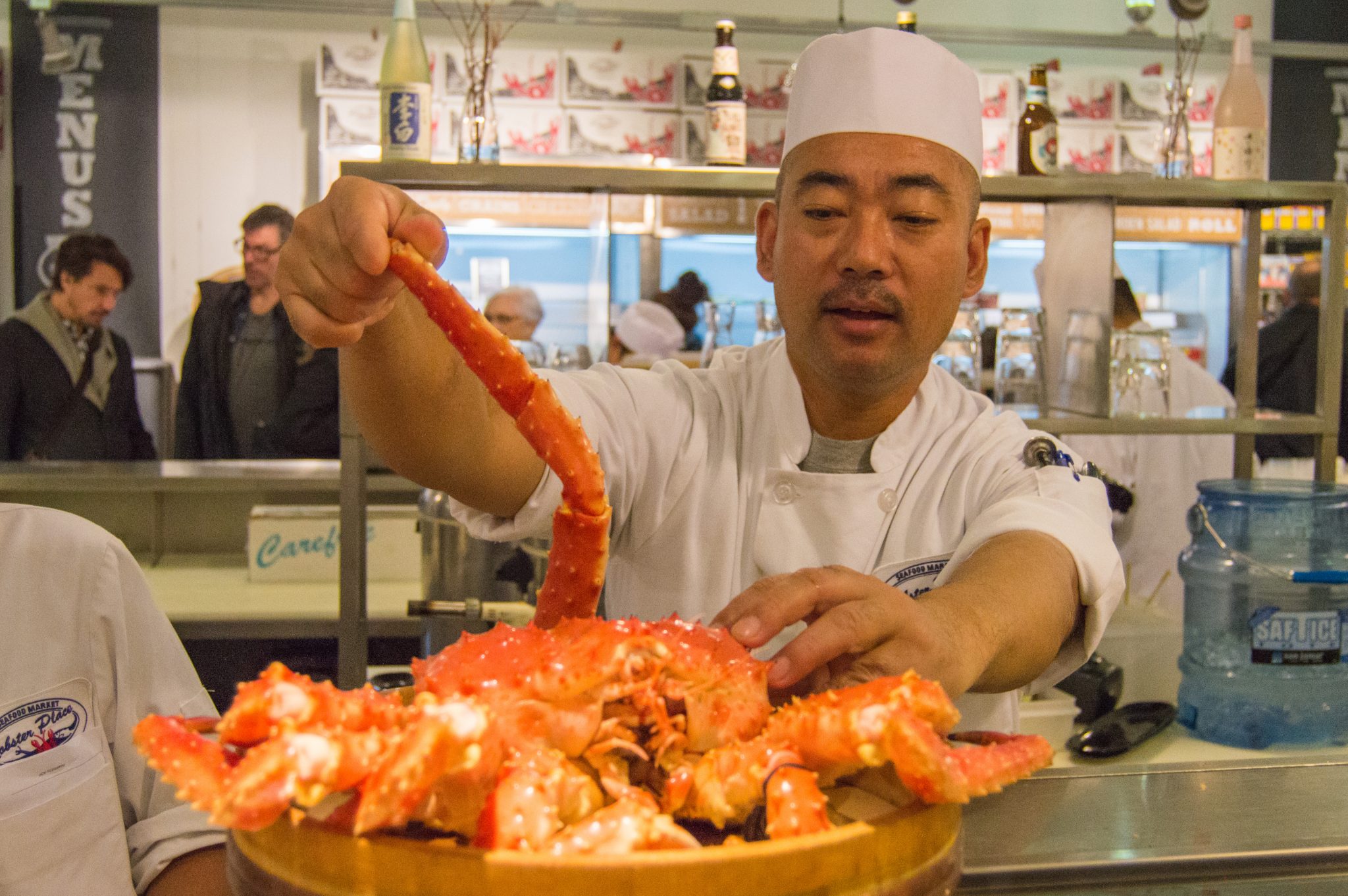 Chowder selection.
My favorite place serving fresh crepes at Chelsea market – Bar Suzette.
Beyond Sushi – a vegan eatery with focus in sushi.
Freshly baked bread at Amy's Bread.
Cupcakes for those who have sweet tooth: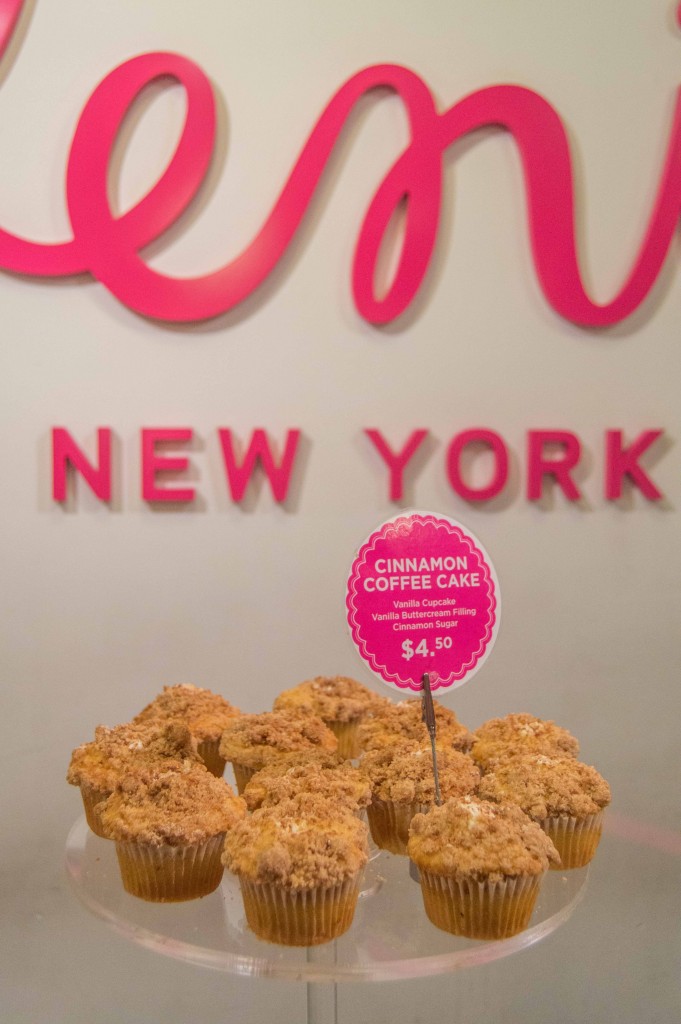 Tiny doughnuts: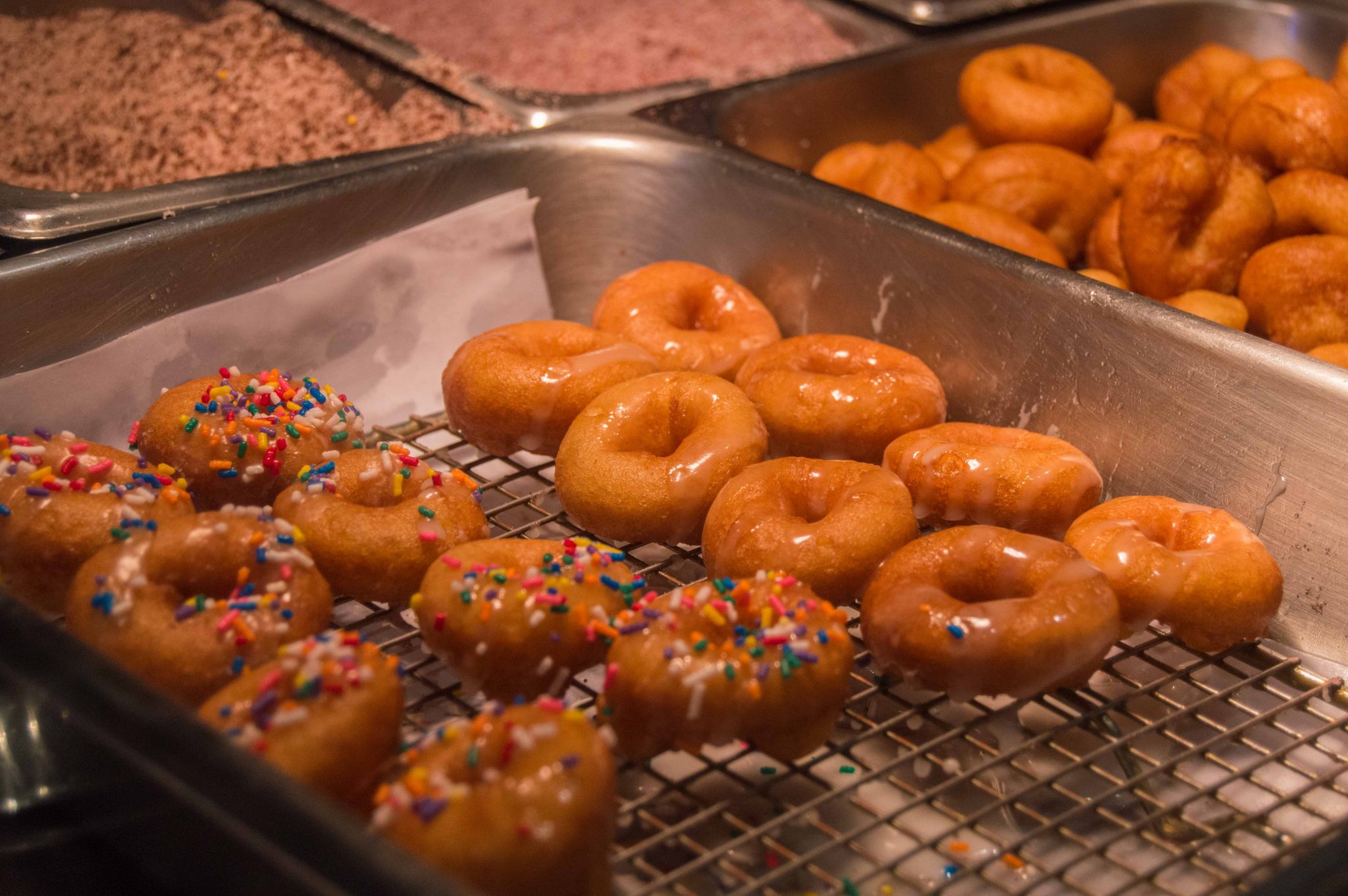 And coffee to go with all the sweets.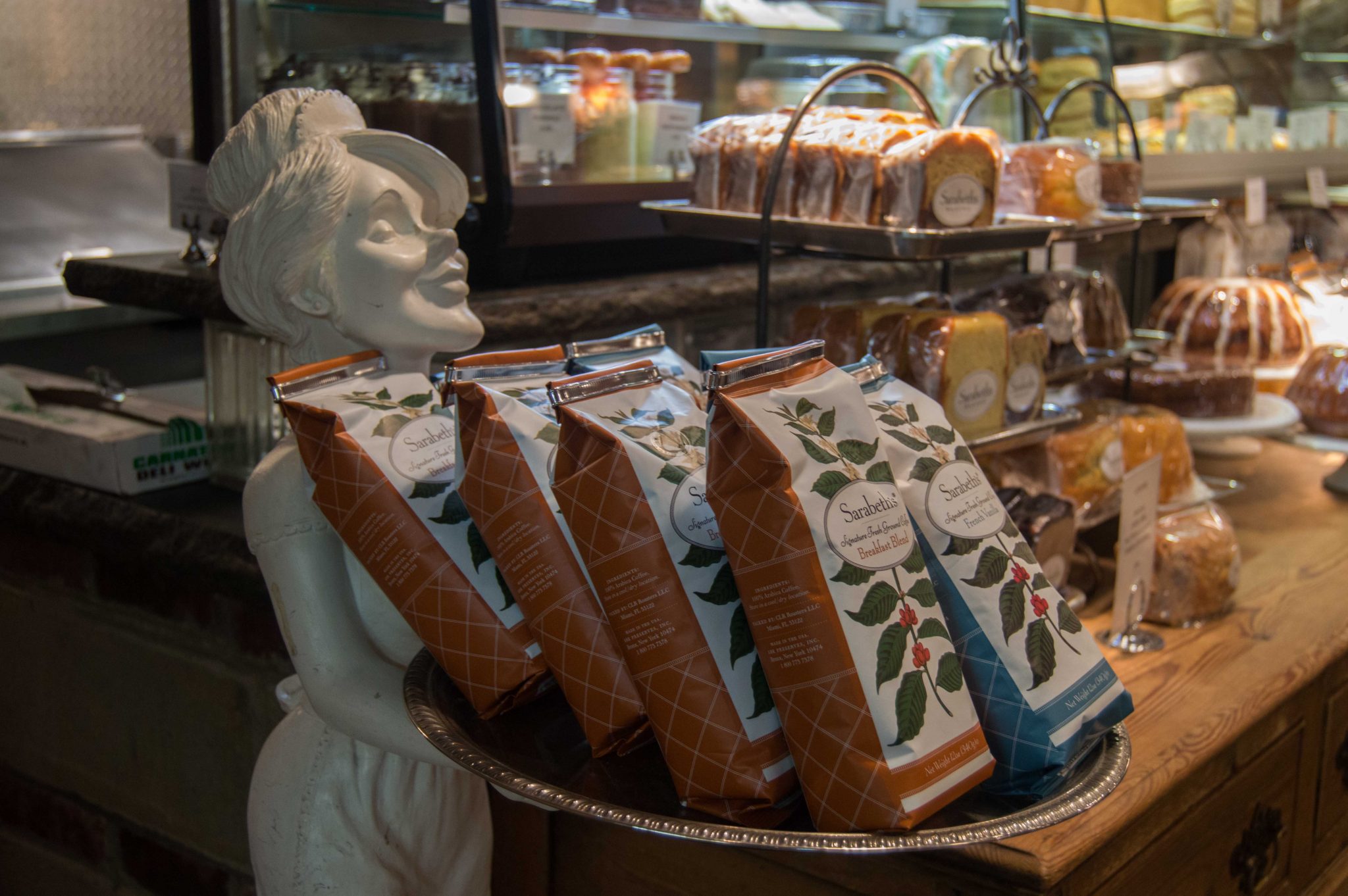 Original presents to bring back from NYC for your foodie friends, like these cookies:
All in all, Chelsea Market is a great spot to have a bite, a dinner with friends or do grocery shopping.
Read more about Chelsea Market here:
The New York Times: From Oreos and Mallomars to Today's Chelsea Market by Christopher Gray (*)
Chelsea Market: 75 9th Ave, New York, NY 10011
Pin for later: