Exploring a big city on a budget is quite a challenge. Boston is no exception with tickets to Boston Ballet ranging from $35 to $135, a visit to observatory at $18, and a piece of the original Boston cream pie at $8.56. But if you spend a little more time researching and planning ahead you can outsmart the system. Here are my favorite cheap things to do in Boston if you are on a budget!
Disclosure: this post contains some affiliate links which means if you buy something by clicking the link I will earn a small commission at absolutely no extra cost to you.
9 Cheap (and Free) Things to Do in Boston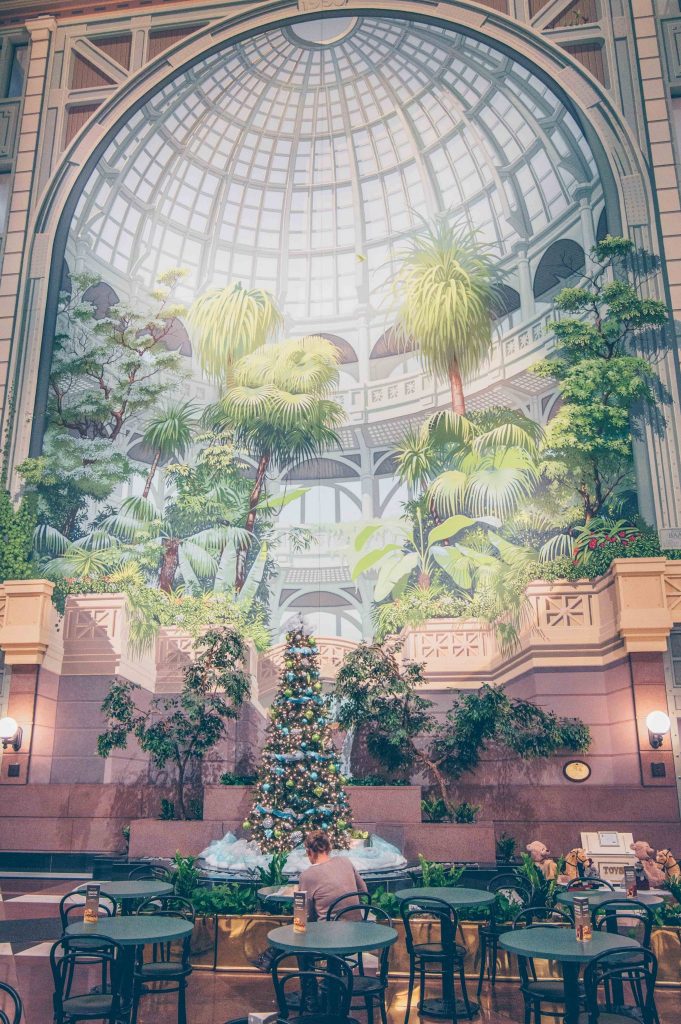 Have an Artsy-Dartsy Breakfast
What can be better than a cup of coffee and a freshly baked pastry in the morning? Only a cup of coffee and a pastry with a view, a view of an enormous work of art created by Richard Haas. That's why you are not going to any bakery, you are going to Au Bon Pain located at 101, Merrimack Street. Walk inside the lobby of the building, look up at the colorful mural on the wall, and thank me later. Better yet, bring your own sandwich and just get a coffee from the café. Then sit down and take in the gorgeous masterpiece in front of you. I have written about this place in more detail here.
Au Bon Pain – 101, Merrimack Street
Cost: $3.29 for a large cappuccino
Enjoy Rooftop Views of the City
The most popular place to get a great view of Boston is Skywalk Observatory and it will cost you $18. If you are not ready to spend that much for 15 minutes of your time, head down to Independence Wharf Building on Atlantic Avenue. The observation deck located on 14th floor will provide you with amazing views of the city and will cost you literally nothing. It's free for all visitors daily 10 am to 5 pm.
Independence Wharf Building – 470, Atlantic Avenue (daily 10 am to 5 pm)
Cost: free
Tip: don't forget to bring your ID.
Step Inside the Globe
One of a kind experience that you will never forget and just for $6! Here's how I found this place: I was reading a short story by Jhumpa Lahiri in which the main character who lives in Boston brings his lover to his favorite place in the city described as «a room which was shaped like the inside of the globe but looked like the outside of one». Wouldn't you want to visit it after such an intriguing portrayal?
Mapparium is a sphere with a bridge stretching from one side to the other. On the inner walls of the sphere you can see political map of the world. The shape of the Mapparium creates unusual sound effects: when you stay on one side of the bridge and whisper, people on the other side of the bridge can perfectly hear you.
It's fun for people of any age, but if you are exploring Boston with kids, it could be a particularly cool idea. Mapparium is located inside Mary Baker Eddy Library. Admission is required for the Mapparium only, all the other spaces in the library are free.
Mary Baker Eddy Library – 200 Massachusetts Avenue, Boston (Tue – Sun: 10 AM – 4 PM)
Cost: Mapparium – $6, all the other spaces in Mary Baker Eddy Library are free.
Tip: Mapparium is available for view on a tour only. Tours of the Mapparium run every 20 minutes, lasting 15-20 minutes. The first tour of the day starts at 10:20 a.m., and the last tour starts at 4:00 p.m.
Explore One of the Biggest Art Museums in USA
Museum of Fine Arts is actually a not-so-cheap thing to do in Boston with its $25 admission. But if you plan your visit on a Wednesday after 4 pm it's free. Well, technically speaking it's by voluntary contribution. Talking from my own experience: you will feel like the most horrible person in the world to say "no" to the cashier who asks: "Would you like to make a donation for museum today?" But budget is budget, right? You can donate as little or as much as you can.
Museum of Fine Arts – 465 Huntington Avenue, Boston (hours for free visit: every Wednesday after 4 pm)
Cost: free

Get Messy with Boston's Famous Lobster Roll
You cannot come to Boston and not try lobster roll. It's a sin, I tell you. James Hook serves my all-time favorite lobster roll in the city. And it's not only my favorite, judging from the fact that this tiny place is №5 in rating of Boston's restaurants on TripAdvisor (and there are more than 2000 places to choose from).
Everything is great about this roll: the warm and soft hot dog bun, the huge chunks of lobster meat, the creamy mayo dressing – you will fall in love with it from the first bite! It's priced at $16 which might seem quite pricey until you compare it to other options in Boston ranging from $25 to $30. James Hook provides direct service and distribution of lobsters to restaurants and wholesale distributers around the country, so you are getting the best quality lobster meat for a great price. And no other place in Boston can beat it.
James Hook and Co – 15-17, Nothern Avenue, Boston
Cost: $16

Learn History by Walking the Streets
The most budget-friendly option is to explore the city by following the Freedom Trail – a 2.5-mile-long path marked by the red line on the floor – that will take you through the most significant locations. Freedom Trail is one of those bucket list items if you are traveling around USA. Most of the stops along the trail are free of charge.
However, I find it more enjoyable to have a local person share the secrets of the city with me and point out the details I would otherwise miss. Boston by Foot is an educational nonprofit committed to promoting public awareness of Boston's history and architecture. There are over 200 volunteer guides ready to show you the city. They have regular tours around different neighborhoods of Boston: North End, Beacon Hill, Back Bay and many more. The tours are approximately 90 minutes and cost as low as $13.
The Freedom Trail – check the Freedom Trail website for map and tips
Cost: free
Boston by Foot – check Boston by Foot website for schedule of tours
Cost: as low as $13 (if you buy tickets online)

Taste New England's Best Produce
Browse through the many shops of Boston Public Market in the heart of the city and taste everything it has to offer: cheese and charcuterie, fudge and chocolate, apple cider and honey. All of the products and vendors are from New England area. By the end of the stroll you will be so full that having lunch will seem like a crazy idea. By the way, the chocolate on the picture is a very special thing you can only try in Boston. Read more about it in my guide of Boston's sweets and treats here.
On Fridays and Saturdays, Haymarket, a year-round outdoor market, is open on a street adjacent to Boston Public Market. It's a popular destination for both locals and tourists to stock up on fruits, vegetables, meat and fish. Prices are good and they drop down significantly by the end of the day when vendors try to sell all the leftovers.
Boston Public Market – 100, Hanover Street, Boston (Wed – Sun: 8 AM – 8 PM)
Haymarket – located along Blackstone Street between Hanover Street and North Street (Fri – Sat: 6 AM – 7 PM)
Cost: tasting is free, the rest depends on your appetite.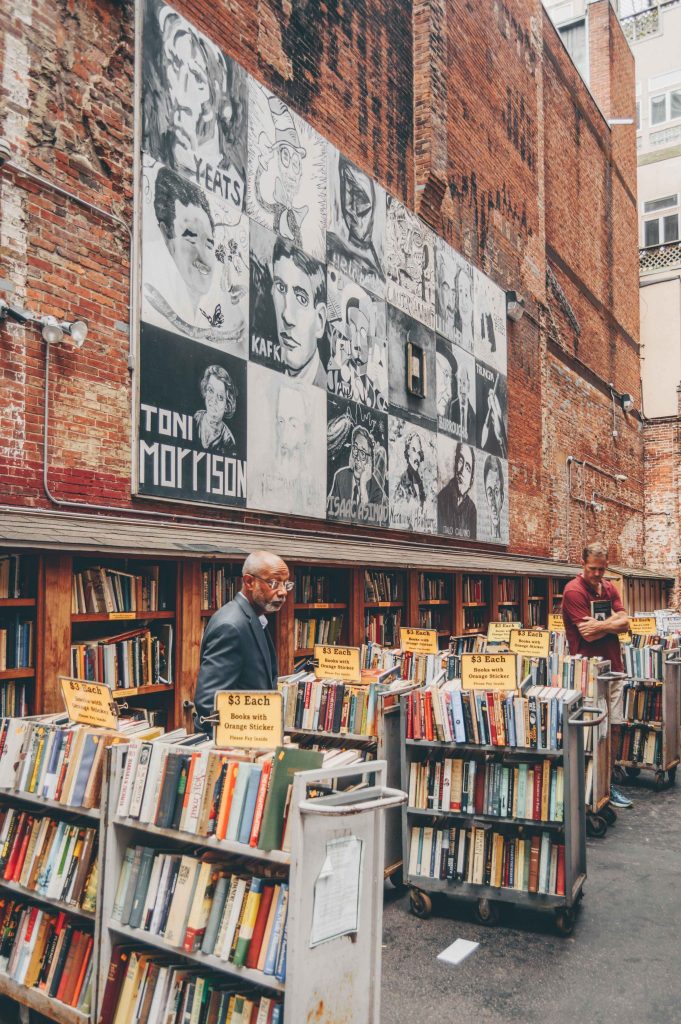 Get Lost in the World of Books
My heart melts every time I see these shelves of books against red brick walls. Hidden in a tiny nook on West Street Brattle Book Shop is my absolute favorite place in Boston. It's one of America's largest and oldest used book shops. Come here if you want to get away from the noise of big city and get lost in the world of fictional characters. On my last visit I left with a happy smile on my face, two books in my bag and only $5 (!) damage. But prices go all the way down to $1 for some books on sale! Perfect for travelers exploring Boston on a budget!
Brattle Book Shop – 9 West St, Boston (Mon – Sat: 9 AM – 5.30 PM)
Cost: books on sale start from $1
Marvel at the Beautiful Architecture of Boston Public Library
Another one of my favorites in the city — gorgeous Boston Public Library. You can walk in and explore it on your own or take a free guided tour focused on the architecture and art pieces of the library. The tours are offered daily. If your party is smaller than 8 people, you can join without a reservation. Check the time of the tours here.
By the way, inside Boston Public Library is a restaurant overlooking the inner courtyard where you can have afternoon tea. It's definitely not a cheap thing to do in Boston, but it's one of a kind experience. I wrote about it here.
Boston Public Library — 700 Boylston Street
Cost: free
Where to Stay in Boston on a Budget?
If you are looking for something simple during your stay in Boston, a bed at a hostel might be a good option for you. HI Boston, located in Theatre district, a short walk from Boston Common, is one of the highest rated hostels in the city.
Cozy and Moderately-Priced Option: The Copley House
If you are looking for a mid-range hotel, check out cozy rooms at The Copley House. Located inside a red-brick building in the Back Bay neighborhood, it has distinct Boston vibe. The location is unbeatable, Newbury Street and Boylston Street, as well as a train station, are 10 minutes away.
If you don't mind living outside of the city, Indigo is a good option. Outside of Boston you get much more spacious and luxurious rooms for the same or lower prices. The hotel is only a 20-minute drive away from Boston city center by car or 40 minutes by train.

What Else to Do In Boston?
I hope to share more cheap things to do in Boston as I explore the city. For now, if you are on a weekend getaway, check out my 48-hour guide to Boston.
If you have an additional day in Boston, cross the bridge and explore Cambridge! Check out my one day itinerary for Cambridge here.
If you have a sweet tooth, this guide will help you find the best desserts in Boston, including the original Boston cream pie.
If you are into Italian food, try traditional Neapolitan pizza at my favorite restaurant in Boston.
And if you'd love to have a fancy afternoon tea experience, go to Boston Public Library. That's right! Afternoon tea at the library!
Prefer to explore Boston with a local? Here are a few guided tours that are reasonably priced:
Pin for later: