No souvenir revives memories of my travels better than food. Yes, edible souvenirs have a short life span and will disappear within days after returning home, but they do have magic power to transport me back like no magnet or key chain ever could.
I don't think I need to convince anybody that Savannah is one of the best culinary destinations in USA. If you are visiting this gorgeous city and looking for edible Savannah souvenirs to take back home, here are a few ideas that will satisfy your inner foodie! (If you are looking for food-related souvenirs from Savannah that are not edible, I got you covered too!)
Best Savannah, GA, Souvenirs for Foodies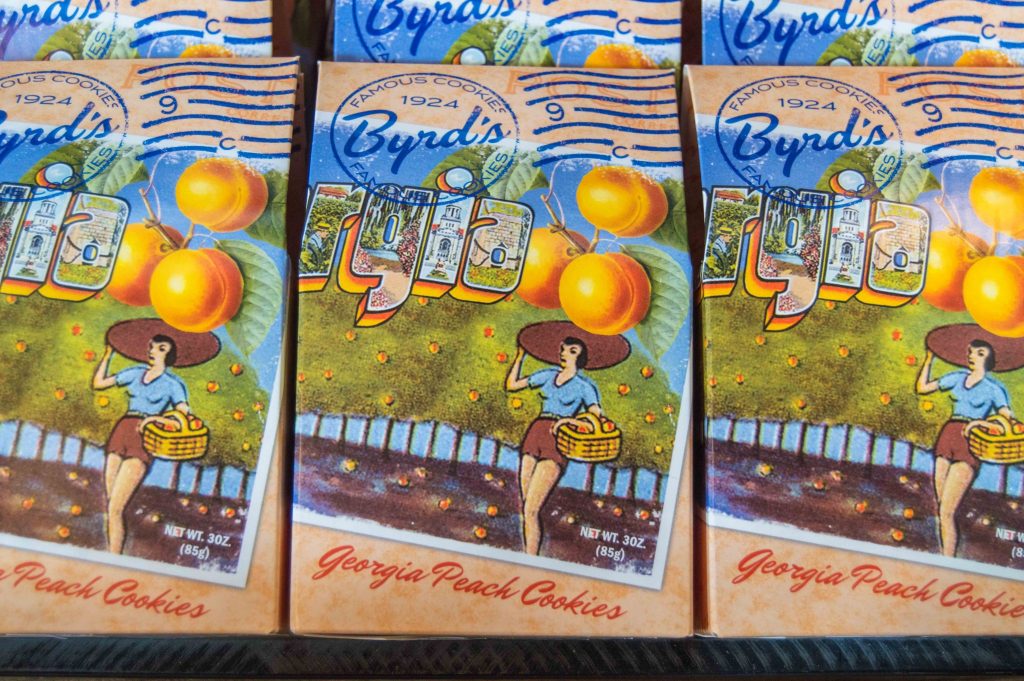 Byrd's Famous Cookies
Byrd's Cookies are synonymous with the city of Savannah. The history of these treats goes back to 1924 when Ben T. Byrd started making small batches of cookies in his bakery in Savannah and personally delivering them to neighborhood markets. Soon the name "Byrd's Famous Cookies" was born.
Over 90 years later the company is still making their cookies in small batches to ensure high quality. The range of flavors is truly amazing with both sweet and savory options. Their best-seller is Key Lime Cooler that was the first cookie to ever win the Dessert of the Year award at the NASFT Fancy Food Show.
To take it up a notch on the scale of true Southern foodie souvenir, go for Georgia Peach flavor or Benne Wafer that are beloved by locals. In specialized stores, apart from plastic and paper packages, you can also find tin boxes with beautiful designs, inspired by Savannah. This way, even when the cookies are gone you can reuse the tin that will remind you of the trip.
Where to find it: Byrd's Cookies specialized stores. Check all the locations here.
Pecan Pralines from River Street Sweets
Before coming to Savannah pralines made a long journey from France to the banks of Mississippi and the city of New Orleans. From there pralines spread to all Southern states. This candy made of sugar, butter and cream was originally prepared with almonds in France. In the South, famous for abundance of pecans, the recipe was changed slightly.
Although almost every tourist shop sells pralines nowadays, I'd recommend Savannah River Street Sweets, a true gem on Savannah's food scene. A family business, that has been around since 1973, has a plaque on its wall that says "World Famous Pralines".
I am not sure, whether they are truly world famous, but these are definitely the most famous pralines in Savannah. The store makes two varieties: regular and chocolate pralines. I've tried the chocolate one and it was out of this world!
Also, don't miss out on samples give away when you enter the shop. Those sample pralines are fresh and still hot to touch!
Where to find it: River Street Sweets stores. Check all the locations here.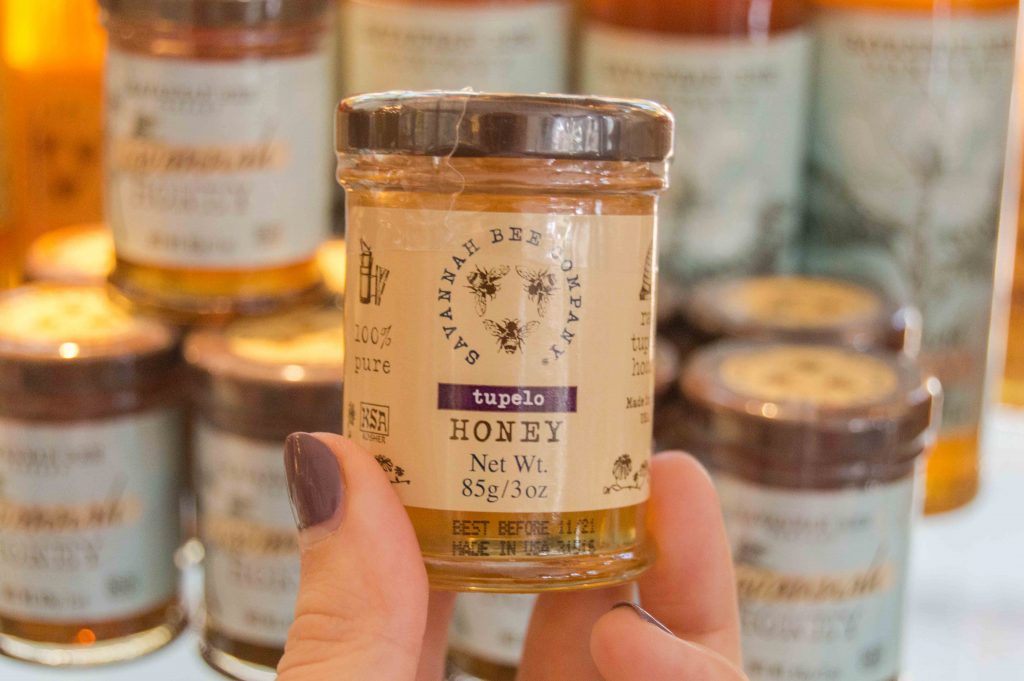 Honey from Savannah Bee Company
Given my marketing background, I simply love good package design. Which is why I would buy Savannah Bee honey just for the sake of pretty bottles. But make no mistake, their product is terrific too. If you can watch the founder of the company, Ted Dennard, talk about bees and honey, you will instantly understand how much love and passion he invested into his business.
Apart from all kinds of artisanal honey like Tupelo, Acacia, Wildflower and Orange Blossom, you can also get some unusual gifts like whipped honey chocolate or whipped honey with lemon, as well as a honeycomb.
If you'd rather get a longer-lasting souvenir, go for their honey-based cosmetics, like lip gloss, hand cream or body lotion.
Where to find it: Savannah Bee Company stores. Check all the locations here.
Salt and Salt Keeper from The Salt Table
This was one of those accidental findings that turned to be one of the best souvenirs I took home from Savannah. I walked into what looked like a touristy shop to kill time before breakfast, but was pleasantly surprised to see that the shop is dedicated to all possible types of salts and seasonings.
The Salt Table is a Savannah-based company with several shops in the city. I've tried their maple salt and it makes great addition to popcorn, ham sandwiches or anything that would benefit from sweet and salty flavor.
Apart from their own products, they sell salt keepers made by local artists. You can pair a pack of salt with a salt keeper for a great present. On top of all that, in the basement of the shop you can find, jams, jellies, honey and wines, produced locally in Georgia.
Where to find it: The Salt Table, 51 Barnard St, Savannah
Ginger Syrup and Turmeric Powder from Verdant Kitchen
Ginger syrup and turmeric powder are the kind of foods you wouldn't expect to get in Savannah. Nevertheless, both are produced locally in USDA organic certified farm. While every year the US imports several thousand tons of ginger from countries like China, Indonesia and Peru, the founders of Verdant Kitchen believed that the sandy soil of Savannah combined with its subtropical climate will be perfect for growing this root.
Ginger syrup and turmeric powder were recommended to me by Cynthia Creighton-Jones, the founder and chef of Cape Creations, one of Savannah's best catering companies.
Where to find it: both in retail stores and at farmer's markets. Check locations here.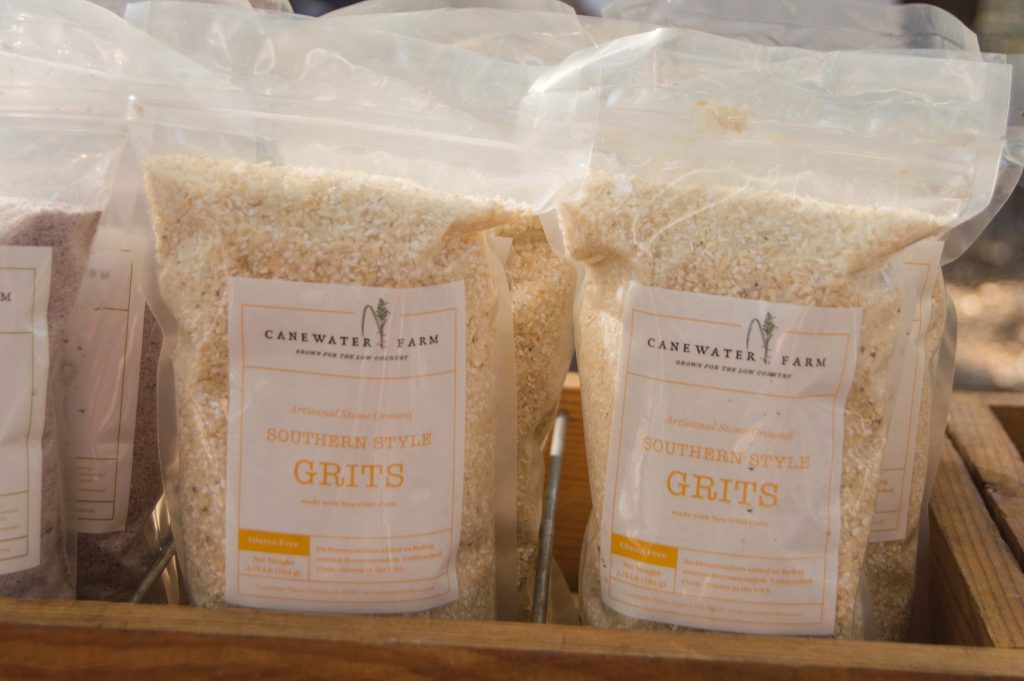 Grits from Cane Water Farm
If you are looking for foodie souvenirs, you cannot live the hostess city of the South without a pack of grits in your luggage! You might use up the whole pack or two while trying to make the grits as delicious as Southern women do, but it is worth it! When done right, grits make the most cozy breakfast.
Cane Water Farm grits were also recommended to me by Cynthia (like ginger syrup and turmeric above). That's what they state on their official website,
"We source organically grown, nonGMO corn for our products.  We use a stone ground grist mill.  We winnow the chaff and separate the grits from the meal with a handcrafted separator.  We feel our grits and cornmeal are the best in the low country due to our artisanal small batch milling.

We do not degerminate, bleach or enrich our corn in order to preserve nutritional value.  Therefore our corn products are unbolted and need refrigeration."
Where to find it: in select retail stores and every Saturday at the Forsyth farmer's market. Check locations here.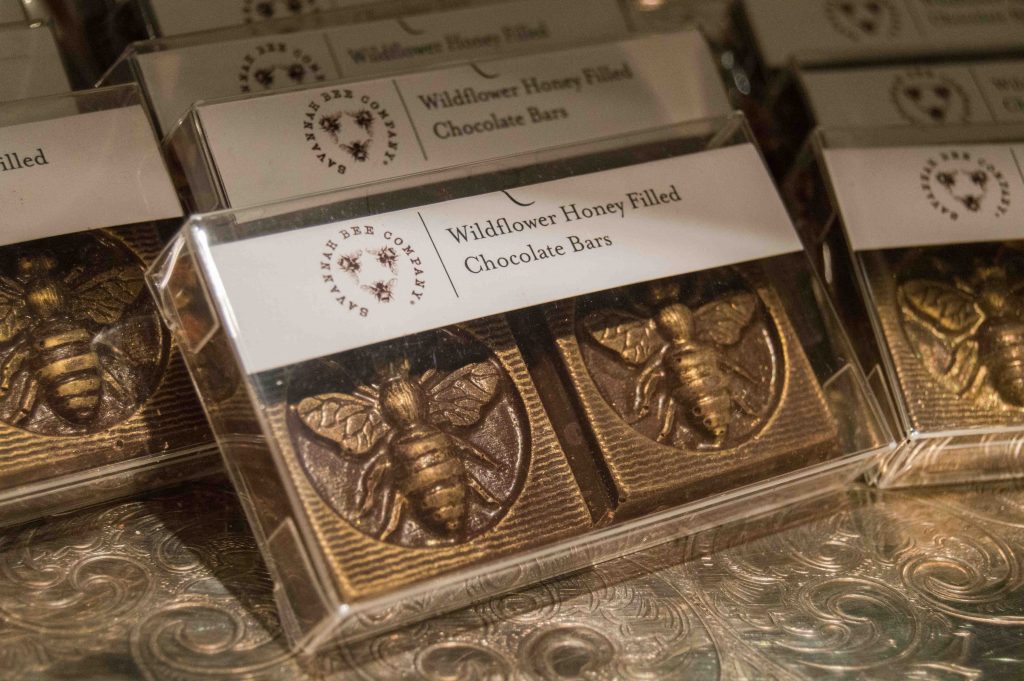 Chocolate from Adam Turoni
Adam Turoni, who started his first job in the kitchen at the age of 14, became a pastry chef at 17 and opened his own business at 20, is a chocolate wizard, no less! Turoni was named one of the Top 10 Chocolatiers in North America by Dessert Professionals, the industry's leader publication.
His two stores in Savannah are worth a visit if only for the sake of unique decorations: one store reminds you of a library with chocolates displayed in tall glass book cases, another – a dining room with buffet table and piles of peanut butter cups and gold-dusted candies.
His creations are almost too beautiful to be eaten, but as Turoni himself says, "it tastes even better, than it looks!"
You won't go wrong with any chocolate you choose in his stores, but one of them deserves mentioning. Turoni's signature creation, The Honeycomb Chocolate Bar, is made with honey sourced from Savannah Bee Company I mentioned above. It won a food award by Southern Living Magazine.
Where to find it: Chocolat by Adam Turoni at 323 W. Broughton St. and 236 Bull St.
Peach Jam
The peach has been Georgia's official state fruit for over 20 years now and Georgia is often referred to as "the peach state". A jar of peach jam will make a great and, probably, the most anticipated souvenir from Savannah.
Since I traveled to Georgia only with my carry-on, as much as I wanted to take some jam home, I had to resist my urges. But I did try a lot of samples. I found a good variety of jams in the basement of The Salt Table, which I mentioned above. I particularly liked Blackberry Patch brand from Thomasville, GA. It's a family business, specializing in making hand-made jams in small batches.
Another great brand you can look for is Braswell's which was recommended to me by my friend Jodi, who lives in Savannah. It's produced in the nearby Statesboro, GA, and you might have to travel there to get the jam.
Where to find it: look for Blackberry Patch jams at The Salt Table, 51 Barnard St.
Mrs. Wilkes' Boardinghouse Cookbook
Cookbook is the best inedible foodie souvenir there is. If you are not sure what kind of food you should get from a new destination, find a book with recipes of local cuisine. Although there are many books with Southern recipes in Savannah book stores, I would highly recommend Mrs. Wilkes' Boardinghouse Cookbook.
Mrs. Wilkes was the owner and chef at Mrs. Wilkes' Dining Room, one of the most famous restaurants in Savannah that used to be part of a boardinghouse. Every morning the line snakes out of the door and down the street. It takes at least an hour to get your meal, but it's one of the best examples of traditional Southern cuisine with perfect fried chicken, collard greens, pork ribs and cornbread.
Mrs. Wilkes' Boardinghouse Cookbook features over 300 recipes, as well as history of the boarding house and the dining room told by culinary historian John T. Edge.
Where to find it: the store at the Mrs. Wilkes' Dining Room at 107 W Jones St, book shops or tourist shops.
Tip: Most of Savannah souvenirs can be ordered online from the companies' official websites, so even if you have already left Savannah, you can still get these unique gifts delivered to your doorstep!
Pin for later: