The one place I will never skip on my trip to NYC is a small Turkish café at the corner of 2nd Avenue and 52nd St called Güllüoglu. I know I should be hunting down the best NYC bagel or stuffing my face with pizza, but instead I keep coming back here for the best baklava in NYC.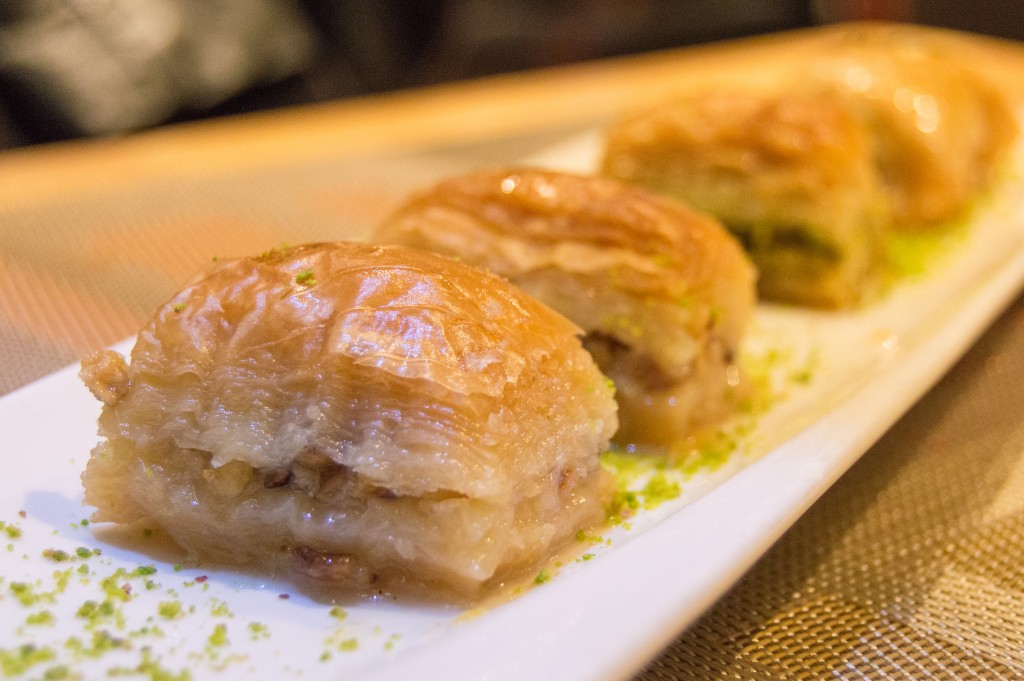 New York has a myriad of ethnic restaurants that boast delicious authentic food of people from all over the world. At  Güllüoglu you can enjoy a proper Turkish breakfast of menemen, cheese, and olives, or have manti with ground beef for lunch, but it's their baklava that draws me back every time. Not any kind of baklava, but the one with milk and hazelnut. It's flaky and gooey and oozing with milk.
On my last trip to NYC I walked 30 blocks just to get a piece of it. When I left the café with a precious little box in my hands the first impulse was to open it right away and dig in. But this baklava deserves better! I walked to New York Public Library, sat down on a bench in front of it, and only then allowed myself to take a bite.
Little did I know on my first visit to this café that Güllüoglu is the most popular brand of baklava in Turkey, and this café is their franchise.  All baklava is made at the Istanbul factory and then transported frozen and vacuum-sealed all over the world. Each franchise has a trained baker who then prepares it fresh every day.
On the latest trip to Turkey  my friend Berna took me to "the best place for baklava in whole Istanbul", but I still didn't connect the dots! Mostly because the word "Güllüoglu" looks scary to even try and read it. In case you wonder it's pronounced Gyul-lu-olu. So it hit me only recently that the name of the famous baklava company in Istanbul and the name of my favorite Turkish café in New York are actually the same.
If you haven't been to Turkey and never tried baklava, go to this café. If you have been to Turkey and miss that unmatched taste, go to this café. Just get up and go. Right now. You won't regret!
Astoria Güllüoglu Baklava Cafe: 30-92 31 Street, Astoria
Manhattan Güllüoglu Baklava Cafe: 982 2nd Ave (corner of 52nd St)
Brighton Güllüoglu Baklava Cafe: 231 Brighton Beach Ave (at Brighton 1st Pl) Brooklyn
Cliffside Park Güllüoglu Baklava Cafe: 611 Anderson Ave, Cliffside Park, NJ
Pin for later: