Afternoon tea is like a retreat for your body and soul: choose a beautiful venue with awe-inspiring interiors, take a close friend with whom you can share the most personal stories, and enjoy teeny-tiny sandwiches, petit fours, and gossip.
There's something very exciting about afternoon tea for me. First of all, sipping tea from fine china in the middle of the day makes one feel like royalty. What girl doesn't have dreams of becoming a princess? Secondly, tiny food (for some inexplicable reason) gives a feeling of extreme gastronomic satisfaction. Finally, after three hours of chatting and devouring sweets together, you find a deeper personal connection with your friend.
My love for afternoon tea was born three years ago in Sri Lanka where, inspired by the country's colonial past, my friend Yash and I had the first afternoon tea together. We decided that it should become a tradition. When Yash planned a trip to Boston I knew exactly where to take her.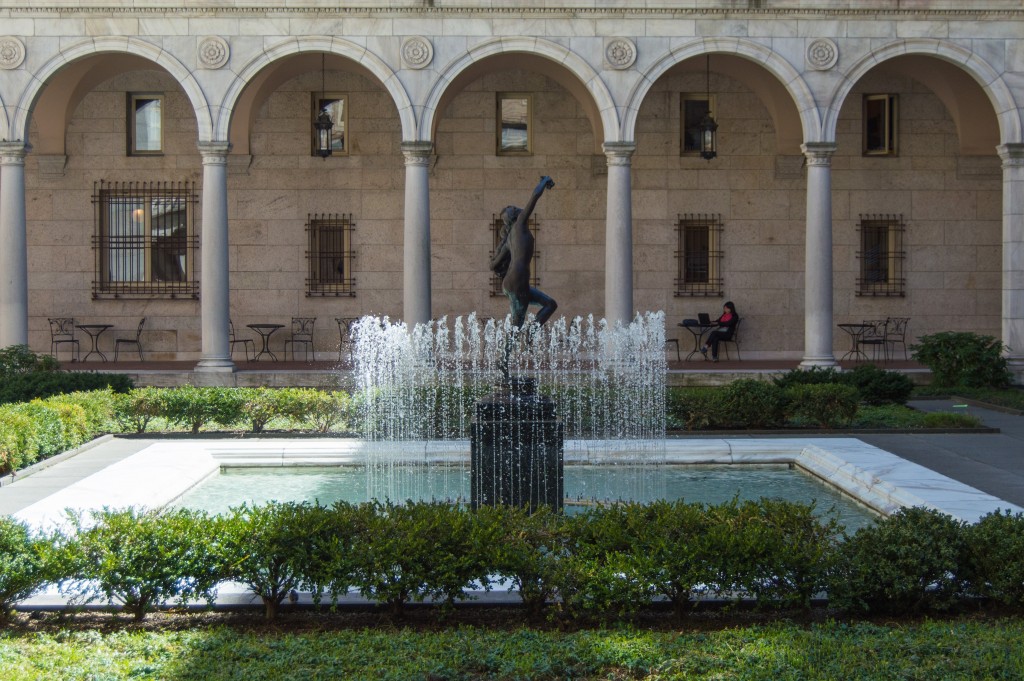 Boston Public Library, with its gorgeous ceiling artwork, grand lions guarding the main staircase, and beautiful sun-lit courtyard, is one of my favorite spots in the city. I could sit here with a book and a cup of coffee all day and be happy. But the fact that they serve afternoon tea in this majestic setting makes it a dream come true.
The set up for afternoon tea is bright and clean with white linens, fine chine with silver pattern, and sunlight coming from the windows facing the open courtyard. To complete the picture the menu is printed on a page of a vintage book.
It's Afternoon Tea, Not High Tea
For the longest time I referred to afternoon tea as "high tea" which, as it turned out, is completely wrong. Funny enough, the correct way is to say "low tea". "High tea", or as it is also called "meat tea", actually refers to evening meal of a working class served between 5 pm and 7 pm.
As this article about afternoon tea traditions suggests:
"Traditionally, the upper classes would serve a "low" or "afternoon"' tea around four o'clock, just before the fashionable promenade in Hyde Park. The middle and lower classes would have a more substantial 'high' tea later in the day, at five or six o'clock, in place of a late dinner. The names derive from the height of the tables on which the meals are served, high tea being served at the dinner table"
The afternoon tea would normally be served in a sitting room where low tables (like a coffee table) were placed near sofas or chairs.
But where does this tradition take its roots?
According to this article on history of afternoon tea, it was one of Queen Victoria's ladies-in-waiting, Anna Maria Stanhope, known as the Duchess of Bedford, who came up with the idea.
Because the noon meal had become skimpier, the Duchess suffered from "a sinking feeling" at about four o'clock in the afternoon. At first the Duchess had her servants sneak her a pot of tea and a few breadstuffs. Adopting the European tea service format, she invited friends to join her for an additional afternoon meal at five o'clock in her rooms at Belvoir Castle. The menu centered around small cakes, bread and butter sandwiches, assorted sweets, and, of course, tea. This summer practice proved so popular, the Duchess continued it when she returned to London, sending cards to her friends asking them to join her for "tea and a walking the fields." The practice of inviting friends to come for tea in the afternoon was quickly picked up by other social hostesses.

Afternoon Tea at Boston Public Library
At Courtyard restaurant, you have a choice of black, green, and herbal teas. Once tea is served, a three tier stand full of colorful little treats arrives. The lower tier features savory snacks like Wild Mushroom Butter & Watercress on Pain de Mie, Smoked Salmon & Cured Onion with Pumpernickel, and Deviled Chicken & Espelette Pepper.
Anything that has a name as impossible to pronounce as Pain de Mie or Espelette will sound fancy and delicious. Strictly speaking these are tiny crust-less sandwiches all of which were moist and full of flavor. But the absolute winner was Lobster Salad in Pate a Choux. After all, we are having tea in Boston, so lobster must be on the menu.
As I am much more into sweets than savories, the sandwiches were just a warm up and I couldn't wait to get my hands on the middle tier. Where do I start? My favorite was Chocolate Sinclair, or what I would call a chocolate covered brownie. It has a full bodied taste of dark chocolate and rich texture. Although, instead of crunchy top layer you get a layer of chocolate it doesn't feel excessive, it only makes the whole thing better.
Second best is a Fresh Fruit Tartlet with Vanilla Crème Patisserie. I love short dough pastries. Partly because I love making the dough, but also because it's a perfect 2 in 1 combination of soft and crumbly. You might get messy eating it but that's part of the deal. Fruits that actually have taste although it's April are sinking in pastry cream. The mint leave on top gives a sweet final touch.
Third tier featured buttery scones. Plain and Currant Scones were paired with Devonshire Double Crème, Lemon Curd and Orange Preserve. These babies might seem too simple and almost the opposite of fancy, but they always took a special part in my heart. A good scone should be moist, light and airy, and that's exactly what these scones were. Topped with cream and preserve they were a perfect last accord in the symphony of afternoon tea.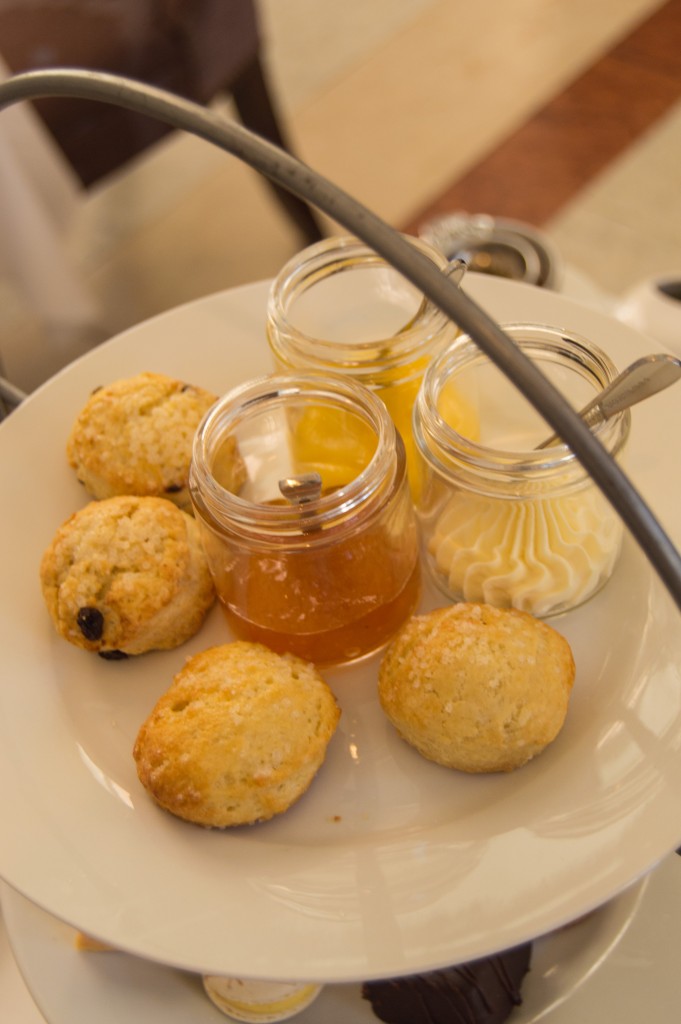 When all the pastries are gone and the latest rumors are covered, take a minute to walk up the main staircase to the second floor where the Bates Hall is located.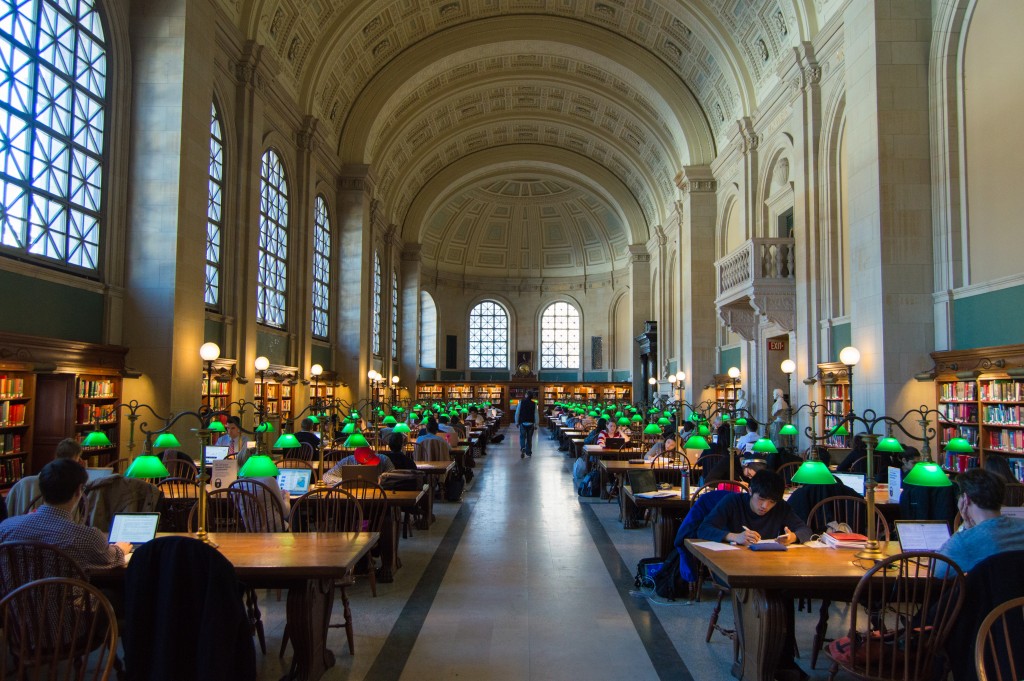 Boston Globe writer Sam Allis described "Bates Hall, the great reading room of the BPL, vast and hushed and illuminated with a profusion of green lampshades like fireflies" as one of Boston's "secular spots that are sacred".
Admire the reading room that reminds a Roman basilica and the numerous people deep in their thoughts not giving as much as a glance when you roam around with camera.
The Courtyard Restaurant – 700 Boylston St, Boston, MA
Hours: Mon – Sat: 11.30 am – 3.30 pm (make a reservation here)
Pin for later: