We have reached what is, apparently, called "the hunger gap". In his book Six Seasons — which I highly recommend — Joshua McFadden describes it as "the period between the end of winter and beginning of spring vegetables". You are tired of last year crops of potato, squash and cabbage, yet the new crops of peas, asparagus and radishes are not there yet.
Of course, when you do your groceries it might not be as obvious — supermarkets are always stocked to the brim with produce from near and far, no matter the time of the year. But if you are keen on buying, cooking and eating primarily local and seasonal ingredients or, maybe, you grow your own vegetables — hat's off to you! — this is where we are right now.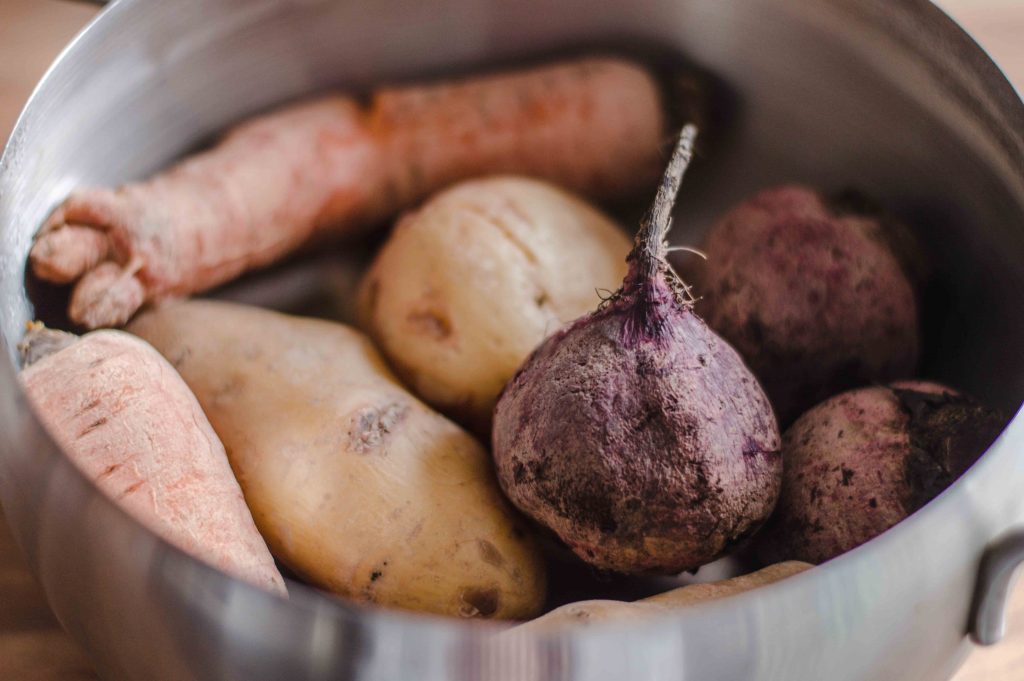 The choice of fruits and vegetables at my farmer's market here in Nuremberg has reduced to beetroot, carrot, potato, cabbage, butternut squash, apples and pears. I buy beetroot almost every week and turn it into beetroot risotto, Ottolenghi's beetroot dip, or vinegret — not to be confused with vinaigrette. The latter is a dressing, the former is a Russian vegetable salad.
You might wonder how come borsch is not on the list, but I managed to live through the whole winter without cooking borsch once. It maybe be due to the fact that my husband doesn't consider soup — even as rich and filling as borsch — a meal. No matter how fortified the broth is with potatoes and meat for higher calorie count, my husband always finishes a bowl with a question: "That's it?" To him, it might be a starter, a first course, but not a meal in and of itself.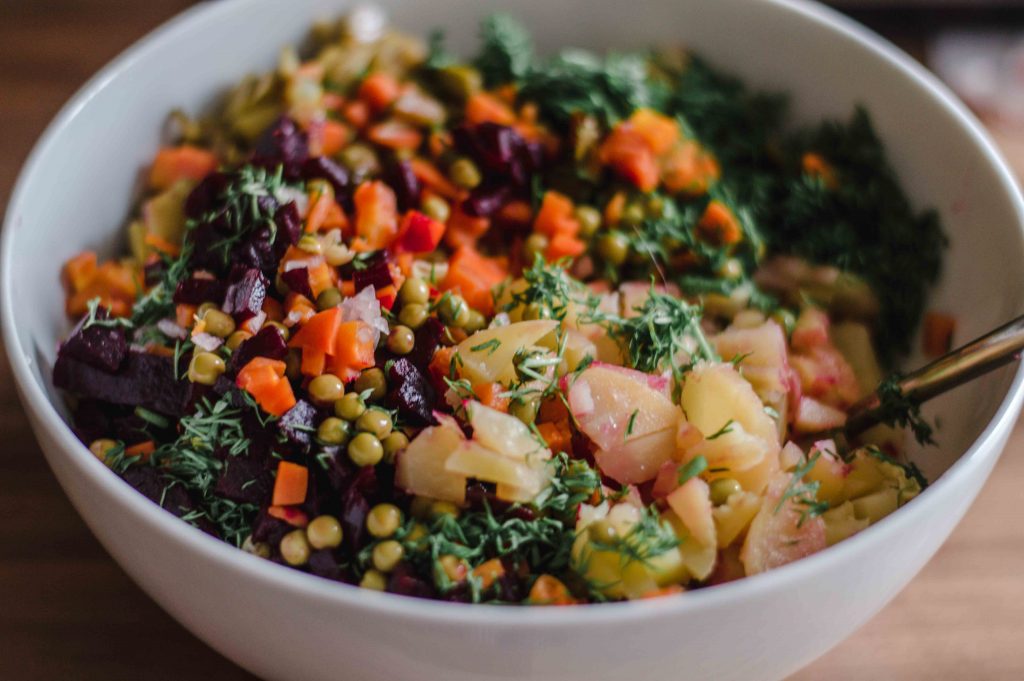 He doesn't see vinegret as a meal either (I beg to differ), but it works well as a side for roasted chicken or meat patties. This salad is almost entirely made of boiled root vegetables: beetroot, carrot, and potato — which is why it's perfect for the end of winter. I know boiled beetroot and, especially, boiled carrot do not sound particularly appetizing, but trust me, vinegret is worth your time and effort, of which you won't need too much anyways.
You could divide Russians into two categories: those who add pickled cucumbers to vinegret and those who prefer fermented cabbage (sauerkraut). I am team pickles. But only good crunchy, juicy pickles, none of that enormous soggy soft stuff. If you can't find pickles, cornichons will do.
Then, there's onion, diced finely. You want to have a sharp undertone, you don't want to bite on a big piece of raw onion and have it overpower your meal.
Lastly, add a whole bunch of dill. It's a Russian salad after all. Although, surprisingly for a Russian salad, vinegret is dressed with sunflower oil. It's one of the two Russian salads I can think of that doesn't feature a ton of mayonnaise, the other one being salat Vitaminniy.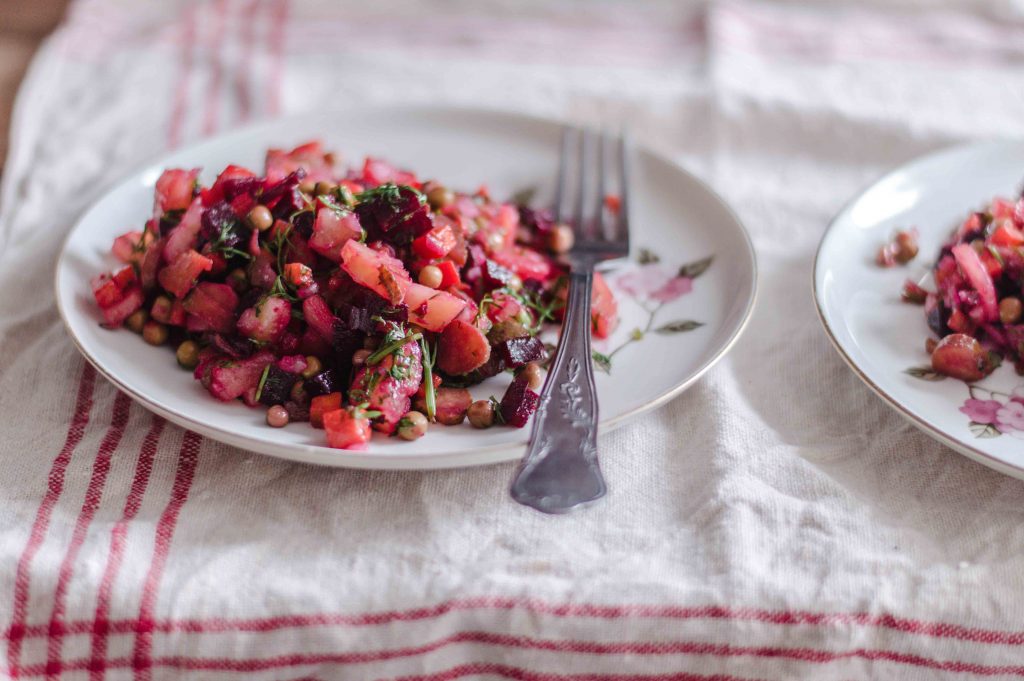 I like to make vinegret over the course of two days. On day one, I boil all the vegetables (unpeeled), let them cool and store in refrigerator. I boil potatoes, carrots and beetroot all together (given that beets are slightly smaller than potatoes) until they are soft, when poked with a knife.
Usually, potatoes are ready first, then carrots, then beetroot. You can fish them out of the pot in that order as soon as they are ready. I just leave everything in until the beets are tender. It is an unpopular opinion, but nothing is going to happen to potatoes if you boil them for a bit too long. It's potatoes. They are like the dog of the vegetable world. You can treat them any way you want and they will still be nice to you (that is to say that they'll taste amazing).
The next day, all I have to do is peel and dice the vegetables. I salt and dress vinegret with sunflower oil right before serving it. You may use olive oil, but sunflower oil to me is a distinctly Russian flavor. Many childhood foods that I adore smell and taste of sunflower oil, be it vinegret, pan-fried potatoes, or a simple cucumber-tomato salad. But that is a summer affair, we'll get there soon enough.
Vinegret
A salad of potatoes, beets, carrots and pickles, especially good during winter when root vegetables are in abundance.
Additional Time
30 minutes
Total Time
1 hour
55 minutes
Ingredients
250 g beetroot (3 small beetroots)
200 g carrot (2 medium carrots)
450 g potato (3 medium potatoes)
250 g good quality pickles or cornichons, diced
1/2 350 g jar of green peas
30 g onion (1 small onion), finely diced
1 bunch of dill, chopped
1 1/2 tsp salt
6 tbsp sunflower oil
Instructions
1. Wash the potatoes, beetroots and carrots and scrub them off all dirt. Place them, unpeeled, in a pot and cover with water. Bring it to the boil, then let the water simmer until all the vegetables are soft, when poked with a knife, for about 1 hour. Take the vegetables out of the water and let them cool. Peel and dice into small cubes.

2. Add cornichons, green peas, onion, and dill to the boiled vegetables and mix well. If you are not serving the salad right away, keep it, unsalted and undressed in the fridge. Add salt and sunflower oil right before serving.
Pin for later