I believe that Universe can hear me. Ok, that's a strange way to begin the first post on a food travel blog, even stranger to start a post about Thanksgiving Day in such a manner, but that's just true and here's why.
About a month ago I was thinking to myself how this fall turned out to be a perfect American fall for me. At least that's how I imagined a perfect American fall to be. Warm sunny days full of light, golden leaves falling on the ground and doing "shur-shur-shur" sound when you step on them (that might be not what you hear when you walk on fallen leaves, but I hear exactly that), decorated front porches, all things orange and all things pumpkin: pumpkin spice latte, pumpkin pancakes, pumpkin soup, and pumpkin pie, of course. We went to farmer's market on Sundays, made a trip to Vermont – all in all perfect fall as I said. Now there was only one thing missing and that was Thanksgiving celebration.
So what do you do if you are a Russian girl who moved to USA not so long ago, the only Americans you know are your gym trainers and they don't seem too eager to invite you for Thanksgiving dinner? I personally send my positive thoughts to Universe asking it to help me. Believe it or not it works. This year I got to stuff my belly with turkey, mashed potatoes, squash, and amazing pie!
So here's your step by step instruction for Thanksgiving Day celebration.
First of all you need to trick somebody into inviting you to their dinner. You meet a kindhearted German-American girl at a Halloween party who as it turns out loves to cook. After a couple of drinks and a nice conversation you make a hint that you reeeeally want to experience true American spirit of celebration and it would be great if, hypothetically, somebody invited you to their hypothetical dinner. Being so blunt and shameless does pay off sometimes and now you have plans for the last Thursday of November.
The day before Thanksgiving you have a brilliant idea of making some aperol spritz for the party but since it doesn't take much time to mix up you might as well buy liquor on Thursday. It's your very first Thanksgiving so you don't realize that on Thursday everything will be closed. Literally, everything.
First you check all the liquor stores thinking how you are going to get some aperol and a bottle of good prosecco. None are open. Then you think to yourself: supermarkets should be open, right? I can get alcohol there. Nope. All the supermarkets are closed. Your last chance – convenience stores. At this point you give up on aperol and prosecco and only hope to get a bottle of good old wine, any wine. While some of the stores are open you shouldn't get too excited. Because they simply don't have liquor. After visiting about 7 or 8 convenience stores you finally find one that does have liquor. But they wouldn't give it to you anyways because it's illegal in the state of Massachusetts to sell alcohol on Thanksgiving Day. Surprise! After calling a couple of bars and asking if they would kindly sell a couple of bottles at any crazy price they might request and receiving an answer that it is illegal too, you have to give up, get two jars of Ben & Jerry's ice cream and a pack of Lindt from 7/11 and feeling incredibly guilty head to the dinner.
Having spent one and a half hours in search of liquor you, then, arrive at the wrong address, because your GPS system thinks that Concord Avenue and Concord Square are the same thing while in fact they are in two different parts of the city.
Surprisingly, we were not late and made our appearance when the turkey was still roasting in the oven and squash frying on a hot pan greased with turkey drippings. Oh, that smell!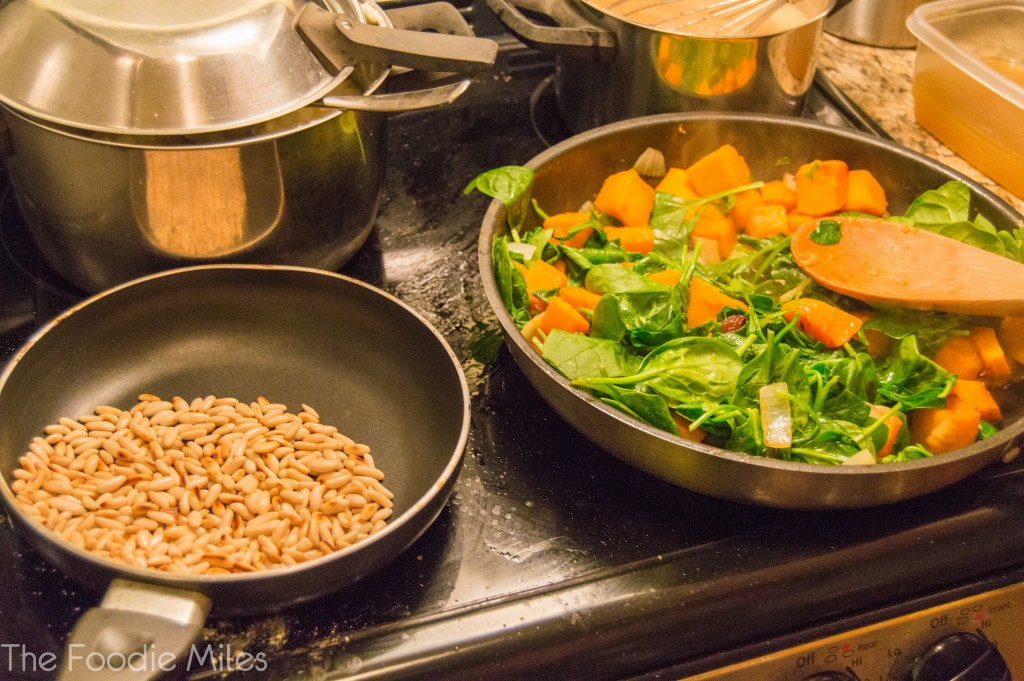 I have never cooked a whole bird this big and honestly have no idea how it's done. I do know that you should think ahead in order to defrost it in time. But as it turned out the defrosting process takes 3 whole days. And our turkey wasn't even so big, it was actually the smallest available. So after 3 days of defrosting it was rubbed with salt and pepper, then herb infused butter was spread under the skin and on top of turkey. And the roasting itself takes about 3 hours. All that I got to know while our kind host Anjuli was busy mixing salad, stirring gravy, grating cheese and chopping veggies all at the same time and I was sitting on a vintage stool sipping on red wine. In my defense the kitchen was small. Plus I know how much I hate when people help me to cook, so I assume other women think the same way.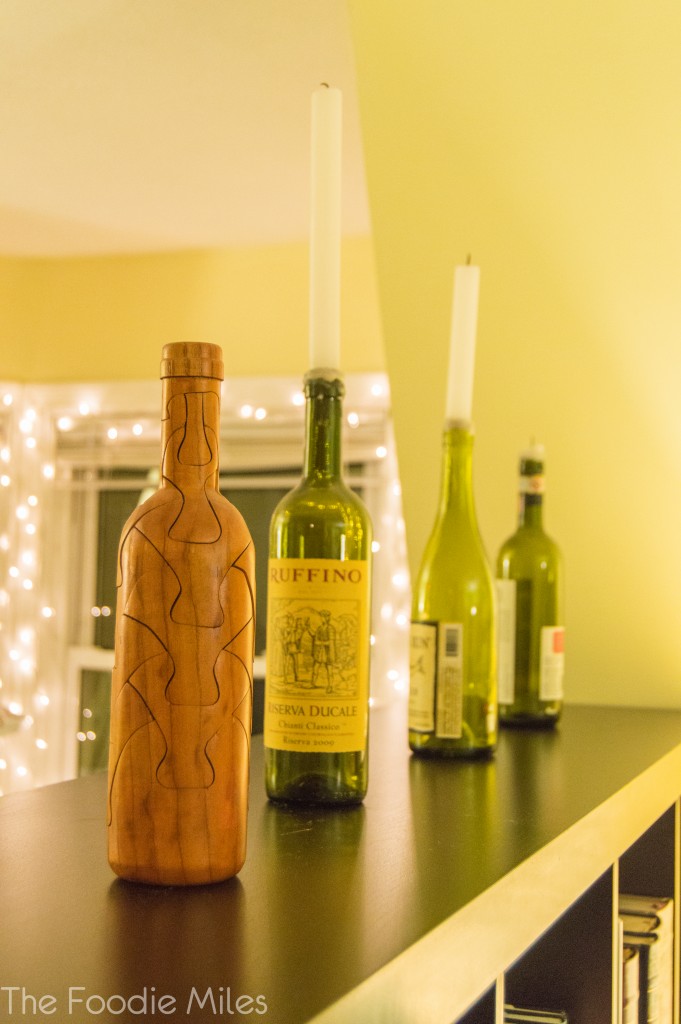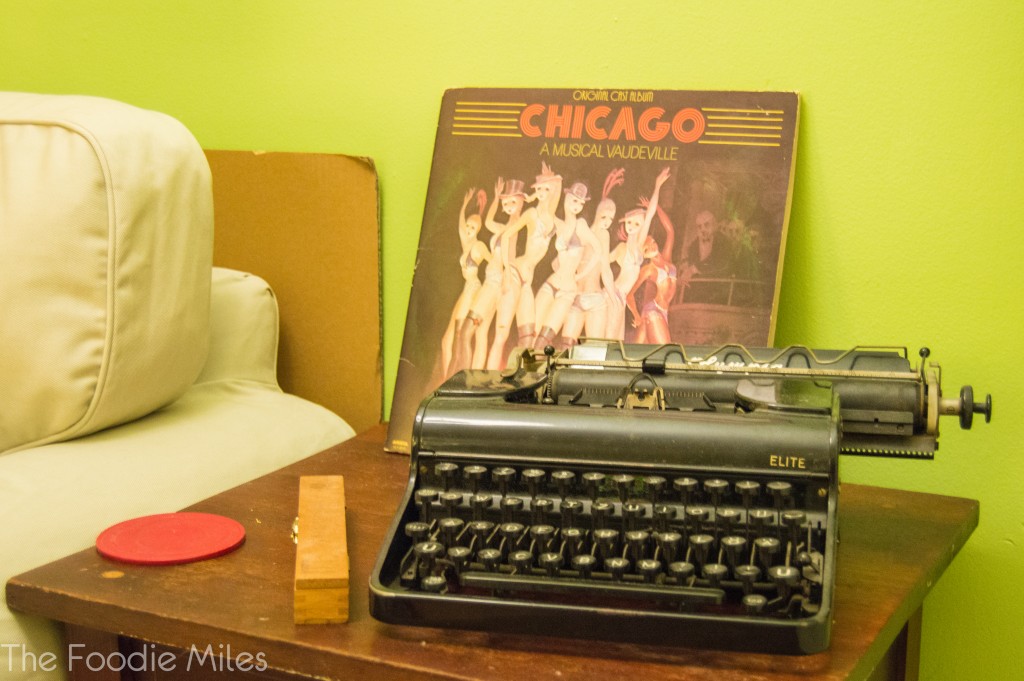 Anjuli is of German origin but was born in USA and spent a significant part of her life here. Not only was this Thanksgiving the first ever for us, but it was her first experience of preparing a whole dinner all by herself. And what a dinner it was!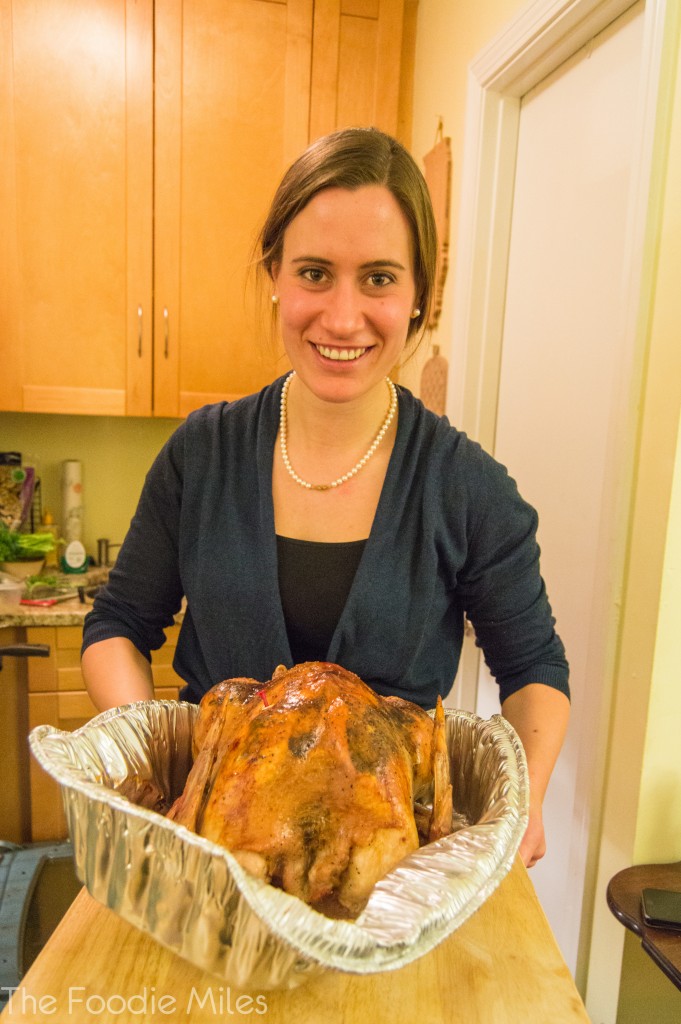 Now to side dishes. Mashed potato with butter and milk, of course. Let's not forget about gravy made with turkey drippings and apple cider. A twist on squash stew: spinach, pine nuts and raisins definitely made it unique.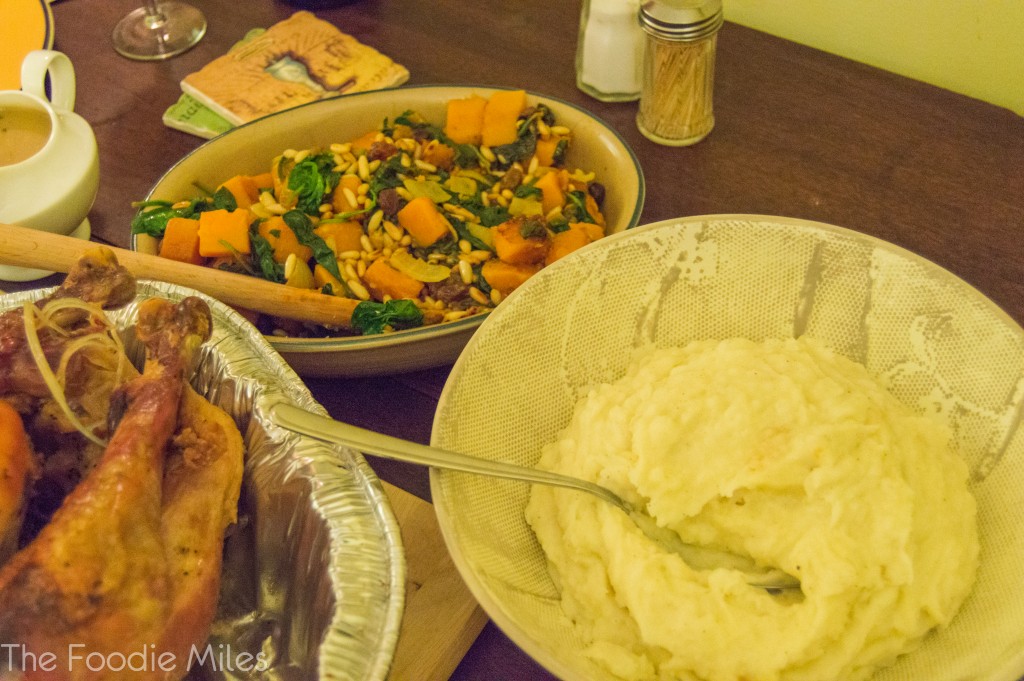 Cranberry sauce – always reminds me of Chandler Bing, whose only duty for Thanksgiving in one of the episodes was to make cranberry sauce – can I just say it was mind blowing! To say the least I am not a fan of cranberries, but by the end of the dinner I couldn't help but eating it with a spoon and not even bothering to have it with turkey.
And to make it look like a perfectly light and healthy meal we had some kale salad too.
You know the best part? Trying to carve perfect slices of turkey with a knife being all graceful and neat, then giving it up and digging in with your hands making a mess all around the table.
And when we were done with the turkey it was time for dessert. Not that the four of us could finish it but we did our best. Turkey won though.
By this time we were properly stuffed and there was no room for dessert but it didn't stop us from having a pumpkin pie, and not your traditional pumpkin pie but one made with bourbon and a caramel layer on top. Try to beat that! It looked and tasted like a pie from the finest bakery.
I can only imagine how much time it takes to cook a dinner like this and it's really impressive. Now you see that Universe can hear me? In just under one month from having only a great wish to feel the essence of Thanksgiving and no idea how to do that I came to celebrating it in a company of amazing people and enjoying it immensely. I am thankful for Anjuli who made it possible and helped us experience one of the most important American holidays.
Pin for later: