Since I moved to Austin, TX, six months ago, I was desperately hoping to see a tough American cowboy, wearing hat and boots and riding a horse. If you have been to Austin, you will understand that my chances of meeting a bearded guy, wearing funky glasses, 70-s style ripped jeans and a backpack (I am not very good at describing hipsters), are much higher in this city than chances of meeting a cowboy.
Then, last week, I went to see rodeo. Twice. Don't immediately assume that I went bonkers over cowboys on my first rodeo and got myself a ticket to the second one right away. It's just that when people come to visit you in Texas, you take them to rodeo. That's what you do (hello, Geico advertisement!). This month we had a lot of guests.
Surprisingly, my first rodeo experience was completely different form the second one. Not because the events were different – the order of things was very much the same. It was more about my personal perception.
To say that the first rodeo was amazing is an underestimation. For me, it was as American as it gets, and I have never felt American spirit as strongly as in Georgetown, TX, that Sunday. I know it's completely wrong to say, that this place is more American than any other place in USA. It's better to say, this place best matches my expectations of what America is. Nevertheless, after living in Austin for six months I felt that this small town, a mere 30 minutes' drive from the capital, is a whole new world, where men wear cowboy hats and belts with huge shiny buckles on everyday basis, not only for Halloween. I had the best time ever just walking around and observing everything around me.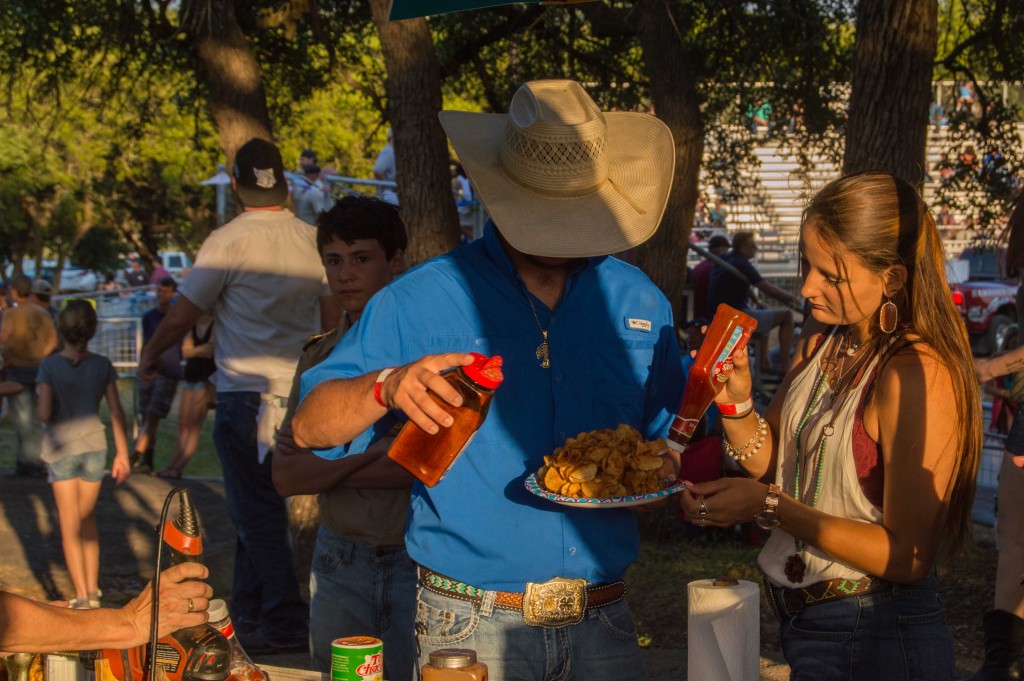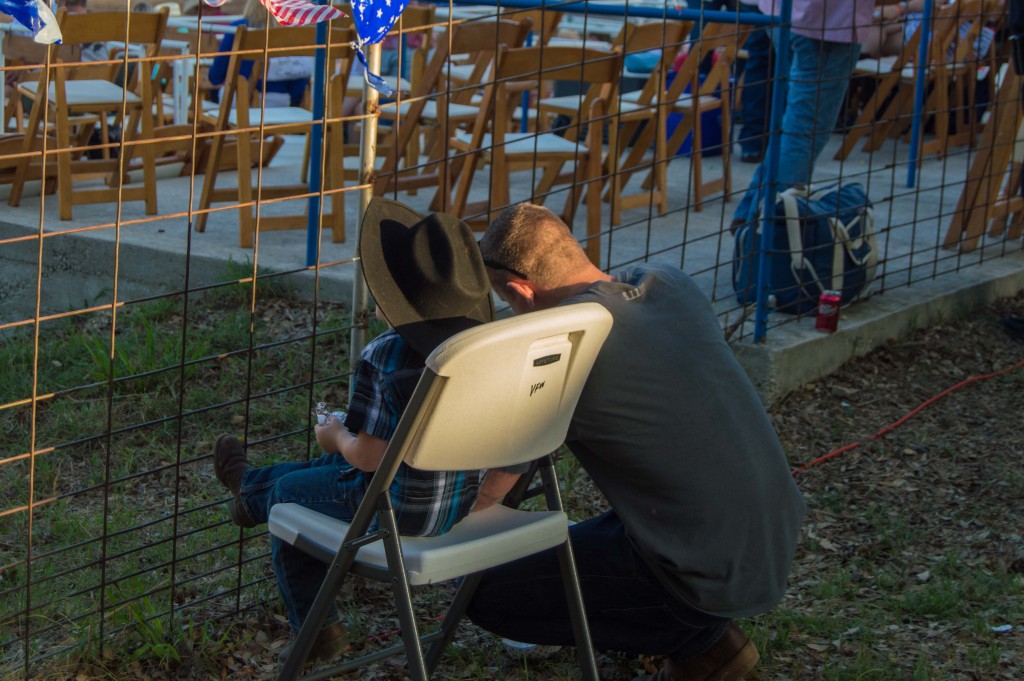 This is how it works. Rodeo is not only entertainment for people, it's a competition between cowboys who can win a good amount of money if they come first. To participate they pay a fee, so if a cowboy is not fast or skillful enough, he loses money (we are talking $100 or $200) in a span of 5 seconds.
The gates open two-three hours before rodeo starts, so people can grab some food and drinks before the show. Finally we can talk about Texas rodeo food! I have to say, I am spoiled by Austin's restaurants. I am so used to have all-natural and organic options, all things gluten-free, dairy free and fat-free, that I forgot about the pleasures of simple deep-fried foods. What do you eat when watching rodeo? In one word, fat. There's always BBQ with a good choice of brisket…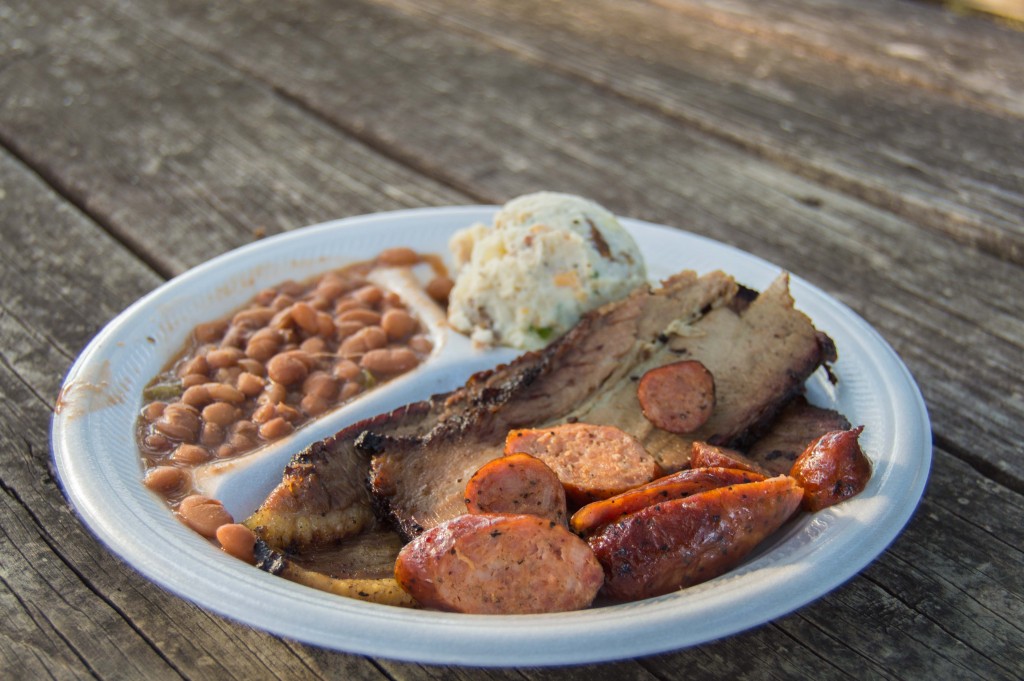 sausages…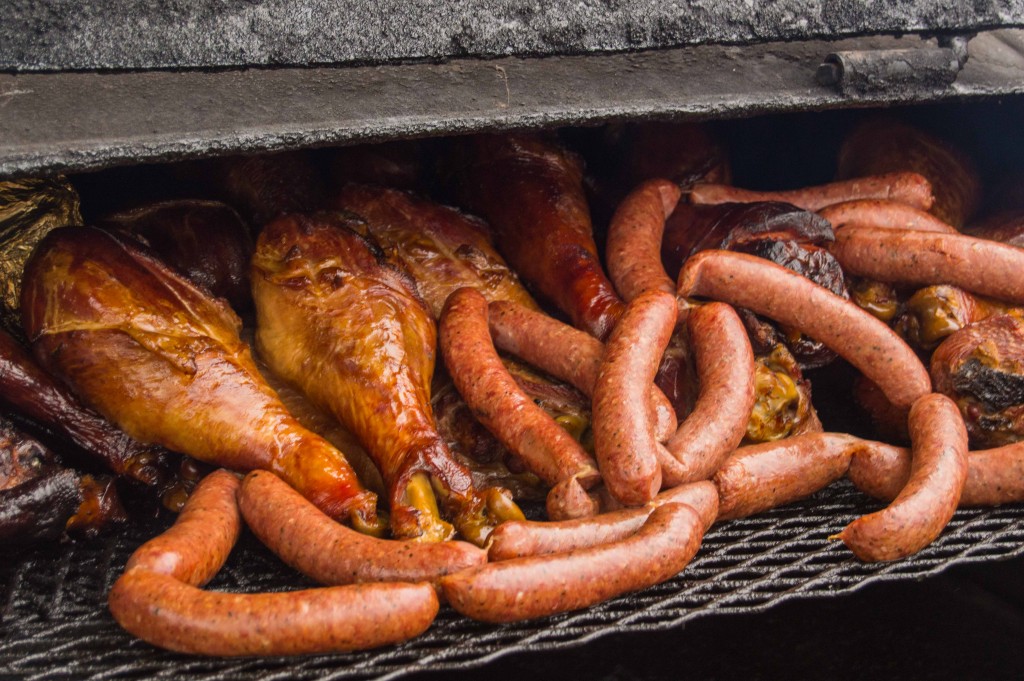 and turkey legs the size of a new-born baby.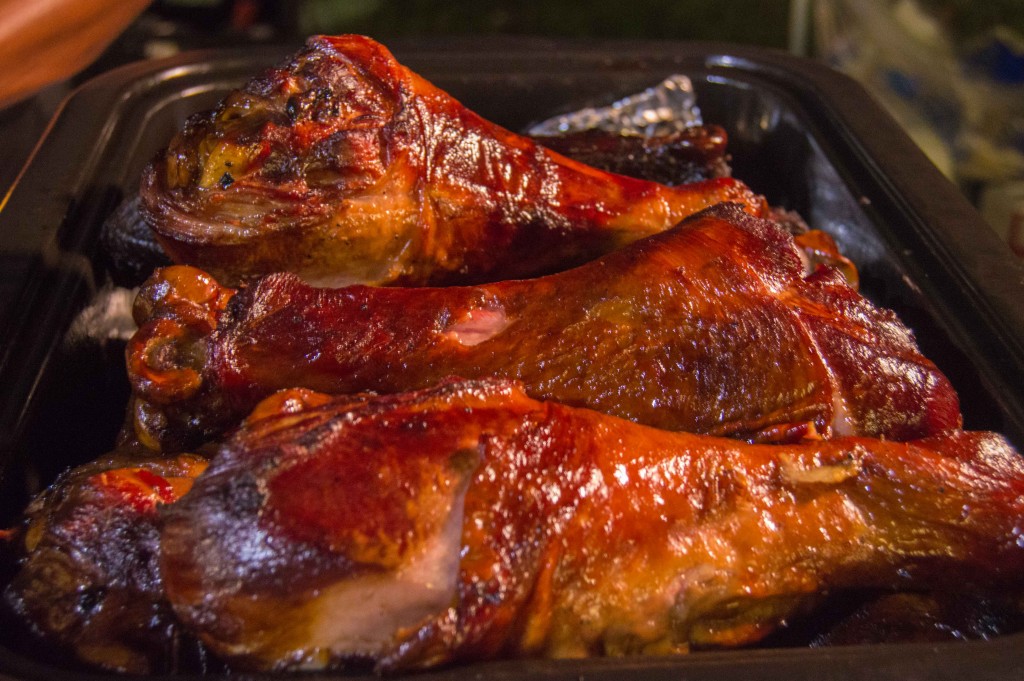 Enormous BBQ smokers are located right on sight.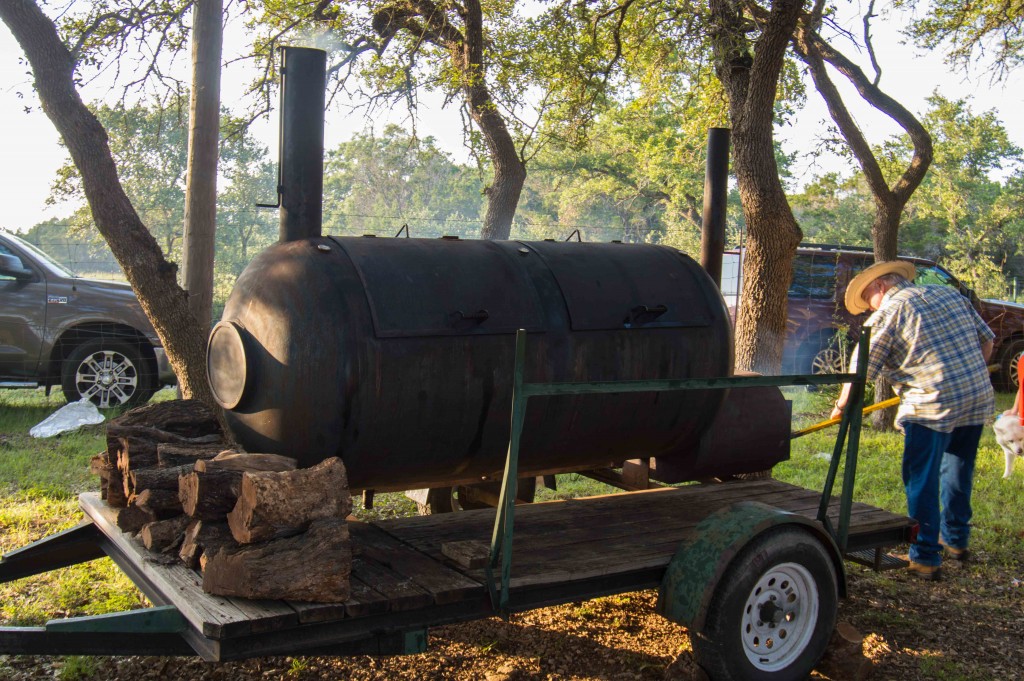 It doesn't mean that cooking process starts here, though. Meat has to be smoked for hours (think: 15-20 hours). You could buy a raffle ticket to win one of these briskets for only $1. The question is: how to finish 12 pounds (close to 6 kg) of cooked meet even if you have a big family?
My favorite was the sausage – the kind of fat you don't regret eating even when you are finished, it's way too good!
If you are in the mood for something Mexican, go for gorditas.
These shells of dough were made right in front of me, deep fried and left on rack to remove excess oil. Gordita means "chubby" in Spanish, why am I not surprised? These pockets of dough are stuffed with chicken, veggies and cheese later.
For a slightly healthier option (but don't get your hopes too high) you can get tacos. As I previously mentioned, I am spoiled by Austin food. I like my whole wheat tortilla cooked with no oil and stuffed with grilled chicken.
Here, though, if it's not fried, it's not food. Each tortilla is quickly dipped into oil before hitting the grill.
Craving a snack? Potato ribbons are your best friend. I have never seen potato so gorgeous!
A heap of thin, almost see-through, crispy rounds towering on a plate. Do I have to mention it's deep fried? By now, you already got my point, probably. I didn't get to try these potato ribbons, which I regret now, but I bet they are awesome.
For dessert, another deep-fried favorite – funnel cake! I was avoiding funnel cake for almost two years in USA. This treat is popular at carnivals and fairs, but I was always both mesmerized and terrified by looking at the dough swimming in an ocean of oil. Pancake-like batter is poured directly into boiling oil through a funnel.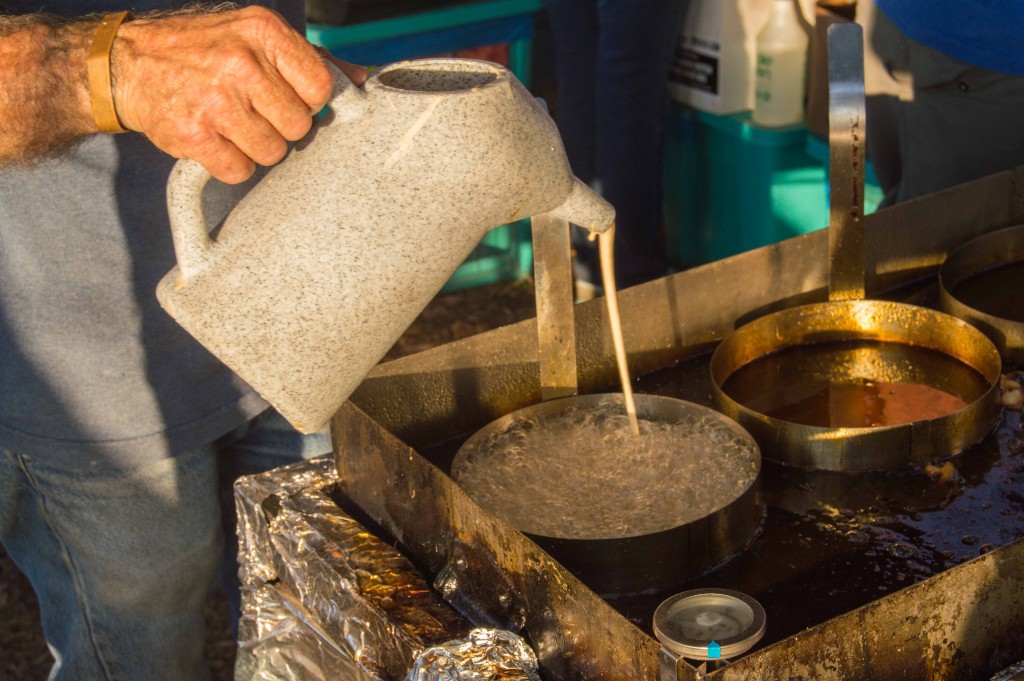 Once the dough sets, the funnel is removed leaving a lacy round to swim freely. Turn it upside down to brown the other side, take out, dust with icing sugar and voila!
The time has come for me to try it. How can I describe it without using clichés? About deep-fried foods you always say: soft on the inside, crispy on the outside. That's exactly how it is. I had a prejudice against this dessert for a long time, but I have to admit: it's tasty. When done right, it doesn't feel excessively oily, the icing sugar on top perfectly combines with neutral taste of dough. And the best part are those tiny bits and pieces that have an extra crunch to them. One warning: it's messy! Icing sugar will be all over your clothes, hair, and face, but, hey, who cares? (check out the video below to watch the whole process of cooking funnel cake)
Your other options for sweet treat are classic popcorn…
or not-so-classic but delicious cinnamon nuts.
This is, actually, a traditional German recipe: nuts are mixed with sugar, water and cinnamon and cooked in a nut roasting machine. It works just as well for American rodeo: you have to munch on something while your eyes are glued to the arena.
Another local favorite – and this one I am unable to comprehend – is shave ice. As the name suggests, this dessert is made by shaving a block of ice. On top of ice a sweet syrup is poured. Syrup, in most cases, has nothing natural or fruity about it, it's a mix of artificial colors and flavors. So you end up paying for water with some chemicals in it. The funny thing is shave ice truck has one of the longest queues. I also think selling shave ice and pickles at the same place is very odd.
What else do you do before the show starts? I mentioned the raffle draw for brisket before. But that's not your only option. In Texas you can enter a raffle to win a riffle. This, along with some other things I consider odd in this country, goes into my category "only in USA".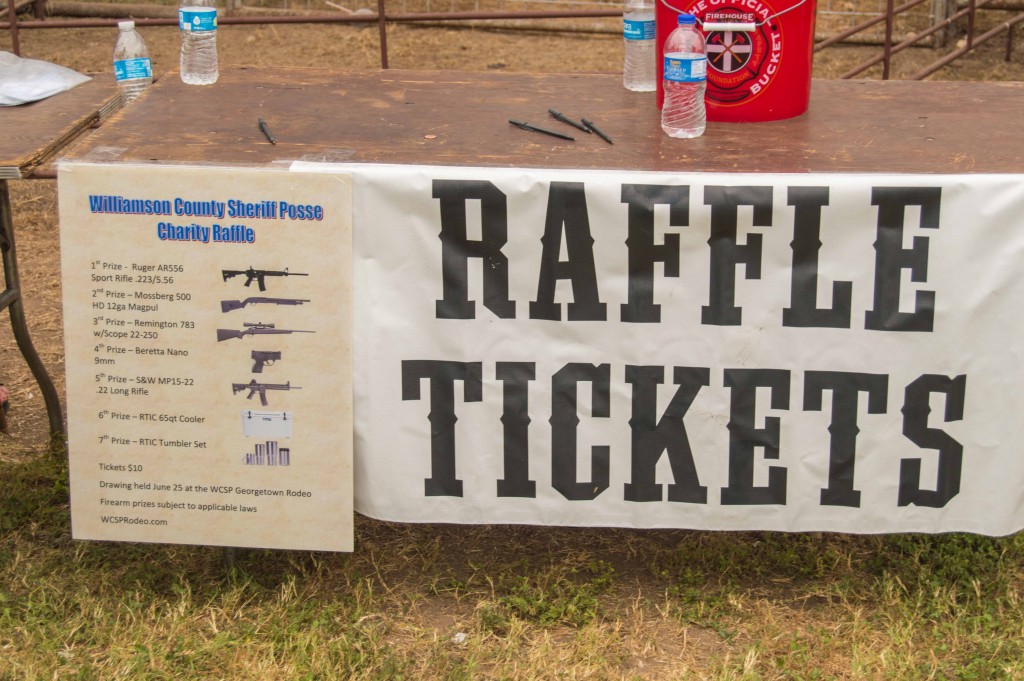 To be fair, the winner doesn't get a riffle right away, he will have to provide all the necessary documentation first, but even so, I was shocked, to say the least. The queue to this table was pretty long, too.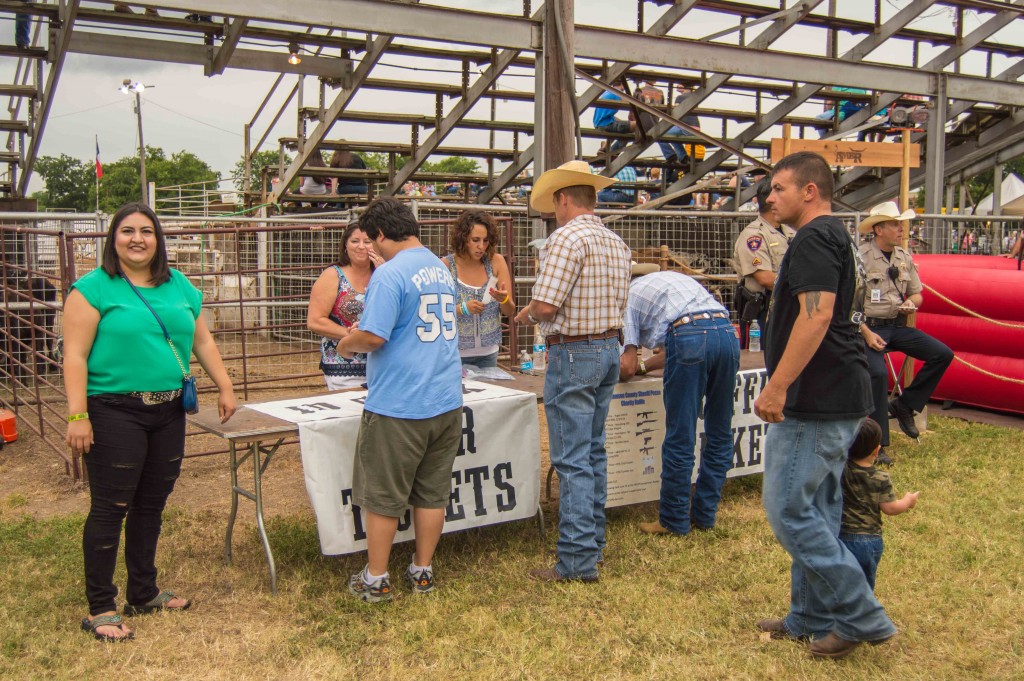 If you have kids they can try to ride a mechanical bull. Those little cowboys are the cutest, aren't they?
The rodeo itself, if you are not from USA, is a very unique experience that I can't compare to anything I have seen before. The famous American love and pride for their country is so clear here. Rodeo starts with a prayer and a national anthem with people singing along. Flag of USA and flag of Texas are carried out.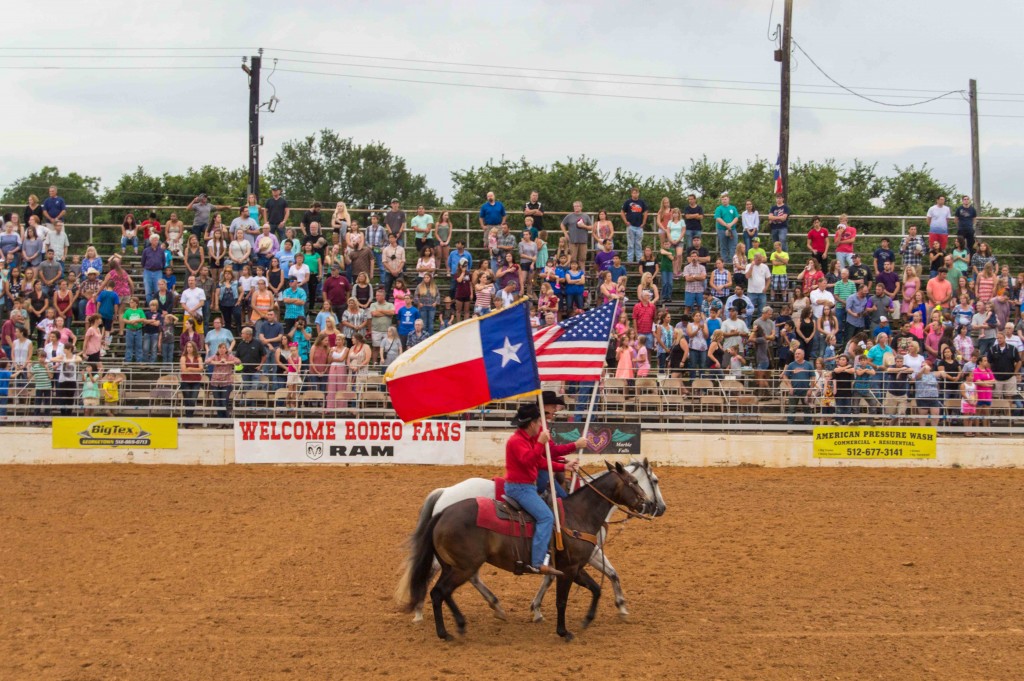 Rodeo, which is now a sport (official state sport of Texas), aroused from working practices of cattle herding. Although the cowboys we now see competing are, most likely, doing it as a hobby, not an everyday job. The competition is meant to test their skills and speed.
My only idea of rodeo, was bull riding. But there's much more to it, then I imagined. Competitions include bronc riding, when the cowboy has to stay on top of a horse while it's bucking (throwing hind legs into air, trying to throw the cowboy off). Rodeos usually start with bronc riding and finish with bull riding. For an unprepared person, seeing it for the first time is very scary. Technically, the animal always wins by throwing the rider off. During my second rodeo, one horse not only sent the rider flying but also kicked him with hind legs mid-air. The cowboy was fine, but watching it is nerve-racking.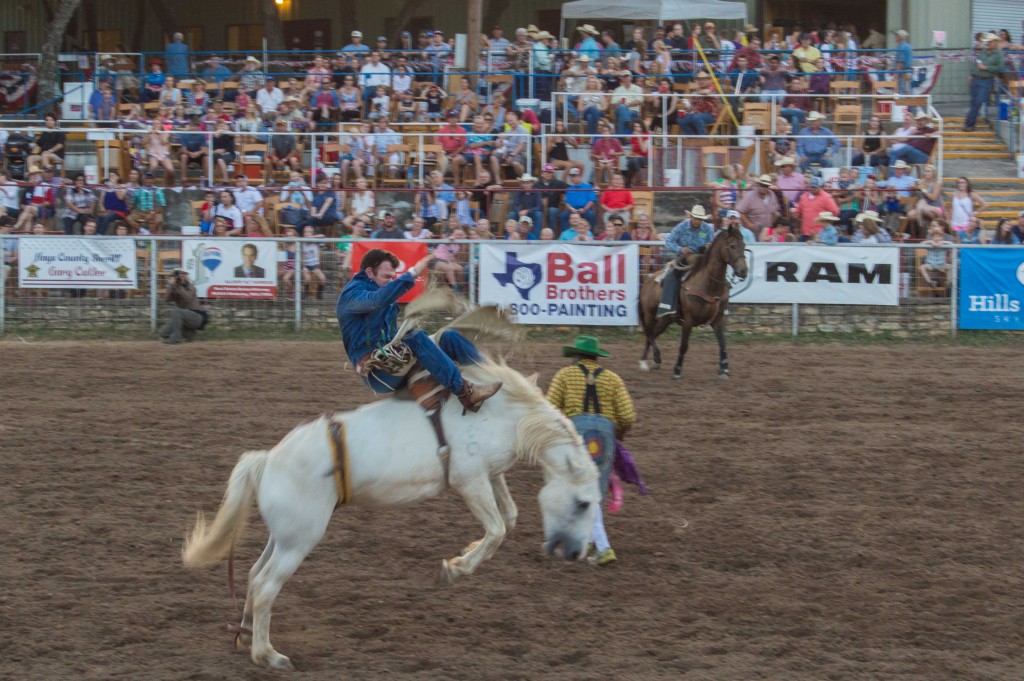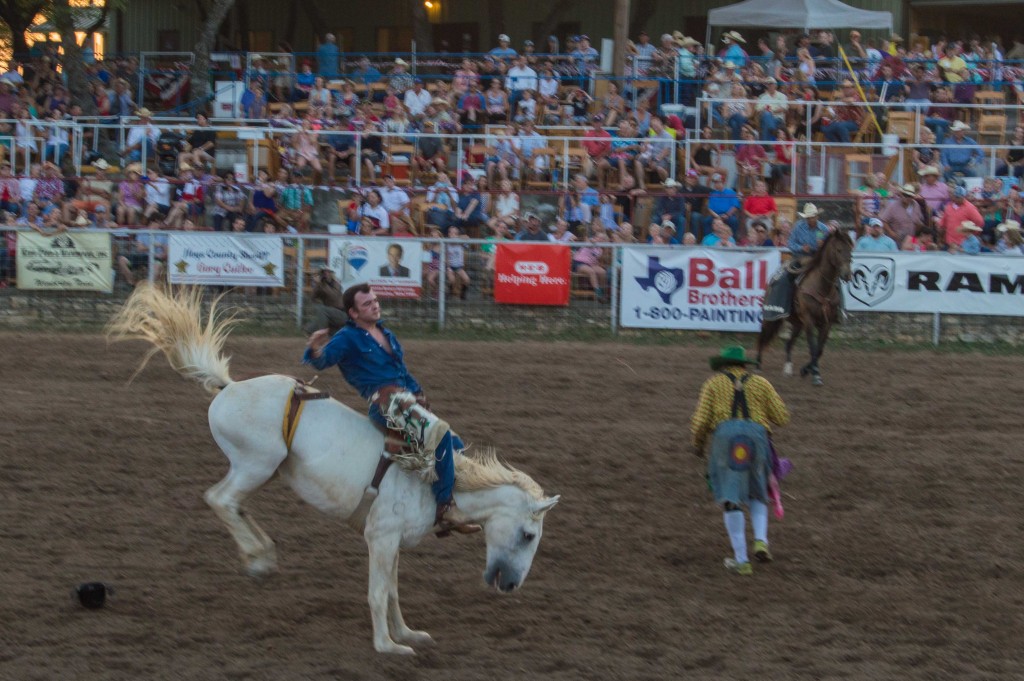 There's a wide misconception that wild horses and bulls are used for rodeo, and that is the reason why they buck. In fact, majority of horses are specifically bred for rodeos and trained to buck off the riders. Same goes for bucking bulls. Since bulls are very unpredictable there's always a rodeo clown, or the "bullfighter", whose job is to distract the bull after the cowboy is thrown off and prevent the animal from injuring the rider.
Two judges are watching the competition: one evaluating the bull (how vigorous the bucking is), another – the rider, the sum of points reveals the winner. Although, sometimes nobody wins at all, since a cowboy has to stay on top of the bull for at least 8 seconds. If all the cowboys were thrown off in less than 8 seconds – nobody gets the prize.
Calf roping is another event, during which a cowboy has to throw a lasso on calf's neck, put the calf on the ground and tie his three legs. The calf has to stay down for about 10 seconds, then he is untied and let to run free.
Cowgirls take part in a similar completion called "breakaway roping", but they are only required to throw a lasso on calf's neck, then they immediately let go of the rope, letting the calf run away. All the roping competitions are based on working cowboys' everyday routines, when they, for example, have to capture calves for vaccination.
Those girls are so damn sexy, I should tell you!
One of the most dangerous competitions for cowboys is steer wrestling, an event where the rider jumps off his horse onto a steer and wrestles it to the ground. If the cowboy is not careful enough he can miss the steer and fall head first on the ground or the steer can land on top of him.
After the first rodeo I was so impressed, amazed and overcome with emotions, I could hardly keep it inside me. When I came to see rodeo for the second time, just a week later, it all turned upside down. If during the first show my eyes were glued to cowboys doing dangerous tricks, this time I couldn't take my eyes of animals. According to statistics, animal injury rate at rodeos is very low at 0.047 percent, or one in 2000 animals. Nevertheless, some of the events made me feel uneasy.
I can't explain why I didn't have those feelings at the first rodeo. The fact that this sport derived from actual working practices of cowboys played its role. If a calf is roped to be vaccinated – it doesn't sound all that bad. The fact, that after the rope is released, animals get up and run away, also makes you want to believe that they are completely fine. These animals repeat the same tricks at rodeo so many times, they look like they know what they are doing. But that disturbing uneasy feeling was still inside of me. For me, it comes to the following: if I have to hesitate and think twice whether what I am doing is good or bad, then, most likely, it is not good and I shouldn't do it.
My favorite activities at rodeo were kids' events. One of them, called "mutton busting", is meant for children between the ages of 4 and 10. This is a kind of bull riding for babies, only instead of bulls there are muttons.
The kid is placed on top of it and told to hold on for as long as he can. Once the mutton is released, it runs trying to shake off the kid. Most of the kids fall off within the first 5 seconds, ending up fully covered in dirt. For kids' safety, they are wearing helmets, and for the safety of muttons, there's a weight limit for riders. As the rodeo clown mentioned: "You think it's too dangerous to put your child on a shopping cart in Walmart, but putting your kid on top of a mutton and let it run is totally fine!"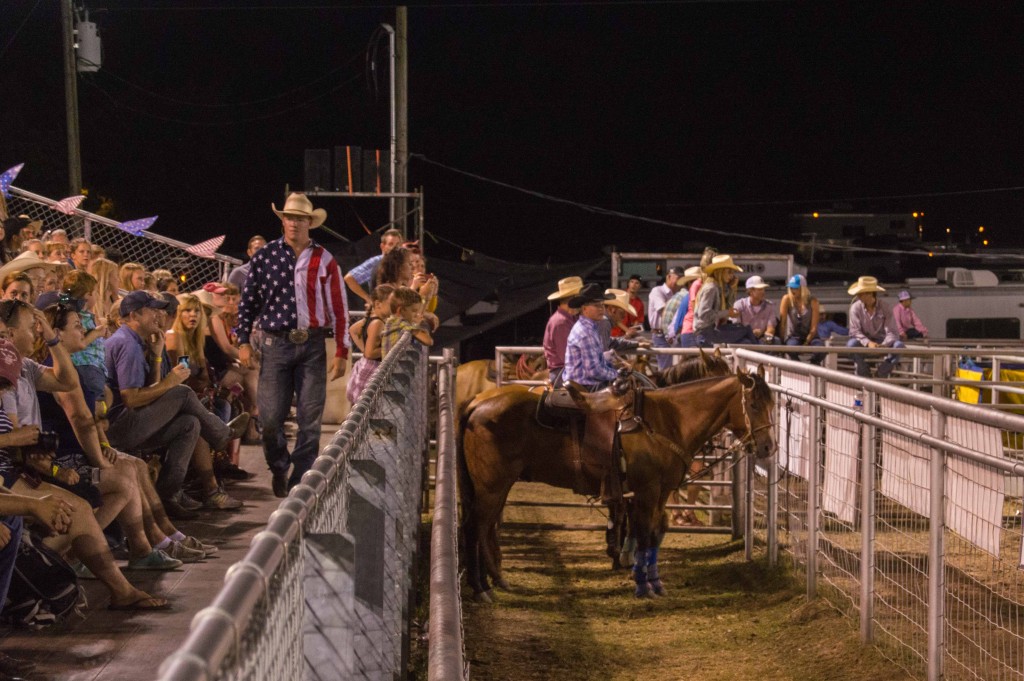 When rodeo is over, it's time to dance. Live country music and two-step is a perfect ending to the day.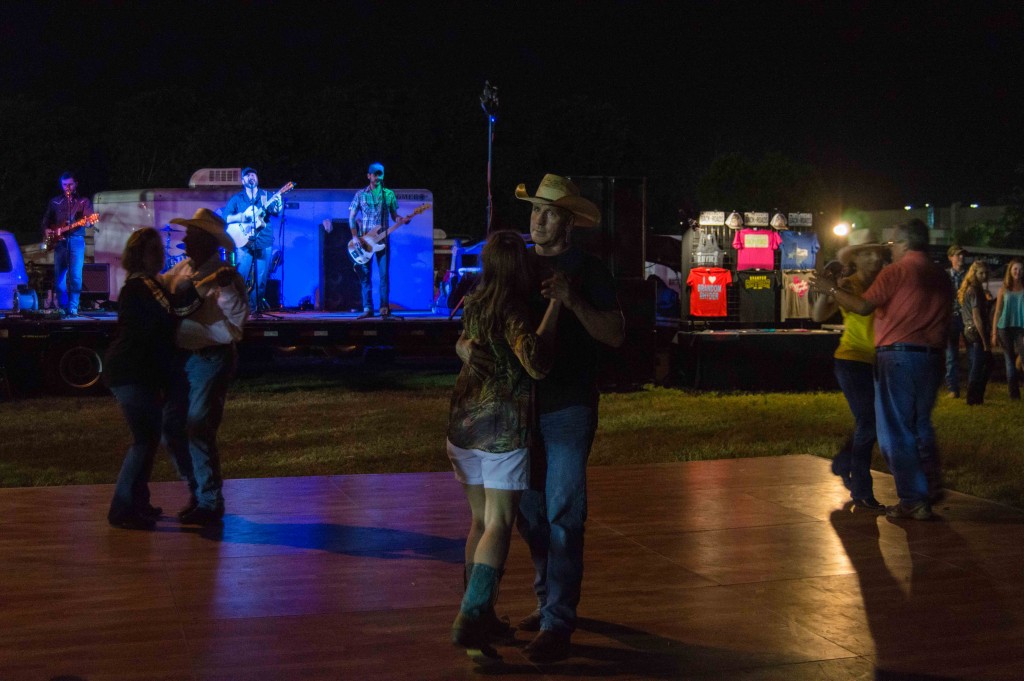 I loved rodeo for the opportunity it gave me to peek inside the life of Texan people and feel the true American spirit, I loved it for the fatty smoked sausages and sweet mess of funnel cake, for making me laugh till I cried while watching mutton busting. But that uneasy feeling inside didn't go away for another couple of days, making me think that rodeo was a kind of "one and done" event for me. Although, in my case it's "two and done", but that doesn't rhyme well.
PS. Check out the video to see how funnel cake is made!
Pin for later: