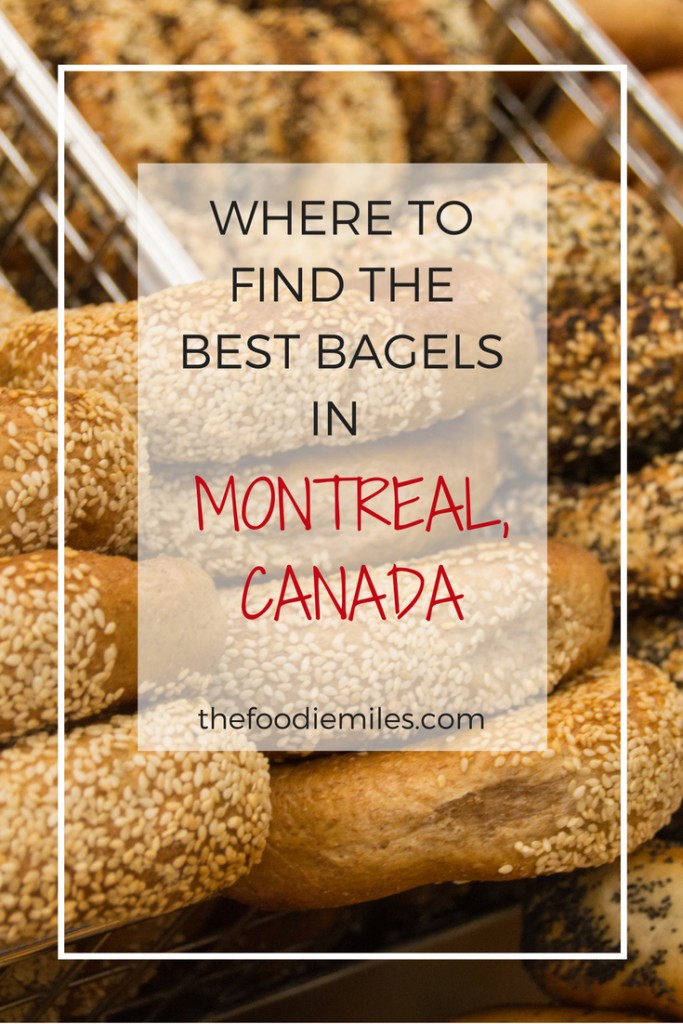 One early Sunday morning a girl woke up in Montreal dreaming of a beautiful hot breakfast of coffee and bagels. It wasn't just any bagel she was craving. It was the most famous bagel of Montreal and, probably, Canada.
It was her last day in the city and, therefore, the last chance to try the much talked about legend. She had a plan: walk to the bagel shop and sit down near the window, inhale the smell of freshly baked bread and look at the world through the hole in the middle of sesame seed bagel, then cut it in half, spread cream cheese on top and have a bite, followed by a sip of coffee.
In reality she found herself with a bag of straight-out-of-the-oven bagels in the middle of the street – who knew that bagel shop is a bakery not a café. In approximately 10 minutes the girl was sitting with a cup of Americano in a nearby coffee shop, with bagels from the famous bakery, cream cheese from a convenience store at the corner and no knife.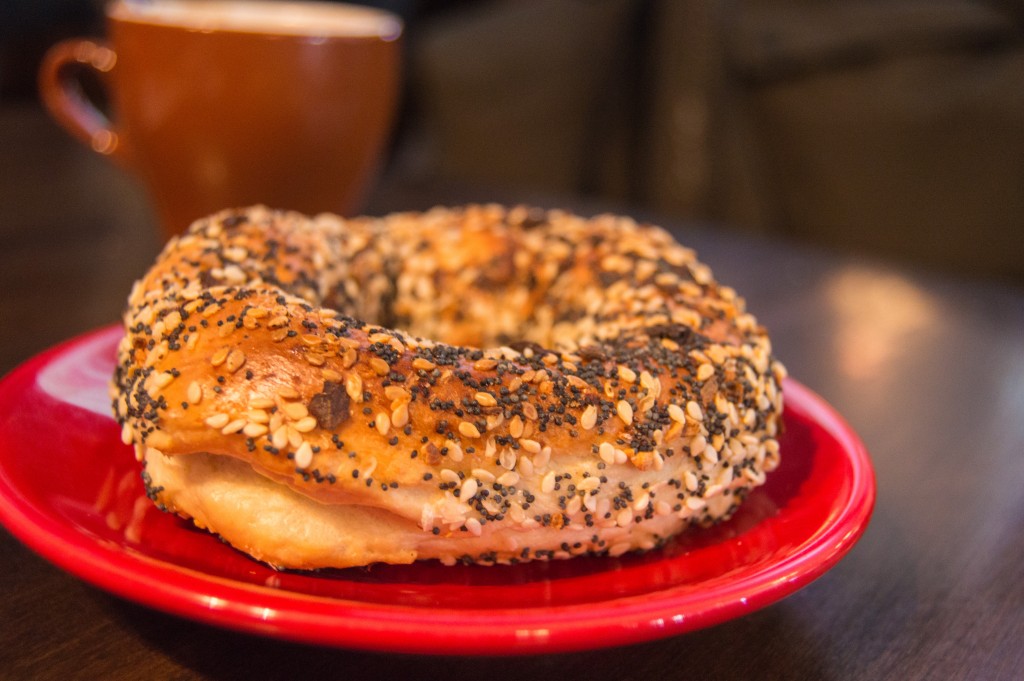 It took quite a bit of running around and looking for all the ingredients of ideal breakfast to come together but it was worth it. So the dreams come true with a few corrections – not a big deal – the girl was happily breaking off pieces of bagel with hands and dipping it right in the jar of cream cheese – even better. A perfectly imperfect breakfast.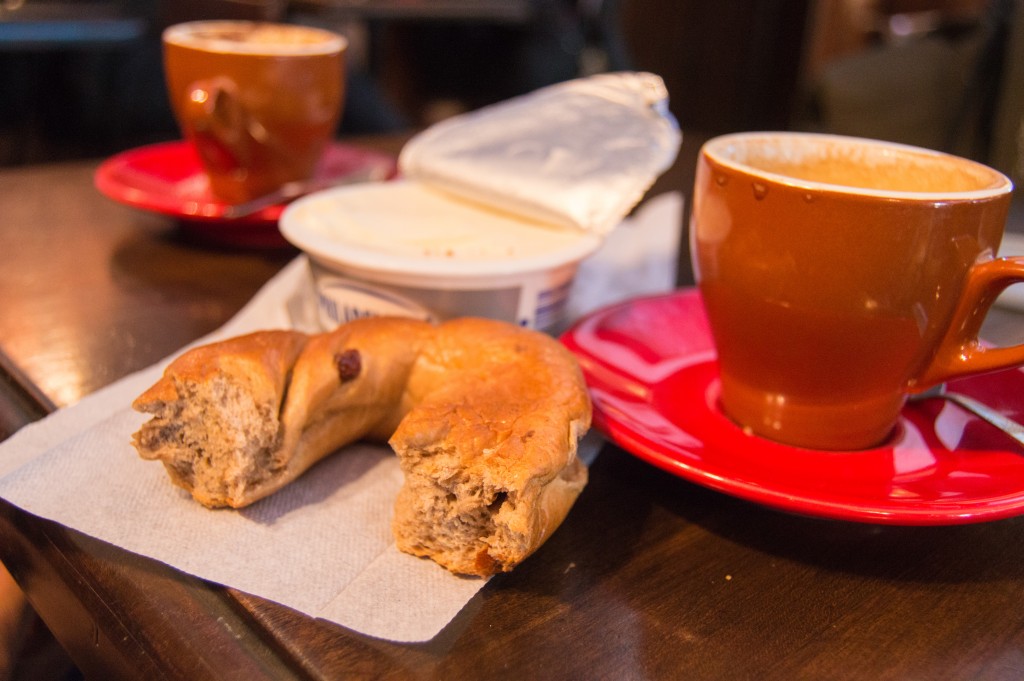 The girl in question is me, of course, and the bakery is St-Viateur Bagel Shop. As it turned out shortly after, dipping your bagel straight into the jar of cream cheese using the crispy edges for scooping it out is the real way to eat your bagel – something every Montrealer knows and a foreigner discovers after not being able to find a knife.
What also is probably no surprise at all for a Montrealer is this amazing view of bagel ocean that opens up once you step inside St-Viateur Bagel Shop. As for me, I remained speechless for several minutes.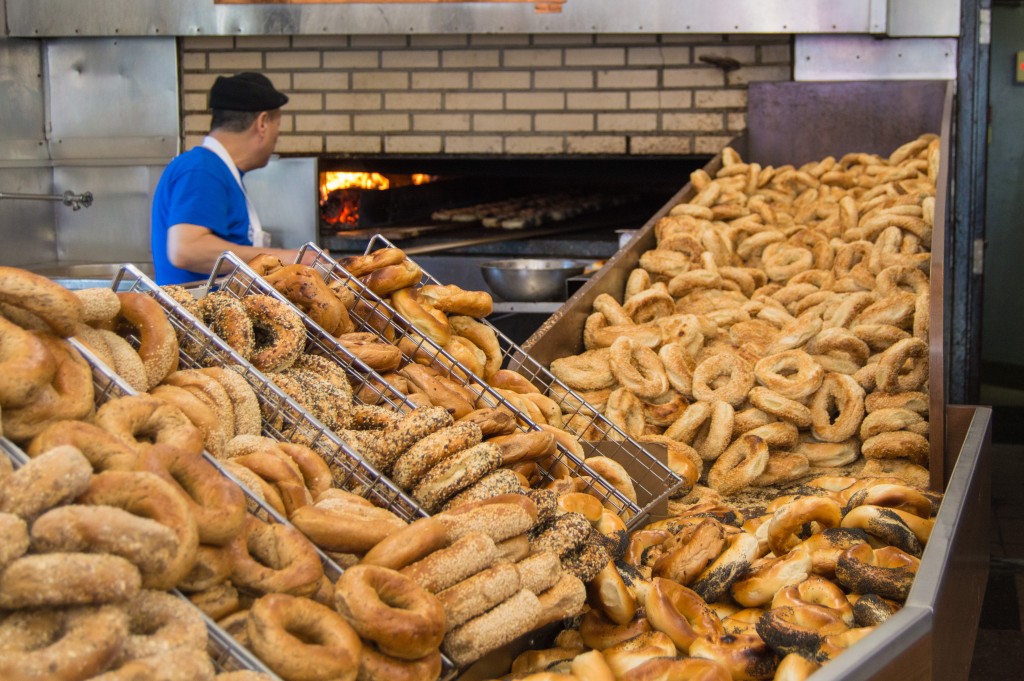 I expected a little café with a window case where bagels are carefully arranged for customers to choose. What I got was a bagel heaven!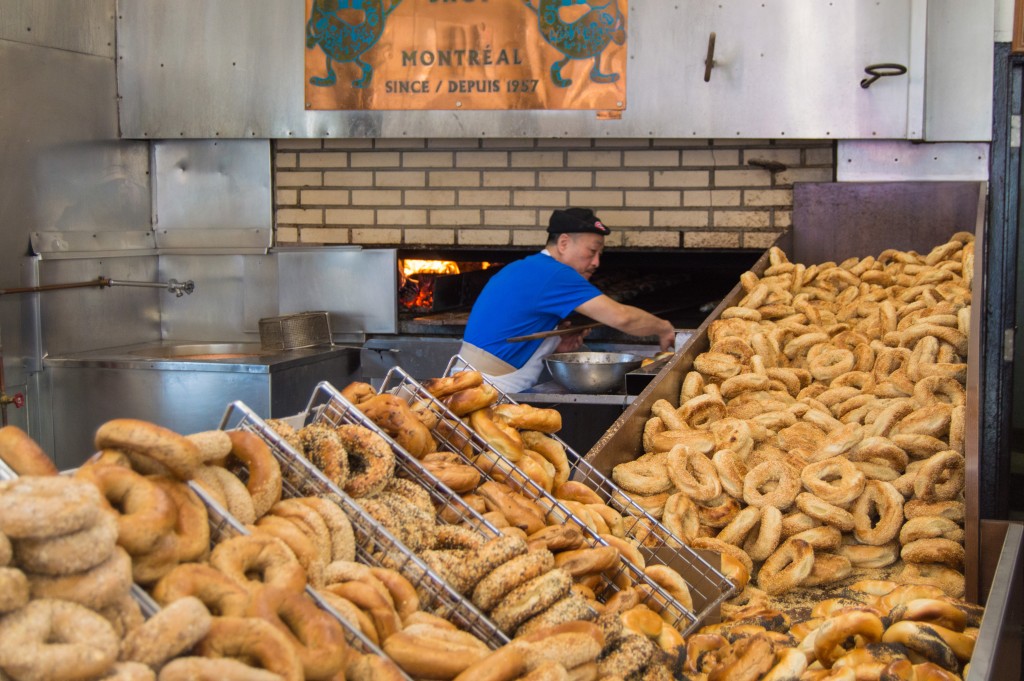 Right at the moment when I stepped inside a baker took out a long wooden board with fresh bagels out of the oven and turned it upside down so the fresh baby bagels fell into the bagel ocean. Swooshshsh! The sound and the view made my heart skip a bit.
After regaining my senses I started the maniacal process of taking pictures of everyone and everything. I wanted to memorize that enormous piece of dough on the table and the way the baker cuts a long strip of it.
I wanted to remember those rounds of dough left on the table to rise.
The way this man was dipping each bagel into sesame seeds bowl and then arranging them on a wooden board in a row.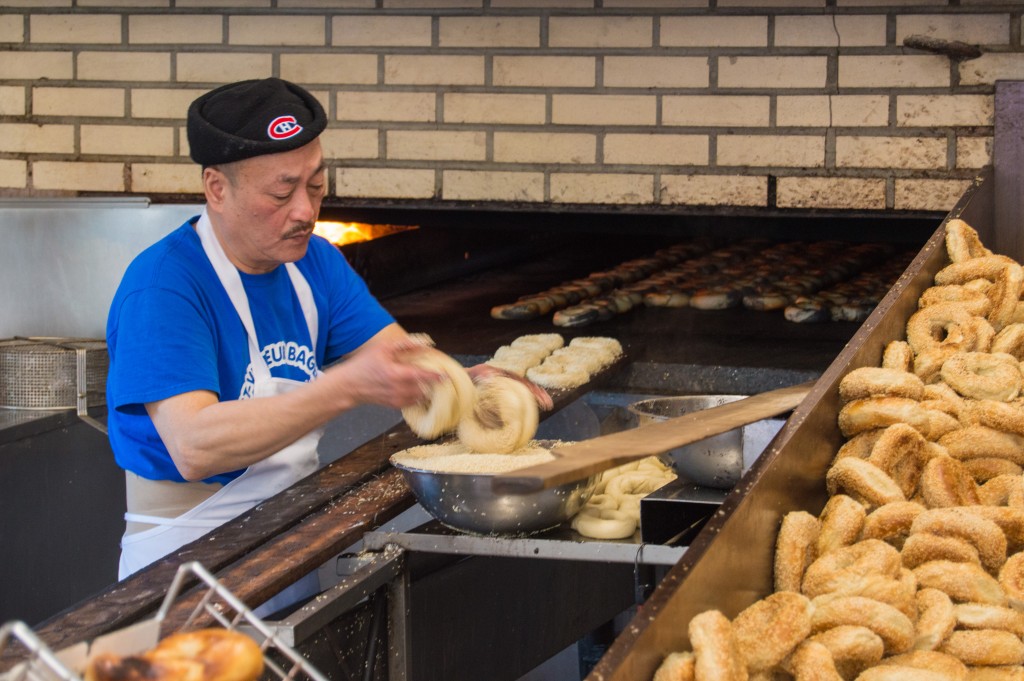 And of course, the fresh bagels of all kinds.
After about 500 pictures were taken and 4 bagels were safely tucked away in the bottom of my bag, I looked around to realize that one of the bakers is Sri Lankan. Imagine my surprise at seeing him here and imagine his surprise, when I said I lived in Sri Lanka for 3 years. He talked proudly about the other bakeries and cafes they have around the town and how this flagship store was open more than 50 years back.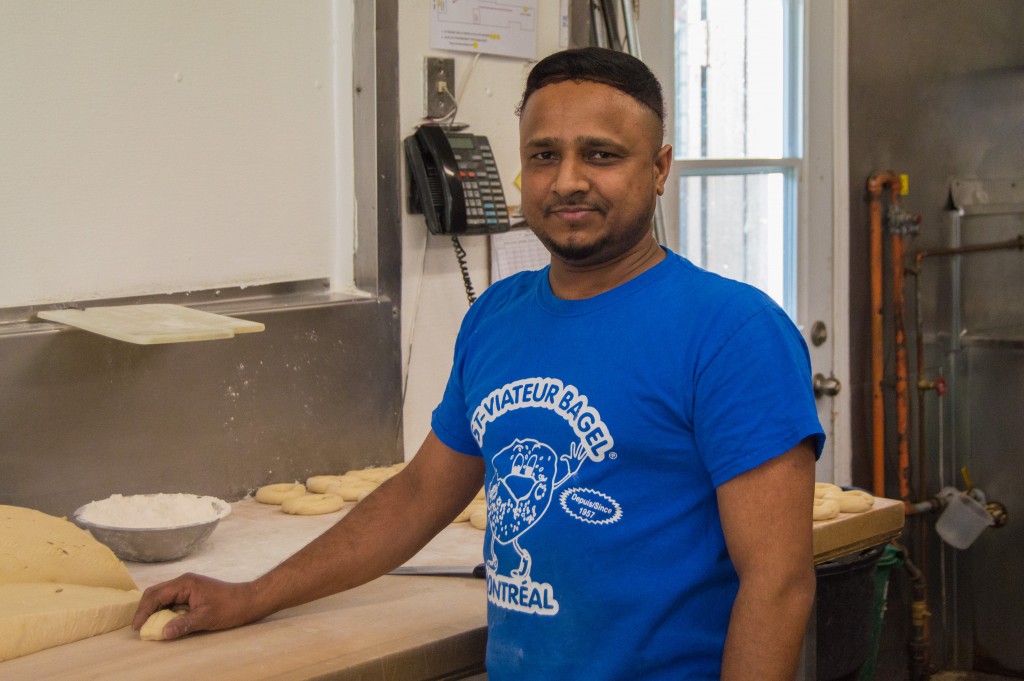 St-Viateur is the longest running bagel shop in Montreal and was founded in 1957 by Myer Lewkowicz. According the bakery's website,
"When he arrived in Canada in 1953, St-Viateur Bagel Shop founder Myer Lewkowicz didn't know the first thing about baking anything, let alone bagels. He had grown up in a large, poor family in a Jewish village, or shtetl, near Krakow, Poland. Lewkowicz knew about not having enough to eat. In 1942, he was arrested by the Gestapo and sent to Buchenwald concentration camp. Years later, while speaking to a high school class, Lewkowicz said, "At Buchenwald, all I dreamt of was a piece of bread."
After arriving to Montreal Lewkowicz first got his job at Hyman Seligman's Montreal Bagel Bakery on St-Laurent where he learned the bagel trade and in 1957 he set up his own shop on St-Viateur Street.
The shop is open 24 hours which means you can have a lazy-morning-breakfast-bagel, you can have a sudden-midnight-craving-bagel or even a 5-am-hangover-bagel if you like.
In my case it was a fuel-me-up-for the long-road-home-bagel as we were heading back to New Hampshire right after the breakfast. It was also an unforgettable last memory of Montreal.
Address: 263 Saint-Viateur Rue O., Montreal, Quebec
Hours: 24/7
Pin for later: