I have seen pictures of Carrie Bradshaw's apartment about a thousand times on Instagram. Excited girls sitting on the front porch with a dreamy expression on their faces and a caption saying: "waiting for Mr. Big". Well, sew me, but I had to have this picture!
I don't consider Sex and The City the best series of all times, I can't say that I relate to the story but there's something so appealing about it that I keep watching the same episodes time and again on lazy Sundays when I stay in bed the whole day. It's the dreamy idea of a girl living in New York, buying $400 shoes and looking for love. Realistic? Not really. Does a girl's dream have to be realistic? Not really.
Carrie's apartment is only a door and a front porch, really. Not that you could go inside: there are people living there. In fact, even the front porch is off-limits now. There's a chain on the bottom of the staircase restricting you from sitting on steps. And a stern note asking not to trespass and be quiet. Can't blame the owners, I would also be annoyed if there was a never-ending line of tourists in front of my house.
Just a couple of blocks away there is another filming location from Sex and the City – Magnolia Bakery, where Carrie and Miranda had cupcakes and talked about Carrie's latest crush on Aidan in season 3.
Long story short, the apartment and Magnolia Bakery were on the top of my must-do-in-New York list. Other things on that list included listening to a Grammy-winning church choir, eating Dominique Ansel's cronut and visiting a cemetery in Brooklyn. I have a very diverse must-do list, I know. As luck has it, on the days when I planned to do all these exciting things, it was raining cats and dogs. I couldn't convince my family that cemetery on a gloomy and rainy day is a good idea, but visiting a famous movie location and eating cupcakes afterwards was easier to sell.
So here's my long-dreamed-of picture in front of Carrie's apartment under pouring rain. It stopped raining about 15 minutes after we took the picture.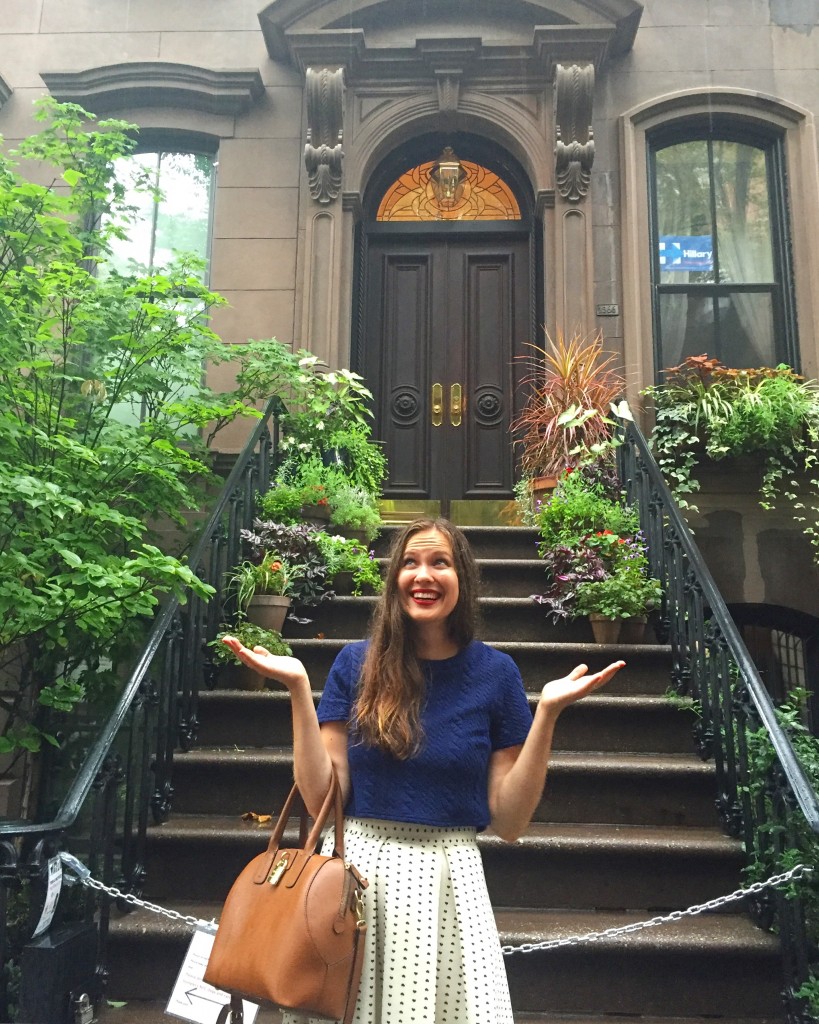 To have the full Sex and The City experience, we headed to Magnolia Bakery after taking the photo.
Magnolia was famous for its sweets and treats long before it was featured in Sex and the City. Thanks to TV-show fans, though, there are long lines to the bakery now. But the pastries are fabulous and well-worth the wait!
Rain wasn't such a bad thing afterwards, sparing us from long lines in front of both the apartment and the bakery (those can get pretty bad).
Carrie Bradshaw's apartment: 66, Perry St., West Village, New York
Address: 401 Bleecker Street, New York, NY 10014
Hours: Sun – Thu: 9 AM – 11.30 PM, Fri – Sat: 9 AM – 12.30 AM
Pin for later: