Never have I used cookbooks as much as in September of 2020. I can't explain what came over me, but I was on a roll, people. Even my husband said so.
There wasn't a day in September when I didn't spend time either seeking out previously unknown to me ingredients at grocery stores, markets, and across all possible online platforms; or spending time in the kitchen with my nose tucked into Diana Henry's "How to Eat a Peach".
I officially name September 2020 the month of Diana Henry, and this post — an ode to her genius. I've been following her on Instagram for a while without really knowing who she is. The quality of pictures was not so great so I kept scrolling past her posts. Until one day she published a recipe of chicken with peaches and lavender that caught my attention. "I must make it", I thought.
There's no particular reason why I decided to try that recipe, except maybe the Universe wanted me to finally discover Diana Henry and make my life immeasurably more delicious. I made that chicken in June and I've been hooked ever since.
In July, by some weird coincidence (or was it?) I got a recommendation on Amazon to buy Diana Henry's "How to Eat a Peach". First of all, the name! Isn't it the most romantic, thought-provoking, and intriguing name for a cookbook?
I decided to take a peak inside digitally. At the time, I was contemplating on a dish that would feature leeks front and center. And what do you know, the first recipe I see in the book is for leeks with Breton vinaigrette. I do believe in signs, guys, and I needed no more. I clicked "buy".
The book arrived, beautiful, heavy, with a hard cover that itself was like a peach to touch. I kept stroking it meditatively while reading story after story. I started off with a recipe for pistachio pesto, followed by zucchini fritters in July. I took a little break in August. And then in September I went bananas.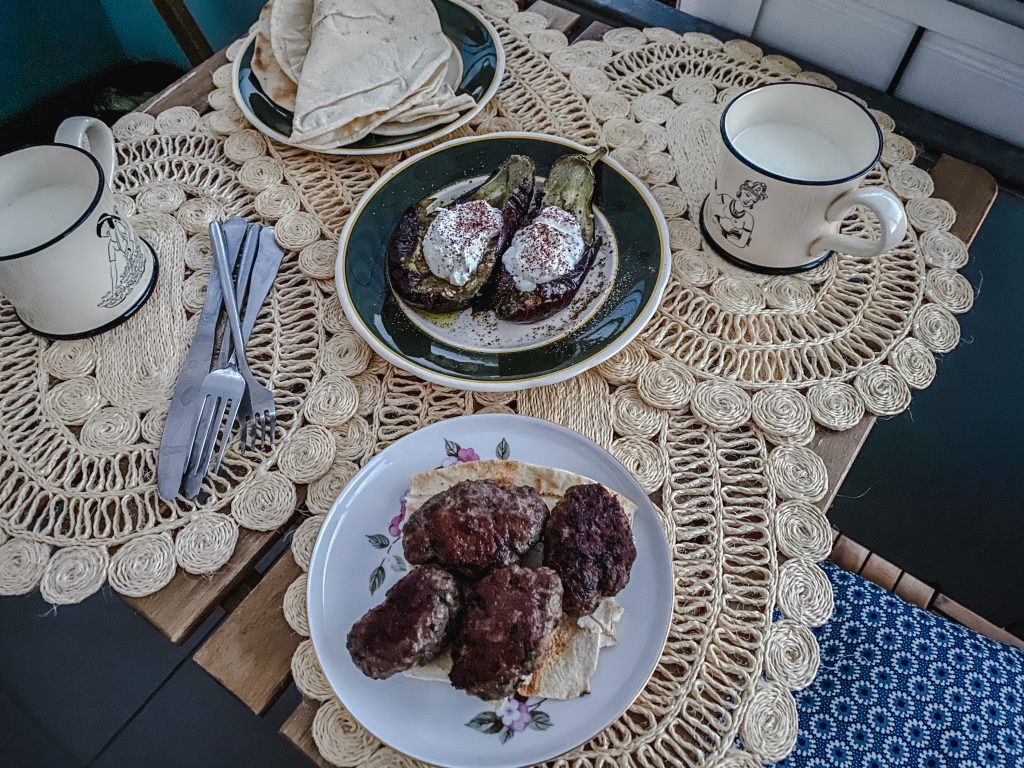 The first meal I cooked was from a chapter called "Take me back to Istanbul". The book is divided into two parts: spring-summer and fall-winter. And then each part, in turn, is divided into chapters each of which is a menu of three to five courses inspired by places from all over the world. Prefacing each menu is a story.
The menu inspired by Istanbul featured roast split aubergines with goat cheese, grilled squid, lamb kofta, sweet pickled cherries and coffee ice cream. I made two of the five: aubergines and kofta.
I went to a Turkish grocery store as it's the only place where one can get lamb around here. And while I was there I also got me some pita bread and ayran, so we ended up having a proper Turkish dinner.
The kofta was mind-blowingly good. I took pictures after sunset, so they don't do the food justice. But I sent them to my Turkish friend anyways to boast and she replied that my kofta looked just like mama's. She might be biased, though, she loves me.
Next I made spatchcocked chicken with almond, chili, and garlic pangrattato, which was the best thing I cooked all month — and I cooked a lot, as you already know.
"Do we love Diana Henry?" I asked my husband after serving the chicken. "It's that lady again? Wow! Her food is just… wow!" I think it's safe to say we love Diana Henry.
Then it was the time of fresh corn. I prepped batter for corn cakes one day which was a breeze as you just blitz all the ingredients, including fresh corn and polenta, in a blender. The next morning I fried the cakes in no time, topped them with salmon, creme fraiche, and dill. Et voila!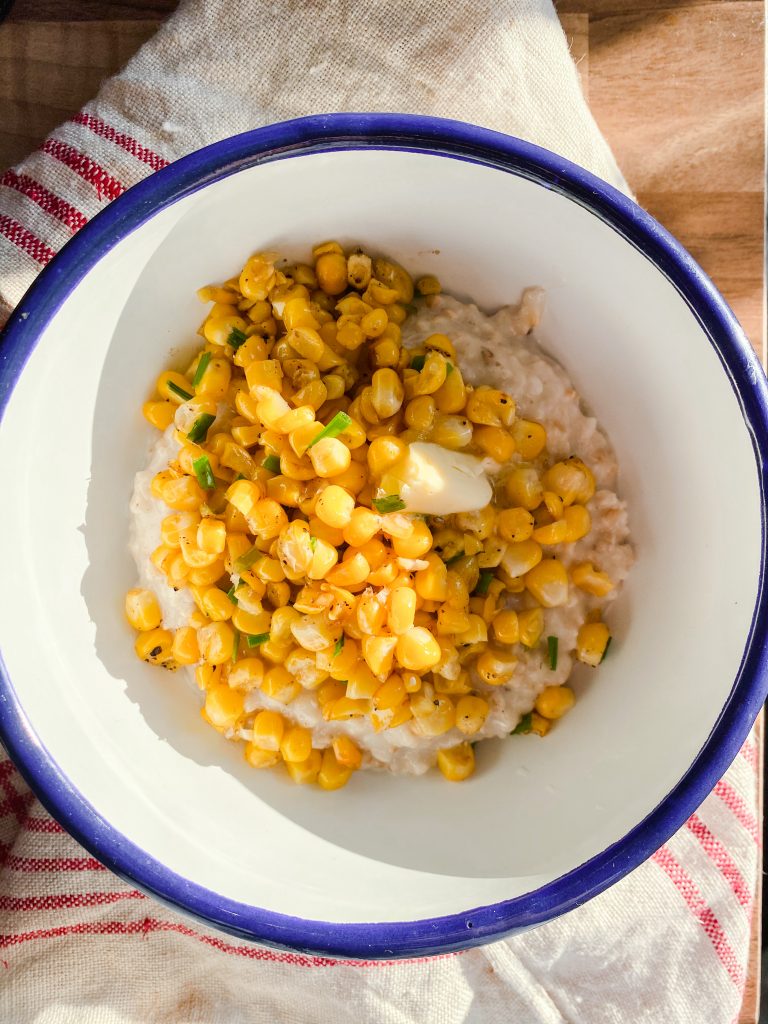 And while we are on the subject of corn, I also made oats with corn and chives from Cardamom and Tea blog. Have you ever had savory oats? It was a revelation! The trick is to add lots of butter and freshly ground pepper.
Another morning I baked feta with figs, olive oil and honey for breakfast — recipe courtesy of my fellow Saveur Blog Awards finalist, Michał Korkosz. If you think it's way too fancy and time-consuming for a breakfast — think again. I mean it is fancy, not doubt, but the whole thing took me 17 minutes, only 2 of which were active cooking time.
Put a block of feta in a baking dish, pour olive oil and honey over, sprinkle with sesame seeds and arrange figs around. I did it while holding my baby in one arm. Into the oven it goes for for 15 minutes. Serve hot while the fig juices and honey are bubbling.
Yet another morning, I made radish butter, another Diana Henry recipe. It was just too easy not to try. Blend the radishes, wring out excess liquid — you have no idea how much water radishes contain! — and mix with softened butter. I had it on sourdough, of course, with eggs and smoked salmon.
By the way, my everyday sunny side up eggs have recently stepped up their game as I discovered Maldon salt and za'atar. What have I been doing my whole life? Why didn't I use them sooner?
Za'atar was the first new ingredient of September. I am still figuring out the best ways to use it, but fried eggs are on the top of the list. Kind people on my Instagram also recommend to top warmed up pita, smothered with butter, with za'atar. I am yet to try it, but I have a good feeling about this combination.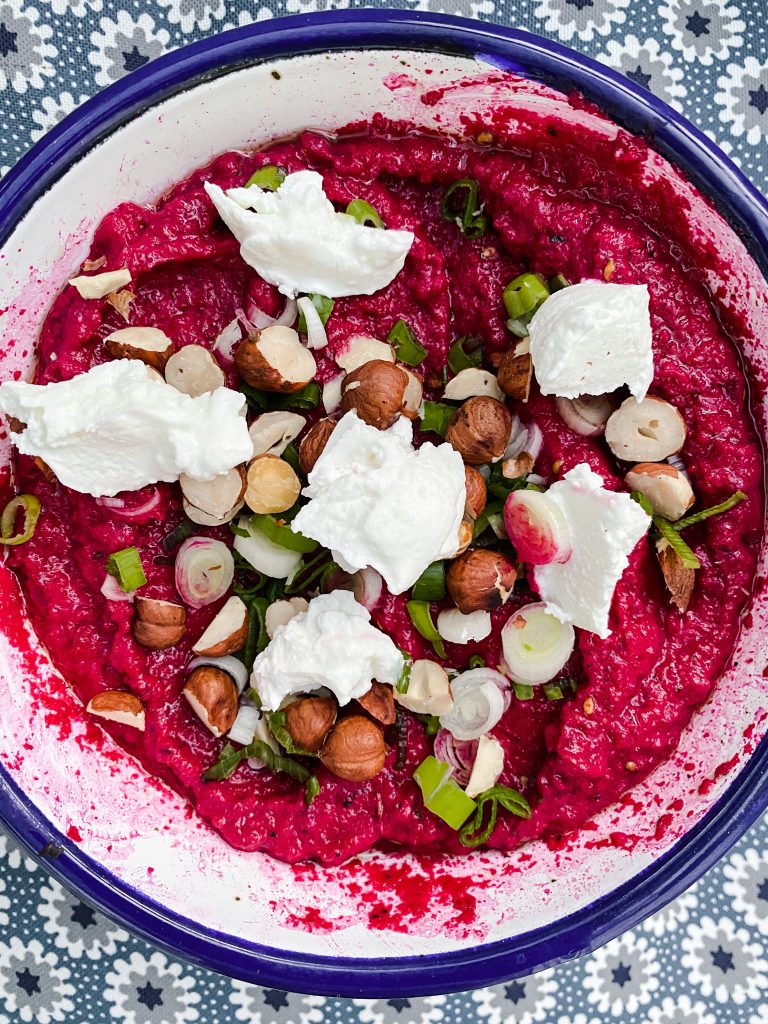 I also used za'atar in Yotam Ottolenghi's beetroot dip. Ah yes! I bought Ottolenghi's "Jerusalem" in September, so expect a lot of Middle Eastern dishes next month.
The second new ingredient of September was parsnip. I baked it with beans and blackberries using this recipe by Anna Jones. Parsnip's earthy flavor is combined with the sweetness of the berries and honey-mustard dressing. Parsnip probably won't become a regular in my kitchen, but will make an occasional appearance in supporting roles.
Blackberries are far from being a new ingredient for me, but I've only always eaten them raw. Baking them with vegetables and then making Diana Henry's pear, blackberry and hazelnut cake gave me a new perspective on using them in my cooking process.
I've also made onion, spinach and cheddar tart from "How to Eat a Peach". The recipe called for over half a kilo of onions, peeled and chopped. Many tears were shed that morning. But the final result was such a warm cozy and flakey tart that it was all worth it. We shared it with our friends while sitting on a picnic blanket in a nearby park.
As if cooking recipes from Diana Henry's book wasn't enough, I've decided to make something from her Telegraph column too. On her Instagram, she posts a recipe of the day, and one of them was a pumpkin, spinach and feta pie.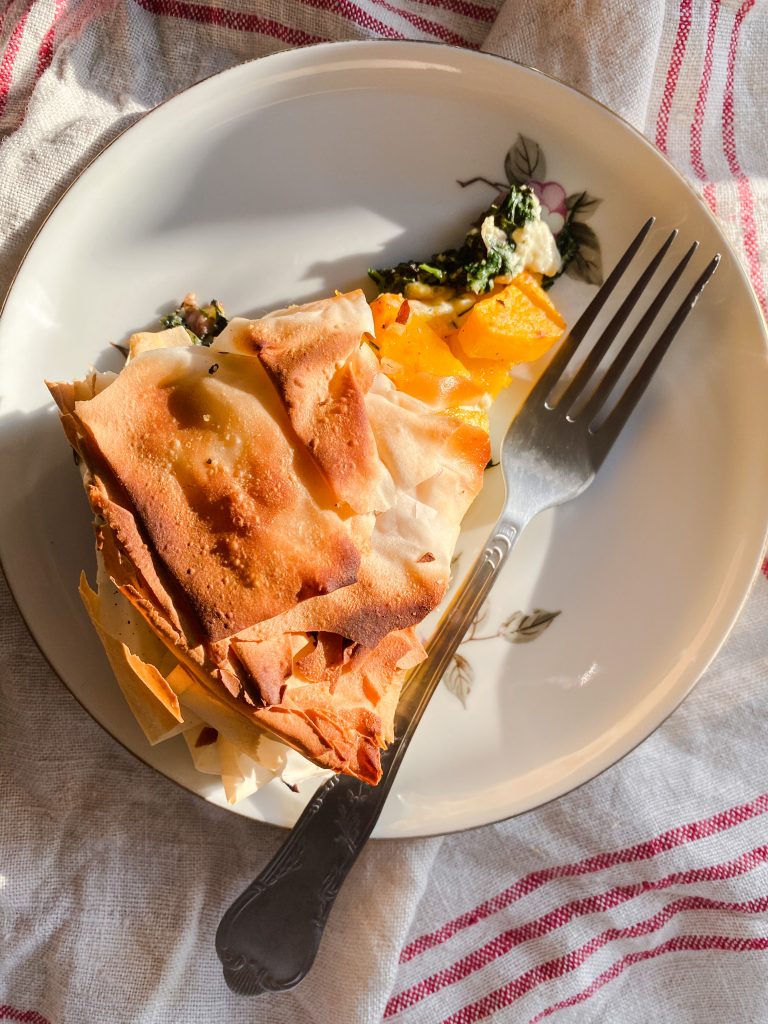 This recipe calls for filo dough which, for the life of me, I couldn't find in any supermarket. I did find strudel dough, though. Fair enough, I live in Germany after all. So I substituted strudel dough for filo dough, and I think this is where things went sideways.
I was supposed to keep the pie in the oven for forty minutes, but in twenty minutes the top started getting burned, so I had to take the pie out. Thankfully, the filling was (mostly) precooked. I broke off all the burned parts of the dough, so you couldn't even tell something was wrong.
My husband wasn't a fan. Maybe if he didn't see me discarding the burnt parts of the pie, he'd have a different opinion? I mostly loved it, but the preserved lemons I used to top the pie off added a strong acidic flavor.
I got the lemons online, and they were supposed to be my third new ingredient of the month. What a waste of eight euro! Rookie mistake. There's a recipe for preserved lemons in Ottolenghi's "Jerusalem", so I will make them myself next time.
I did make harissa from "Jerusalem", and it was an absolute delight. I used it to make Diana Henry's baked fennel, tomatoes, and chickpeas. This dish is not as photogenic as they make it look in the book. It is delicious, though.
Finally, the third new ingredient of September — as I refuse to count those acidic preserved lemons — was sage. I saw Mimi Thorrison make sage, olive oil and polenta cake on her Instagram live, so I repeated it at home as soon as I got my hands on fresh sage leaves.
I don't often make savory cakes… actually… have I ever? So it was an interesting experience. The cake turned out rich with olive oil and lots of parmesan. I wasn't sure how to serve it best, until next morning I thought of combining it with fried eggs.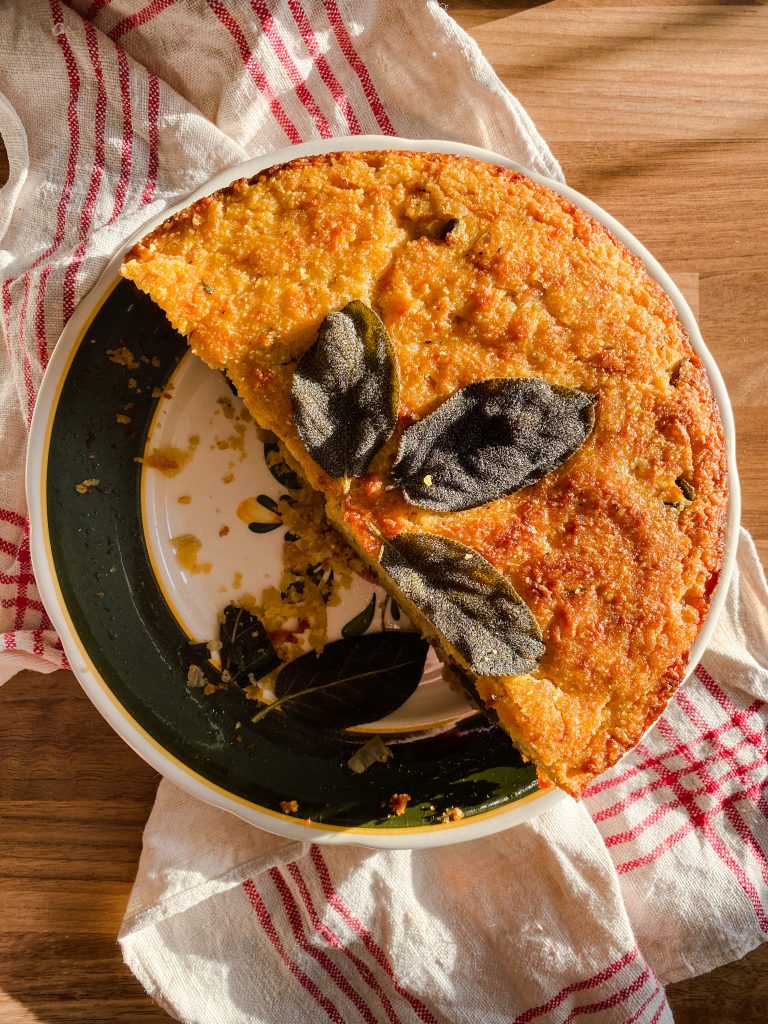 Polenta, cheese and eggs — but of course! Although the cake is Italian — it's from Mimi's new book "Old World Italian" — it reminded me of one morning in Savannah when my husband and I had grits topped with fried eggs for breakfast.
And that is all I wanted to share with you in September! I have a few more dishes from "How to Eat a Peach" that I want to make in October, namely a smoked haddock and celeriac gratin. Celeriac will hopefully be my new ingredient of October.
I also want to make the chocolate and olive oil cake, the last recipe in the book. I will not tell you exactly how many times I bought dark chocolate for this cake, but ended up eating it. Suffice it to say, we are going into double digits soon.
What was the most exciting dish you cooked in September? Any new ingredients you've tried? I'd be happy to hear from you!
Disclosure: this post contains affiliate links which means if you buy something by clicking the link I will earn a small commission at absolutely no extra cost to you.