If you write at all, you know that as a writer you don't always have control of the story. You could, but what's the fun in that? You have to let go from time to time and let the story take you places. This is what happened to me this time.
Get comfortable, this is going to be one long excuse for the fact that it's the 15th of November and I am only now writing about all things local and seasonal that I cooked in October. In August I was two weeks late, but at least I had a really good excuse: my site got hacked.
I hired a company to do a clean up. It only cost me two hundred dollars and a few grey hairs, when the support guy said that my website will be "practically unusable". Turned out, he chose the words poorly, as you see it is very much usable. Knock on wood!
So this time I am going to blame it on the story. I sat down a week ago, adamant to write all about my October adventures in the kitchen. I started off with a topic that's been on my mind for a few months now, namely, how these days food has become so much more complicated compared to food I remember from my childhood. Sounds captivating, right?
These monthly posts are the only place where I can write on any random topic, without caring much for structure and proper segues. So write I did. A thousand words spilled out of me in two sittings, during my son's naps, naturally.
The piece felt like it could stand on its own, not simply be a part of my monthly blah-blah post. So be it, I thought. I just have to write another five hundred words or so, make a conclusion, and start the October seasonal post anew.
Only the last five hundred words did not come to me. After typing a thousand words like a maniac I couldn't quite figure out what the point was. That happens sometimes. You think you've got it, but then you ask yourself: what do I actually want to say? what is the takeaway? And the answer is a resounding "No idea! I was just blabbering".
I spent a few days trying to figure it out and then a few more days contemplating a new topic for October post — both with no success. And then half of November was gone. I had to use all my will power to start writing something, anything.
So here I am blabbering instead of telling you about all the amazing produce I got last month and what I cooked with it. So, shall we?
As you remember (I may be too optimistic in thinking that you read my every post, but don't shatter that image for me, please), September was the month of Diana Henry.
After cooking through her "How to Eat Peach" for several months, I've decided to move on to Ottolenghi's Jerusalem in October. But not before making Diana's chocolate olive oil cake. Oh, and the celeriac halibut gratin. And baked cauliflower with black beans. Somebody stop me.
There's not much to say about the chocolate cake, except that it was perfect in every way and disappeared in two days. But the gratin I'll tell you all about.
First of all, celeriac was my new ingredient of the month. I saw a monstrous root at the supermarket, asked in Instagram stories who the hell that ugly guy was, and got a ton of replies that it was none other than celeriac, a cousin of celery. Maybe even a brother, they are very closely related, but not quite the same thing.
I was positive I was not going to like it as I hate celery, but since I am giving every ingredient a chance these days, into my grocery basket it went. Besides, I found a recipe for smoked haddock and celeriac gratin in Diana Henry's book, and Diana Henry has never steered me wrong.
When you get celeriac, be prepared that your whole kitchen will smell of it: an herbal, earthy, rich smell. Peeling and cutting into it was unexpectedly easy. From its looks you'd think prepping celeriac would be a pain, yet the easiness with which I peeled it was the first reward for overlooking its unattractive appearance and bringing it home.
I sliced celeriac, along with potatoes, on a mandolin — a tool I highly recommend you get, it changed my life. Simmered them in a mixture of stock, cream and spices, then layered the slices in a cast iron pan, with smoked halibut in place of haddock in the middle.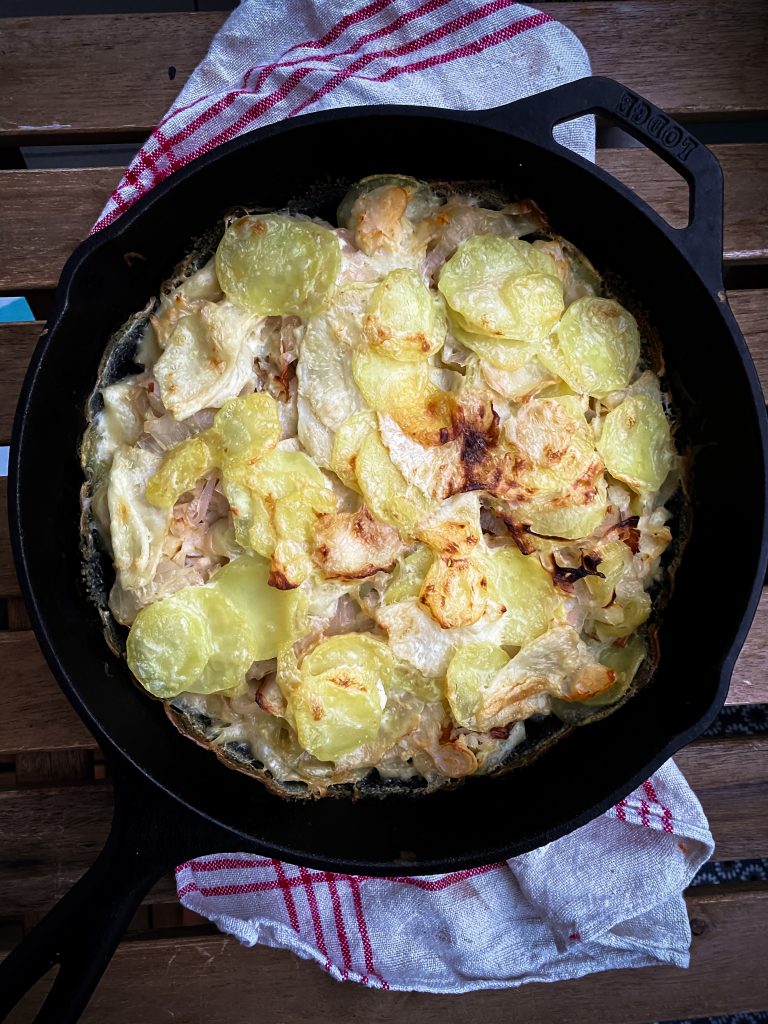 I imagined I would pick out the slices of celeriac off the final dish, but, truth be told, I could hardly tell which slices were celeriac and which — potato. All the ingredients just melted into a rich, smoky, creamy gratin. Celeriac added a depth that potatoes alone could not achieve. A revelation if I ever had one.
After this, I did finally move on to Jerusalem and started by searching the index page for celeriac. Ottolenghi suggested I try celeriac raw, in a root vegetable slaw, along with beets, kohlrabi and carrots.
The trick was to slice the vegetables into thin strips, so mandolin to the rescue yet again. I did however get a bit too excited and neatly sliced off a piece of my thumb. I still like my mandolin, though. Somewhat.
If you ever want to feel like summer in fall, make this salad. The bright colors, the zesty, lemony dressing, the crunch of the vegetables are refreshing. It will go well as an appetizer for a heavy rich meal or as a light side to fish.
Emboldened by my success with celeriac, I resolved to give celery another chance. And you know what? I still hate it.
I bought a bunch to prepare Ottolenghi's baked cauliflower with celery and pomegranate. Used one stick, the rest went into a stock. If there's one good use for celery, it's making stock, I can't argue here. The next time I feel optimistic enough to buy celery, I am going to cook a stew. I still have hope that in cooked state it might appeal to me.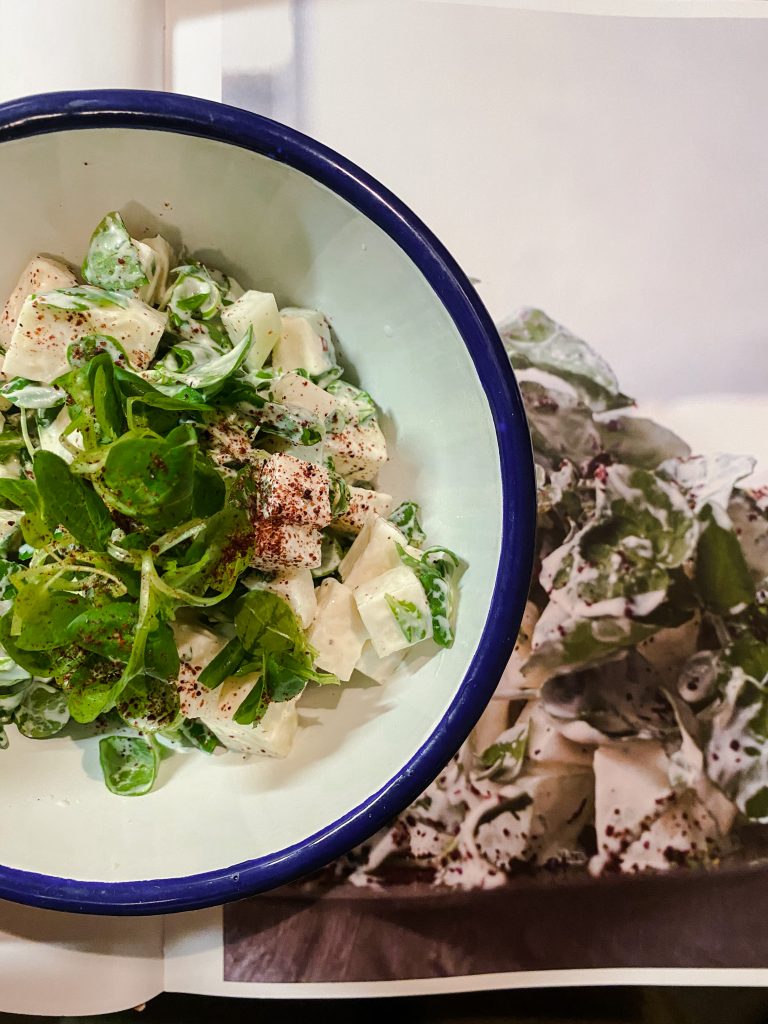 This kohlrabi salad was a total win. Kohlrabi was my new ingredient in July when I had absolutely no idea what to do with it. It's only been a few months, but I feel like we've become the best of friends.
I love it with a creamy sauce, like here with a mix of double cream, sour cream and yogurt. Ottolenghi also adds some mint, lemon juice and sumac to it, so you end up with a refreshing zesty flavor.
But my absolute favorite is to simply slice it super thin on a mandolin (still use it, despite the thumb accident), sprinkle with Maldon salt and eat as an appetizer or with bread, cheese, and cold cuts.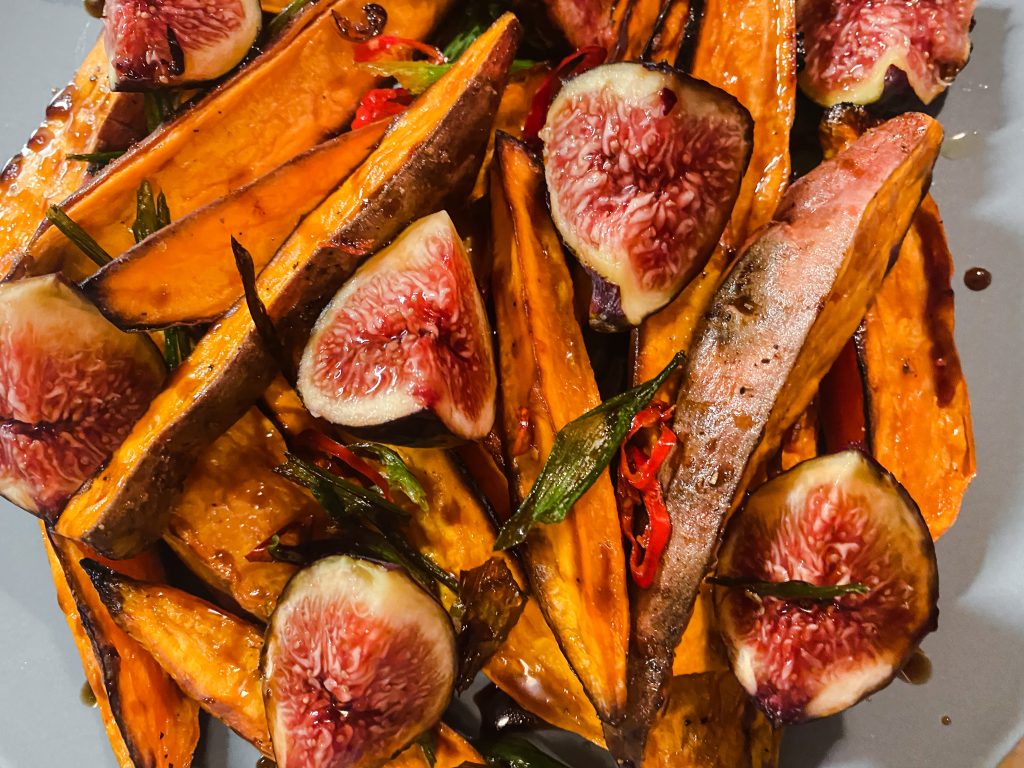 The most rewarding recipe from Jerusalem was probably these sweet potatoes with figs and balsamic reduction. Incredibly easy — didn't even have to peel the potatoes! — and beyond delicious.
I did get completely confused by the balsamic reduction, though. It turned out awesome, but I just couldn't figure out why I had to reduce balsamic by heating it with sugar. Isn't balsamic supposed to be thick as it is?
So I spent a few hours reading everything there is about balsamic vinegar, then talked to my friend who lives in Tuscany and writes about food, then went to the grocery store and studied all the labels on balsamic vinegar bottles.
Turned out, balsamic vinegar is like champagne of vinegars. Only balsamic vinegar from Modena or Reggio Emilia, Italy, is the real balsamic vinegar. The premium grade is marked with D.O.P. label. It is made from grape must and kept in barrels for twelve years. This stuff can easily cost you a few hundred dollar for a small bottle.
The next grade down —balsamic vinegar of Modena I.G.P. — is made with addition of wine vinegar to must and is aged for only a few months. That is what I had in my pantry. It's runny, like wine vinegar, which is why I had to reduce it to make a thick sweet syrup.
The last one is imitation balsamic: vinegar mixed with flavors and colors to look like the real deal at a fraction of the price. There's a very detailed article on everything you need to know about balsamic here.
I am now thinking of ordering D.O.P. vinegar from a reputable Tuscan company and shipping it to Germany. Does that sound crazy? Don't tell me. Let's get back to my cooking projects.
Next, I made burnt aubergine with garlic, lemon and pomegranate and roasted butternut squash with tahini and za'atar. I pretty much cooked through the whole "Vegetables" chapter of Jerusalem, because I am trying to eat less meat.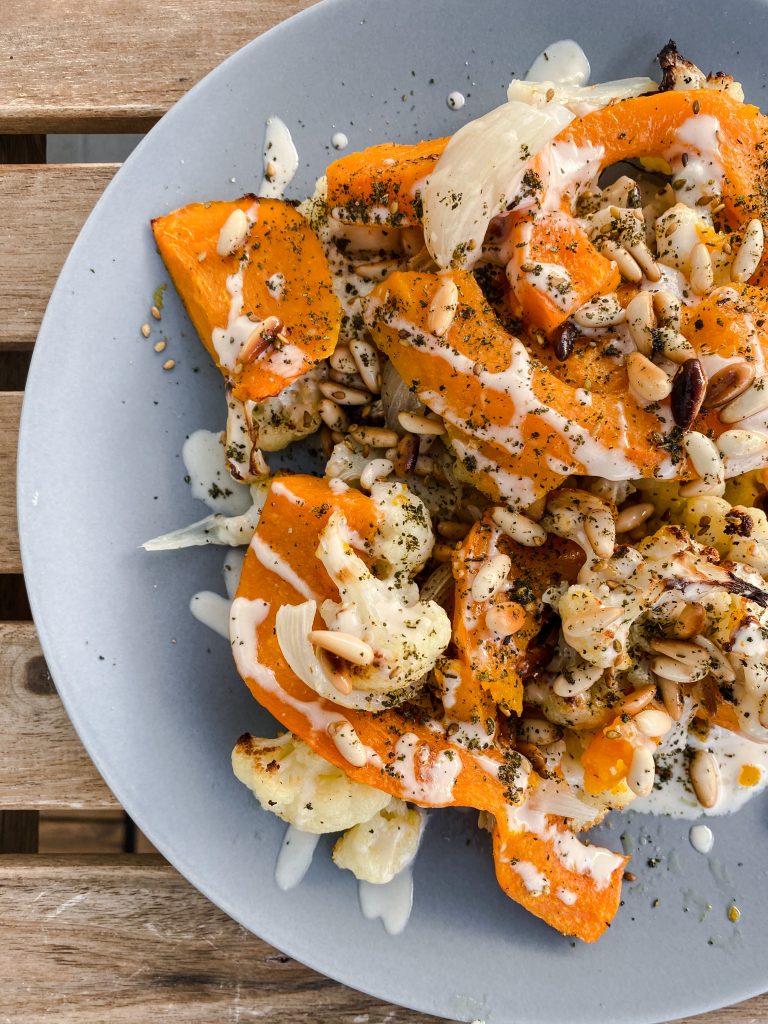 Plus, Ottolenghi makes any vegetable explode with flavors. Which is exactly why his latest book is called Flavor and I am so tempted to buy it. However, in October I bought three cookbooks that are patiently waiting for me to read and cook through them, so I am trying to pace myself.
I've cooked only two meat dishes from Jerusalem so far. The first — hummus with lamb and lemon sauce — was nothing short of mind-blowing. Ottolenghi suggests to get neck fillet of lamb and finely chop it by hand, but there was a caveat in the description: one could use ground meat instead, although the texture wouldn't be as "gratifying".
As these days I am trying to find balance between cooking, writing and taking care of a tiny human, I went for the less gratifying texture to save time. Was not disappointed in the slightest.
The other meat dish— lamb-stuffed quince with pomegranate and coriander — was absolutely horrific. The worst thing is that I have no idea what went wrong, I followed the recipe precisely.
Quince was my second new ingredient of the month. I saw the bright yellow fruits named quitte at my local farmers market and without any idea what I was buying added them to the basket.
If you came here from my newsletter, you already know the story, so I'll keep it short (if you want the long story, subscribe to my newsletter here and you'll get more of my rambling straight to your inbox).
Everything that could wrong did. My vegetable peeler has nothing on quinces. It fought bravely, but ended up in the trash bin. The quinces were incompliant: they browned despite the lemony water I put them in and broke into pieces when I tried to hollow them out.
In the end, soaked in stock, lamb juices, and spices, the quinces tasted so revolting, I had to throw them out (I saved the lamb by fishing it out first). I've started this rule of discovering at least one or two new ingredients a month back in May, and this is the first time things went south.
The only good thing to come out of it is that I got a new high quality vegetable peeler from Wüsthof, a German knife producer that has been around since 1814.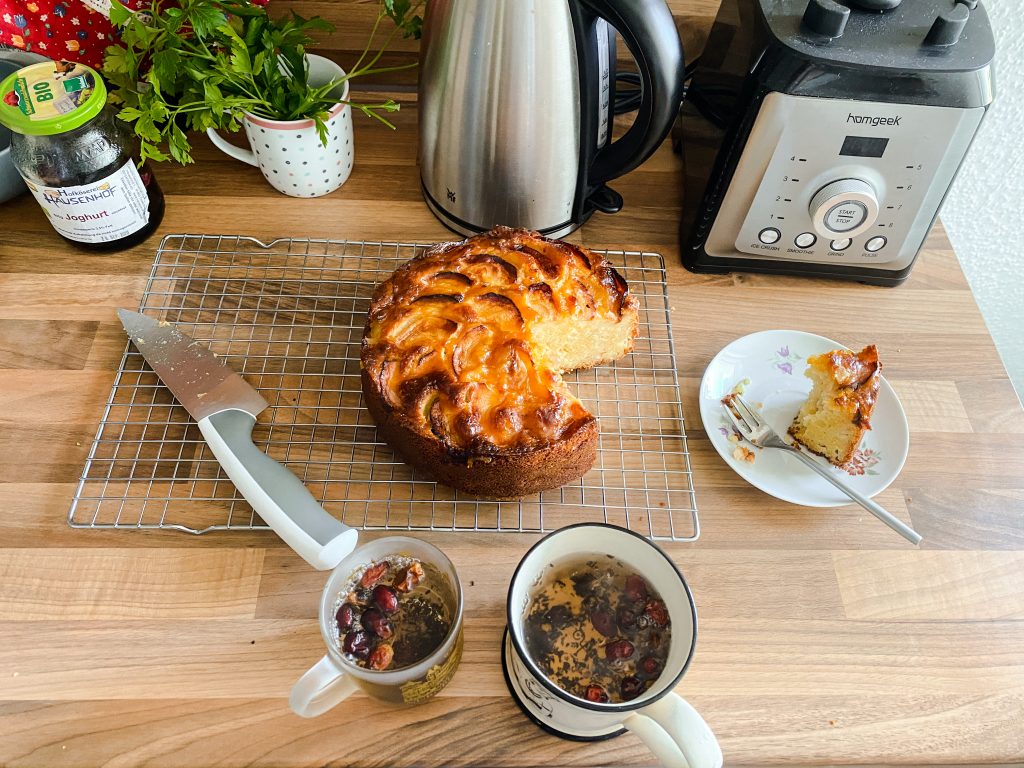 And so we don't end on a sad note of wasted quinces, here's an apple marzipan cake that turned out beautifully.
It's the first recipe I made from Classic German Baking by Luisa Weiss, which is going to be my enormous December project. I am planning to make a ton of cookies. Wish me luck!