I am late again. Even more so than last month. Today is the 8th of August and I just sat down to write about my adventures in local and seasonal eating in July. I have a peach galette in the oven right now and I am going to tell you all about it, although, technically, it should go into my August post. But there's a caveat.
I planned to make this peach galette from Carrot and Crumb last month. I even bought peaches twice, but ate them raw.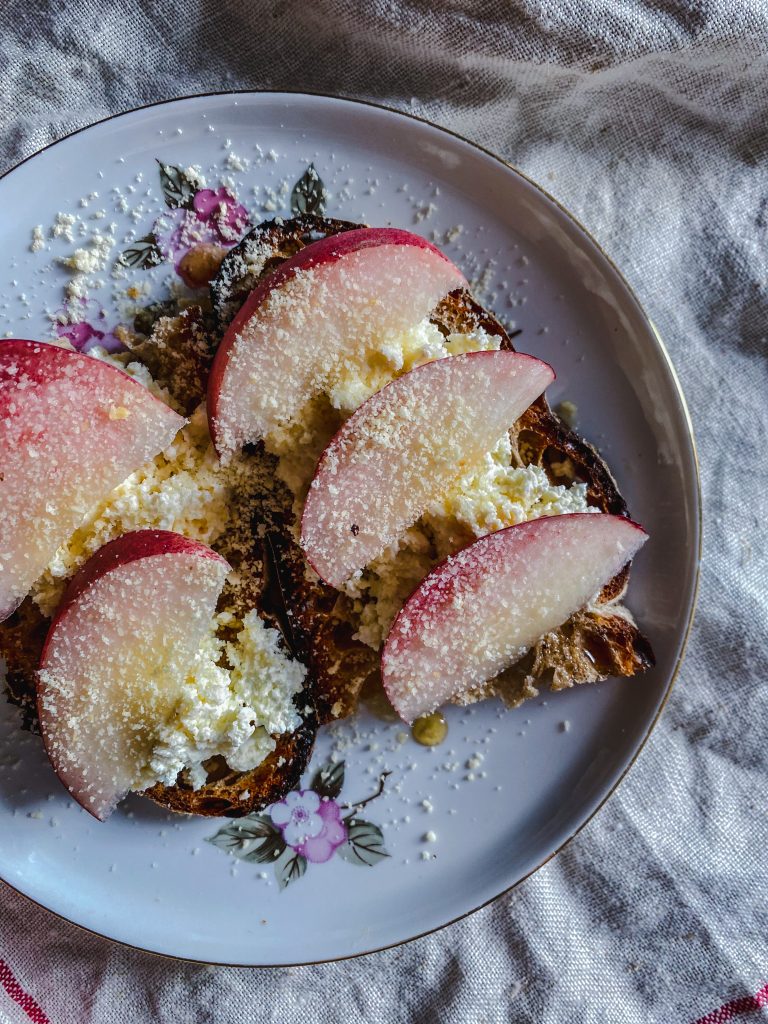 I actually made the dough in July, and kept it refrigerated for a couple of days, naively thinking that I am going to make the galette any time now that the dough is ready. And then came my birthday, and then my husband's, and then both of us got sick, and then it was August. Somewhere in between my husband's birthday and us falling ill I gave up and moved the dough from fridge to freezer. See? This galette deserves a spot in my July post.
Today I made a run to the market to buy peaches yet again and almost succeeded. I got the peaches, not to worry! But my intention was to buy Franconian peaches, Franconia being a region of Germany where I live.
So I come to the fruit stall and ask the nice lady in German whether the peaches are from Deutchland. To which she replies that they are from Frankreich. Well, I say, Frankreich is Germany, right? So all good, give me the peaches, please. She does and I walk away, blissfully unaware that Frankreich in German means France, not Franconia as I thought. I imagine the lady was fairly surprised when I said that France was a part of Germany.
Anywho, now my peach gallete is seasonal, but not so local after all. At this point I don't mind as long as it tastes good. By the way, it's out of the oven and is staring at me.
If you remember, in June I already cooked with peaches: baked chicken with peaches and lavender was the first recipe by Diana Henry I ever used. And what do you know, in July I get a recommendation on Amazon to buy Diana Henry's cookbook "How to eat a peach". A sign? Big Brother is watching me?
If you are one of those strange people who doesn't like peaches because of how they feel to touch, do not buy this cookbook. The cover is like one big flat peach. I find it meditative, though, and can't stop stroking my book. Oh yes, I bought it. Of course, I did.
The cookbook is a collection of menus carefully planned to tell stories from around the world. And while at this point in life cooking a whole menu is out of the question, I thought I'd start small. With one dish. Or rather one part of a dish. 
There's a recipe for asparagus, peas and radishes with pistachio pesto in the book. As asparagus season in Germany is over (I took full advantage of it in May), I decided to make a pistachio pesto and peas pasta. 
Why I only got my hands on green peas in mid-July I cannot explain. I feel like I wasted half of summer. However, here I was podding fresh peas in my nightgown in the morning, while my seven-month-old son was crawling around the kitchen.
In the evening I prepared the pesto with new spring onions, ricotta and toasted pistachios, then boiled the pasta, and had a lovely dinner.
The only thing I missed while making my pesto is a small line above the recipe that said "serves 6". So the next day I had a toast with pistachio pesto for breakfast and baked potatoes with pistachio pesto for lunch. 
I also made courgette fritters from the book — opting for simple and quick recipes. As suggested by Diana Henry, my husband and I ate them hot from the pan as soon as they were ready. She serves the fritters with lemon wedges, but I, being from Russia, went with sour cream.
Last month I was searching for a recipe that would showcase spring onions front and center instead of using it as a garnish and ended up making Momofuku spring onion noodles. This month, with the same goal in mind, I made spring onion flatbreads by David Lebovitz. In fact, I made the dough, rolled out the flat breads, preheated a pan, and then thought… wait… what am going to serve the bread with?
An impromptu Mediterranean-inspired dinner was born out of my big desire to eat the bread hot (and my inability to plan ahead). I quickly grilled some sausages (when you live in Germany, there are always a few sausages lying around in the fridge), fried some leftover boiled potatoes, and heated up a baba-ganoush-impersonator (that is my variation of mashed eggplant with spices, but no tahini) I made earlier in the week. And ta-da! Dinner is served.
I tried again — unsuccessfully — to recreate my mom's pan-fried potatoes. A dozen tries later and I am still nowhere. The potato got stuck to the bottom of my cast-iron pan and burned. I managed to save it by moving everything that didn't burn into a non-stick pan and adding chanterelles. It was delicious, but not my mom's… not my mom's… 
There's something about cooking on a non-stick pan that makes me feel like I am a pretend-cook whatever that even is. I desperately want to get those potatoes right on a cast-iron, but it fails time after time.
I've shared my failure on Instagram and got a lot of sweet comments with advice: from par-boiling the potatoes first (a whole different dish), to adding more oil (but that's the trick, they are not shallow fried, they are just pan-fried), to frying less potatoes at a time (already tried that).
I have bought more chanterelles and new potatoes, but am feeling a little scared after at least a dozen failed tries. Wish me luck. I have decided that if I can't make my mom's recipe, I will have to create one of my own. And hopefully it will be so good that my kids one day will want to recreate it that badly.
Chanterelles, by the way, have been a staple in my kitchen in July. Ok, "a staple" might be exaggerating it because a kilo costs twenty eight euro at the local market, but I did splurge three or four times. Apart from frying them with potatoes, I made a chanterelle omelet and chanterelles in sour cream sauce. By the way, can someone please explain to me why they cost 28 euro per kilo at the market, but 10 euro at the supermarket?
As in Russia people go mushroom- and berry-picking in summer — we essentially get our chanterelles free of charge — these prices made my eye twitch. Not that I can tell one mushroom from the next one, but my parents and grandmas are very much into walking in forest for hours in search of their future dinner. When I told my mom about the 28 euro thing she almost fell off the chair. 
Fun fact: chanterelles are called lisichki in Russian which literally means "little foxes", I guess because of their bright orange color.
The never-have-I-tried-or-cooked ingredient of July was kohlrabi. Although it was never my intention to make this an official thing, in May I happened to use rhubarb in my kitchen for the first time. In June, it was fennel. In July, I grabbed a kohlrabi at the supermarket without the slightest idea what to make of it.
I ended up simply grating it and mixing with sour cream, salt and black pepper. Turned out, it tastes like turnip and is in fact referred to as German turnip. So not a completely new taste to me, but at least now I am not afraid of it anymore.
Finally, I made a cherry sumac pancake by Cardamom and Tea. Kathryn is my fellow Saveur Blog Awards finalist and winner who writes about Assyrian food. I baked it right on my birthday which means I had a birthday pancake in place of a birthday cake. Reminds me of the birthday flan Monica made for Rachel (if you know you know).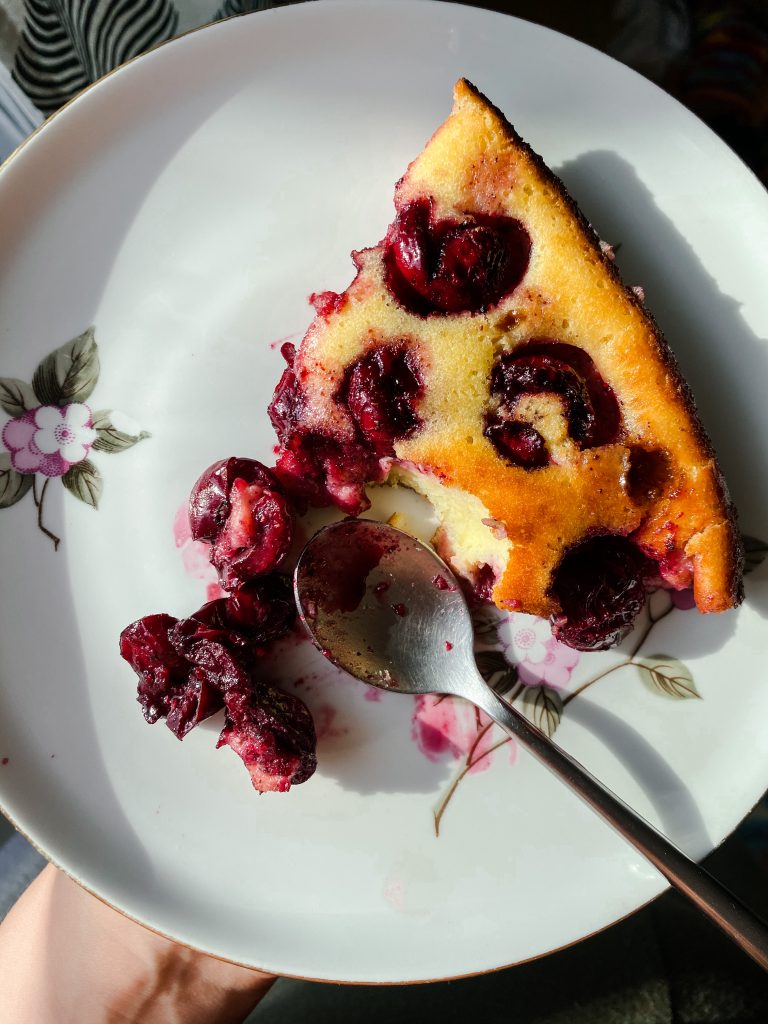 We have both sweet and sour cherries in abundance right now. Sweet ones disappear within a few hours after my market trips. Sour ones lie around longer and eventually make it into baked goodies. 
A big bowl of sweet cherries is what late summer is all about, in my opinion. That and a bright red sugary watermelon of which I am planning to eat a few dozen in August. Watermelons might not grow in Germany, but that is not going to stop me. My French peaches were delicious, after all. And if you were wondering about the fate of that peach galette, I am happy to report that half of it is gone. I did it. Nobody helped.