How on Earth I never watched The Sound of Music prior to visiting Salzburg I cannot explain, but a fact is a fact. The American classic escaped me — save for memes of Julie Andrews dancing in the meadow with Alps in the background. The only consolation is that Austrians don't know of this musical either.
Salzburg, however, has a few more things that put it on the world map. It is famous as the birthplace of Mozart, the home of Red Bull, and the heart of salt mining (hence the name of the city which translates to "salt fortress"). One day in Salzburg is definitely not enough to see it all, but as the historic center is rather small, you'll get a good feel of the city. Here's what you can do in 24 hours in Salzburg! 
Disclosure: this post contains affiliate links which means if you buy something by clicking the link I will earn a small commission at absolutely no extra cost to you.
One Day in Salzburg Itinerary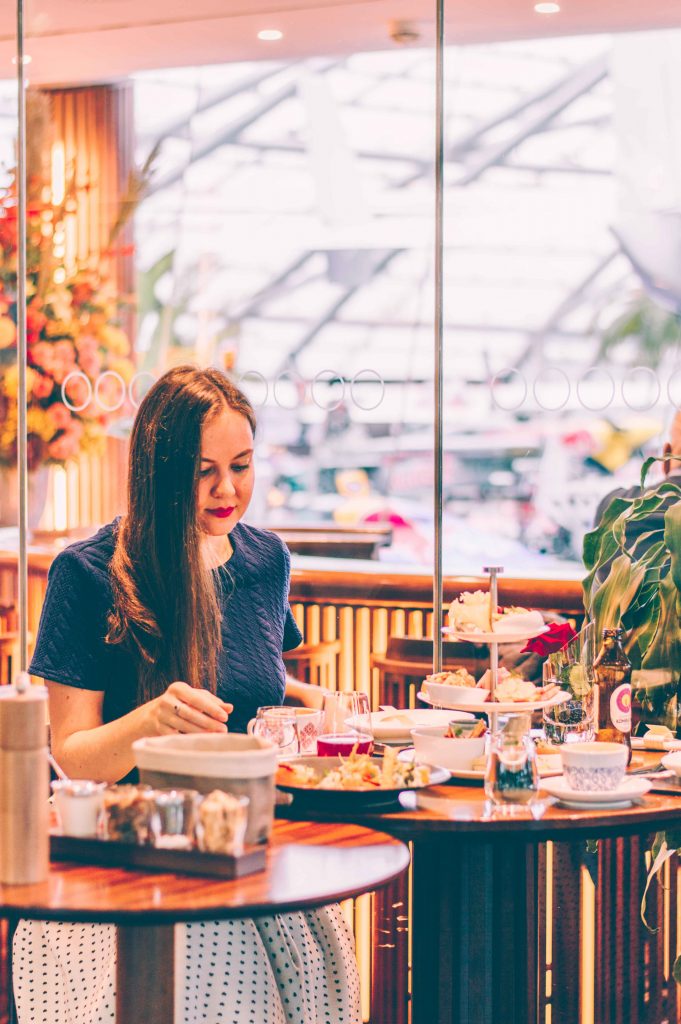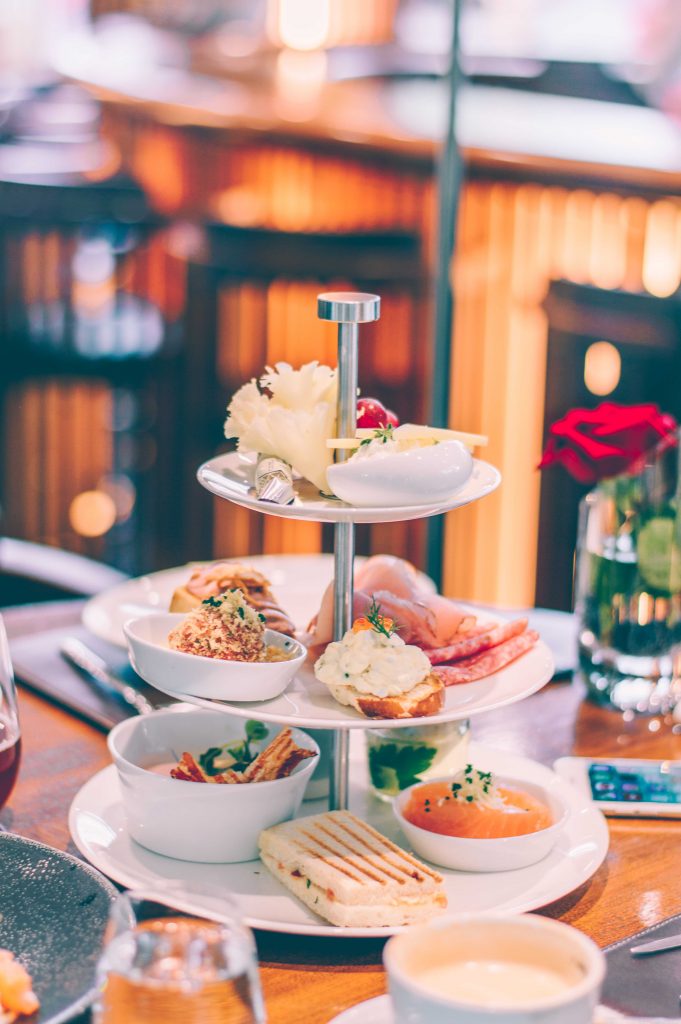 9.00 — Breakfast at Carpe Diem Lounge-Café at Hangar 7
Start the day at Hangar-7 located at Salzburg airport! I know how it sounds. Instead of exploring the historic city center, named a UNESCO World Heritage site, I am advising you to head out to the airport and for what? For a meal! But bear with me, because it is one of those times when airport food will be one of the best you'll try in the city!
What is Hangar-7? Think airplanes + racing cars + art + food. Sounds exciting, doesn't it? The building houses the historical Flying Bulls aircrafts and Formula 1 race cars collection. It also provides space for art exhibitions and features a cafe, a restaurant and an outdoor lounge.  All in all, a perfect place to start whether you are visiting Salzburg with kids, on a romantic getaway, or on your own.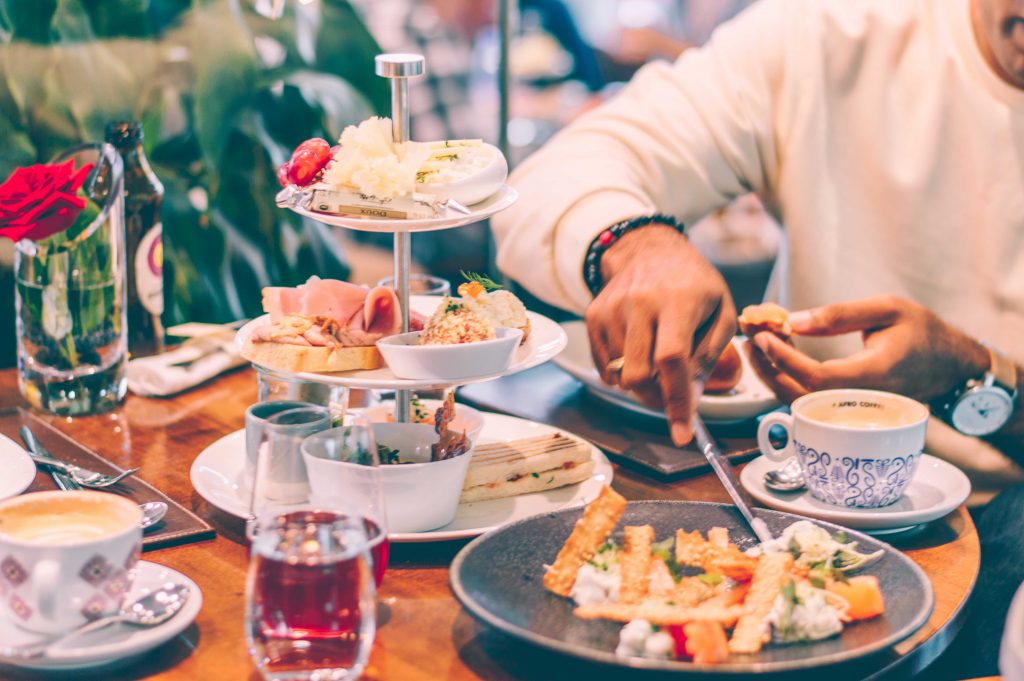 Their Carpe Diem Lounge-Café serves outstanding breakfast on a three-tier platter (you can choose between sweet and savory) every day from 9 to 11 am. The price is rather steep at €26 per platter, but the food is extraordinary and one platter can easily be shared by two. I'd recommend to order both a sweet and a savory platter, though, if you have someone to share it with.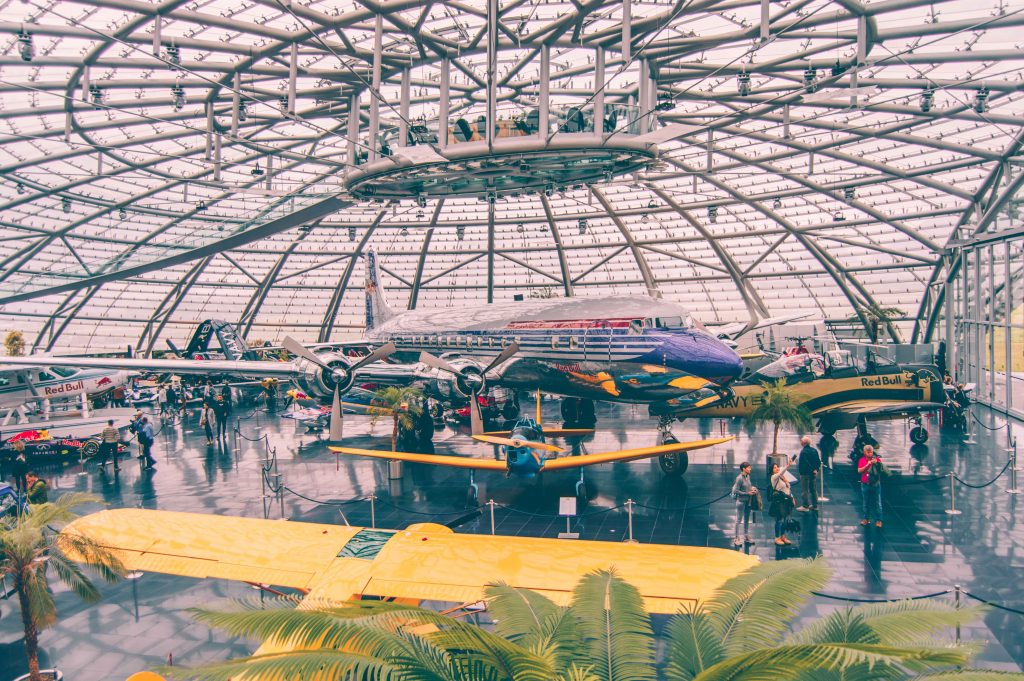 After breakfast you can explore the collection of the Flying Bulls aircrafts and Formula 1 racing cars. Oh and remember Red Bull jump from space? The costume Felix Baumgartner was wearing during that historic jump is also on display.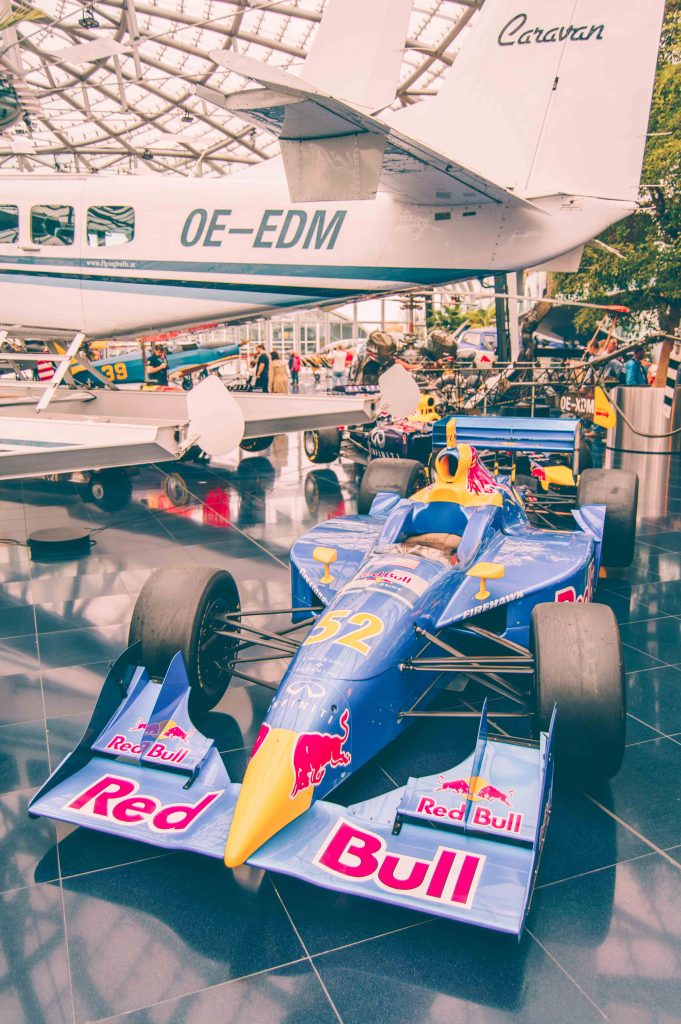 Cost: there's no admission fee to see the aircrafts. Breakfast cost depends on you, but I'd recommend a savory platter at €26 or sweet platter at €23.
Tip: the easiest way to get to Hanger-7 is by Uber. There are also several buses that stop nearby.
Tip: It's best to make a reservation in advance as the place gets crowded (they only take reservations for 9 am).
Hangar-7 — Wilhelm-Spazier-Straße 7a
11.15 am — Mirabell Gardens
After breakfast head back to the city and explore Mirabell Gardens, baroque flower gardens adjoining Mirabell Palace in the city center. The palace was built in 1606 by prince-archbishop Wolf Dietrich. Today it serves as a popular event venue and houses municipal offices.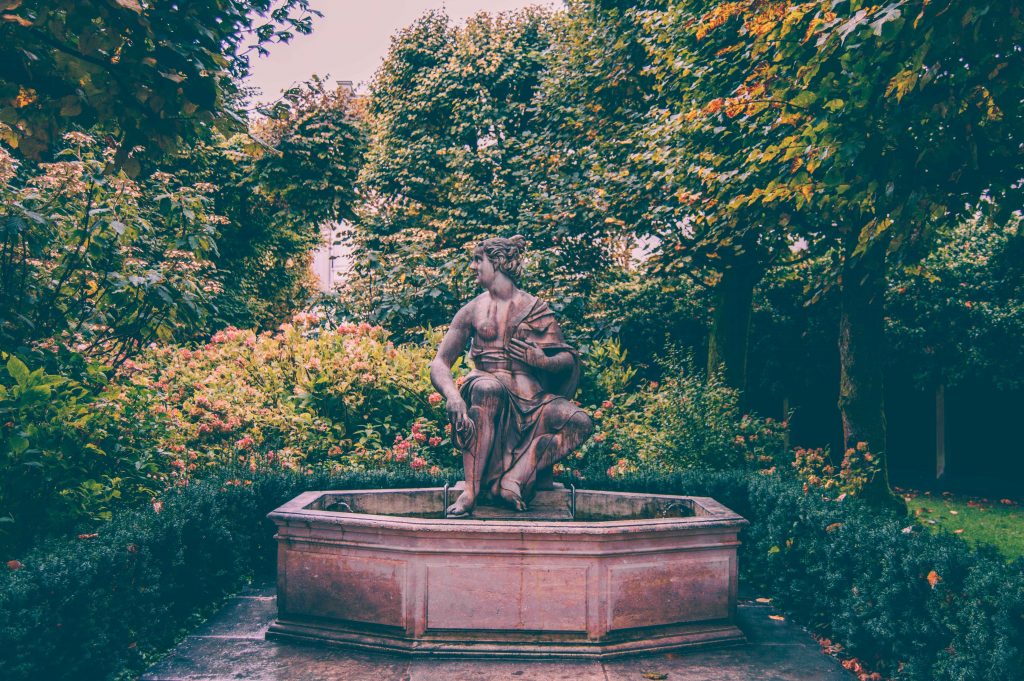 You can stroll around the garden and take pictures in front of filming locations from the Sound of Music movie. Pegasus fountain is where Maria and the children dance and sing the song "Do Re Mi". And if you walk all the way to the back of the garden and go up the staircase, you'll see the view of Salzburg Fortress across the gardens that was also featured in the movie. By the way, if you are a fan of the movie, you can take a guided tour of the Sound of Music filming locations.
Cost: free
Mirabell Gardens — Mirabellplatz
11.45 — Love Lock Bridge (Makartsteg)
From Mirabell Gardens head towards the historical city center. On the way, you'll cross Makartsteg, or the Love Lock bridge meant for pedestrians and bikes only. The current bridge is the third version, with the first one built in 1905 and named after the painter Hans Makart and the second one built in 1967 after the WWII destruction. The latest version of the bridge was opened in 2000.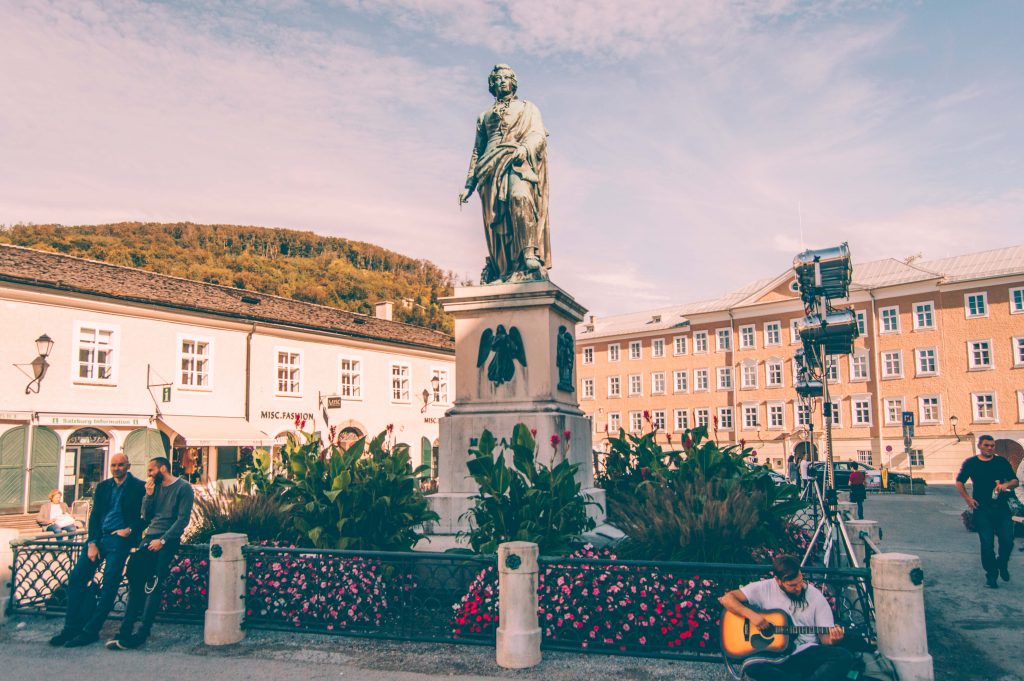 12.00 — Information center at Mozart Square (Mozartplatz)
Stop by the information center at Mozart Square to buy tickets for the orientation walking tour of the city center that starts at 12.15 every day. Here, you can also buy a Salzburg card that covers admission for all attractions and gives a 2 euro discount for the walking tour. The cards can be bought for 24, 48 or 72 hours in Salzburg. 
If you follow this guide, the cost will actually be lower without the card as you'll only visit two main attractions: Mozart's birthplace and Salzburg Fortress. But, if you have at least 2 days in Salzburg and are planning to visit more attractions, the card will save you a lot of money. It covers the cost of public transport too.
Information Center — Mozartplatz 5
12.15 — Walking Tour of the Historic Center
Take a guided tour of the historic city center. Salzburg is one of the prettiest cities in Europe filled with historic buildings. It can be overwhelming to understand what's in front of you as there's something important on every corner. The tour only lasts an hour, but gives a great introduction to the city and its main sights.
Cost: €10, €8 if you have Salzburg card.
Walking tour — starts at Mozart Square, in front of Tourist Info office
13.15 — Mozart's Birthplace (Geburtshaus)
The walking tour ends right in front of the most popular sight in Salzburg — the house where Wolfgang Amadeus Mozart was born and raised. The Mozart family occupied the third floor of the house and that's where the actual room where Mozart was born is located. Some of the most treasured exhibits in the house include Mozart's childhood violin and the clavichord he used to compose some of his most popular works. 
Cost: €10 for adults (free with Salzburg card)
Mozart's Birthplace — Getreidegasse 9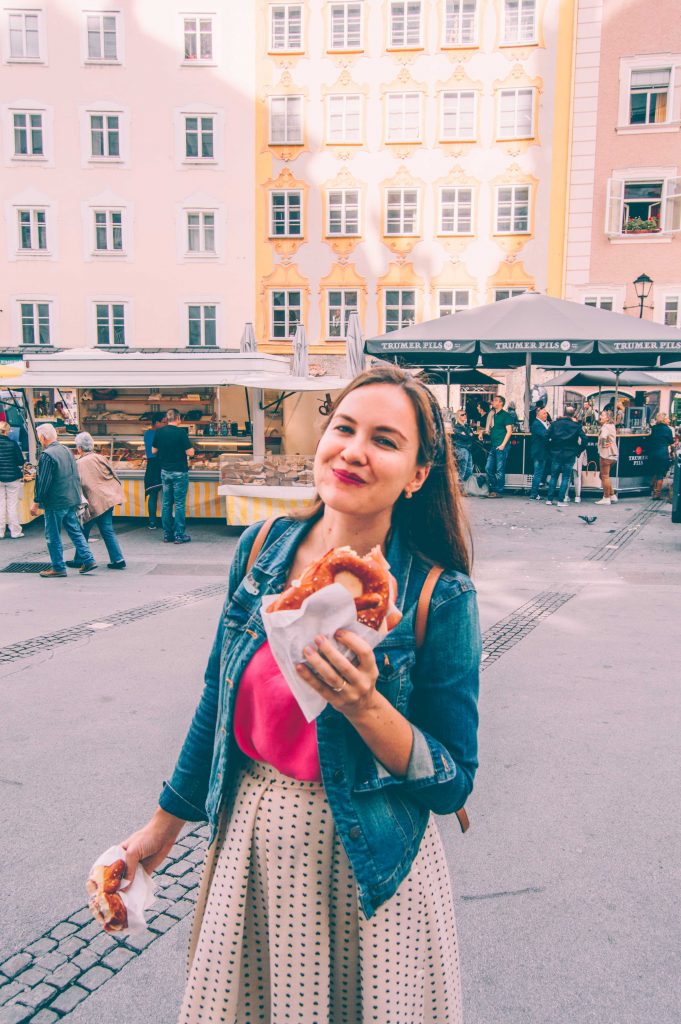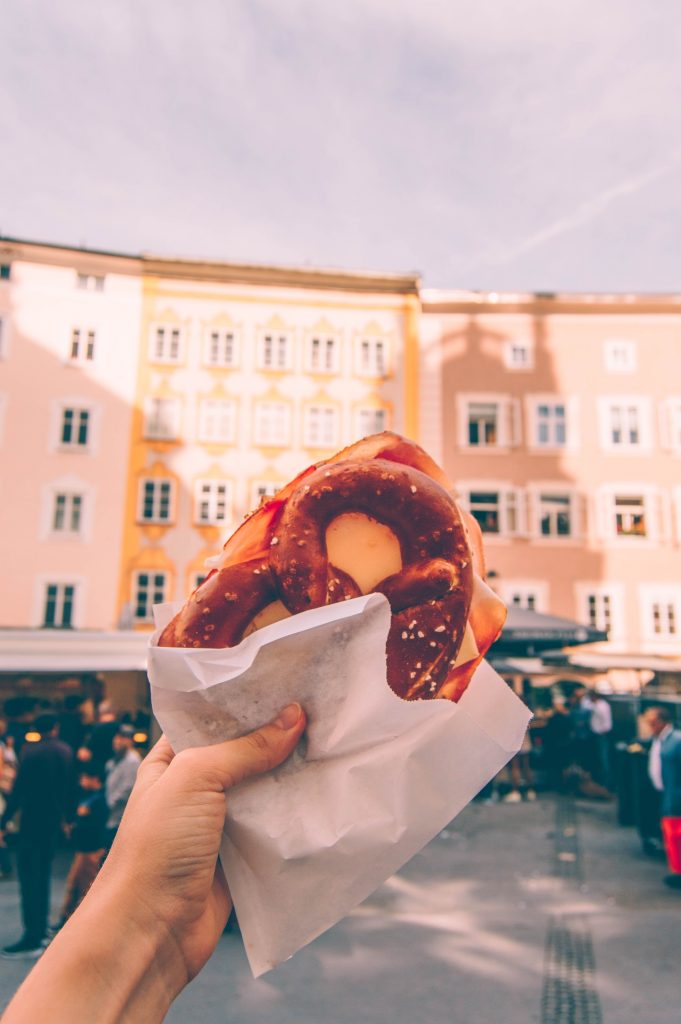 14.15 — Lunch at the Daily Market (Grünmarkt)
From Mozart's birthplace take one of the inner passages on the left or right of the house and in less than a minute you'll be at the University Square. Every day, except for Sunday, Grünmarkt takes place at the square with dozens of farmers selling their produce.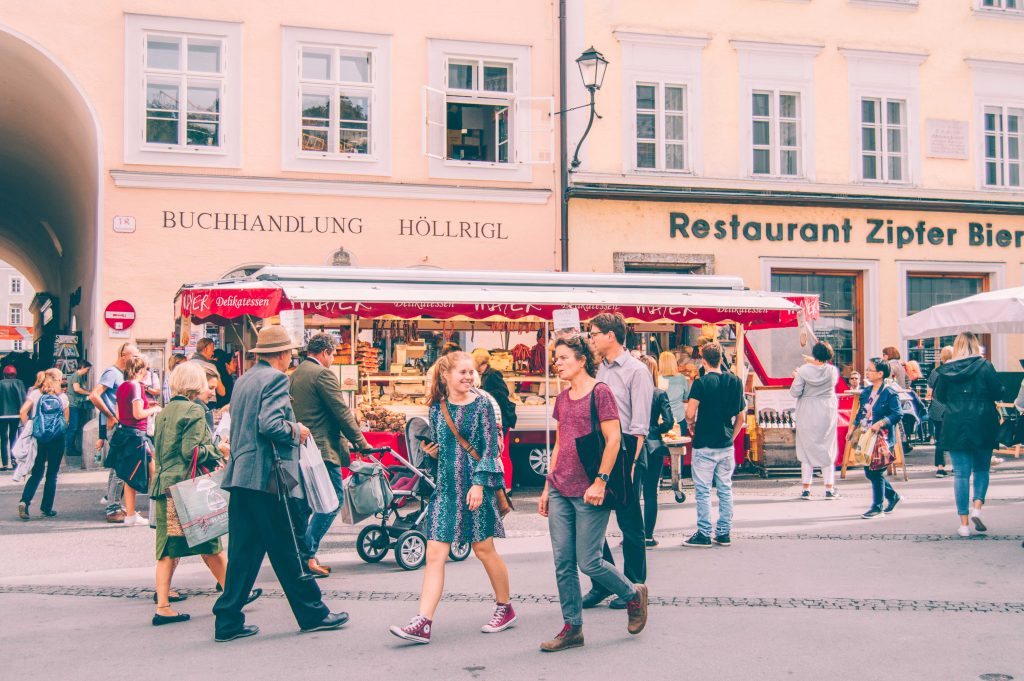 Mayer Delikatessen is one of the most popular stalls where you can buy all kinds of cheese, cold cuts, sausage, and a pretzel stuffed with meat and cheese for lunch. You'll also find all kinds of sweets, like strudel and stangerl, at other stalls. 
Tip: Grünmarkt is closed on Sundays and is only open until 3 pm on Saturdays (although many stalls close even earlier).
Grünmarkt — University Square (Universitätsplatz)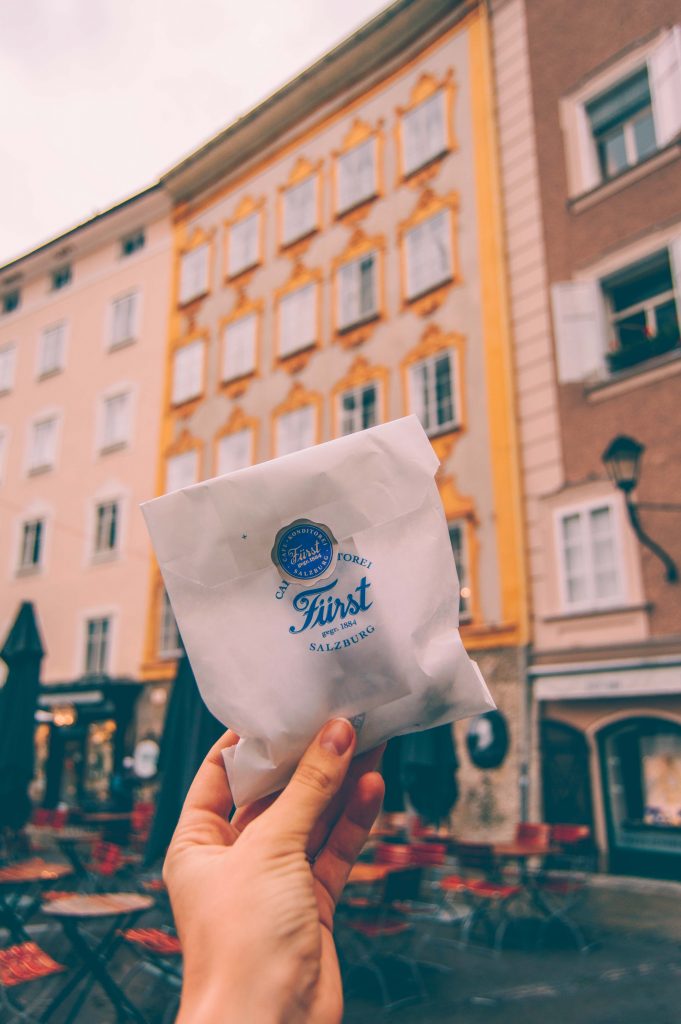 14.45 — Original Mozartkugel at Café-Konditorei Fürst
Mozartkugel is the most popular candy in Salzburg that you simply must-try during your visit. You'll see these chocolate balls in every souvenir shop and cafe, but there's only one place where you can try the original Mozartkugel and it's Café-Konditorei Fürst. They have several locations in the old town with one directly by the University Sqaure, so you can grab your fix after lunch at Grünmarkt.
This is how the candy is described at the official Café-Konditorei Fürst website:
Paul Fürst's creation, consisting of a marzipan centre with pistachio and the finest nougat, must be perfectly round. In order to make a round praline without a flat base, Paul Fürst placed the marzipan-nougat ball on a small wooden stick and dipped it in dark chocolate. The hole that remained after removing the stick was then filled with chocolate by hand. More than 125 years after their creation, Paul Fürst's "Original Salzburger Mozartkugel" are still made expertly by hand at the Konditorei Fürst according to the original traditional recipe.
Cost: €1.40 per candy
Café-Konditorei Fürst — there are 4 cafes in the old town (check the locations on their website)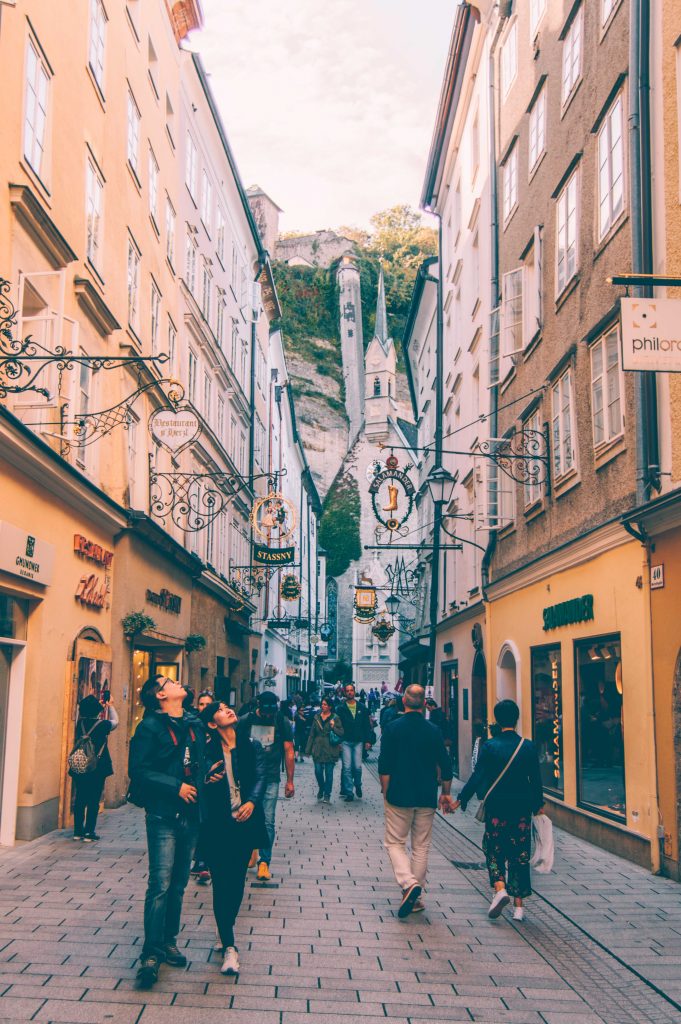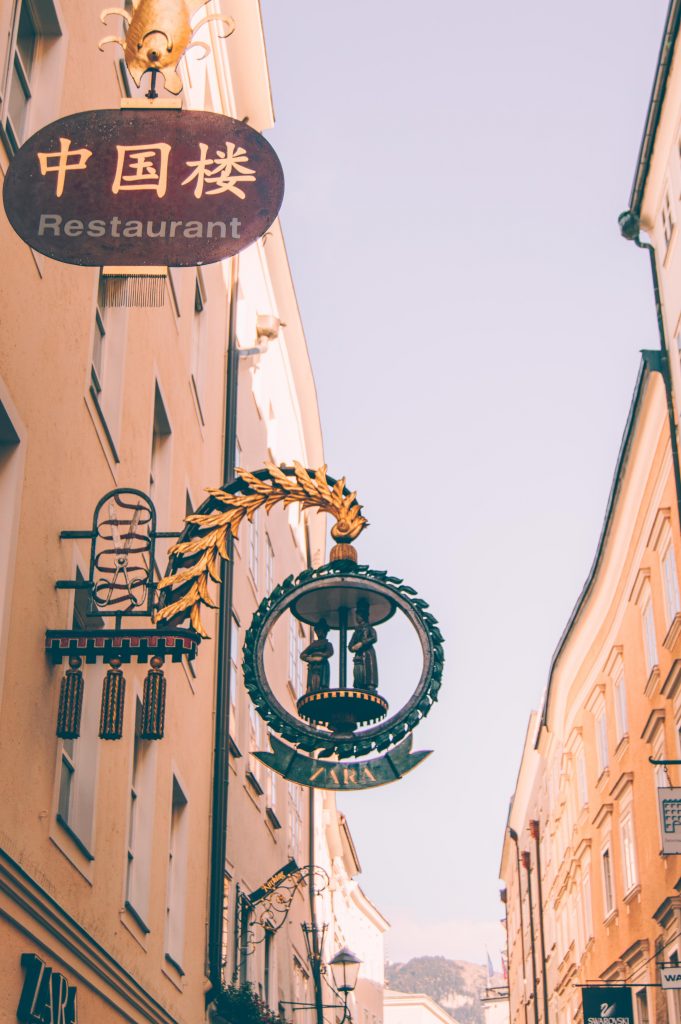 15.00 — Shopping at Getreidegasse
Getreidegasse has been the main shopping artery of Salzburg since Medieval times (it's also the street where Mozart's birthplace is located, so you've already explored parts of this street). The most amazing feature is that every shop has an intricately decorated sign above the entrance. Since back in the day people couldn't read, the shops would hang a symbol of their trade like a shoe for a shoe repairman or a key for a locksmith. Businesses represented on Getreidegasse today keep this tradition alive. Pay attention to McDonald's and Zara signs, I found them especially pretty.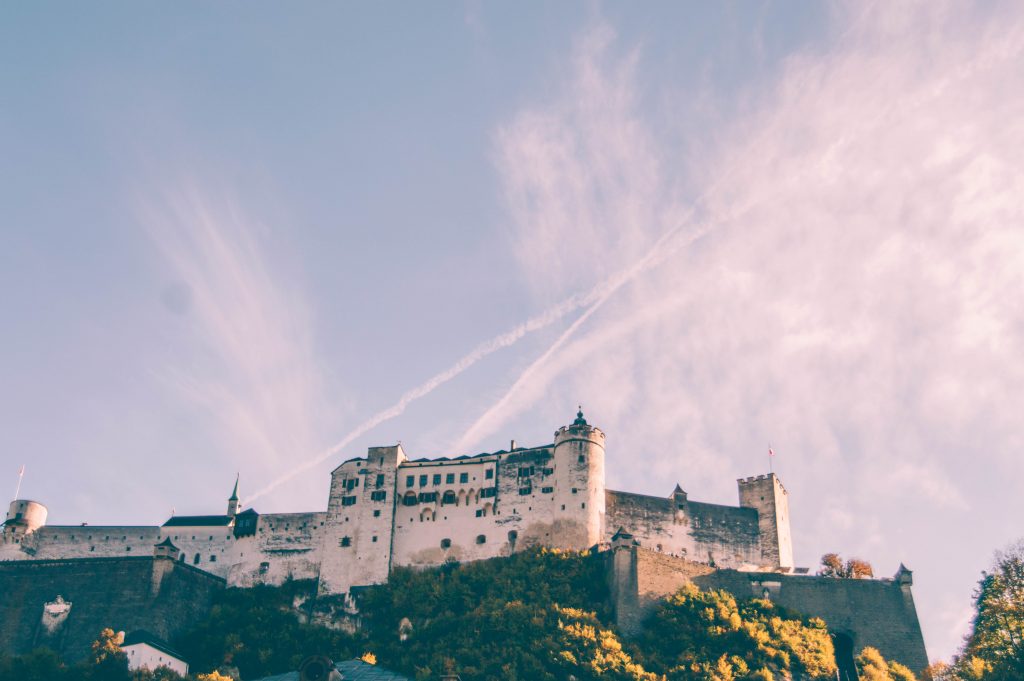 15.30 — Hohensalzburg Fortress
From Getreidegasse walk to Hohensalzburg Fortress, the symbol of the city located on top of Mönchstein Hill. Built in 1077, the fortress is one of the largest in Europe and one of a few that had never been conquered. The breathtaking view from the top is reason enough to visit Salzburg!
You can go up the hill on foot or take the funicular built in 1892, making it the oldest of its kind in Austria. The ride up takes only 54 seconds. Once on top of the hill, you can explore the fortifications as well as enjoy the beautiful views of Salzburg. There are also a Fortress Museum, Medieval Prince Apartments, and Golden Fortress Room on top. 
Cost: €15.70 for an all-inclusive ticket for adults (includes the cost of funicular and all the museums on top)
Hohensalzburg — Mönchsberg 34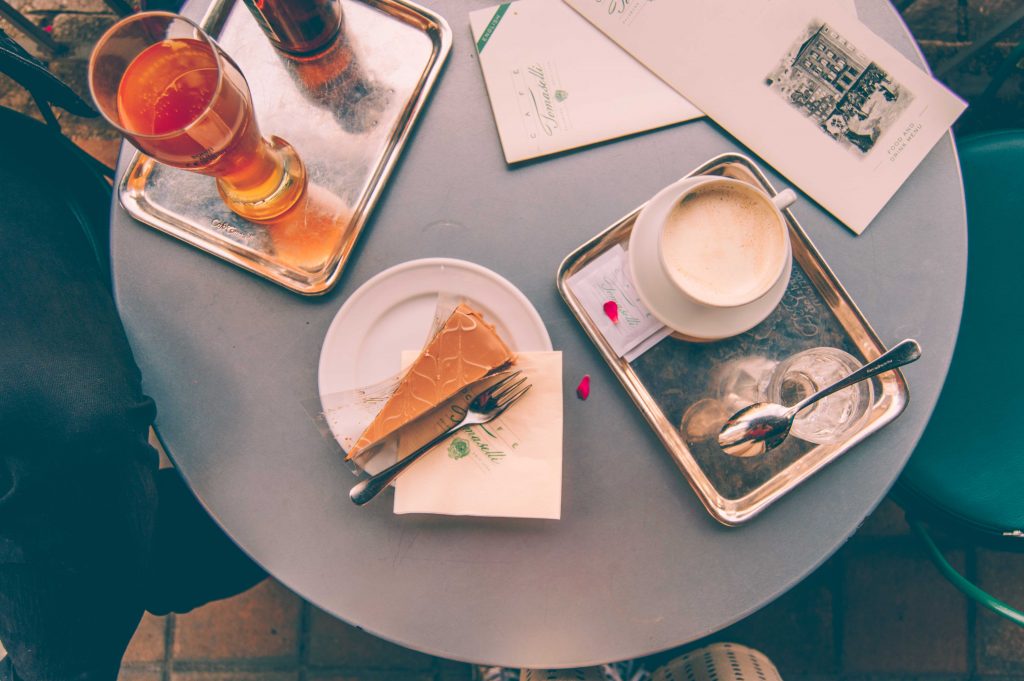 17.00 — Cafe Tomaselli
Our one day in Salzburg tour continues at a cafe with over 300 years of history that was frequented by the Mozart family for tea, chocolate, and ice cream. Although back in the day it was called Cafe Steiger. Located on the Old Market Square (Alter Markt), the cafe is extremely busy and you might have to wait in line to get a table.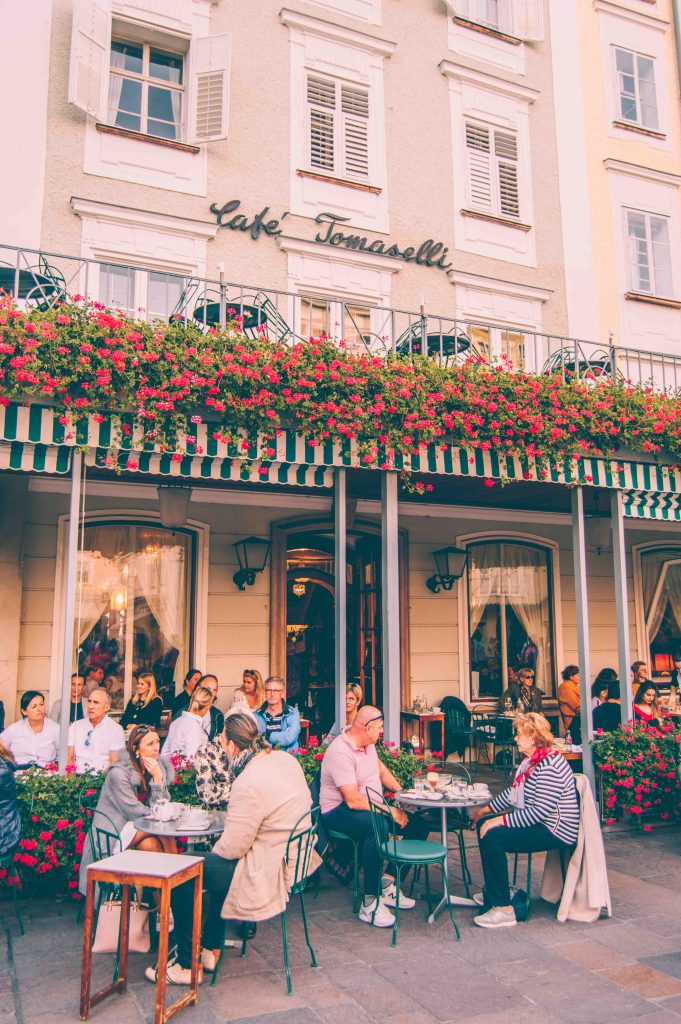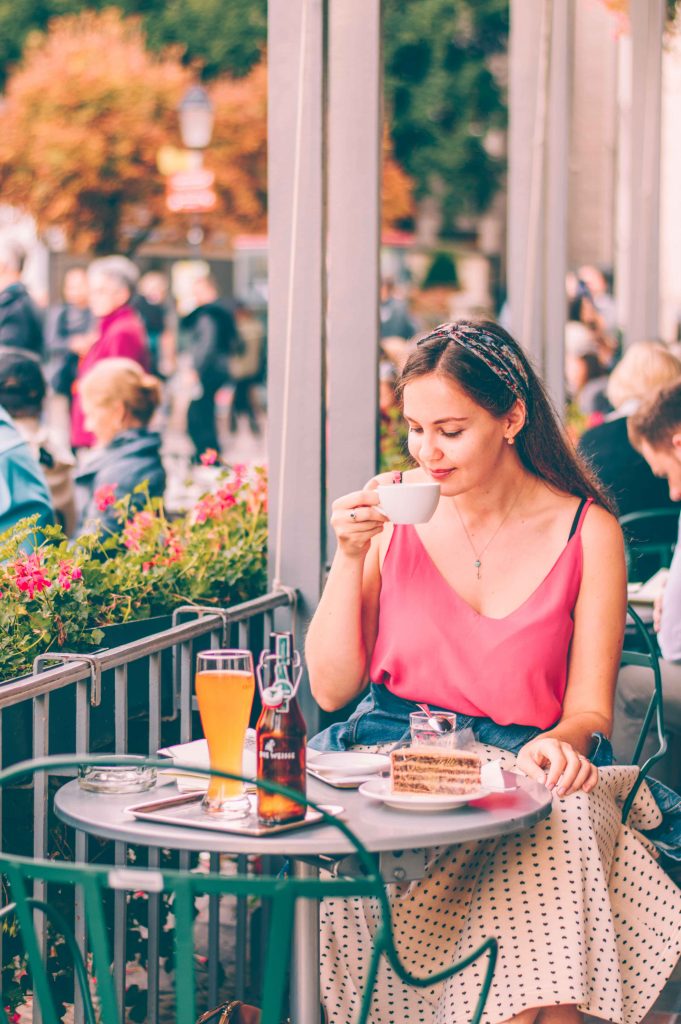 Here, you must have a slice of cake that girls dressed in black and white uniform carry around in glass cabinets. Coffee was a little disappointing, to be honest, but the cake was good. 
Cafe Tomaselli — Alter Markt 9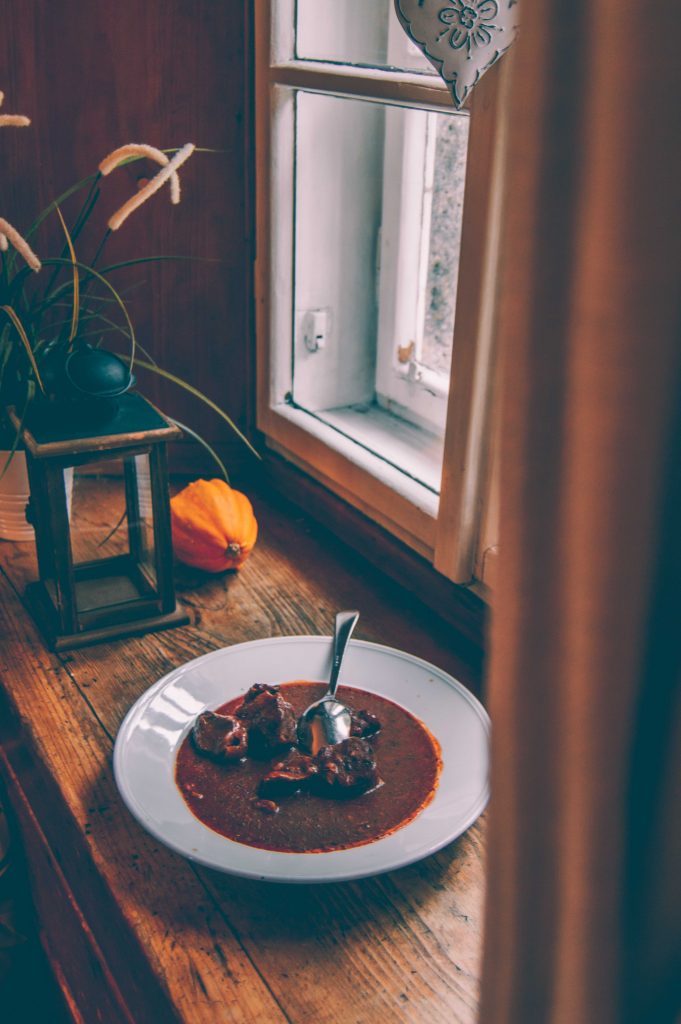 19.00 — Traditional Austrian Dinner at Bärenwirt
After 6 pm most of the businesses in old town close down and there's not much left to do, but wander around. Head outside of the old town to have dinner at one of the restaurants most beloved by locals — Bärenwirt. 
This place has been serving Austrian specialties since 1663, and is famous for deep-fried chicken. While I tried the chicken and it was delicious, it was their goulash that blew my mind. Whatever it is I've had under the name goulash before doesn't stand comparison to this mouth-watering perfection. A meal at Bärenwirt was the highlight of my stay in Salzburg.
Another option is to have dinner at Augustiner Bräustübl, Austria's biggest beer tavern where beer has been brewed since 1621. The brewery also features a beer garden where you can enjoy your stein of beer with sausage or half a roasted chicken. 
If you really want to try both places, you could have dinner at Bärenwirt first and then head to Augustiner Bräustübl for beer. The two are only a few minutes walk away from each other.
Bärenwirt — Müllner Hauptstraße 8
Augustiner Bräustübl — Lindhofstraße 7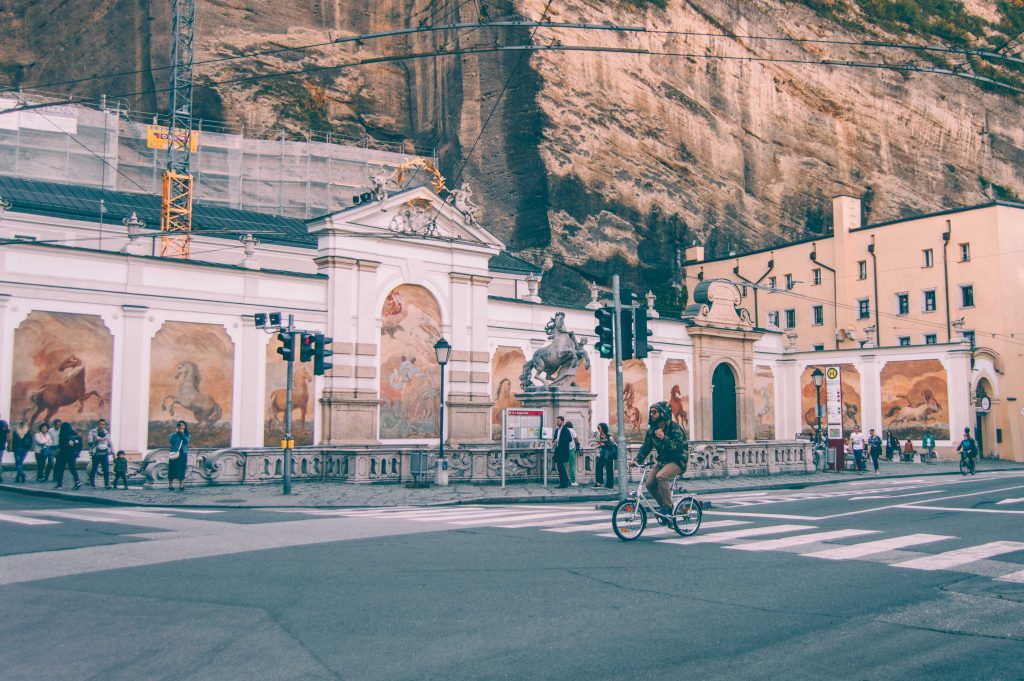 What Else to Do in One Day in Salzburg?
Since Salzburg is the birthplace of Mozart, there are many concerts happening every night. Here's an overview of all classical music events in the city. I especially like the Dinner & Salzburg Fortress Concert that takes place at Hohensalzburg Fortress and Mozart dinner concert in the Stiftskeller St. Peter (a restaurant within the walls of St. Peter's Abbey). I didn't get a chance to experience it, but it would be on the top of my must-do list when I return to Salzburg.
There are also plenty of interesting tours in and around the city: from a hands-on cooking class, to a ghost tour of Salzburg, to Sound of Music filming locations tour.
If you have more than one day in Salzburg you can also take a day trip and go hiking to Schafberg mountain which is only an hour drive away. And if you are planning to continue traveling around the country, here's a 10 day itinerary around Austria. 
Where to Stay in Salzburg?
For me, this trip to Salzburg was a last-minute one, so finding accommodation turned out to be difficult and expensive. Don't be like me, book in advance! I ended up staying at Adlerhof hotel. Its main advantage is the location — a short 15 minute walk from the Old Town. The rooms are quite small and basic, but I didn't have much choice. If you can splurge, here are some of the hotels I'd rather stay in!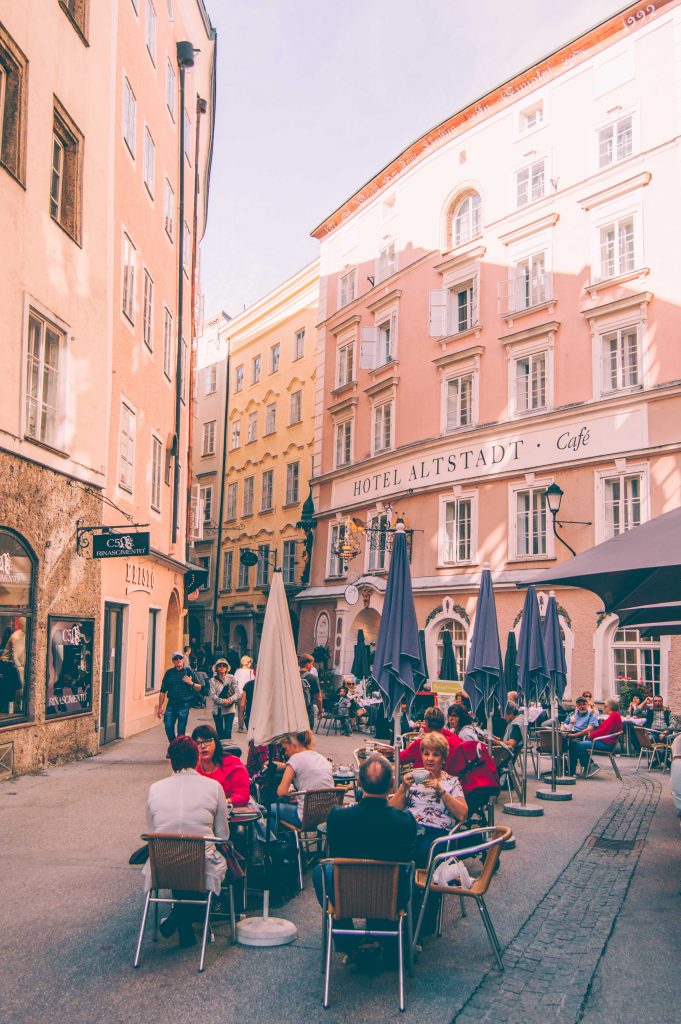 This gorgeous hotel is located inside two medieval buildings dating back to 1377. At one point, the buildings used to serve as a brewery. The hotel was renovated in 2016, and no two rooms are alike providing beautiful views of the Salzach River or the Old Town. Central location is perfect to reach all the major attractions on foot.
Historic Building, Contemporary Design — artHotel Blaue Gans
The oldest inn in Salzburg (think: 660 years old) turned into a modern paradise with hip design and over a hundred pieces of artwork on its walls. Located along Getreidegasse shopping street and right at the foot of Hohensalzburg Fortress, this 4-star hotel provides easy access to all the main sights in the city. 
Located on a narrow side street of Old Town, this hotel features only 15 rooms. Contemporary design, Italian-style furniture, and wooden beams come together in the most unexpected manner. And their breakfast hall is simply incredible.
If you are on a budget, consider staying at one of the best hostels in Salzburg.
Don't Forget About Travel Insurance!
I can't emphasize enough how important travel insurance is when you are planning a trip to a foreign country! So many things can go not exactly as planned (like that time I got food poisoning and 
got robbed of all my luggage
 in San Francisco).
I use 
World Nomads
 in my travels. You can buy and claim insurance online (even if your trip has already started). And their service is impeccable: fast and polite. You can get a customized quote for your trip below!
Final thoughts
The old town of Salzburg is rather small and all the attractions are located within steps from one another. It will literally take you less than a minute to get from Mozart Square to Cafe Tomaselli to Getreidegasse shopping alley. Hangar-7 is the only attraction in this one day itinerary to Salzburg that is located outside of the historic center and takes a little more time to get to. 
Hope this guide helps you to spend amazing 24 hours in Salzburg! If you have any tips or suggestions on what else to do and eat in Salzburg, let me know in comments!
Pin for later: