Oladushki, also known as oladyi, aladyi, and oladki are small and plump kefir-based pancakes that every Russian babushka makes early morning when her grandkids are over.
The other day I was reading my 10-month-old son a book by a modern Russian poet Masha Rupasova. It's called "Old Ladies Fell From the Sky". According to the highly-scientific findings of the author, babushki (grandmothers) are old ladies who fell from the sky, got stuck on the fences, and were rescued by passersby who then took them home.
This is exactly how we all ended up with grandmothers who take care of kids and sing us songs. Sounds about right, what do you think?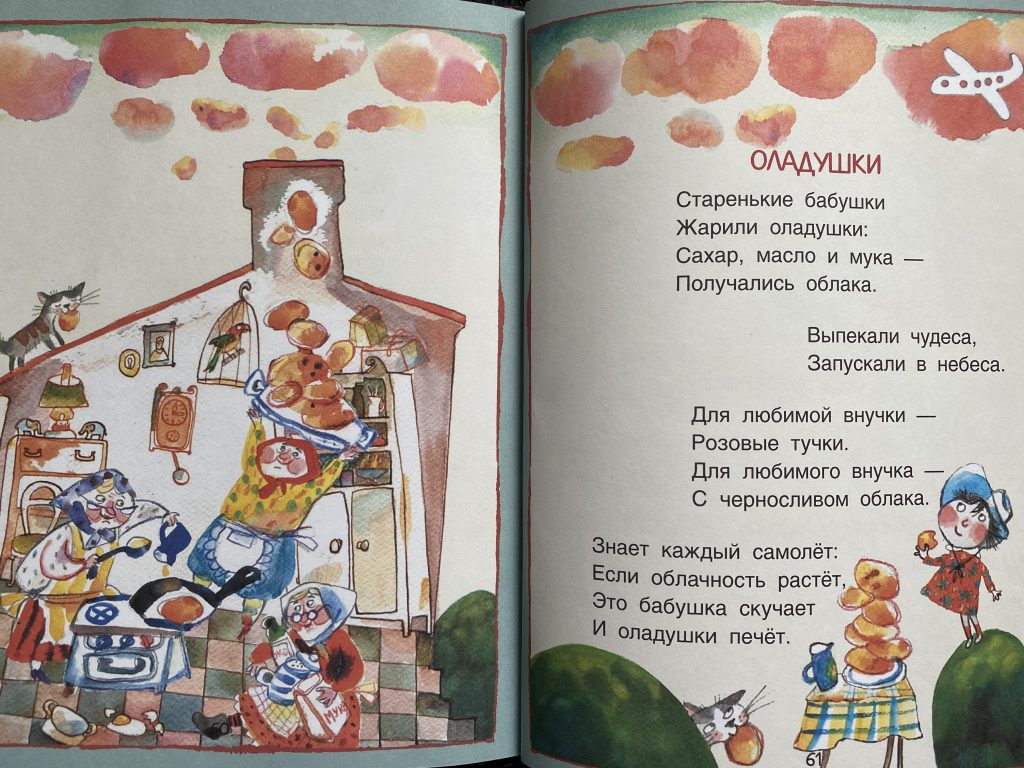 There's one poem towards the end of the book that is dedicated to oladushki. The timing couldn't be better — for the past couple of weeks I've been testing recipes for oladushki: with kefir and yogurt, with baking powder and baking soda, with cottage cheese and apple.
The poem is so sweet and heartwarming that I couldn't help but translate it into English. Now, this is my first attempt at translating poetry, so don't be too harsh on me. Here goes nothing!
"Oladushki" by Masha Rupasova
Are baking oladushki.
Sugar, butter and of flour pounds —
What comes out are tiny clouds.
Little miracles, oh my!
They were launched into the sky.
For beloved granddaughter —
Mounds
Of pink clouds
For beloved grandson —
A prune cloud
Is allowed.
Every pilot knows full well
If the sky is overcast
It's a babushka who's baking
Soft oladushki at last.
I am not completely happy with the rhyme "oh my" and "sky", but they say you need to present B- work to the world in order to avoid perfectionism. Maybe this is not my best work, but this is the best I could do in an hour, while my son was taking a nap.
Oladushki are indeed like little clouds. They raise before your eyes on the frying pan, achieving that beautiful airy and fluffy texture on the inside. As they are rather small in diameter, one could eat six or seven oladushki easily. Some could even eat ten, but let's not point fingers here.
Today we are talking about classic oladushki, but these kefir pancakes can be also made with apple, pumpkin, cottage cheese, and gingerbread spices to name a few. I've never heard of prune oladushki from the poem, but now that I am thinking of it — why not give it a try?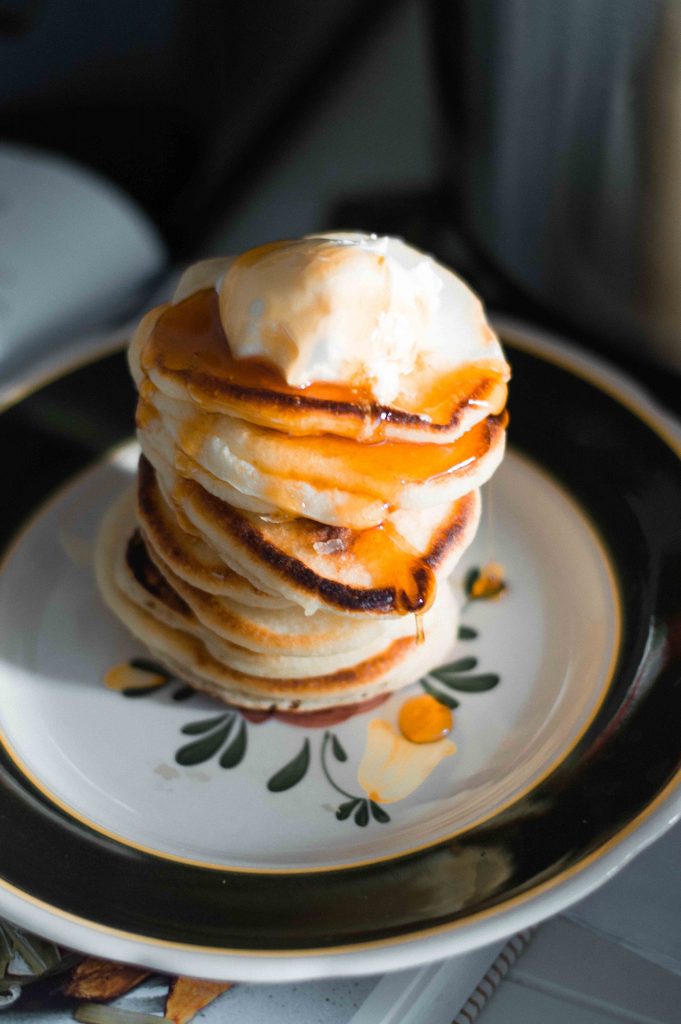 The Science Behind Kefir Pancakes
While there are dozens (if not hundreds) of oladushki recipes out there, they have a few things in common. Namely, the use of kefir as a wet ingredient and baking soda as a raising agent.
Kefir is a popular fermented dairy drink in Russia. It's a little thicker than buttermilk and tastes slightly sour.
As for baking soda, it hasn't always been a common ingredient in oladushki recipe. Baking soda was invented by Nicolas Leblanc in 1790's. It took some time for it to be produced on industrial scale and still some more time for it to reach Russia.
Oladushki have been around for centuries by that time. Before the magic of baking soda was discovered, they were made with good old yeast.
These days, however, baking soda took over. But what about baking powder? Come to think of it, I can't remember my grannies (or even my mom until recently) ever use baking powder. It has always been yeast and soda.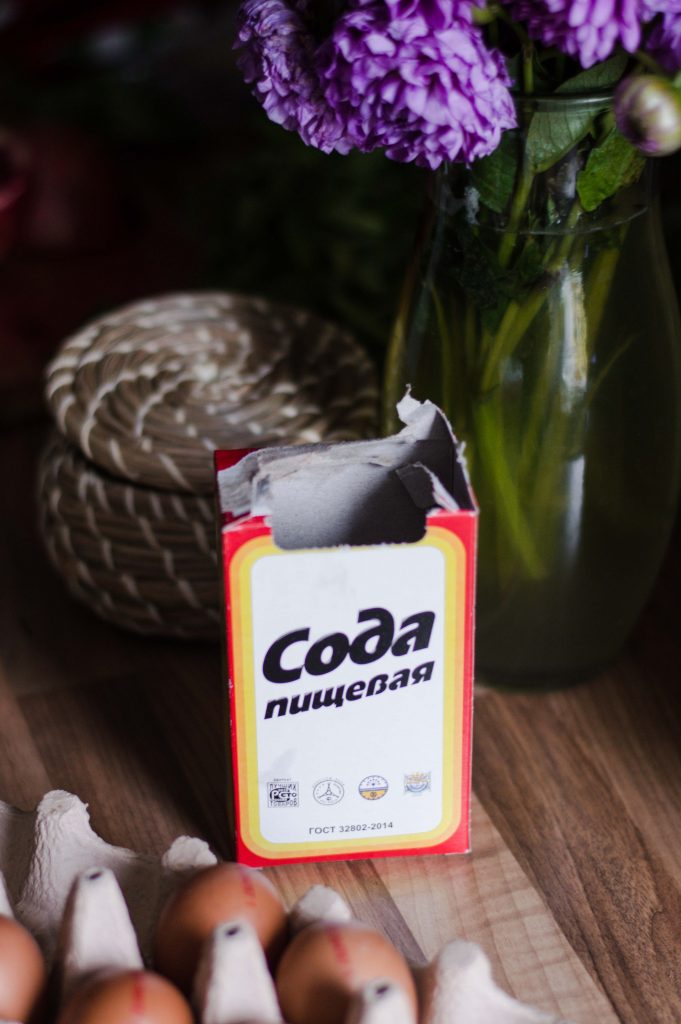 Baking soda doesn't come in a flimsy 20-gram packets in Russia, but in a rather heavy half-a-kilo cardboard box with red and orange border. If you think of all the useful ways of utilizing soda, it's not surprising.
For many years, it was believed that one must "gasit' sodu" — pour lemon juice or vinegar to a teaspoon of baking soda first — in order to add it to the batter. This is babushka-proof method. I have first witnessed the violent reaction between acid and alkali at my granny's house, not at the chemistry lessons.
It is only recently that I learned that making soda react with vinegar before adding it to batter is kind of useless. You see, for baking soda to do its work, it must be mixed with acid or warmed up (usually when baking, it's both). Once soda (alkali) is combined with lemon juice or vinegar (acid), carbon dioxide gas is released. This is what makes the batter puff up on the pan.
When we add a few drops of lemon juice to a teaspoon of baking soda, carbon dioxide gas is released into the air, instead of the batter where we actually need it.
As the batter for oladushki contains kefir, which is an acid, we can mix baking soda with flour and it will react, once the dry and wet ingredients are combined.
So all that was to explain what you shouldn't do, even though you probably wouldn't think of doing it if I didn't tell you. But "gasit' sodu" is so common in Russia — my mom still does it, I've just asked her — that I couldn't not mention it. Anyways, let's get to what you actually should do.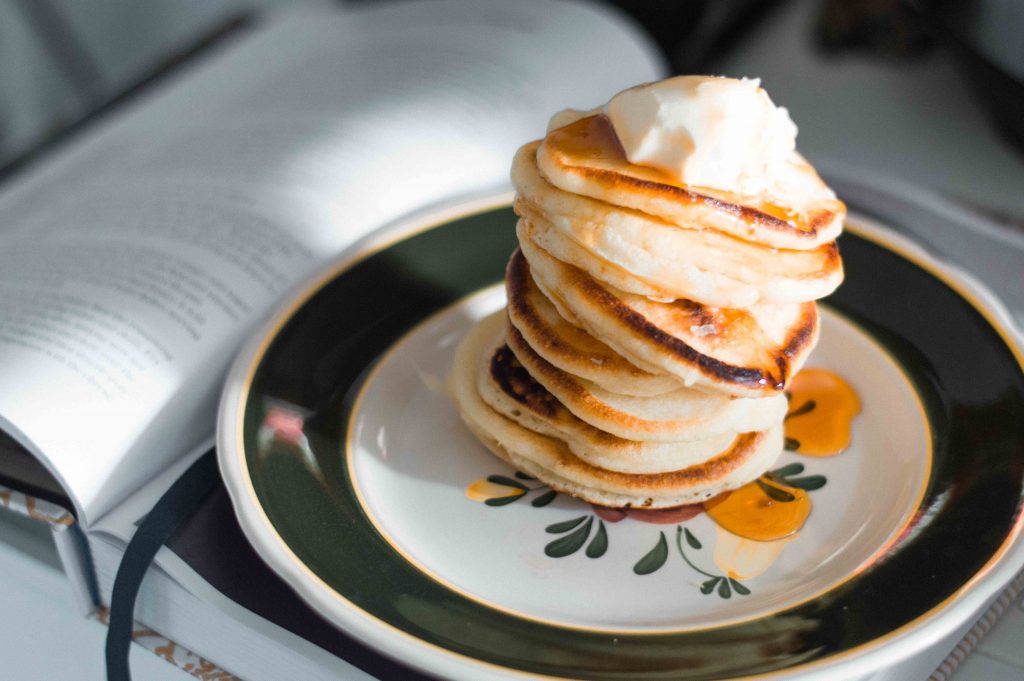 How to Make Russian Oladushki
For oladushki, the batter must be quite thick, much thicker when compared to, say, Russian blini. Kefir can be substituted with buttermilk, but if you can — try finding kefir. Buttermilk pancakes sound a lot more American, than Russian.
I prefer to heat kefir up slightly so the dry ingredients dissolve better. Warm environment is also good for baking soda to kick in. Once the wet and dry ingredients are combined, start baking oladushki immediately. And by "baking" I really mean "frying on a pan". But in Russian, we use the verb "bake" when it comes to both blini and oladushki.
Once baked, place oladushki on top of each other in a stack, brushing each of them with melted butter as you go. You don't have to do it, but you really should. Stacking them will help to keep them warm while you are cooking.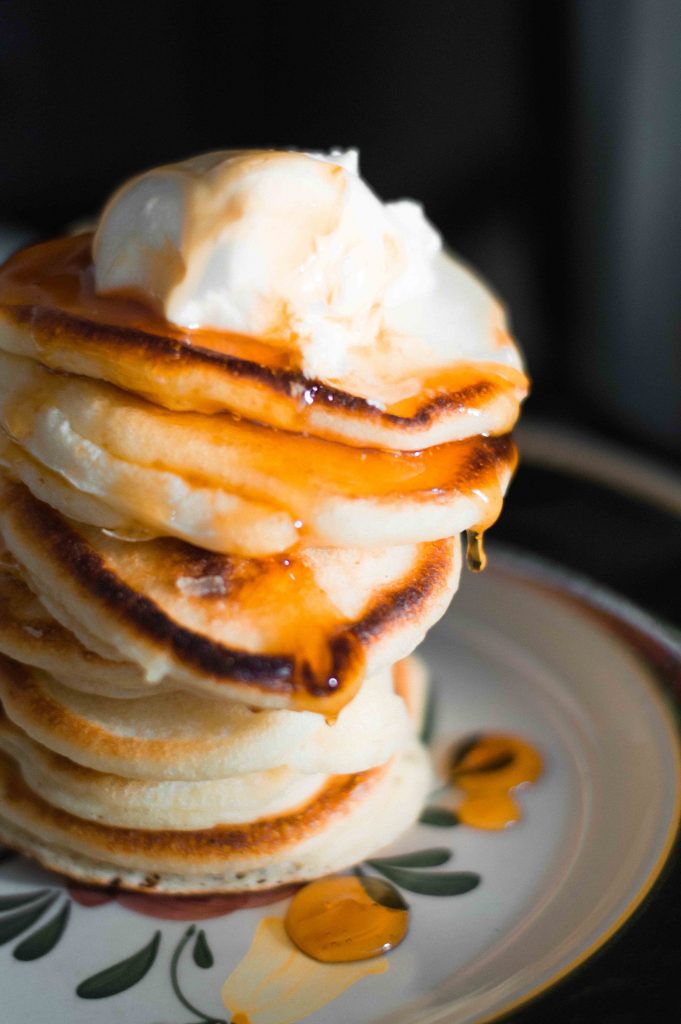 How to Serve Oladushki?
With more melted butter, sour cream, jam, honey, you name it! Eat them with your hands, no knife and fork shenanigans, please.
Yield: 15
Oladushki, Russian Kefir Pancakes
Russian mini pancakes made of kefir-based batter
Ingredients
250g sifted flour
1/2 tsp baking soda
4 tsp sugar
a pinch of salt
350 ml kefir
15g butter
2 eggs
sunflower oil (for frying)
melted butter (for brushing — optional)
jam, sour cream, honey (for serving)
Instructions
Mix sifted flour, baking soda, sugar and salt in a bowl and set aside.
In a saucepan, heat kefir until it is slightly warm to touch. It shouldn't be hot, otherwise the eggs will cook once you add them.
Remove the saucepan from the heat and add butter. Stir and let the butter melt in warm kefir. Then mix in the eggs.
Pour wet ingredients into dry ingredients slowly and mix until combined.
Heat a pan over medium heat and pour some sunflower oil on it. When the oil is hot, pour the batter with a tablespoon. Each oladushka is one full tablespoon. I fry about five at a time on my pan. Fry them for about one minute, or until the bottom is golden in color.
Flip oladushki and fry on the other side for about 1-1.5 minutes. Check the color on the bottom to see if they turned golden.
Repeat with the rest of the batter. Add sunflower oil before every new batch, if the pan looks dry.
When oladushki are ready, stack them on top of each other, brushing each with melted butter as you go. This step is optional.
Serve piping hot with sour cream, honey, or jam. Or all of the above!
Notes
I use a cast-iron pan for frying oladushki. It feels like the most traditional way, as I've only seen my grandmothers and my mom use cast-iron.
If you also use a cast iron pan, make sure to pull it off the heat when you see that it starts smoking. Oladushki will still keep cooking, since cast-iron keeps the heat very well. Then put it back on.
I like to pull the pan off the heat every time I pour the batter in and when I flip the pancakes.
You can fry oladushki on a non-stick pan too, there's absolutely no problem.
Nutrition Information:
Yield:
2-3
Serving Size:
1
Amount Per Serving:
Calories:

464
Total Fat:

9g
Saturated Fat:

4g
Trans Fat:

0g
Unsaturated Fat:

4g
Cholesterol:

140mg
Sodium:

568mg
Carbohydrates:

75g
Fiber:

2g
Sugar:

12g
Protein:

18g
Pin for later: