I don't want to sound nosy (which means I will totally sound like it!), but I love peeking into other people's shopping carts while waiting in line to cashier. Mostly, because in USA people buy a completely different set of products than I do. I've been once asked whether I am a vegetarian by a girl behind me in line because she "has never seen a person buy so many fruits and vegetables before". The answer is: no, I am not a vegetarian. Twice cashiers asked me "What is it?" pointing at beetroot.
Situations like these made me think how different the contents of shopping carts in different countries are and how much what you buy in grocery store can say about your daily life and eating habits.
In this post, that I aspire to turn into a series, I will be sharing with you what goes into a shopping cart in Sri Lanka. On my last trip to the island I went to a supermarket with my mother-in-law and obsessively photographed everything she put into the cart.
Knowing the basics of Sri Lankan cooking will help a lot in understanding the choices we made in a grocery store.
We started with fruits and vegetables, although, those are not commonly bought in supermarkets, but rather in small specialized road shops. Some of the fruits you will find in any Sri Lankan house are bananas, papaya, mango (seasonally) and pineapples.
Vegetable range is quite big since at least 2-3 vegetable curries should be served at lunch every day. Veggies typically used for curries are potatoes, carrots, green beans, beetroot, pumpkin, and many more.
Tomatoes, onions and garlic are often added for flavor to curries. Notice, that tomatoes and onions are both very small in size. Although you can find big onions, women usually use smaller ones for curries. Tomatoes, though, only get about this big.
Chili peppers and limes are staples in any Lankan kitchen. Chili adds spiciness to curries. Lime juice is usually used for green salads and also as a remedy against upset stomach.
While in vegetable section, we added some curry leaves to the cart. Curry leaves go into majority of curry dishes. They have a very distinctive smell that defines Sri Lankan cooking. Green leaves (on the right) are used for mellums, or light salads, that are served as a side dish to rice along with curries. The leaves are simply chopped and mixed with salt, lime and scraped coconut.
Speaking of coconut, many women in Sri Lanka start their day by breaking a coconut and scraping it out to prepare coconut milk. Coconut milk is what makes curries so creamy.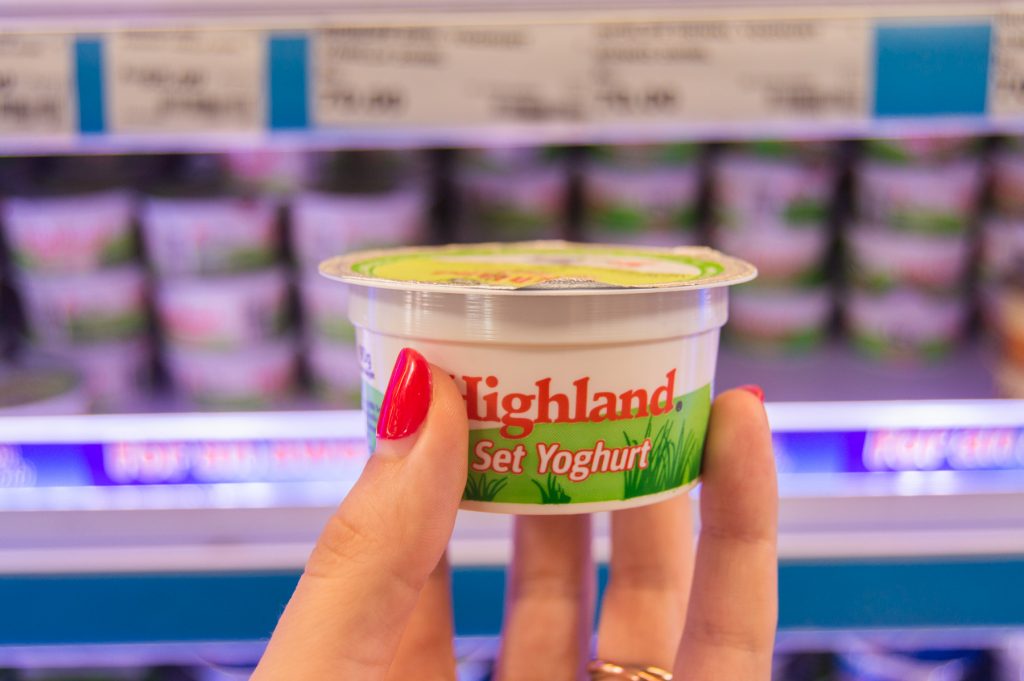 Next, we are off to buy dairy which is extremely unpopular in Sri Lanka. It has always been a source of amusement and frustration to me because I have seen cows in Sri Lankan hill country, nevertheless, you will only find a few brands of milk, 2 or 3 varieties of yogurt and 4-5 varieties of cheese (95% of which is processed). Notice the size of the yogurt cup! After living in USA for two years I feel like a giant holding minuscule foods in other countries.
Curd is a traditional type of Lankan yogurt prepared with buffalo milk. It has been my savior when dairy cravings kicked in. Many people buy it in specialized stores instead of supermarkets.
Margarine and spread are much more popular in the country than butter for the simple reason that butter is twice more expensive. A 227 g pack of butter costs 520 RS, while a 500 g pack of spread costs 640 RS. To give you a point of reference, you can get a good lunch in a roadside shop for about 250 Rs. We didn't buy any cheese because it's not common in Sri Lankan diet, too expensive (almost 1000 Rs per 200 g pack), plus processed cheese is not fun.
Moving on to grains. First things first, we need rice if we want to make rice and curry. Most people buy rice in bulk since it's used on a daily basis. There are many varieties, but one of the most popular is called "samba". In my humble opinion, it smells a lot. Before coming to Sri Lanka I never knew that rice can smell so strong and was genuinely surprised when I cooked it for the first time. If you want to get fancier rice, basmathi is your choice, but it's more expensive. Red lentils (on the right) are used to make one of the most popular Sri Lankan curries – parippu.
We have already bought rice, vegetables, coconut milk, chili peppers… what else left to make our rice and curry? Spices, of course! Most curries are prepared using curry powder which can be roasted (a mix of ground coriander, cumin seeds, cloves, cardamom and curry leaves used for meat and fish curries) and unroasted (a mix of ground coriander and cumin seeds used for vegetable curries). A lot of women make their own blends at home. Apart from curry powder you will always find chili powder, chili pieces, turmeric, mustard seeds, cumin, cloves, cinnamon quills, goraka and cardamom in any Sri Lankan kitchen.
The most popular oil, not surprisingly, is coconut oil and it's used for any kind of frying. My mother-in-law also uses olive oil for salads, but that's not a staple in most of kitchens because olive oil is imported, therefore expensive.
On to raw fish and meat section. Most of Sri Lankans are not vegetarian, but a lot of people prefer not to eat beef. Chicken is the most popular meat, especially chicken breast on a bone that is used for chicken curry. Pork is not uncommon too, unless it's a Sri Lankan Muslim family. Raw fish choices include tuna, seer fish and mackerel.
I've got some more fish for you! These might be not the best-looking items, but definitely some of the most popular in the country. On the left are sprats – dried fish – that can be cooked as curry or fried. On the right – Maldive fish – dried and cured tuna that is added to side dishes like coconut sambol and lunu miris (onion paste) to enhance flavor.
Finally, tea and coffee. Sri Lanka is a tea-drinking country. Many of you might recognize the brand of tea on the picture – Lipton – it's produced right here, on the island. Coffee is less popular. Even though you can find 2 or 3 brands of coffee in supermarket, they are of low quality.  Fresh milk is available, but many people use milk powder instead, which is a mystery to me because I can never get rid of those lumps!
Our grocery shopping is done. You might have noticed that we didn't get bread and that is because bread, just like fruits, is often bought from small roadside shops. I hope this post helped you have a little sneak peek into an ordinary Sri Lankan kitchen! I am going to show what to do with all these ingredients soon and share some of the most popular Lankan dishes! Stay tuned!
Pin for later: