Combine the great outdoors with delicious food and you are bound to have an amazing day. Texas, no doubt, has an abundance of both gorgeous nature spots and delicious food. One of my favorite day trips from Austin is Jacob's well in Wimberley, TX, followed by wine tasting and BBQ at The Salt Lick in Driftwood.
Day Trip from Austin: Jacob's Well in Wimberley, TX
Jacob's well, one of the most stunning swimming holes in Texas, is best in summer when you are longing to escape the heat of the city. But even after the swimming season is over, this place is worth visiting just for the sake of taking a look at this wonder of nature.
Located in Hays County, an hour drive from Austin, Jacob's well is a natural spring fed by the Trinity Aquifer. It has an opening 3.7 m (12 feet) in diameter and goes vertically downwards for 9 m (30 feet).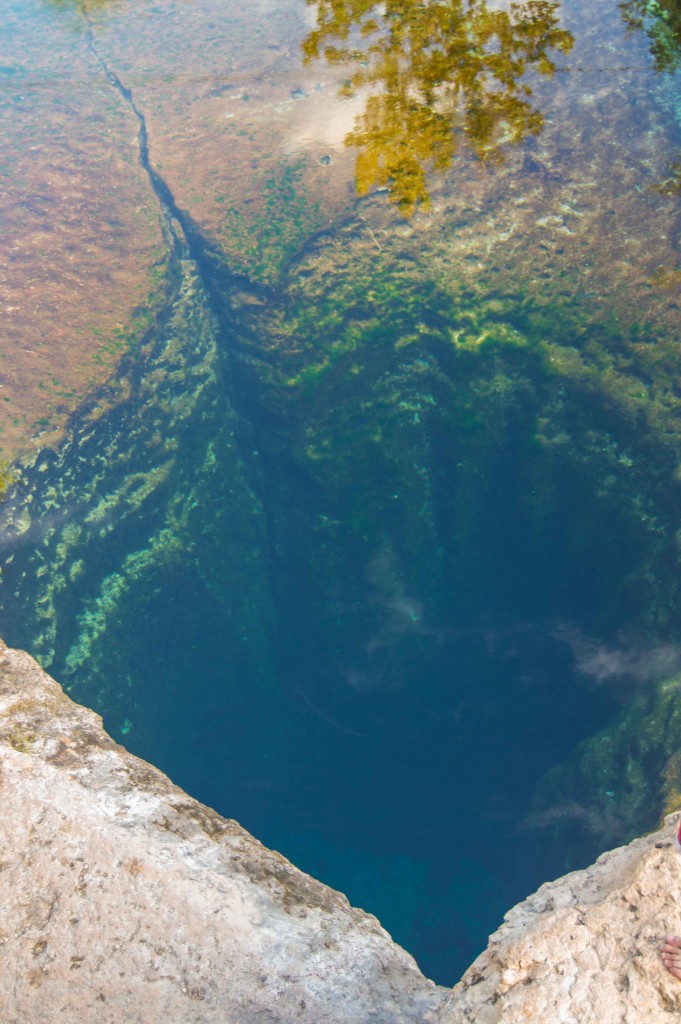 Although diving is prohibited, there are many adventure-seekers who still do it. So if you come here during summer-time, be cautious: swimming and jumping is at your own risk. During summertime you can plan on spending an hour or two sunbathing and swimming here. During colder months you can hike in the park and simply marvel at this natural beauty.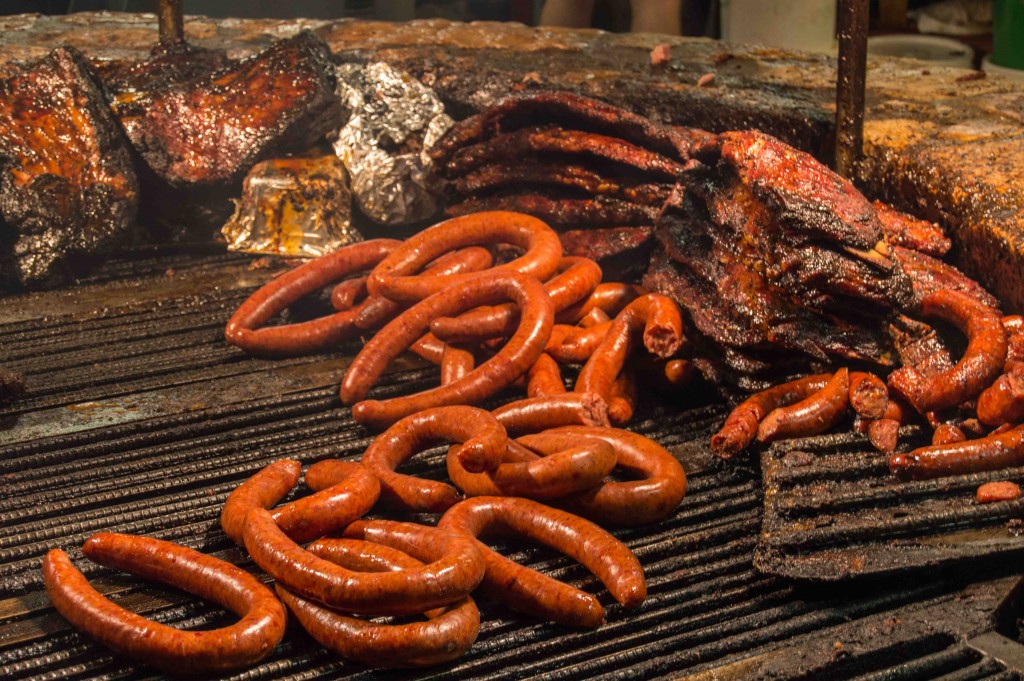 Where to Eat After a Swim in Jacob's Well?
Thirty minutes drive away from Jacob's Well, on the way to Austin, is one of the most popular BBQ restaurants in Texas – The Salt Lick. This icon of Texas BBQ is beloved by Food Channel's Adam Richman, Bobby Flay and Duff Goldman.
I am no BBQ expert, so it's hard for me to go into details of preparation process and scrutinize every item on the menu, but I do believe that good food makes you happy. And you should have seen the silly smile on my face from the moment we arrived at the enormous BBQ house until I was done with the last piece of brisket.
For me food is always a mirror of country's or region's culture. And I swear it doesn't get more Texan than at The Salt Lick. The BBQ house that looks like a country barn. The huge open pit with glowing briskets, pork ribs and smoked sausages. The tables set outside in the shade of trees. The live country music. And the meats, of course. For a non-Texan and non-American this is a one-of-a-kind experience that makes me understand local culture better and, more importantly, fall in love with it.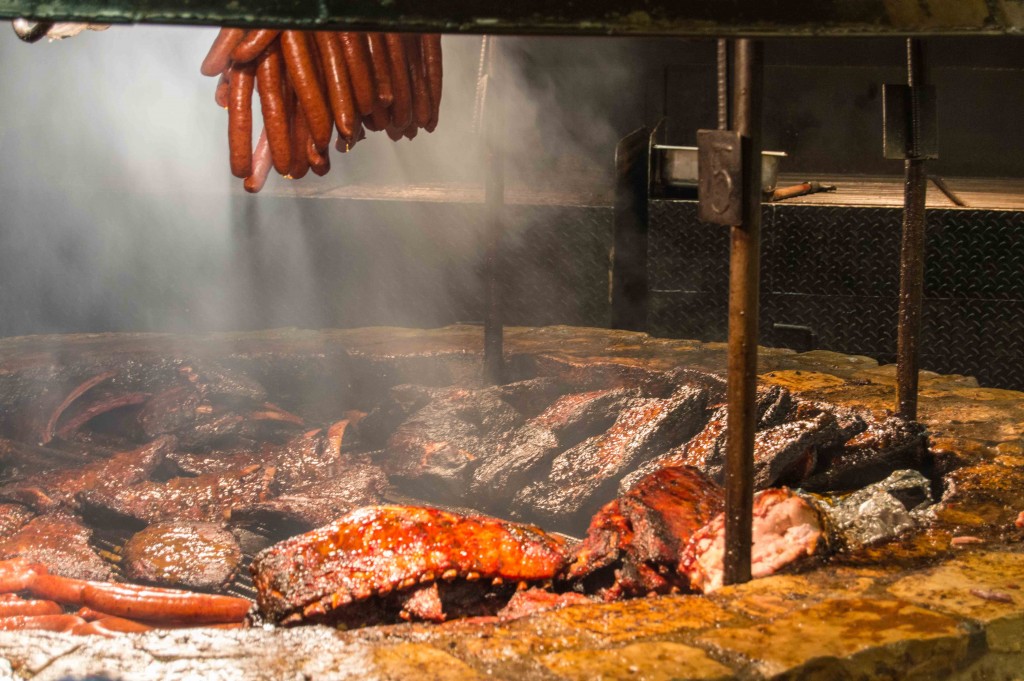 The picture of the open pit must be the most famous and most representative of Texas BBQ. The pit with open oak wood fire at the bottom, shiny ribs, and smoked sausages hanging from the top, are what you see upon entering the restaurant. To say it's jaw-dropping is to say nothing. I spent at least 15 minutes jumping around like a monkey with camera trying to get the best shot.
The next thing you see is a couple of guys with huge knives cutting through 12-pound (5 kg) brisket. The Salt Lick goes through almost a million pounds of brisket per year. The process is mesmerizing.
When we finally sat down outside with our plastic box of meat combo accompanied by traditional sides of pickles, white bread, coleslaw and beans, it got dark.
With a country band playing on the patio and customers signing along, with dim lights and humid air, with good old brisket in front of me, I felt American spirit so strongly as never before.
The best way to end the meal is with a piece of pecan pie. After finishing it you might have to roll out of the restaurant, but you can't skip the official dessert of Texas.
Finally, take a walk around the vineyard and have a glass of Texas wine. Salt Lick cellars are just next door to The Salt Lick BBQ, so take full advantage of your day trip and enjoy a glass or two of locally produced wine.
Jacob's well — 1699 Mount Sharp Road, Wimberley, TX
Hours: daily 10 AM – 8 PM
The Salt Lick BBQ — 18300 Farm to Market Road 1826, Driftwood, TX
Hours: Mon – Sun: 11 AM – 10 PM
Pin for later: