Berna and I woke up in the morning after 4 hours of sleep with the same exact thought: we cannot have breakfast right now! Last night, while having meze after meze at dinner we made a perfect plan: wake up, walk to a nearby café for breakfast, take a taxi to local market to get some Turkish delight, baklava and coffee, then take a bus to the airport. We didn't think it through: our dinner was finished at 2 am and the amount of food the two of us had was actually enough for four.
Morning brought a change of plans: market before breakfast and we are going to walk there. This way we would burn at least some calories plus, hopefully, in a couple of hours we'd be able to look at food and maybe even eat it.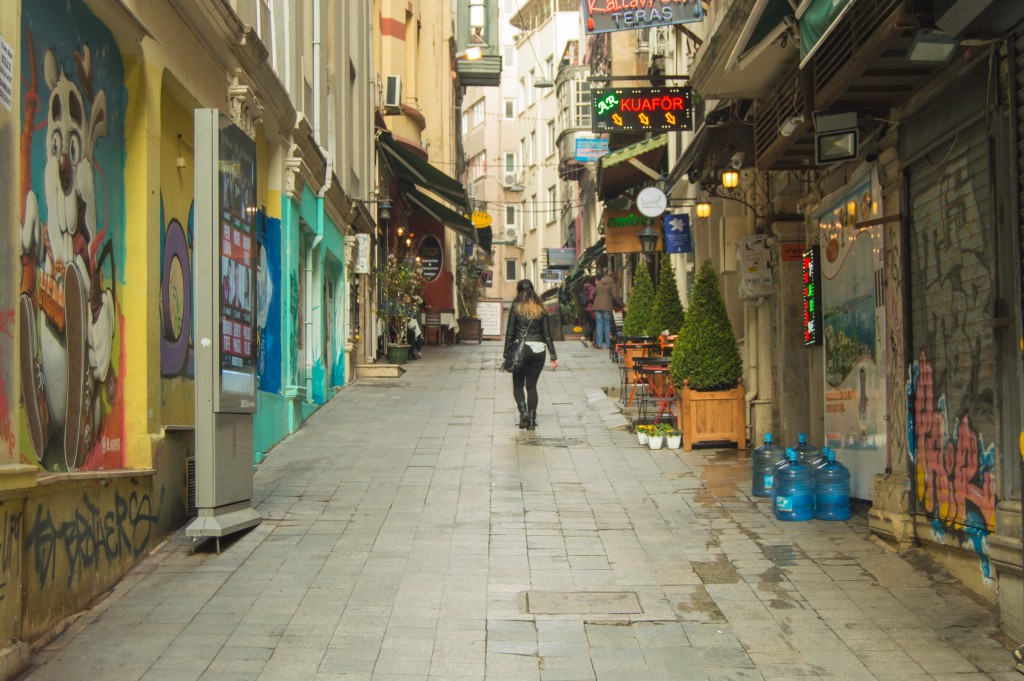 A walk to the market took no more than 30 minutes. The city was still sleepy with very few people outside.
There were plenty of cats, though, looking very proud, full of themselves and very much like they don't give a damn. Some were having breakfast.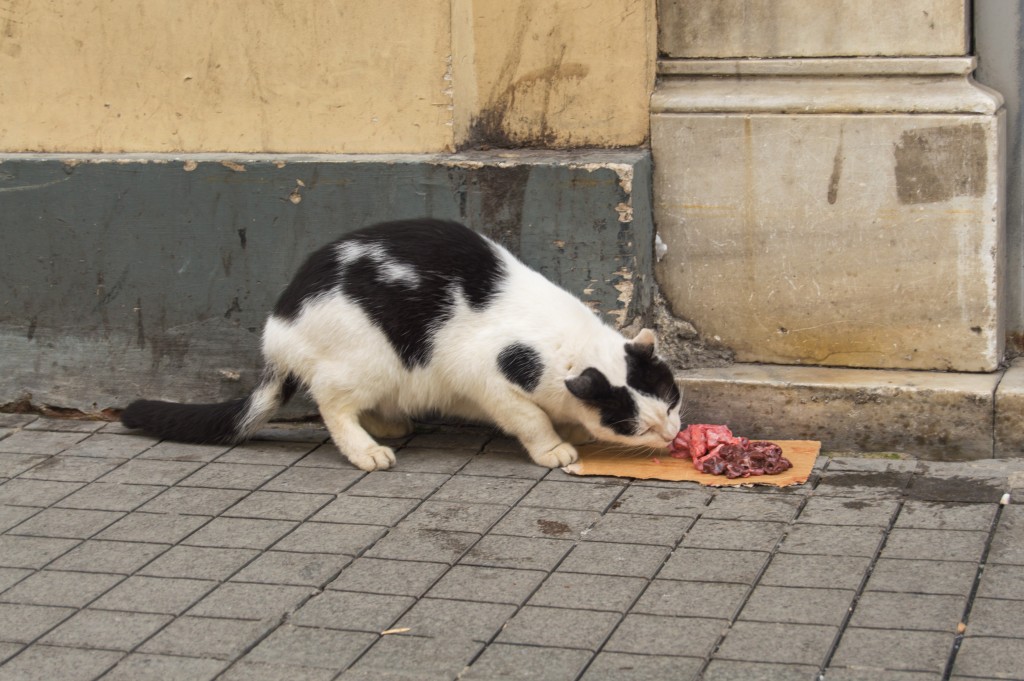 Some were enjoying morning sunbathe.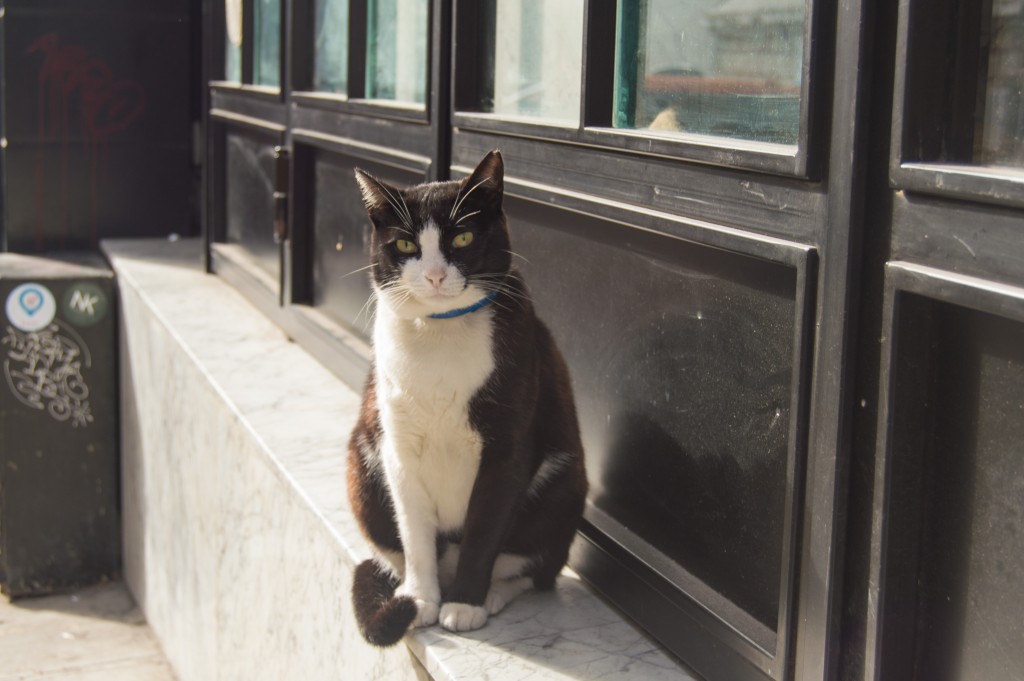 Some were just lying in the middle of the road because why not?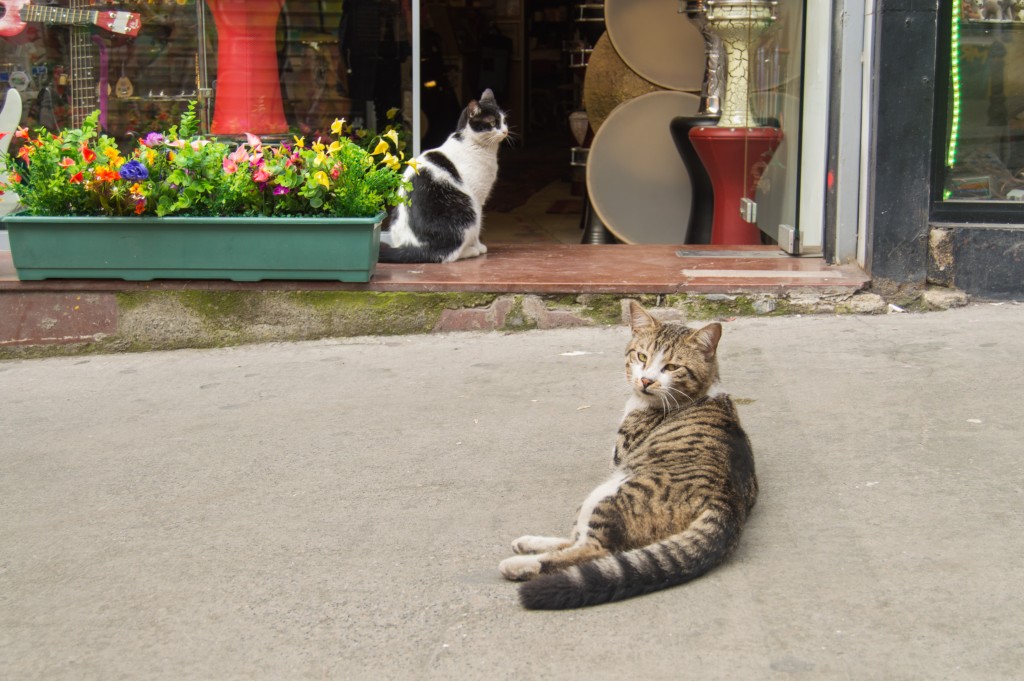 We stopped before crossing Galata Bridge to take the first and only selfie in 24 hours…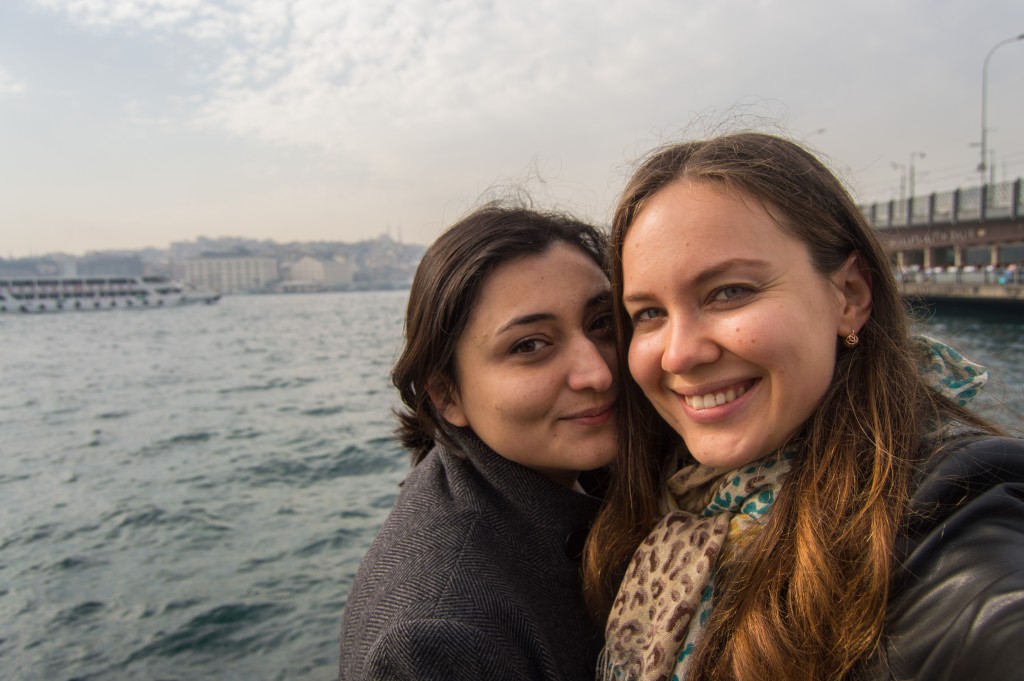 Then we crossed the bridge and found ourselves at the famous Istanbul Spice Market — Misir Carsisi.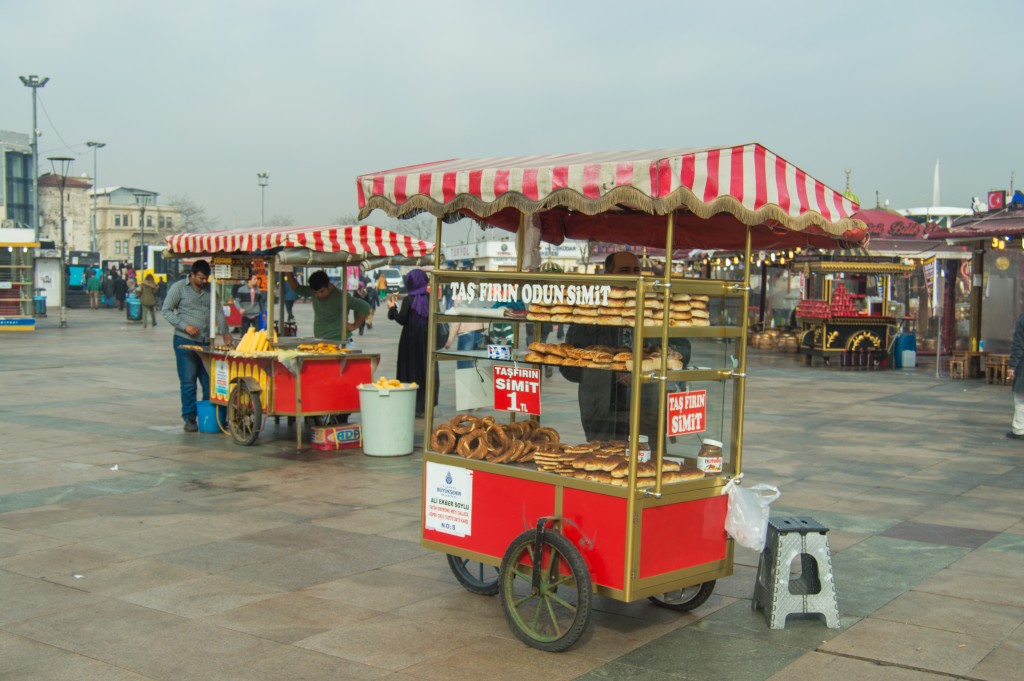 Brace yourself and do not read further if you are hungry. So much food it hurts my eyes! The fact that I only had 20 kg limit in my luggage was the only thing that stopped me from buying a little something from every single shop. Vendors didn't make my life easier. They talked to me all at once, mostly in little Russian they know. I continued wondering what is it that gives me away. Once I passed for a German, but 9 out of 10 vendors guessed my origins correctly.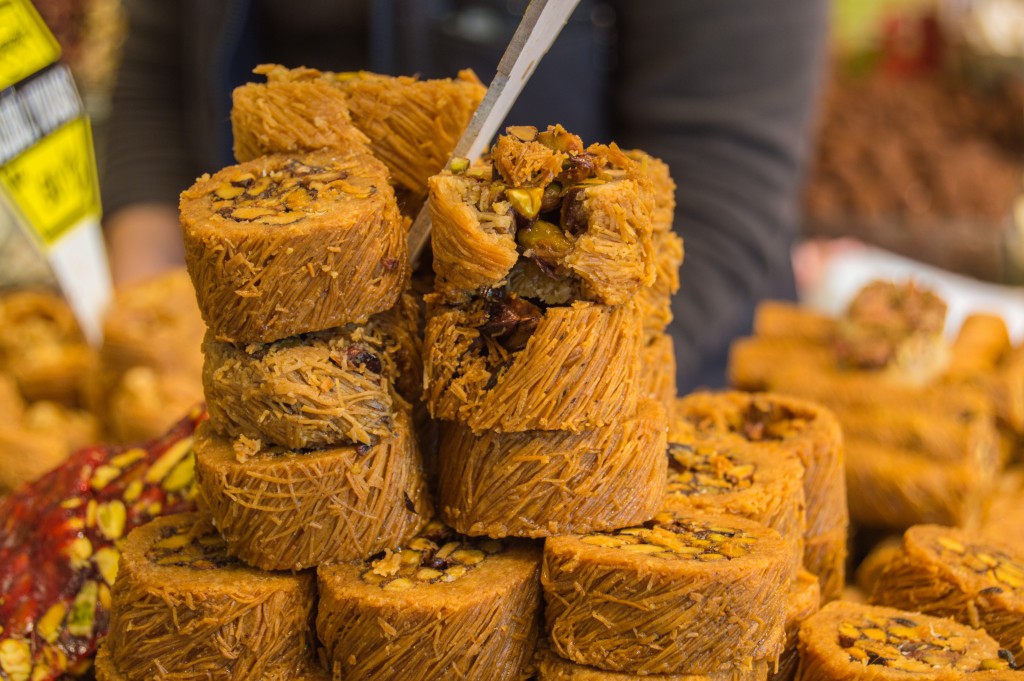 The minute you stop by a stall for a second your hands quickly fill up with samples of cheese, sweets, and nuts. The plan to work up an appetite failed: the amount of samples we tried could make a pretty decent breakfast.
The most colorful part of the market consists of shops selling Turkish delight, one of the best foods to try in Turkey, in all possible colors and shapes. Turkish delight, or rahat lokum, is made of starch and sugar gel that binds together chopped nuts like pistachios, hazelnuts or walnuts.
Some are cut into cubes. Some are shaped like Japanese rolls.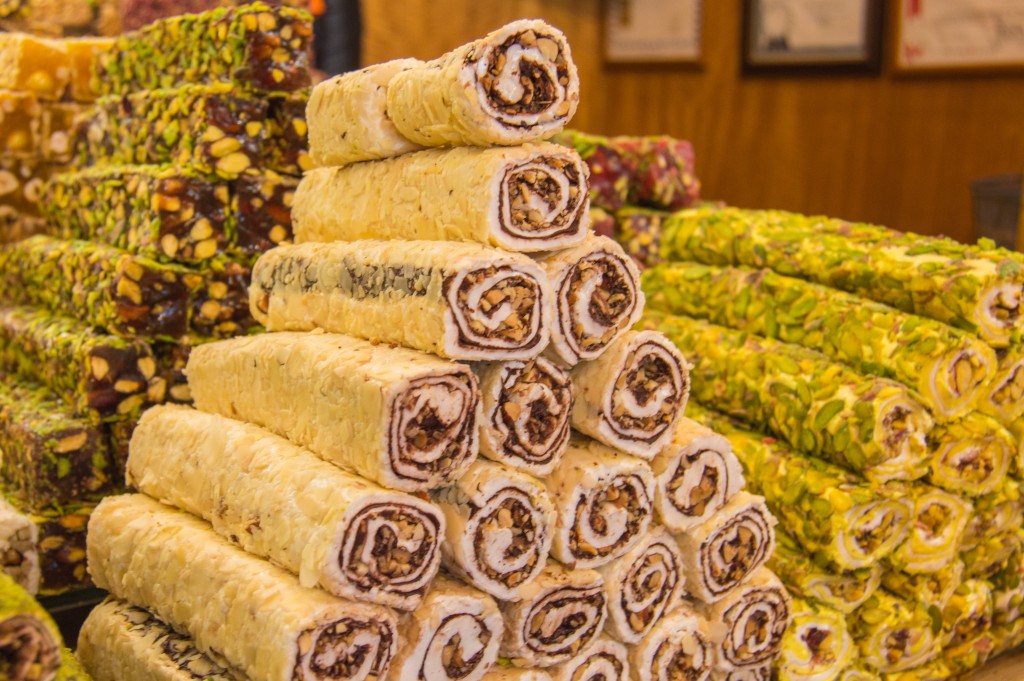 But something I haven't seen before is Turkish delight doner as I called it — no idea what the official name is, but it reminds me of those huge chunks of meat on a pole used to make kebabs. Only this is sweet.
Then there's cheese, all kinds of it: soft cheese, and semi soft cheese, and string cheese.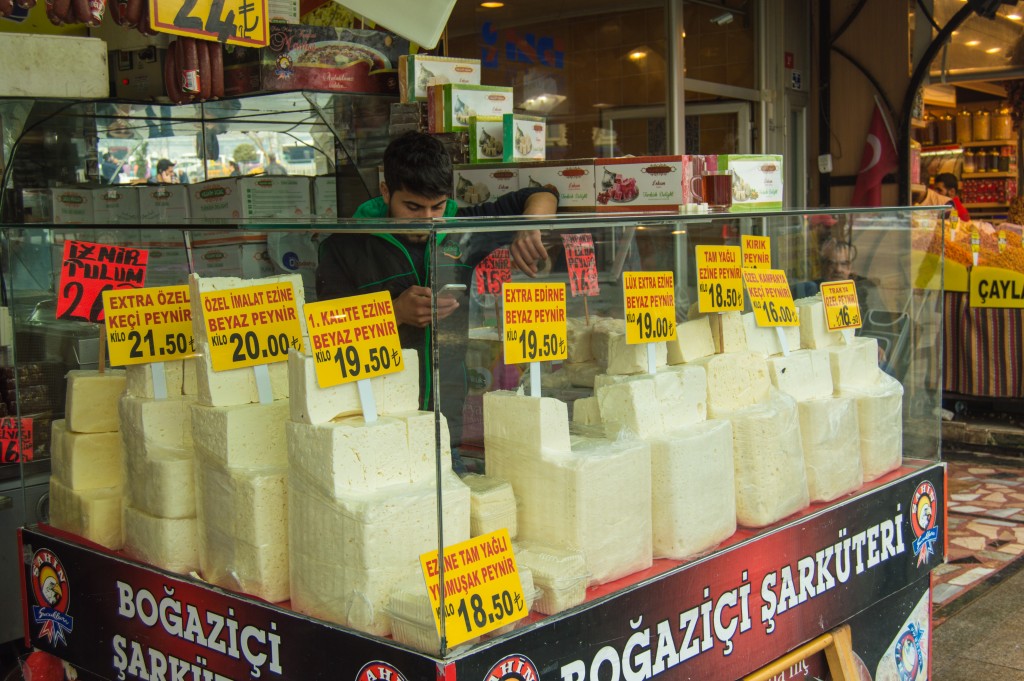 Cheese is called peynir in Turkish, so you will see this word a lot.
Nuts and dried fruits…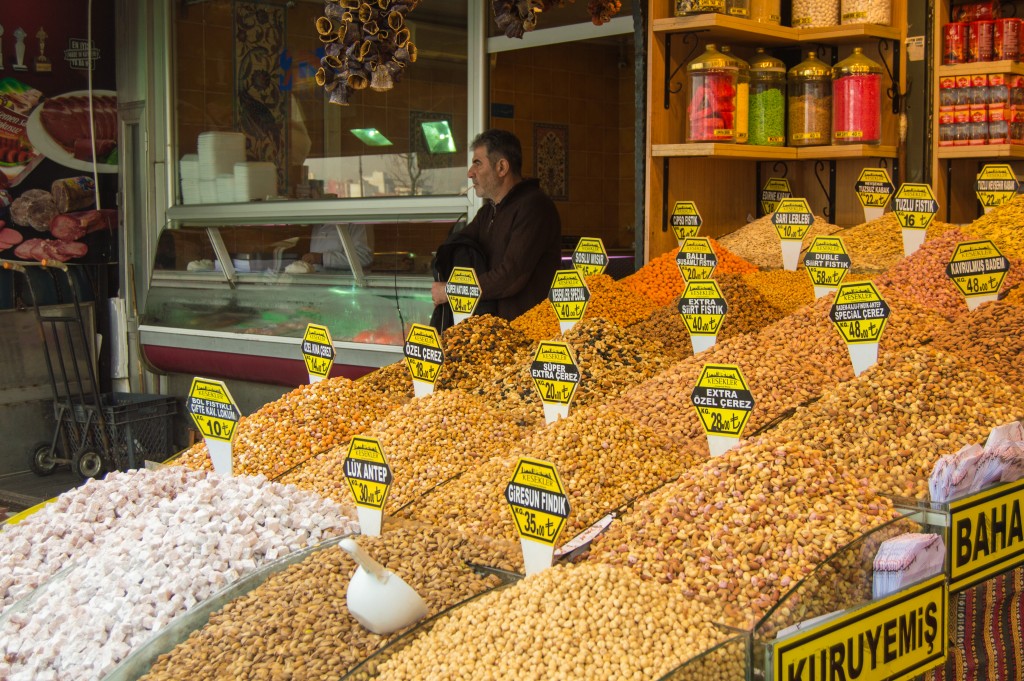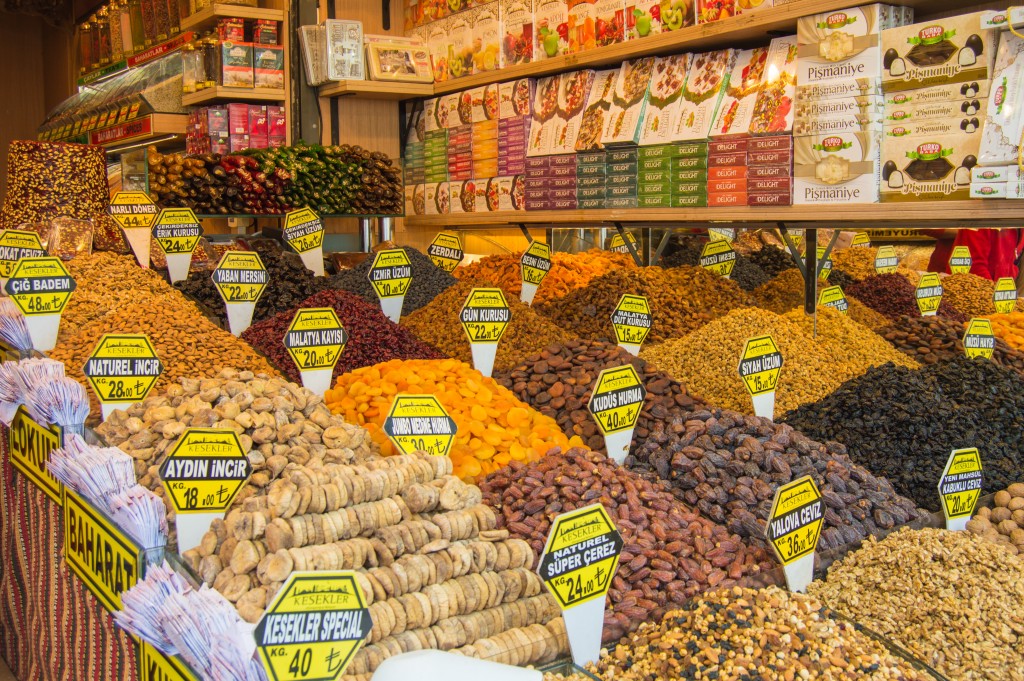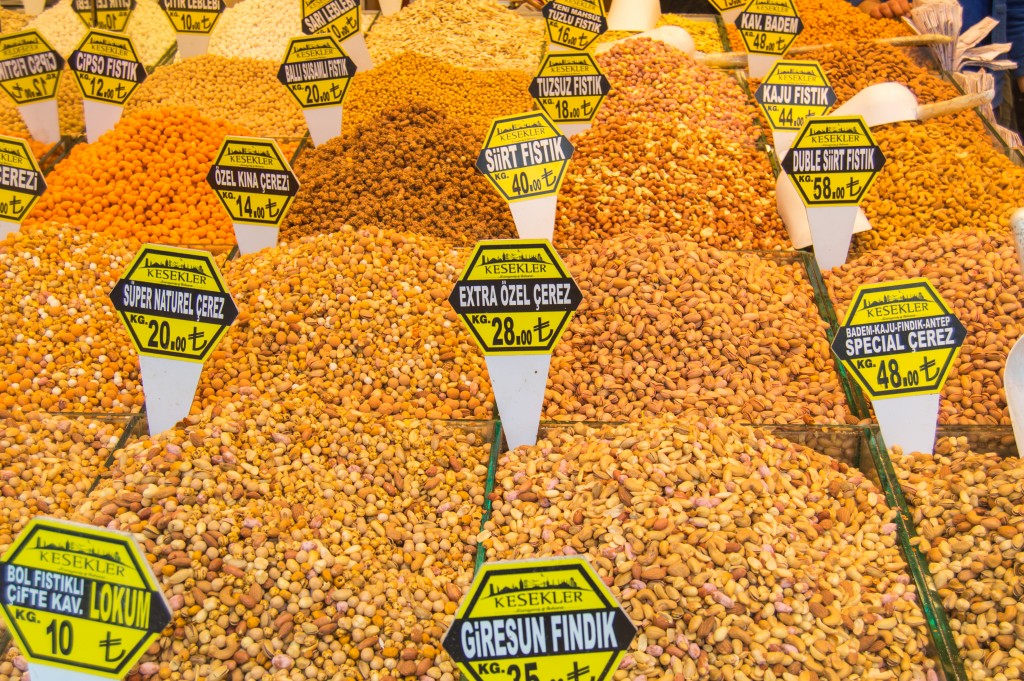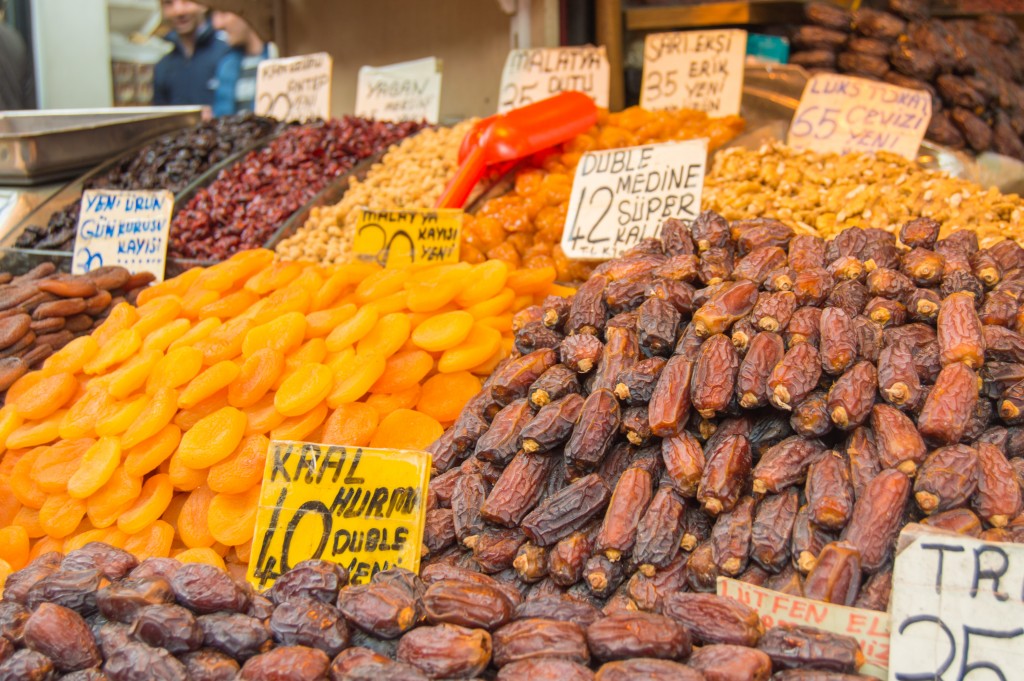 A dozen varieties of olives…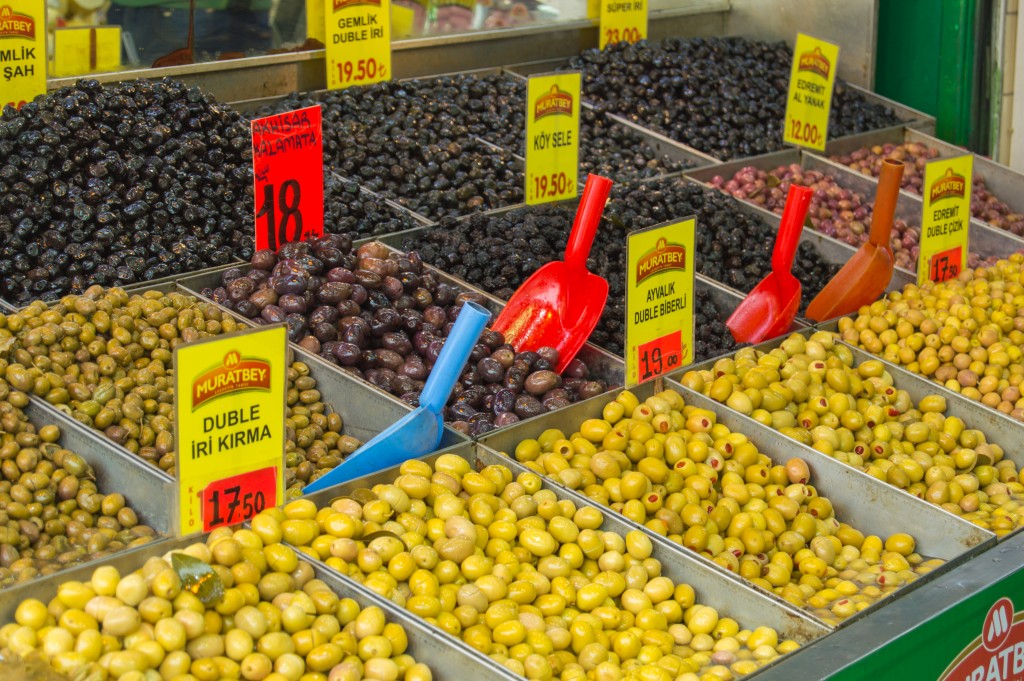 Grape leaves which are used for stuffing.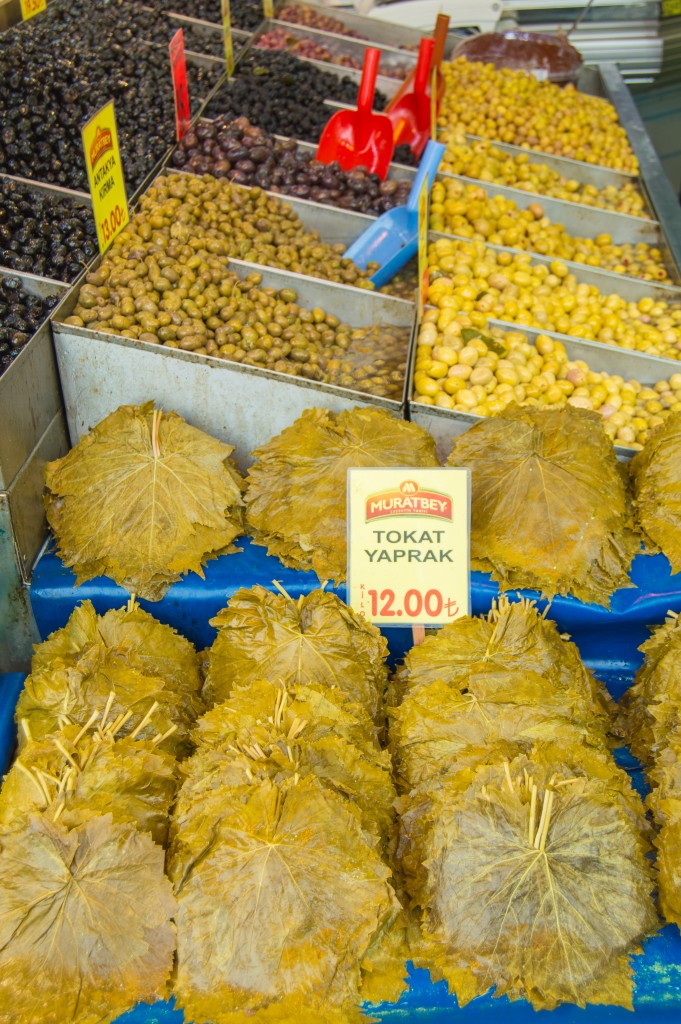 Each leave is filled with a mixture of rice, currants, pine nuts, dried mint, onion and rolled up. Stuffed leaves are boiled in a pot of water mixed with lots of olive oil until water fully vaporizes. Usually when your mom or grandma makes it at home they would also add some minced beef, then it will be served as a main dish with a side of curd. But stuffed grape leaves can also be served cold as an appetizer to go with drinks – in that case beef is usually omitted.
There's tomato paste which I absolutely had to try because there's nothing like it according to Berna. On the picture below it is covered with plastic wrap.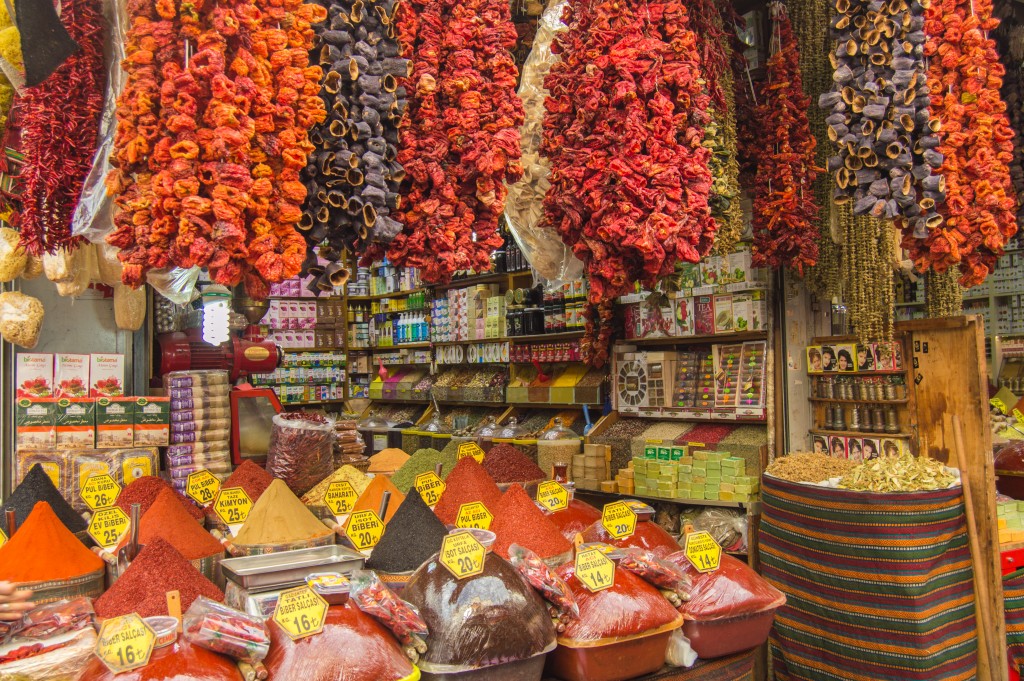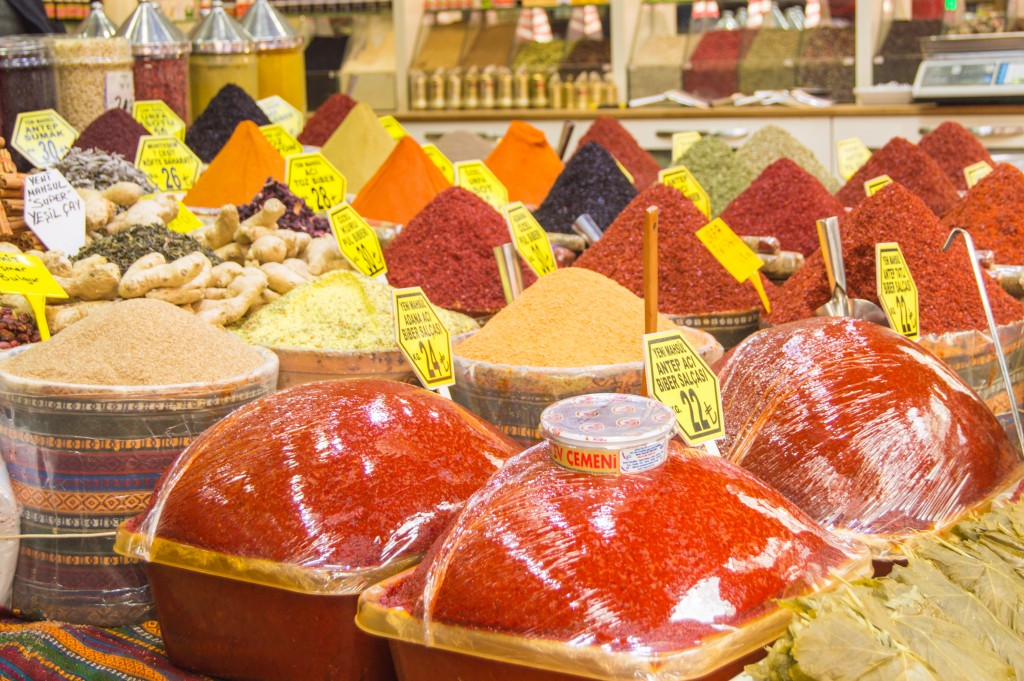 There's a small coffee shop Kurukahveci Mehmet Efendi – and I mean a shop making and selling coffee grounds, not a place to have a cup of joe – that I remembered from my last trip to Istanbul.
You can see how it's made and packaged through the window, although I should say it's not as easy as it sounds. There's always a long queue to this shop but it moves so fast that while the cashier served 6 people in front of me I hardly had enough time to take the wallet out of my purse, let alone take some pictures.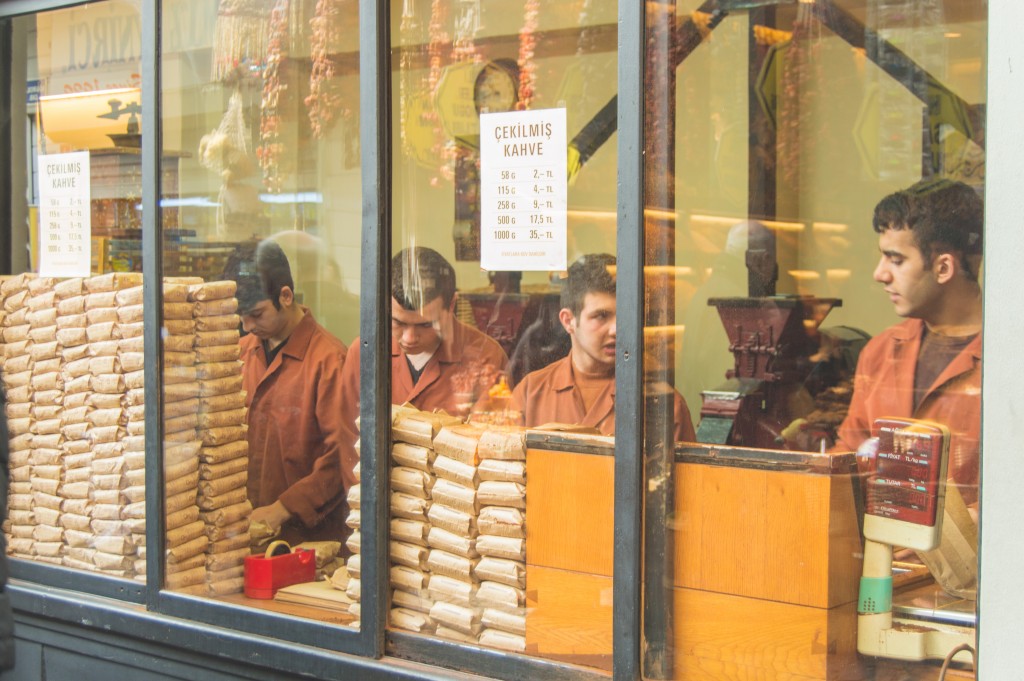 Since I got some Turkish coffee I needed a jazwa to brew my coffee the right way. Jazwa is a Turkish coffee pot that can be made of copper and look very pretty, or it can be made of stainless steel and look just normal. I, of course, set my eyes on a copper one, already imagining how I will take some gorgeous Instagram-worthy pictures with my new beautiful jazwa.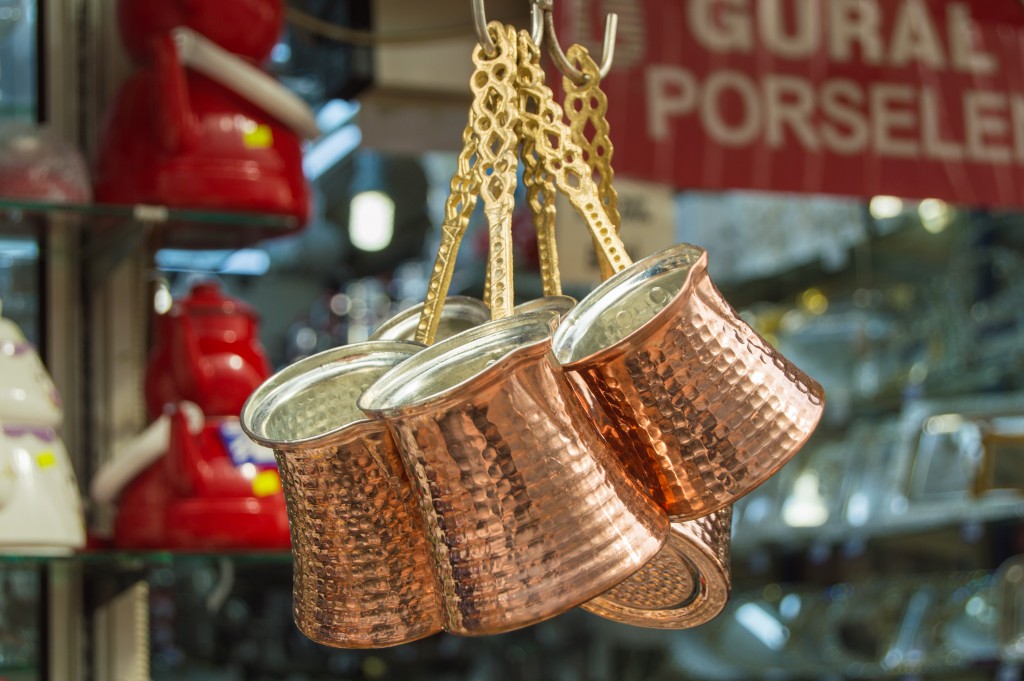 But Berna said that copper darkens quickly and requires regular cleaning. Plus stainless steel will serve longer. If Berna says stainless steel, stainless steel it is. In the same part of the market you can find traditional Turkish tea cups.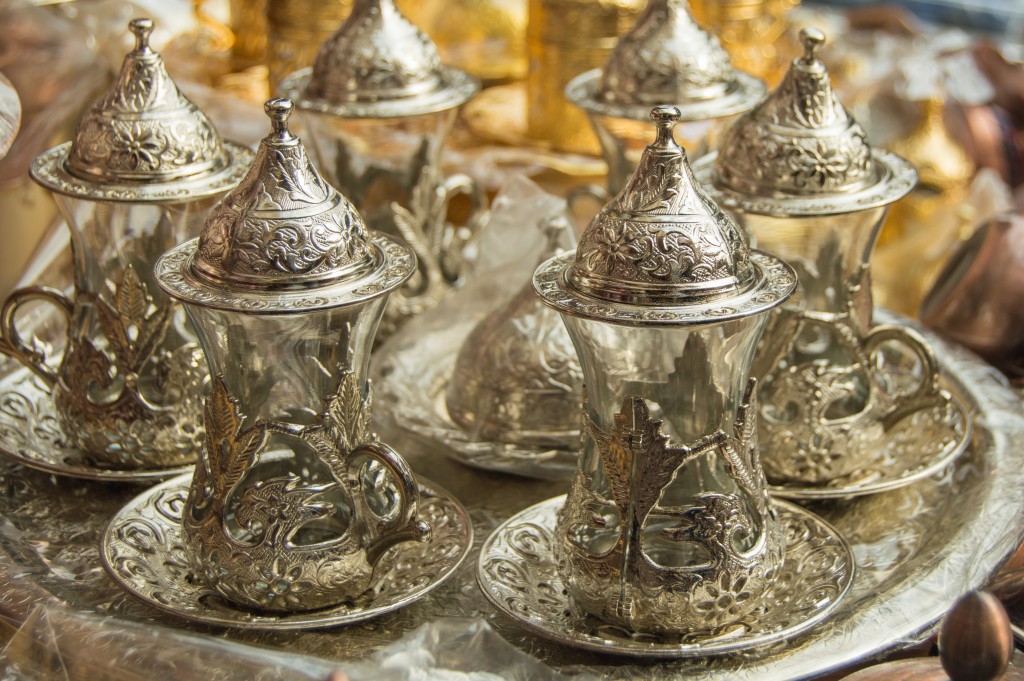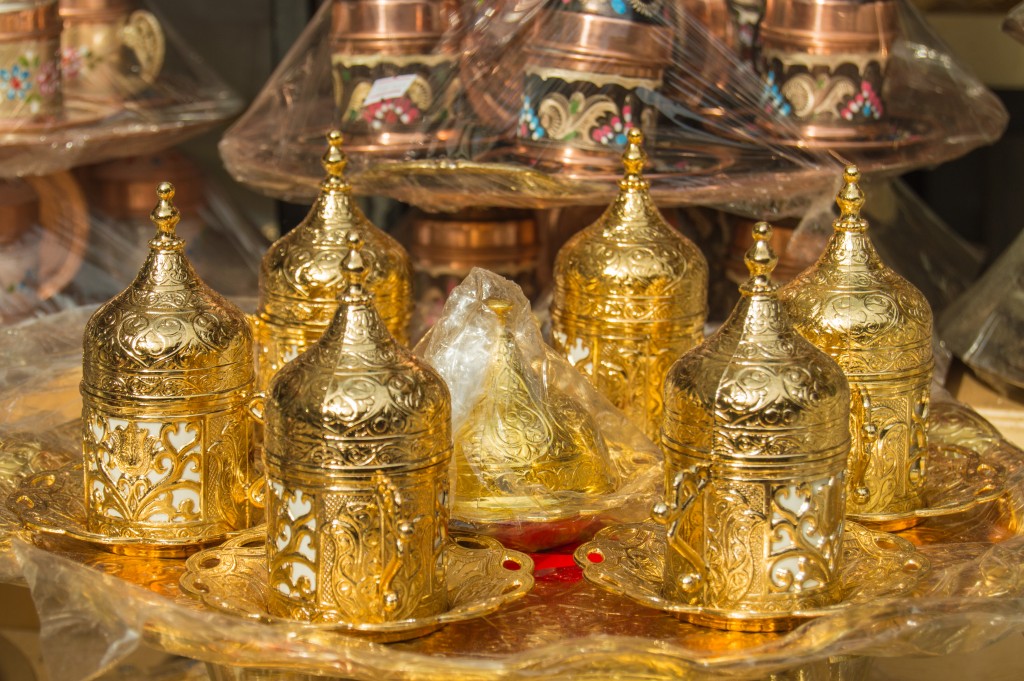 Dishes painted with traditional Turkish patterns.
We finished up exploring the market at the shop selling baklava. I haven't tried many Turkish sweets, just the most famous – Turkish delight and baklava – but between the two baklava is way ahead! By the way, baklava shop is the only place where you don't get samples for free, you can buy a piece and try it.
We did try it and while I was rolling my eyes, chewing loudly, oohing and aahing – as much as I can with my mouth full of sweet syrup and nuts – Berna said that was not it! She couldn't let me leave Istanbul with this baklava. But she knew where we could get the best one.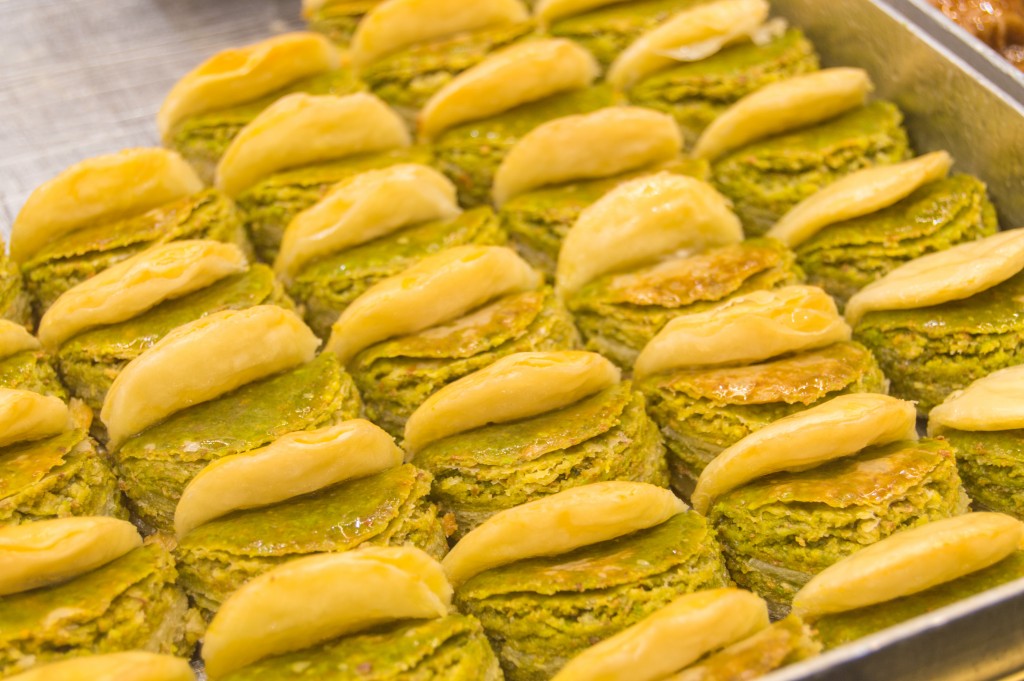 As fast as we tried to make decisions it took us 2 hours to cover the market. Now we had to grab a taxi in order to get to the café for breakfast and buy baklava on the way.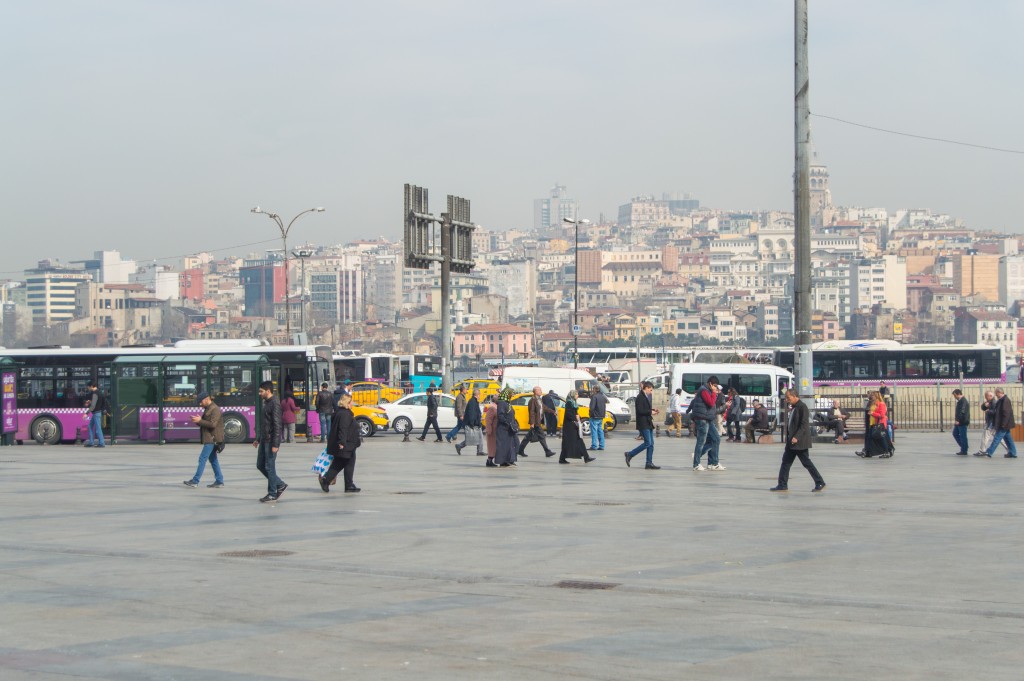 The taxi driver knew perfectly well the name of the shop, apparently everyone in Istanbul knows that Karaköy Güllüoğlu is the place to get baklava.
We had just enough time to jump out of the car, run into the shop, fill one box with enough sugary goodness to be considered a dangerous weapon against people with diabetes, then jump back into the car screaming "go, go, go!" in the best traditions of Hollywood action movies.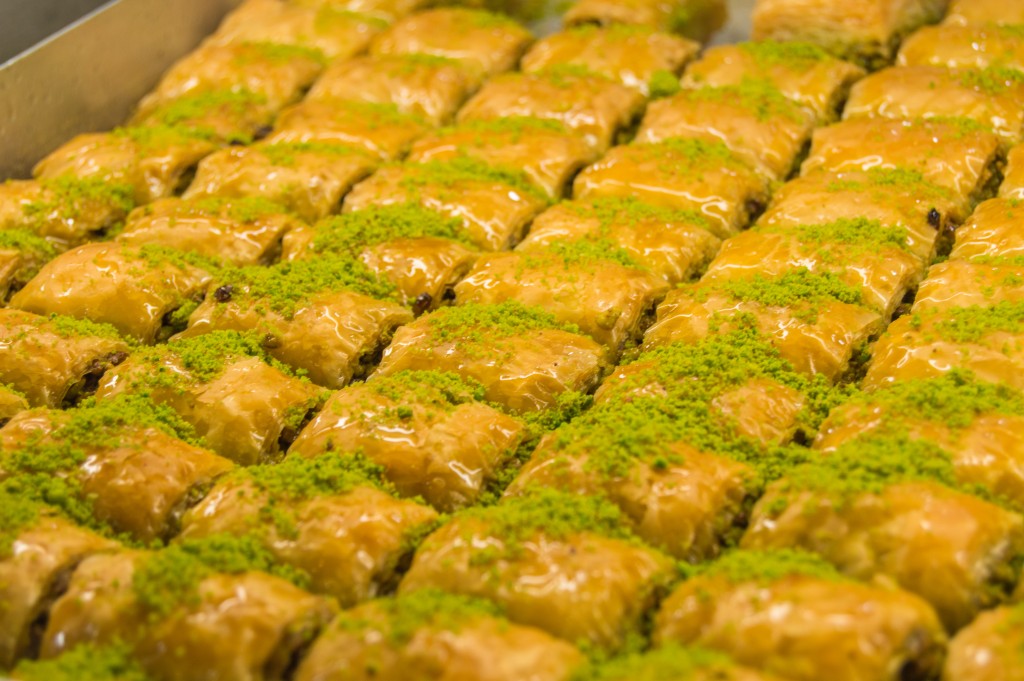 I tried the sweets after coming home to Russia, and yes, it was that good and totally worth the extra effort.
Now to the most anticipated part of my 24-hour stay in Istanbul – breakfast! The reason it was so important to me is that on my first trip to Istanbul I had the best breakfast of my life. I still remember every single dish and the way each of them made me feel. Not before, no after have I had anything quite as good. So this breakfast had a lot to live up to.
Van Kahvalti Evi is a cute spacious café with an outside patio serving traditional breakfast of a little Turkish town called Van. Two things I love about Turkish breakfast: bottomless tea and so many plates on the table you can't really see the table itself. Tea is served right away when we sit down and replaced throughout breakfast. They don't pour more tea into your cup (the way coffee is refilled in American diners) but instead your empty cup is replaced with a new cup of hot tea.
As for the many plates, all you need to say is "breakfast" and they start to appear before you. First comes bread. As in case with meze, pretty much everything on the little plates goes with bread. Two types of olives, acili ezme or tomato paste, curd mixed with herbs, fresh tomatoes and cucumbers. Though I am too smart to fill up precious space in my belly with vegetables when there's a whole table full of cheese, olives, and all kind of dips.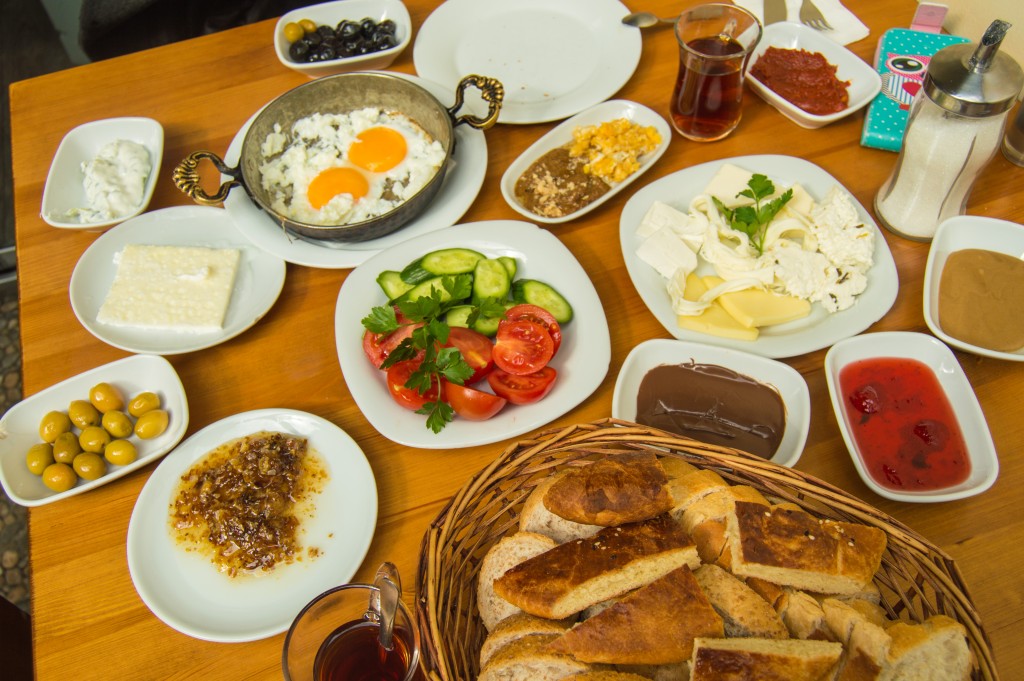 Fried eggs is the only thing we have ordered separately, all the other plates come with your breakfast order.
There's a plate with 4 different types of cheese.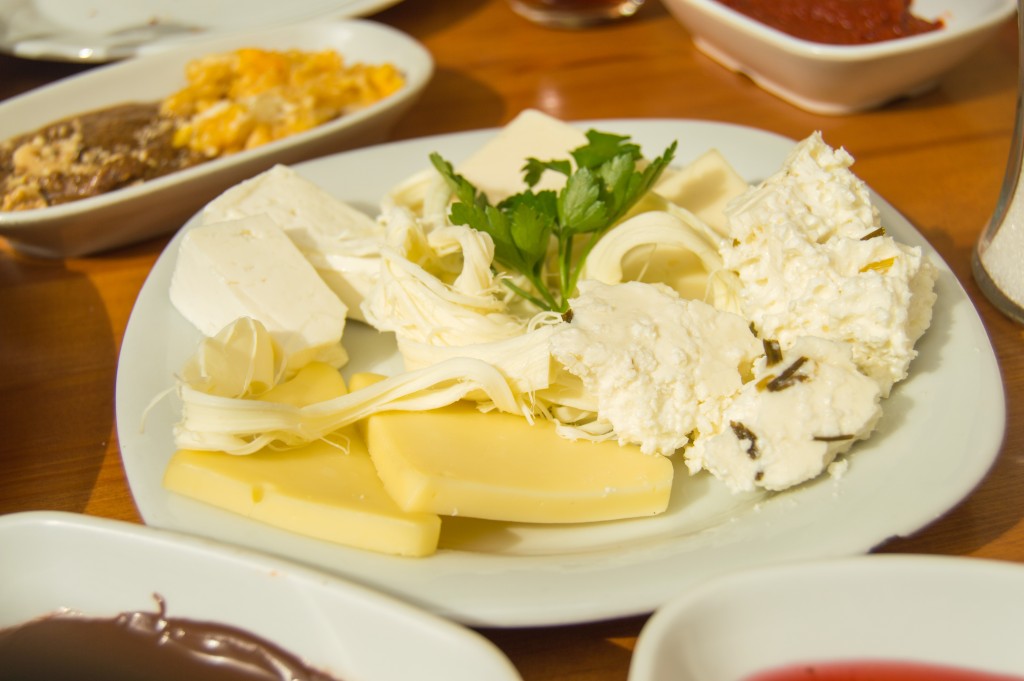 There's a Van specialty called murtaga (on the right side of the plate) made of eggs cooked on a pan with flour and butter. You can have it with honey or jam on top.
For dessert there are several sweet plates with melted Nutella, jam and the best of the best: kaymak with honey! All jokes aside, this is one of the best things I have ever put in my mouth.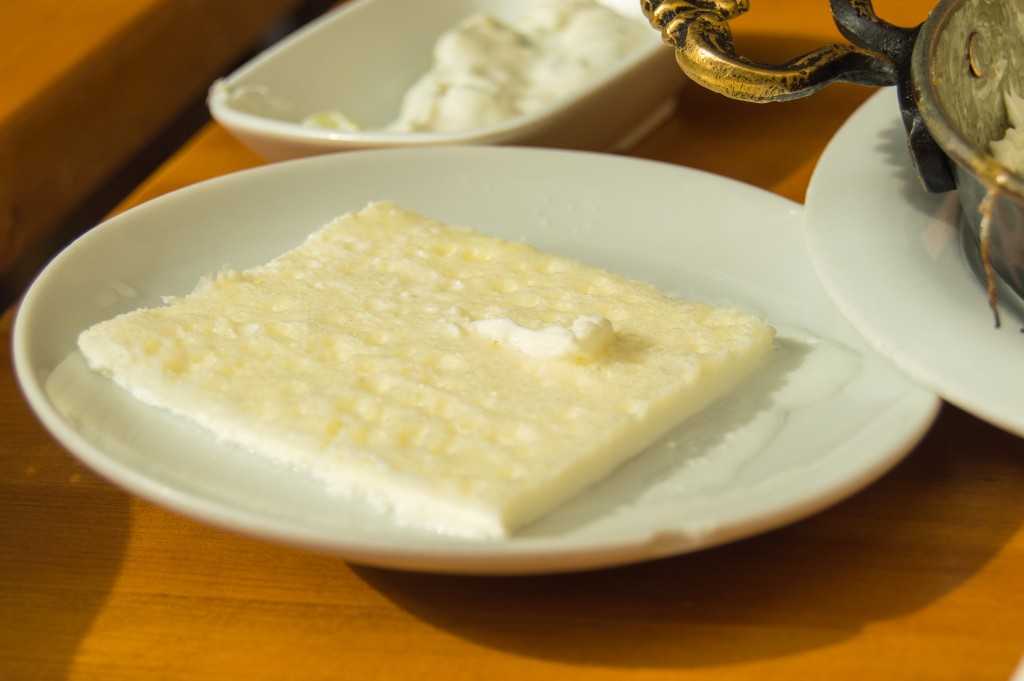 Kaymak is a thin top layer you get when you boil milk. These layers are placed on top of each other making a creamy melt-in-your-mouth goodness that is eaten with bread and honey on top. Honey here has particles of ground up honeycomb. In one word it is heaven.
When late breakfast came to an end, it was time to grab our bags and head to the airport. I had two more flights to catch before I finally arrived home. My one day in Istanbul felt like a quick date with a lover. Last minute call, uncomfortable timing, just a few hours to spend together, but I wouldn't change it for the world so enjoyable it was.
Mısır Çarşısı Spice Market — Fatih/Istanbul, Turkey
Karaköy Güllüoğlu — Mumhane Cad. No:171, Beyoğlu/Istanbul, Turkey
Van Kahvaltı Evi — Kılıçali paşa mah, Defretdar yokuşu 52/A, Istanbul, Turkey
Pin for later: