I can't be the only person who finds food, travel, art and books to be the perfect combination for a gift and, frankly, life in general. Four of the above are essentials of my happy existence and the removal of any one of them would lead to an unbalanced life.
This gift guide includes all of my favorite things located on the crossroads of the four. Each and every item on this list I either own or would very much love to own (let me know if you feel especially generous and would like to send me a Christmas gift). These are high quality, beautiful, thoughtful, soulful pieces that, I believe, will make your loved one happy.
Disclosure: this post contains some affiliate links which means that if you buy something by clicking the link I will earn a small commission at absolutely no extra cost to you.
Books
Dalí: Les Dîners de Gala
This is not a new book, yet it is the first on my gift guide because I cannot imagine a present more suitable for anyone who loves food and art. The book is a collection of recipes by the notorious artist and his wife Gala with 12 illustrations specially created and signed by Dali. 
The illustrations are surreal, but that is exactly what you'd expect to find in Dali's book: the recipe for banana pie is illustrated by cut off feet, there's a portrait of a woman with cookies for hair, and a pudding made of human body parts. As insane as it sounds one cannot stop flipping pages and craving more of this insanity. 
This is not a particularly practical cookbook since even an avocado toast recipe calls for lamb brain crushed with a fork, but who cares? The book brings such enormous visual satisfaction that I don't mind not being able to make a single recipe as long as I can stare at it forever. There's also a recipe lacking an ingredient list because, as the author explains, the chef wanted to leave it a secret and so the recipe is included in the book "for reading pleasure". 
Whether you are buying this book to try out the recipes, enjoy Dali's illustrations or simply "for reading pleasure", it is going to make an unforgettable gift. 
And while we are on the subject of Dali, can I also mention that this Alice's Adventures in Wonderland edition illustrated by Dali is absolutely amazing?
Pasta, Pane, Vino: Deep Travels Through Italy's Food Culture by Matt Goulding
Given that Italy has been number one on the list of countries I wish to visit for years now, I am slightly scared to buy this book. You see, having read Goulding's Grape, Olive, Pig about Spanish cuisine, I am pretty sure that once I am done with Pasta, Pane, Vino I will book the flights to Italy immediately. Goulding has been described by Financial Times as an author "pioneering a new type of writing about food". This is not a cook book, but "a patient investigation of Italy's cuisine, a loving profile of the everyday heroes who bring Italy to the table" as described by Goulding himself. 
His previous books, Grape, Olive, Pig about Spanish food and Rice, Noodle, Fish about Japanese food will also make excellent presents for the lovers of food and travel. 
Lonely Planet's Ultimate Eatlist
If this is not the Bible of anyone who travels the world for food, I don't know what is. The follow-up for Lonely Planet's bestselling Ultimate Travel, this giant of a book includes 500 food experiences from every corner of the world suggested by chefs, food writers, and Lonely Planet's authors. This book will take you on a journey from San Sebastián with its traditional pintxos to Kuala Lumpur's curry laksa stalls to the four-hour-long line in front of Franklin BBQ in Austin, Texas (been there, done that) and beyond. 
To Shake the Sleeping Self: A Journey from Oregon to Patagonia, and a Quest for a Life with No Regret by Jedidiah Jenkins
I've been waiting for this book since the moment I found Jedidiah Jenkins on Instagram. At that time, there wasn't any talk about the book, but his Instagram captions were so profound, so touching, so unlike anything I've read before, that I had no doubts at some point he will write a book, and it will be fantastic. And so he did. I've bought the audio version and just started listening to it. Absolutely in love with it from the first chapter!
Fare Magazine Subscription
This bi-annual travel magazine with focus on food was launched in May of 2017 and so far they have released three issues about Istanbul, Helsinki, and Charleston, SC. Every issue focuses on one city and goes deep into its culture, food, history, and people. The editor, Ben Mervis, used to work at the world-renowned noma in Copenhagen and right now is part of the team on Netflix documentary series Chef's Table. You can order all the previous issues as a present, or preorder an upcoming issue that is still in the works. 
Food
Le Creuset Dutch Oven
A dutch oven or, really, any piece of kitchenware by Le Creuset will be much appreciated by those who love to cook. The dutch oven is durable, perfect for slow-cooking, braising or roasting, can be used both on the stovetop and in the oven, and doesn't require seasoning. 
The history of Le Creuset goes almost a hundred years back when the first enameled cast-iron cookware was produced. Their products are definitely pricy, but they will serve for years and years to come. Plus you can't deny they are beautiful. A dish that can go from the oven straight to the table is a find! For more affordable gifts from Le Creuset, check out their oyster color French press or this beautiful salt crock.
Falcon Enamelwear
Falcon is a British brand producing beautiful enamel kitchenwear since 1920. Their classic design of white color with a blue rim is instantly recognizable to this day. Falcon has both baking sets as well as serving sets, or if you are looking for a more affordable option, check out their classic mugs. Enamelwear is elegant, durable, oven proof, and doesn't break. 
I have a feeling I am so in love with the brand because their pieces remind me of Russian dacha (countryside house with garden), my granny's kitchen, and a salad of freshly picked cucumbers and tomatoes mixed with sour cream in an enamel bowl. 
Bialetti Moka Express
I first saw this beautiful stove top espresso maker while having dinner with my Italian friends in Boston. A tiny cup of espresso was the last bit of our multi-course dinner that lasted for hours. Elisa, a Venice-native who generously prepared the dinner, told me that Bialetti is the best espresso-maker produced in Italy and so it was on my wish list ever since.
Bialetti has been around for the past 80 years and manufactured over 200 million coffee makers since the 1950-s. Their Moka Express in particular became an iconic household item. It produced authentic espresso in a few minutes. I also love the idea of not using electric gadgets to make my coffee, but prepare it the old-fashioned way.
Mugs and Pots by Helen Levi
I've been following Helen Levi on Instagram for a while now. From time to time she shows the behind-the-scenes process of making pottery from scratch, and it is mesmerizing. Not to mention that her final products are beautiful and — I can only imagine — a pleasure to hold in hands. Although I wouldn't buy one of her mugs for myself at this point (you know how spending on oneself can sometimes be daunting), I'd buy one of her gorgeous mugs as a gift for my friend in a heartbeat. 

Linen Table Cloth
 by Solino Home
Because rustic is trendy, but really linen is one of those things that will never go out of style, because quality never does. A beautiful high-quality linen is the quickest way to dress up a table. 
Professional Apron by Hedley and Bennett
Hedley and Bennett creates beautiful high-quality professional aprons worn by some of the most talented chefs in the USA. Each of their aprons is hand-crafted from start to finish using the best fabrics from Europe and Japan and made to last even in the hustle and bustle of a busy restaurant kitchen. If your loved one loves to cook, they'll appreciate the high quality and durability of this apron. I love this hickory cotton denim apron and this Michael Gray brushed canvas apron.
Travel
National Geographic World Map
You know how in the past few years everyone has been obsessed with scratch maps? Well, I am an old-fashioned kinda girl, I still like to pin the countries I visited, not scratch them. My husband gave me a National Geographic map for my birthday last year. I have one of the world and one of the USA since that's where we used to live at the moment. I personally think the National Geographic maps are of better quality than scratch maps and look much cleaner and neater in comparison. Besides, I am from Russia… imaging trying to scratch off the whole country of Russia on the map. The task would take me weeks!
Watercolor Scratch World Map 
But if you absolutely, no questions asked, have to give a scratch map as a present, then this option with watercolor layer underneath is my favorite. 
Atlas Coffee Club Subscription
Atlas Coffee Club is an Austin-based company that delivers coffee from around the world right to your doorstep. As I myself lived in Austin for two years, I got a chance to meet and interview the creators, Michael Shewmake and Jordan Rosenacker. The duo is seeking out the best single-origin coffee from countries like Ethiopia, Kenya, Guatemala, Indonesia, Brazil and Peru to ensure the highest quality of the final product. The beans are roasted in Arkansas, where Shewmake is from. 
Every month you receive a pack of coffee from a new country. The package design, by the way, is inspired by the country where the coffee is from. For example, the design of Costa Rica coffee pack was inspired by an ox cart wheel that are used there to transport coffee. Gotta love this attention to detail! You can read more about the company and its creators in my article for Austinot. Also, check out this guide to the best coffee shops in Austin I wrote together with Jordan Rosenacker.
Travel Between the Lines Adult Coloring Book
Travel Between the Lines was created by the bloggers Geoff & Katie Matthews behind Wander Tooth. They've used their original travel photographs of the world to make hand-drawn cityscape illustrations of cities like Berlin, Paris, Havana, Hong Kong and more.
Art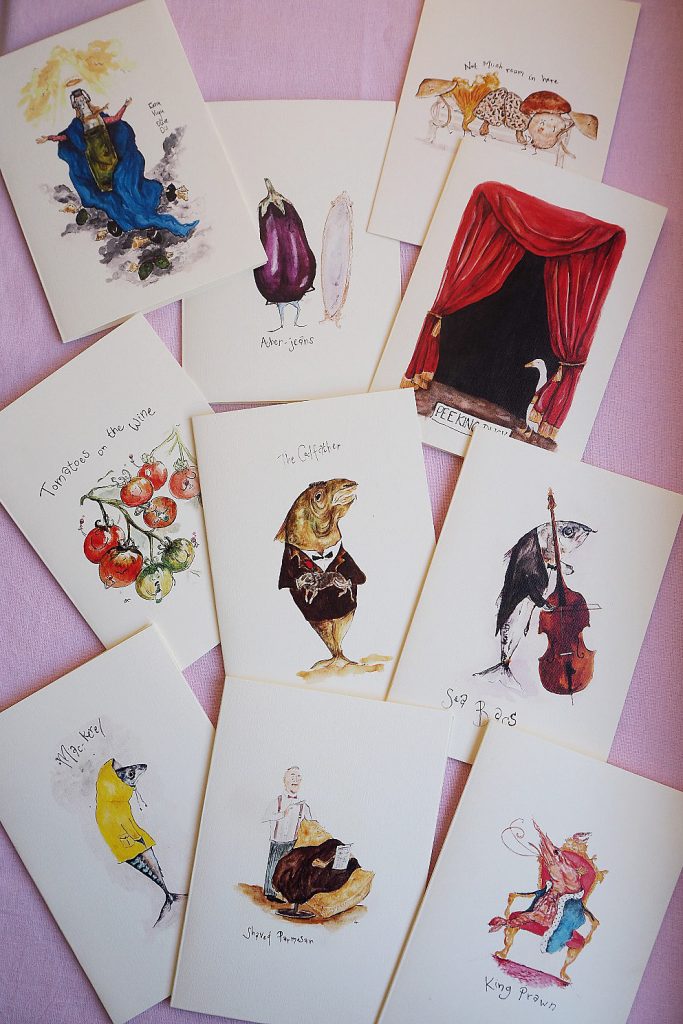 Food Illustrations by Letitia Clark
I found Letitia's Instagram account by accident this year and have been in love with her illustrations ever since (although I've been frustrated with Instagram for a long time, there's no denial I found a lot of amazing, talented people thanks to it). You can tell there's much love and care in every one of her works. I especially love the illustrations from her nonsensical collection — they are hilarious.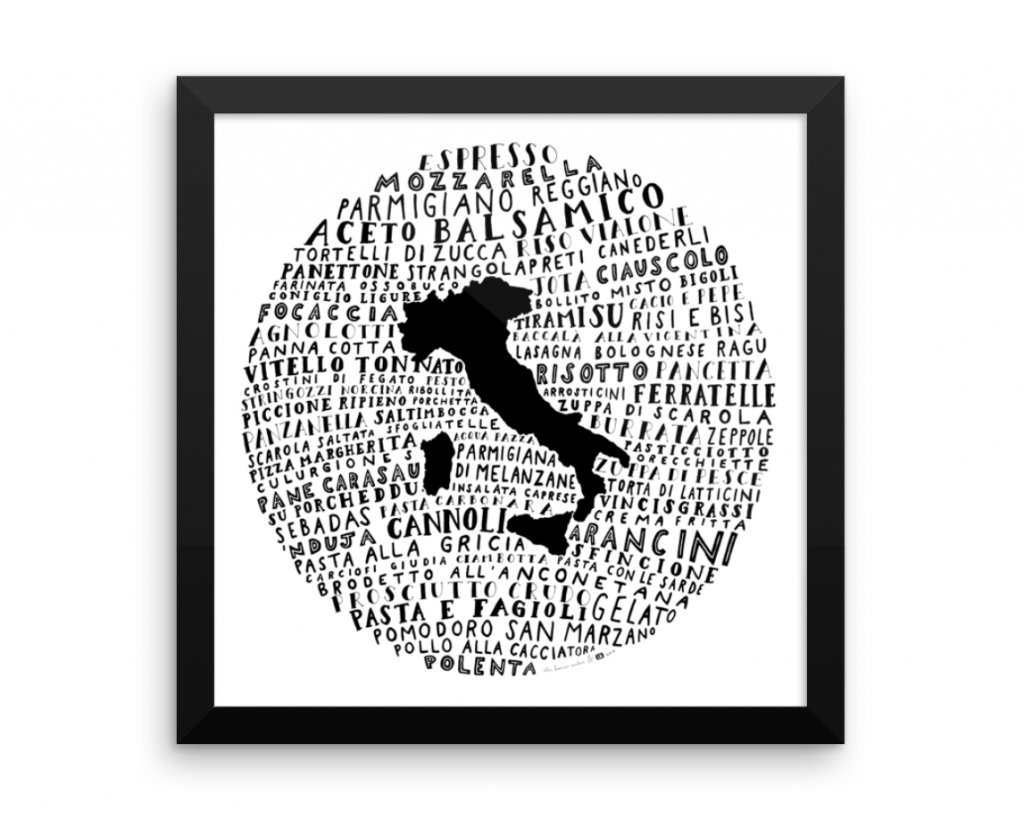 Food Maps by Jodi Ettenberg of Legal Nomads
Jodi is one of my favorite bloggers and has been an inspiration since I started my own journey of writing about food and travel. What I love about her blog is that it's not a collection of itineraries, but rather a collection of stories about the world told through food. With the help of a designer, Jodi created hand-drawn food maps of countries. So far you have an option to choose between Italy, Mexico, Vietnam, Thailand, and Japan. Choose the country first and then whether you want it printed on a poster, t-shirt or a tote bag.
Coffee Prints by Department of Brewology
If your loved one is more of a coffee fan, prints by Department of Brewology, a design-oriented brand devoted to the art & science of specialty coffee, are a wonderful gift. I love both their original black-and-white series of posters and bright and colorful bloom series. They also have lots of fun coffee-themed pins and apparel. Check out their "Filter coffee, not people" T-shirts.
Cozy Coloring Cookbook: 40 Simple Recipes to Cook, Eat & Color 
I wasn't sure whether to add this book into my art category or book category because it is both. As the description says, the book contains 40 simple recipes to cook, eat and color. The coloring book is an organic extension of Adrianna Adarme's The Year of Cozy and her blog A Cozy Kitchen that have been featured in Saveur, The Pioneer Woman, and Refinery29.
I think travel + food + art + books make an awesome combination and present an array of gift options! Hope this guide was helpful. Happy holidays and happy shopping!
Pin for later: