Galle Fort is Sri Lanka's sweetheart. I don't know a person who wouldn't like it. European vibe, narrow streets, cobblestone roads, a multitude of boutiques, art-galleries, and souvenir shops — what's not to like! Above all, I love Galle Fort because it is, possibly, the only other place in Sri Lanka (apart from Colombo) where one has a choice of restaurants with creative menus and original ambience.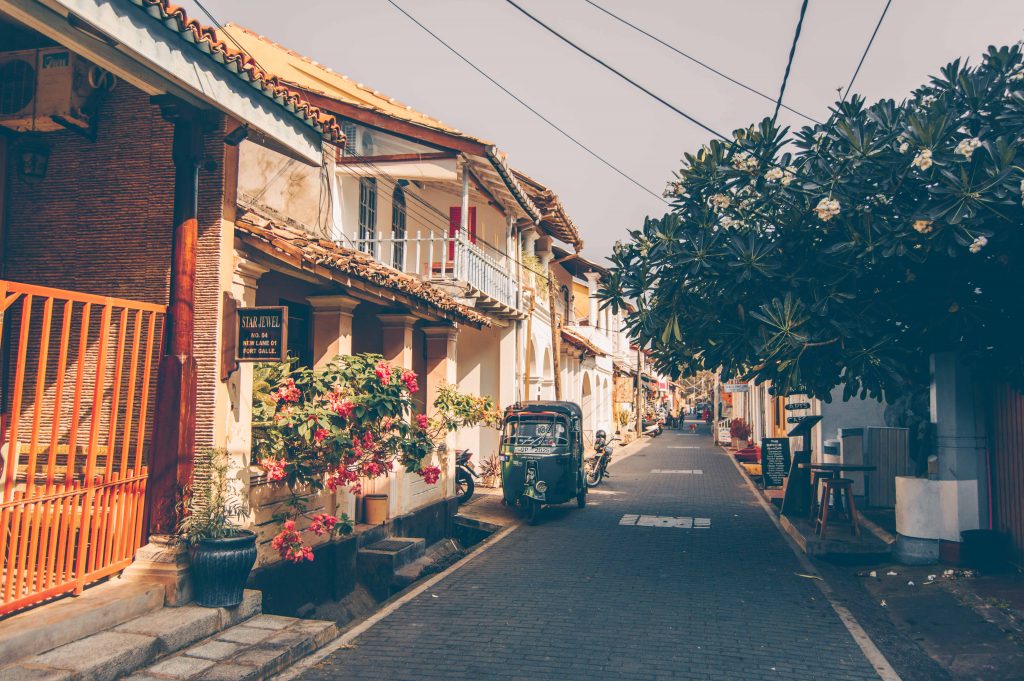 Galle, being a short one and a half hours drive from Colombo (now that there's a highway), has become a perfect day-trip destination for me and my friends. We'd leave the city after breakfast, have an obligatory cup of coffee at the rest-stop mid-way to Galle, arrive at the Fort just in time for lunch, walk around aimlessly without actually buying anything — what are these prices? — then finish the day with a glass of beer at Unawatuna beach or riding the swing at Dalawella beach.
I've been to Galle Fort so many times, I lost count. I had a pre-wedding photoshoot under burning sun in its tiny narrow streets. I brought every one of my friends and family members whoever visited Sri Lanka here. I got acquainted with every single cat of whom there are many in the Fort.
What do you do in Galle Fort? I don't see the point of writing a guide because the space is tiny. Just walk and let your feet decide what to do next. Galle Fort is not about doing and seeing as much as you can, it's about chilling. Plan to spend about half a day here. It's best to come either very early in the morning or in the afternoon when it's not too sunny.
A few of my favorite things to do in Galle Fort include taking the classic picture with the lighthouse in the background, shopping for vintage posters and postcards at Stick No Bills, looking at the boys riding bikes or playing cricket at the main square and eating ice cream that melts all over my hands in seconds. And then there's all the food! Here are my personal must-try restaurants in Galle Fort.
Disclosure: this post contains some affiliate links which means if you buy something by clicking the link I will earn a small commission at absolutely no extra cost to you.
10 Best Restaurants in Galle Fort, Sri Lanka

Poonie's Kitchen
This place is currently my favorite lunch spot in Galle Fort, and not only mine, but every other tourist's too. The space reminds me of those cute hipster cafes you usually see in Bali (where I have never been, but thanks to Instagram that's how I imagine it).
To find Poonie's Kitchen one needs to walk through a boutique shop located on Pedlar Street and come out on the other side, into the courtyard with blue-colored walls, a pool with fishes and greenery all around.
Apart from the ambience I really love their menu, short and sweet. Everything is cooked using locally produced and sometimes organic ingredients. And — bonus points — they care for environment and give straws made or papaya instead of plastic. Looooove!
Why come here? Because of hipster atmosphere, relaxed vibe, natural ingredients and sustainable practices.
What to order: salad thali, Thai prawn pumpkin and coconut soup.
Poonie's Kitchen — 63, Pedlar St.

The Tuna and the Crab
Created by one of my favorite Sri Lankan chefs, Dharshan Munidasa, The Tuna and The Crab is a combination of world-class Sri Lankan seafood and Japanese culinary traditions. I usually recommend Dharshan's Colombo restaurants for anyone who's spending a day or two in the capital. His Ministry of Crab is the best place to try authentic Sri Lankan crab on the island, while Nihonbashi offers top quality sushi and Japanese cuisine prepared with fresh local fish. The Tuna and The Crab in Galle Fort is kind of like a brainchild of the two.
The menu spans from bento boxes to crab salad in avocado to crab pasta to olive oil and soy sauce sashimi that deserves a special mention, because what in the world is this miracle of a plate!
Crab is a must-try here. I ordered a black-pepper crab served with bread that you dip into gravy and cry, partly because of its spice level, partly because of how amazing the crab is.
Why come here? Because no-one in Sri Lanka cooks crab like Dharshan Munidasa does.
What to order: olive oil and soy sauce sashimi, black pepper crab, crab fried rice.
The Tuna and The Crab — Dutch Hospital Shopping Precinct, Hospital St.
Sugar Bistro
Tried and true option for when I am in need of good food and don't want to think much. Sugar Bistro is a small local chain with two restaurants in Colombo and one in the Dutch Hospital of Galle Fort.
The food is consistently great. The menu at Sugar Bistro is a mix of Sri Lankan classics and Western favorites. They have a dedicated burger menu as well as a choice of local main dishes like crab kottu and Batticaloa prawn curry.
This is also a good place for a coffee break. I haven't found great coffee in Galle yet, but this one is decent. They have a few tables in the courtyard, behind the Dutch Hospital, which are perfect for an evening drink, when it gets cooler.
Why come here? Because of consistently delicious food and decent coffee.
What to order: crab kottu, traditional lamprais, burger.
Sugar Bistro — Dutch Hospital Shopping Precinct, Hospital St.
Galle Fort Hotel
Galle Fort Hotel is one of those places that I usually pass by thinking: "One day I am going to stay here, one day!" The good news is that you don't have to stay at the hotel to enjoy the historic atmosphere and gorgeous architecture. You can stop by for a meal instead.
This iconic Galle Fort building has a history that dates several centuries back. According to their website, the hotel was "a former gem merchants mansion, RAF barracks, a post office, bakery, lapidary and even a pitch for the forts juvenile cricketers".
"With foundations dating back over three centuries, the property was originally a Dutch mansion and warehouse, and as such the 18th century doors and windows on the building's façade are perhaps the best examples of their kind within the Fort."
The building was restored in 2003 and features 14 suite rooms today. You can come here any time of the day, but I highly recommend their breakfast. They have a Sri Lankan and a Western option — I always go for Sri Lankan, because I can make eggs myself any day of the week. The price of breakfast is quite high at Rs 2100, but it's great value for money, considering you are surrounded by such beauty. Plus their service is impeccable.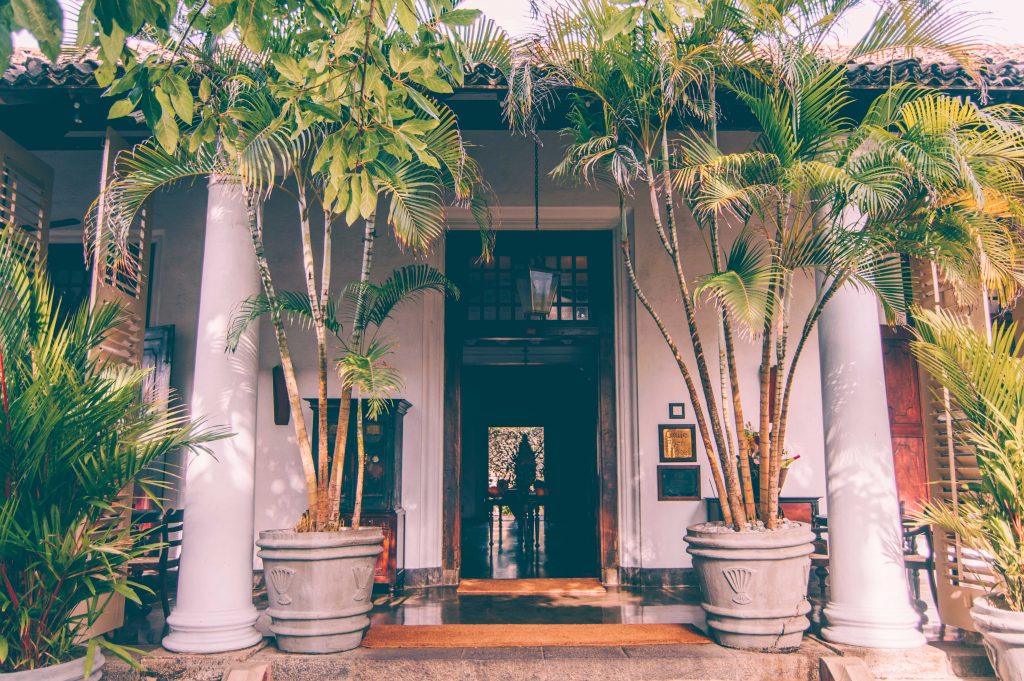 Why come here? Gorgeous historic building, beautiful view of the garden and the pool from the tables.
What to order: come for breakfast, order Sri Lankan hoppers or string hoppers.
Galle Fort Hotel — 28 Church St.
Fortaleza
Fortaleza is located steps away from the Galle Fort Hotel. It is a part of the group of 5 boutique hotels all of which are situated within Galle Fort. The restaurant features a beautiful garden with several tables, perfect for late night drinks, especially that they do drinks really well (and use metal straws instead of plastic, yay!). The menu is "contemporary and Western in style, but has a distinct Asian accent".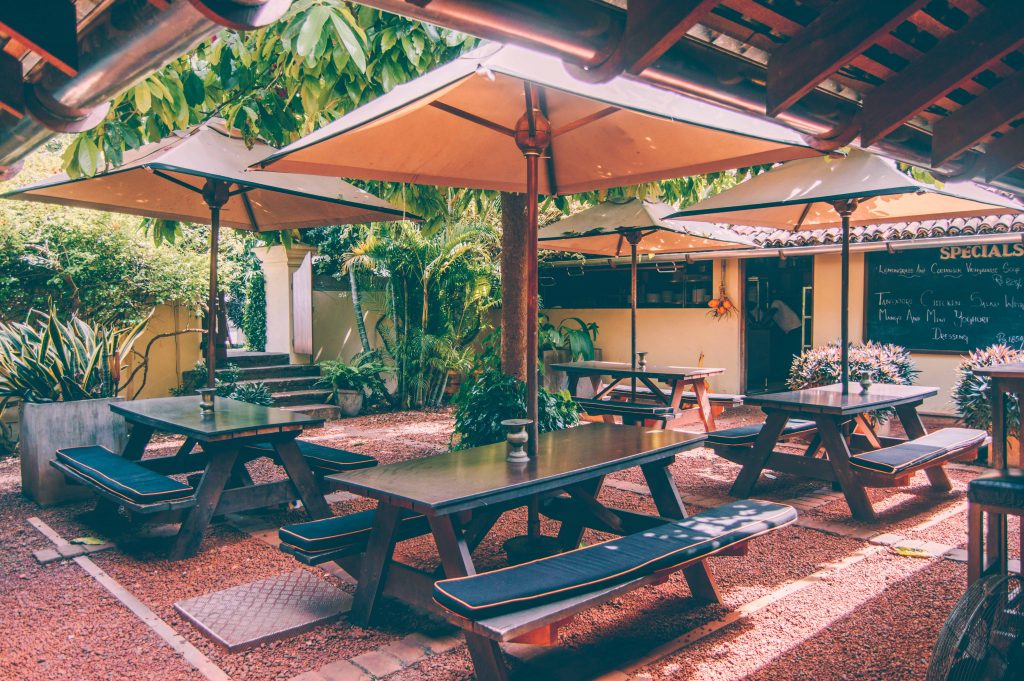 Why come here: beautiful garden, good cocktails and wines.
What to order: cocktails, wines, and I loved their mahi mahi.
Fortaleza — 9, Church Cross St.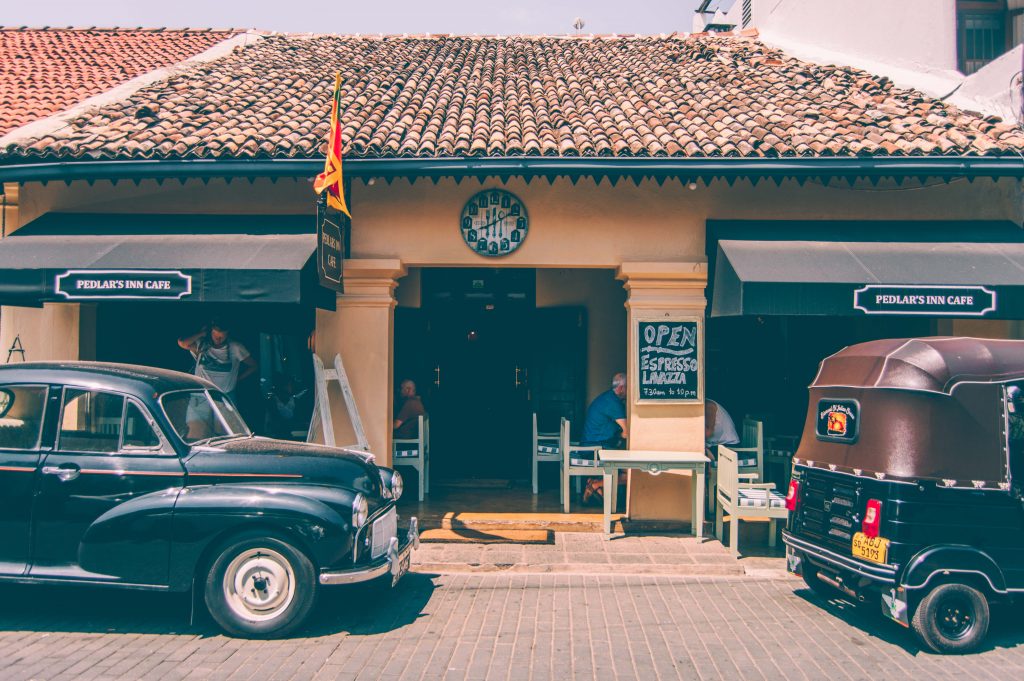 Pedlars Inn
Pedlars Inn is a Galle Fort staple that has been around since 2004 and has devoted fans among both locals and expats. It's the favorite spot of my friend Madhu and if I didn't make an effort to drag her to other restaurants we'd end up here every time and this guide would include only one restaurant instead of ten.
Located in the building that used to serve as the British Post office, Peddlar's Inn boasts beautiful facade and interior decor that is a mix of antiques, books and jewelry with a modern touch.
The choice of food is rather extensive with salads, burgers, pasta, pizza and rice and curry all in one menu, which is not a good sign for any restaurant. The food is not going to wow you, but it will be fine. I'd come here for ambience or in case I need a quick easy pick to satisfy a large group of people with different tastes.
Pedlars also has a small gelato shop almost right across the road from the cafe, impossible to miss thanks to the vintage colorful cart in front of it. One of the most Instagramable spots in Galle Fort.
Why come here? Because of historic building and unique ambience.
What to order: their pasta options are usually good.
Pedlars Inn — 92, Pedlar St.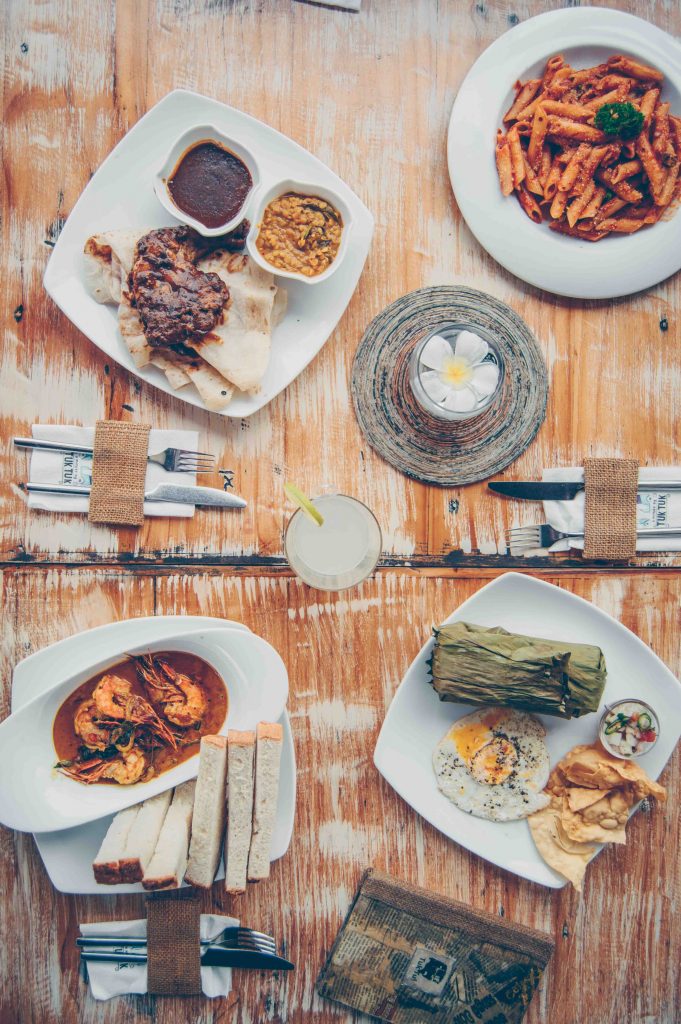 A Minute by Tuk Tuk
Situated on the second floor of the Old Dutch Hospital, this casual eatery has an awesome unobstructed view of the ocean. You can choose to sit on the terrace which means a nice breeze or at the bar inside (although turning on AC when all the doors and windows are open is a crime, in my opinion).
The menu has a familiar for many Sri Lankan restaurants mix of local and Western dishes, including burgers, pasta, soups and salads. My favorite part of the menu and what I think they do best is Sri Lankan variety. Cocktails are supposedly good too, but I didn't get to try them yet.
Why come here? Amazing views of the ocean and delicious food.
What to order: isso (prawn) curry with local bread, chicken curry with godamba roti.
A Minute by Tuk Tuk — Dutch Hospital Shopping Precinct, Hospital St.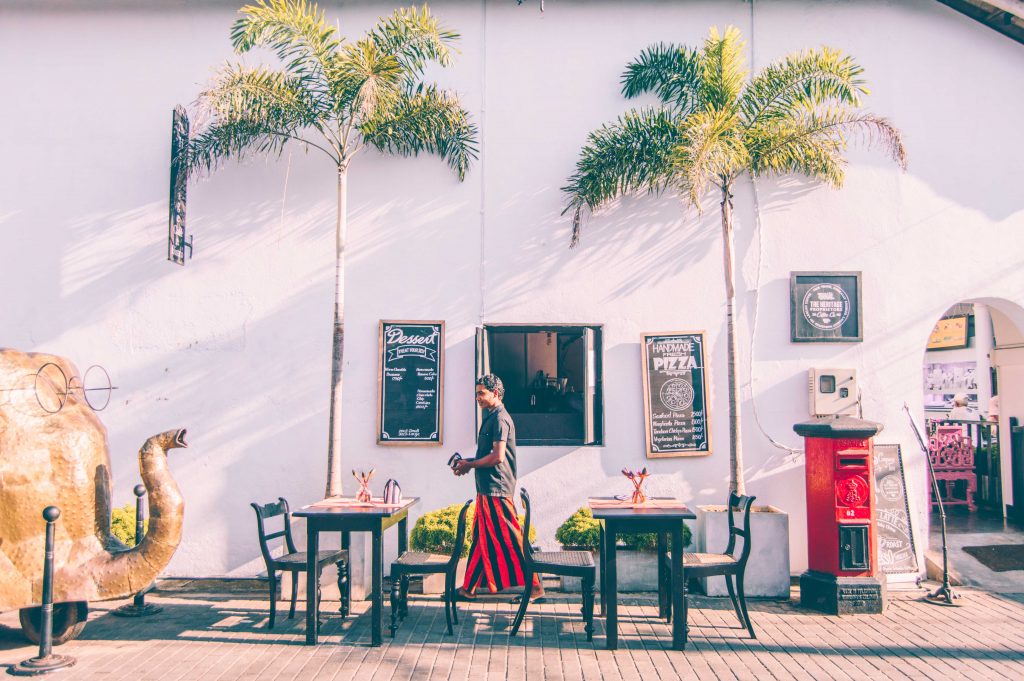 The Heritage Cafe And Bistro
Sometimes I choose restaurants by their looks alone, and if the food turns out to be good — it's a nice bonus. Not the best strategy for a food blogger, but I try not to overuse it. When it comes to buildings with history, unique deco and sunlit green courtyards — I can't help myself. That's how I ended up at the Heritage Cafe.
Their slogan is "Where art and food combine" and you can see why before you even step inside. A tuk-tuk made of hand-hammered solid brass and shaped as an elephant greets customers at the entrance. The space of the cafe is filled with up-cycled installations and artworks that include a restored 1953 BSA motorbike, paintings, vintage posters, and a peahen made from recycled motorbike parts.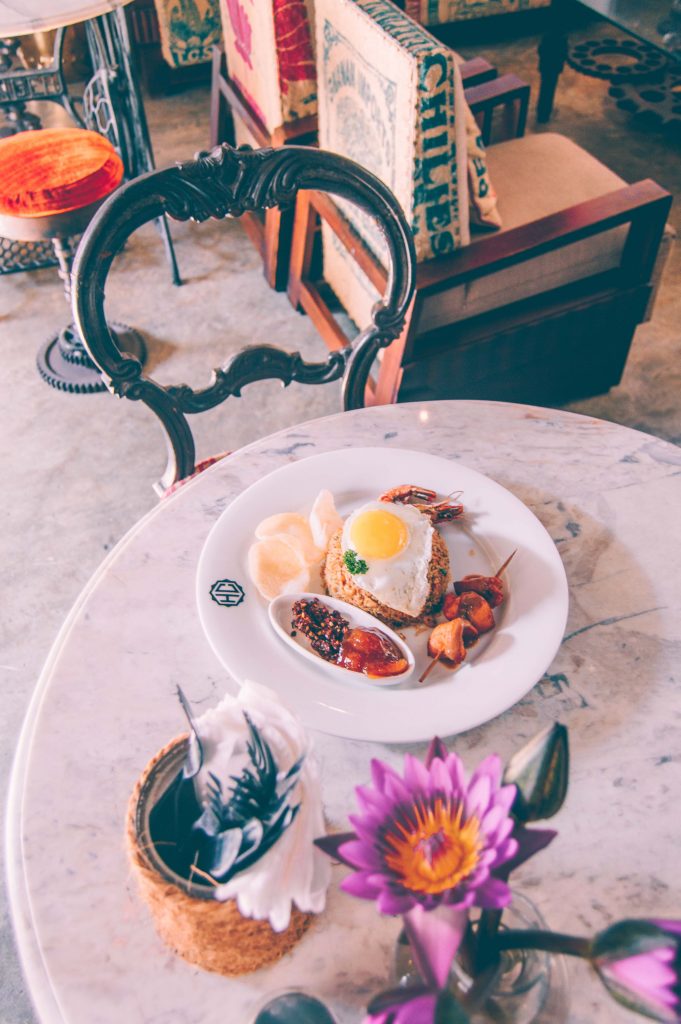 Once again, the menu is diverse, and, as they state on the website, spans from "Asia, to the Middle East, to Europe, to Australia and beyond". Way too much, guys! But I do love the sound of "hand-crafted cakes, pastries and bread made fresh daily in our bakery". Seafood is good here. Their coffee is nice too.
Why come here? Unique design and ambience, freshly baked pastries.
What to order: seafood platter to share, nasi goreng (although originally Indonesian, this dish is popular in Sri Lanka), desserts and pastries.
The Heritage Cafe And Bistro — 61 Pedlar St.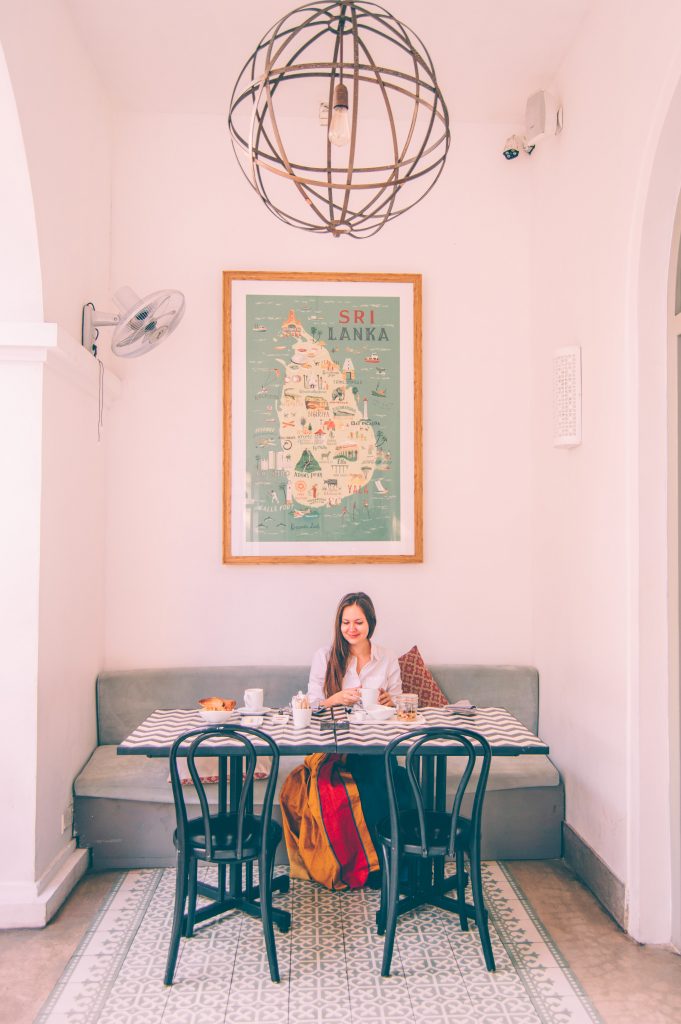 Church Street Social
One of the newest additions to Galle Fort dining scene, Church Street Social is located inside the Fort Bazaar, an old merchant's house-turned-boutique hotel. The menu is inspired by Moroccan, Turkish and Middle Eastern cuisines and features tapas and platters to share. The mains are a mix of seafood and Sri Lankan classics with a contemporary twist which, unfortunately, I didn't get a chance to try yet.
But I did stop here one morning for breakfast which is definitely on the pricy side, but the ambiance and the presentation are well worth it. Come early to enjoy the calm and quiet. My friend and I were completely alone on the gorgeous terrace, enjoying the morning sun and fresh curd with kithul treacle and granola.
Why come here? Beautiful colonial-style building and fresh good food.
What to order: I can vouch for their breakfast items, but I've heard good things about their barramundi and cold cuts and cheese platters.
Church Street Social — 26, Church St.

Isle of Gelato
This newly opened gelateria made some serious competition for the Pedlars Inn Gelato that has been around for years. The owners, Shalini and Suranjan, a couple from Colombo, opened their little gelato shop with traditional Italian techniques and Sri Lankan freshest ingredients in mind. Shalini spent three months in Bologna, Italy, learning how to make gelato the classic way, and brought the knowledge back to her home country.
Their gelato has no artificial flavors and is made with locally sourced produce whenever possible. My favorite flavor — jackfruit sorbetto — comes from the line developed together with chef Peter Kuruvita. Their sorbets are so good and creamy, you won't believe there's no milk in them.
Why come here? Exceptionally delicious gelato and sorbetto with Sri Lankan flavors like jackfruit, turmeric, wood apple and mango.
What to order: jackfruit sorbetto, pistachio gelato.
Isle of Gelato — 60a, Pedlar St.
Where to Stay in Galle Fort?
There are two ways to visit Galle Fort: either stay in a hotel inside the Fort to spend some quality time exploring every nook and corner of this Unesco World Heritage Site or stay in a hotel outside the Fort (in Galle town or in one of the towns by the ocean nearby) and drive to Galle Fort for a day trip.
In my opinion, spending at least one night inside the Fort is a great idea since it gives you a chance to explore the streets early morning and late at night without crowds. Here are three hotel options in Galle for every budget.
I was walking around Galle Fort one day when I saw a gorgeous courtyard that made me stop in my tracks. In the years of coming to Galle Fort for weekend trips I have never seen this gem before. Turned out, The Batizan is an old Dutch building that was renovated and remodeled as a boutique hotel in 2017. The original structure was built sometime in the 17th century. Today, the hotel combines the best features of the original architecture with modern touches and amenities. As the owners put it, the Bartizan strikes "a delicate balance between old world ambiance and modern luxury."
Affordable Funky Option — Kikili House
This is one of the options outside of Galle Fort that will require a 7-minute drive. But Kikili house is so cool, funky, and hip, that it's kinda like a destination in itself. Every room is decorated with colorful pillows and bed covers, fresh flowers, and pieces of art. If you love quirky and colorful, you'll love this place!
Located right in the center of Galle Fort, within a few steps from all the major attractions, Casa de Kalu is one of the best budget options inside the Fort. It's located right in the center, within a few steps from major attractions. It's somewhere on the crossroads between a hotel and a homestay. It definitely feels like you are entering someone's house when you step through the narrow front door. There's also no formal reception. But the rooms have separate access, private bathrooms and AC units. They are not large, but nicely decorated and clean.
Pin for later: