I bet you have just looked at the name and didn't dare to pronounce it out loud. Am I right? It's not as scary and complicated as it looks, I promise!
There's a city in Ural region of Russia called Ekaterinburg. Still too much? Look at it this way: the city is named after a Russian empress Catherine I (Catherine in Russian is pronounced Ekaterina) and the ending "burg" is German for "city". So Ekaterina + burg makes Ekaterinburg. Easy-peasy.
Now Ekaterinburg + burger make Ekaterinburger. It's pronounced yi-ka-ti-rin-bɜːɡə(r)
That was one long introduction! But now you can confidently order your burger at one of the best restaurants in Ekaterinburg – Steak House – when you visit the capital of Urals. And you will have to order it at least once because it's a must-eat in Ekaterinburg.
As restaurants' Chef Mikhail Arakelov jokes, every city ending with -burg should have its own burger. I like this concept. Especially if it means I can get a delicious hamburger made with local ingredients in a city I consider my home.
I guess I look pretty scared when I step into the kitchen because the chef immediately asks whether it's my first time. I have to admit that it is, so the little space with people chopping, grilling and flipping chunks of meat does seem intimidating. I expect the cooks to be loud and use the most outrageous obscenities – that's what Hell's Kitchen taught me – but everybody looks calm and concentrated. The speed of cooking is pretty insane, though.
The meat
Mikhail starts by showing me raw marbled beef, the awesome thing you should know about this beef is that it's not minced. Instead whole pieces of meat are chopped with axes right in the restaurant – talk about stern Russian people! Why is it awesome? Because you can be sure nothing is mixed into beef and you get the highest quality.
He vigorously slams chopped beef onto the cutting board several times to ensure the mixture is uniform. Important: no salt is added at this point. Adding salt will lock moisture inside which won't let the patty brown well. Then he adds some herb-infused oil to the plate and starts shaping the patty.
Next thing you know the patty is on the grill (brought straight from the USA) and the chef is working his magic on the burger bun. Everything happens so quickly I can hardly keep up taking pictures and trying to memorize all the information he throws at me.
The bun
The bun, of course, is also made in the house using local milk produced in a village near Talitsa (Ural region). The awesome thing about this bun is that it doesn't crumble. I can feel in Mikhail's voice that he is really proud of it. As insignificant as it may sound crumbling bun can spoil the whole impression. To my mind, this is what makes a good chef: attention to details. Brushed with egg mixture and sprinkled with white and black sesame seeds the bun is joining the patty on the grill.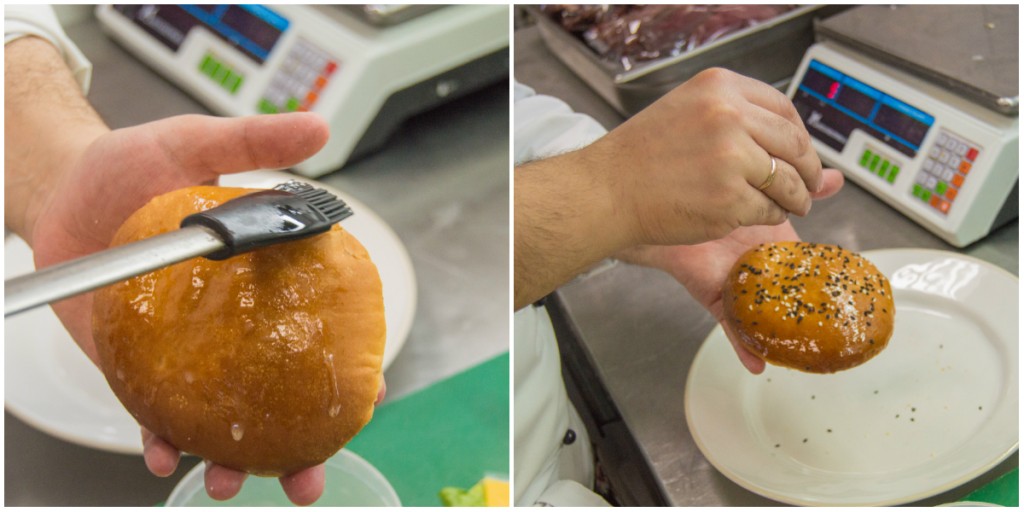 The sauce
This is interesting. The sauce for Ekaterinburger is a combination of ranch and BBQ sauce. But each of the two has something special. The base for ranch – and I loooove this part – is made of a local mayo produced in Ekaterinburg (Provansal by Ekaterinburg Fat-Processing Factory). A couple of words about this mayo: it's the tastiest mayo in the world (according to me and other biased people living in the region of Urals) and it's a must-try when you come to Urals. If you make a Ekaterinburger – meaning a burger with local ingredients – I would expect no other mayo but this one. Ranch also features local sour cream and honey brought from a neighboring region of Bashkiria.
The secret behind Mikhail's BBQ sauce is addition of prunes. It gives some sweetness and makes the taste distinctly different form your regular BBQ sauce.
Building the burger
Spread sauce on the buns making sure to cover the edges – it will prevent them from drying. Place lettuce and tomato slices on a lower bun. Grill beef patty to medium rare adding onion rings and cheddar on the top in the very last minute just to let the cheese melt. Cover with another half of the bun. Serve with freshly made fries (do I have to mention they are cut in the house?) and house special BBQ sauce.
Before opening Steak House the chef and his coworkers took a trip to the United States in order to try steaks and hamburgers in the place of origin. Eating his way through the country one hamburger at a time Mikhail learned the traditional way and got inspiration for his own masterpiece of a hamburger. When you combine attention to history, creativity, and the best local ingredients you are doomed to get an outstanding result.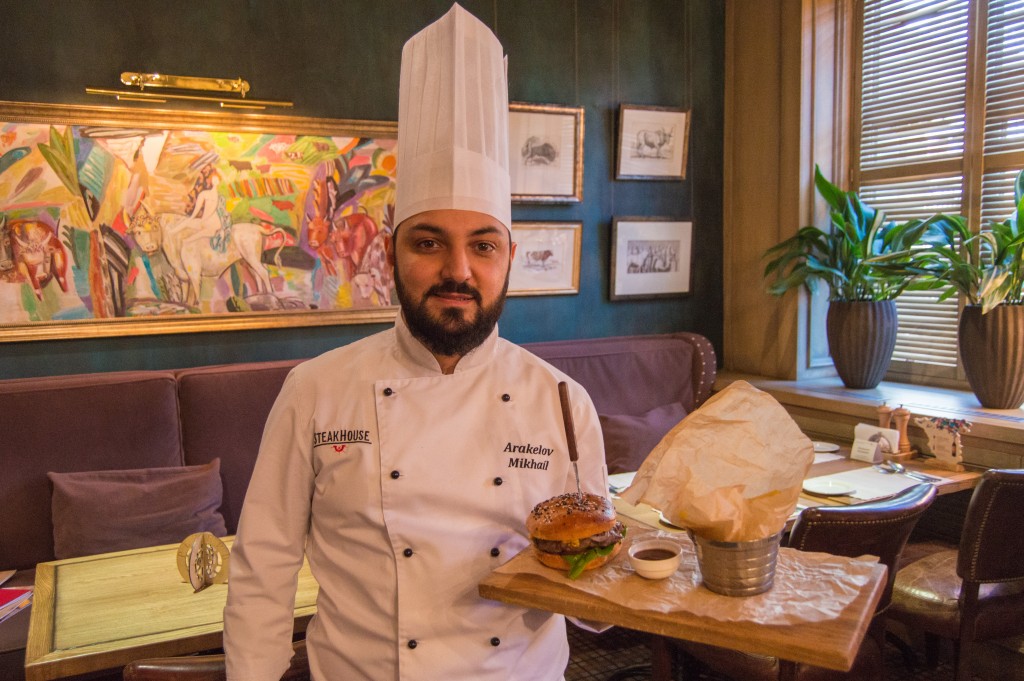 Having tried my fair share of hamburgers in USA I can honestly say Ekaterinburger is on the top of my personal list. The softest bun I have ever tried soaked in ranch and BBQ tastes like that heavenly last bit of white bread you use to scrape the bowl clean after a delicious meal. And the beef patty explodes with juices every time you take a bite.
In conclusion, thumbs up for Chef Mikhail Arakelov for this amazing Ural take on American Hamburger.
Address: 69/1, Lenin Street, Ekaterinburg, Russia
Hours: Sun – Thu: 12 pm – 12 am, Fri – Sat: 12 pm – 02 am
Pin for later: