With its diverse cuisine influenced by African, Native American, and European cultures, New Orleans is one of my top travel-recommendations for food lovers. If I could live there and eat gumbo and oysters till the rest of my days I would! Unfortunately, I had only a weekend in New Orleans. When it was over I couldn't leave without taking a few NOLA gifts to remind me of the wonderful culinary adventure I had in the city. Here are a few ideas of New Orleans  souvenirs for the foodie in you!
Best New Orleans Souvenirs for Foodies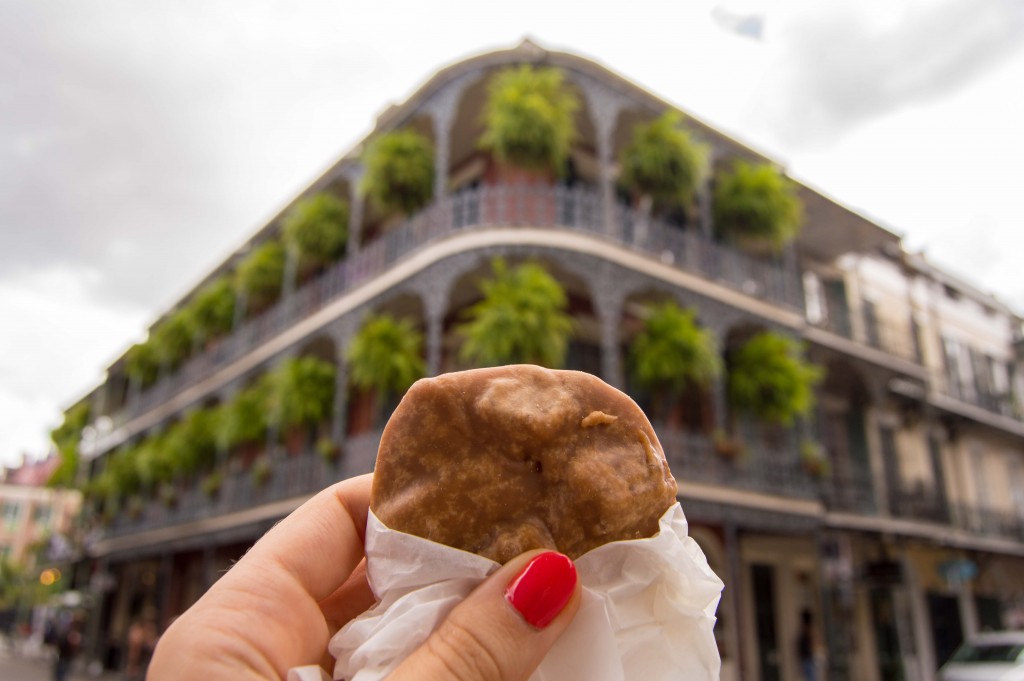 Freshly Made Pralines
First things first, you should know how to pronounce the name of this iconic New Orleans candy correctly. Not that people won't understand you if you ask for PRAY-leen, but it will instantly give away that you are not from NOLA.
The way locals say it is prah-LEEN with long aaaah sound. The reason behind this pronunciation is that the creamy confectionary was named after a French diplomat from the early 17th century whose name and title was César, duc de Choiseul, comte du Plessis-Praslin. While many regions in the USA anglicized the name turning it into pray-LEEN, New Orleans adopted the original French pronunciation.
There are many legends about the origins of pralines including a notorious one that suggests the diplomat was a ladies' man. His chef came up with an irresistible candy to present to women du Plessis-Praslin would court. The candies were packed in little parcels that bore his name on top and eventually people started calling the sweet after him. You can read more about the history of the candy here.
Pralines were traditionally made of butter, sugar, cream and almonds. When pralines made its way from France to the banks of Mississippi river, almonds that were scarce at the time were replaced with pecans and soon enough the creamy sugary sweets spread across New Orleans.
Where to get it: make sure to find a store specialized in pralines, there are plenty in French Quarter. Unlike souvenir shops that sell boxed pralines, specialized stores make them fresh every day. I loved pralines from Southern Candymakers.
Address: 334 Decatur St. and 1010 Decatur St.

Chicory Coffee from Café Du Monde
Dark roasted coffee infused with chicory from the world-renowned cafe. I've written more about Café Du Monde, its famous beignets, and chicory coffee in the previous post here. In short, the tradition of adding chicory to coffee was born after Louisiana joined Confederacy in 1861. Union, in its turn, blocked the Mississippi river making access to many products difficult. Coffee was hard to come by, so chicory (the root of endive plant) was roasted, ground and added to coffee in order to increase volume. Additionally, chicory adds flavor and body to coffee.
Café Du Monde also sells their branded mix for beignets (that's what they are most famous for). I personally prefer to make my pastries from scratch and never use pre-made mixes, that's why I chose a jar of coffee instead. Besides, I have never come across chicory coffee anywhere else but New Orleans.
Where to get it: Café Du Monde
Address: 800 Decatur St.

Tabasco Sauce
Produced 140 miles west of New Orleans, on Avery island, Louisiana, Tabasco is the most famous pepper sauce in the world. According to the website of McIlhenny Company, the producer of Tabasco,
"Original Red Sauce was created in the mid to late 1860s by Edmund McIlhenny. A food lover and avid gardener, McIlhenny was given seeds of Capsicum frutescens peppers that had come from Mexico or Central America. On Avery Island in South Louisiana, he sowed the seeds, nurtured the plants and delighted in the spicy flavor of the peppers they bore.

The diet of the Reconstruction South was bland and monotonous, especially by Louisiana standards. So Edmund McIlhenny decided to create a pepper sauce to give the food some spice and flavor — some excitement".
The original sauce contains only 3 ingredients: distilled vinegar, red pepper and salt. Even though you can buy Tabasco in 180 countries, getting a bottle at the place of its origin can be irresistible. But if you want to get something unique, try other products like Tabasco pepper jelly, Tabasco chocolate or Tabasco popcorn which are not easily found outside of Louisiana.
Where to get it: you can get sauces in any supermarket. For other Tabasco products check out The New Orleans Cajun Store in the French Quarter.
Address:  537 St. Ann St.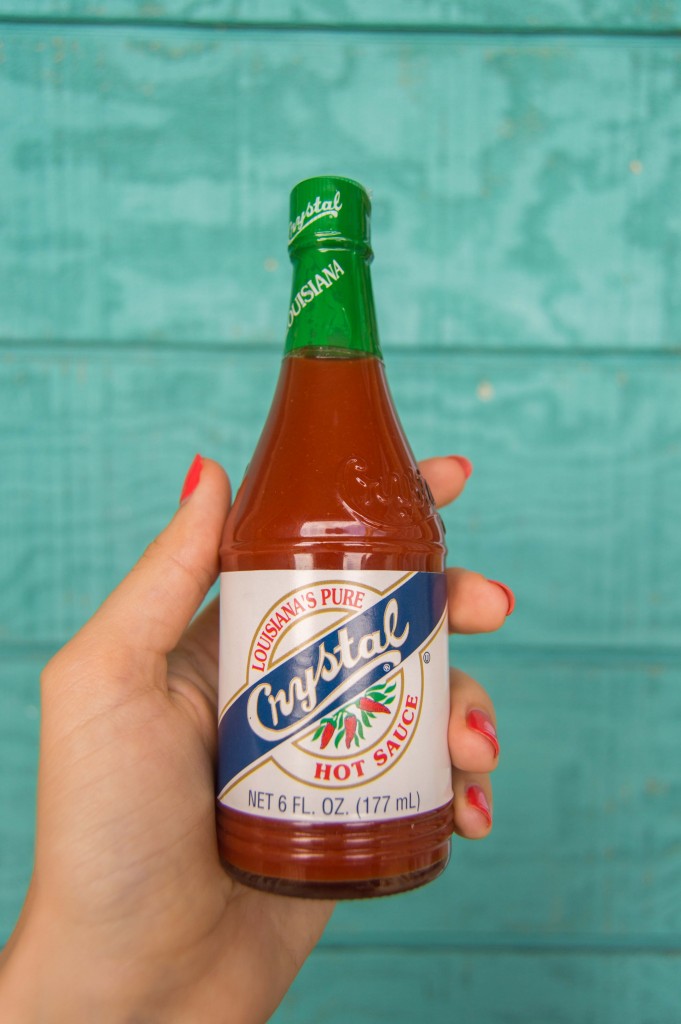 Crystal Hot Sauce
Although Tabasco is the most famous sauce in the world, I've been told that New Orleans natives actually prefer Crystal hot sauce (and stats confirm it: Crystal is the best-selling hot sauce in Louisiana). If you want to get something classic – get Tabasco, but if you want to get something truly local – get Crystal.
Crystal hot sauce is produced right in the heart of New Orleans. Like Tabasco, It features only three ingredients: aged red cayenne peppers, distilled white vinegar, and salt. But while vinegar is the primary ingredient in Tabasco, Crystal sauce has peppers on the top of ingredients list.
Where to get it: any supermarket and it's sold at ridiculous price of $1.09 per bottle.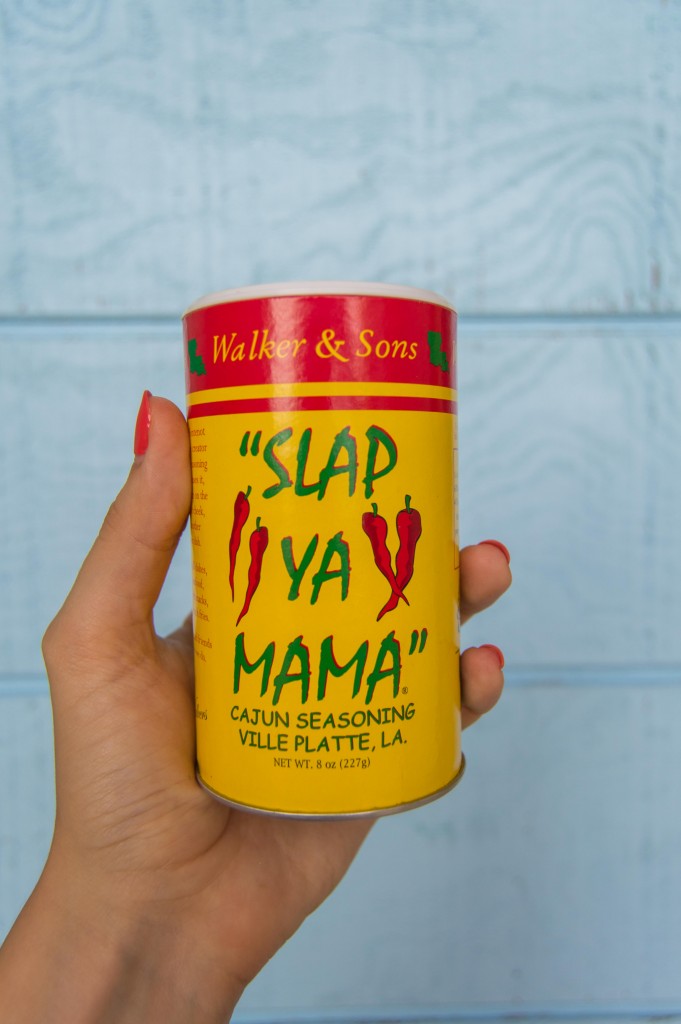 Slap Ya Mama Seasoning
As in case with Crystal hot sauce, this seasoning was recommended to me by locals as the best Cajun spice in New Orleans. It has only four simple ingredients: salt, black pepper, red pepper and garlic.
Slap Ya Mama was invented by Anthony Walker who, while running a family deli in Ville Platte, LA, realized the need of a seasoning with Cajun pepper taste. When he couldn't find a truly good seasoning on the market, Walker created his own one.
As for the name, this is how it is explained on company's website,
"To the folks who came into the deli asking to take home the Cajun seasoning, TW [Antony Walker, the creator] would often proclaim, "When you use this seasoning, the food tastes so good, you'll receive a loving slap on the back and a kiss on the cheek for creating such a great tasting Cajun dish."
To be honest, even after this explanation I can't understand what mama has to do with all of it. But once you hear the name you will never be able to forget it. So, I guess, the main goal of creating a catchy name is achieved.
Where to get it: supermarkets
Besh Big Easy: 101 Home-Cooked New Orleans Recipes
You can never go wrong with a book! It's a great souvenir that will remind you of the culinary adventures for years to come.
John Besh is a chef, restaurateur and TV-show host from Southern Louisiana dedicated to preserving and promoting ingredients, techniques and heritage of Louisiana cuisine. The best thing about Besh Big Easy is that it features simple recipes that can be prepared at home. As John Besh explains it himself, "There's no reason a good jambalaya needs two dozen ingredients." His recipe has less than ten, but the result is mind-blowing.
Where to get it: book shops or Amazon. I know the desire to buy the book while you are in New Orleans is huge, but the truth is, it's way cheaper on Amazon. So, maybe, it makes sense to come back home and order it online.
PRO tip
There are plenty of souvenir shops in New Orleans, especially in French Quarter, which are incredibly expensive. Crystal hot sauce, Slap Ya Mama seasoning, and other foods are not just New Orleans souvenirs, it's what people of Louisiana actually use in their kitchens. The best place to buy food gifts in New Orleans is a regular supermarket. It will save a lot of money. Think like a local, shop like a local! There's a grocery store called Rouse's Market in French Quarter at 701 Royal Street.
Have you been to the Big Easy? What New Orleans souvenirs did you bring home?
Pin for later: