Everybody is making 2016 round-ups of their travels, significant achievements, best of this and worst of that. What am I unique and original or something? I need a round-up too. My achievements this year are mostly edible and highly perishable due to the start of a food and travel blog.
Since the beginning of The Foodie Miles I became even more conscious about the food choices I make in my travels. I have always done a thorough research before every trip, but since it turned into a full-time job I became obsessed with planning. I read food magazines, check out local food blogs, look at reviews on Yelp and TripAdvisor. I rarely walk into a restaurant I have never heard of just because it's on the way. As a result, I can count mediocre meals I've had this year on the fingers of one hand.
This was by far my most adventurous and unique year of eating around the world. Here are the best meals and drinks I've had in 2016!
The Ultimate Coconut Cake in Charleston, SC
I started 2016 by spending New Year night in Myrtle Beach, South Carolina. Although 30 seconds into the year a fire alarm went off almost giving me a heart attack and later we had to pay $400 in fines to the hotel where we were celebrating, it was one of the best nights mainly because I was surrounded by my best friends. One can even argue that fire alarm and fines are direct evidence of an amazing New Year party.
Myrtle Beach is not exactly the foodie capital of the world, but if you know locals you might find real gems in this touristy town. Charleston, SC, on the other hand, is where you want to be if you love good food. We drove there for one and a half hours to try the ultimate coconut cake among other things. I am not saying "the ultimate" because it's my personal opinion, but because it's a registered trade mark. There's only one place in the whole wide world that serves The Ultimate Coconut Cake, and it's Peninsula Grill restaurant in Charleston. Although the name might seem pretentious, the cake did live up to its fame! The softest, creamiest coconut cake I've tried. It has 12 layers total, and one slice weighs almost a pound!
Where to find it: Peninsula Grill
Address: Planters Inn, 112 N Market St, Charleston, SC
Ice Cocktail in Ice Hotel, Quebec City
In January I had a road trip to Canada. So much fun freezing my behind at -29C while ice skating, sledding and running from one attraction to another as fast as one can wearing 5 layers of clothes. Like that wasn't enough I thought: why not go to a hotel made of ice and have an ice drink served in an ice glass?
To be completely honest, I didn't expect much from this drink. After all, I was in one of the most touristic places in Quebec with thousands of visitors per day. Happy to say, that I was wrong. I loved the sweet and crisp taste of the cocktail made of apple cider and maple reduction. I do believe that the experience itself made the drink taste wonderful. It's not every day that you find yourself in winter wonderland getting tipsy.
Where to find it: Hotel De Glace
Address: Sainte-Catherine-de-la-Jacques-Cartier, Quebec, Canada
Guinea Fowl and Mushroom Gnocchi in Quebec City
Now to serious dining in Quebec City! When the trip was confirmed, the first thing I did was watch Anthony Bourdain's "Parts Unknown" in Quebec and write down the names of all the places he went to. Yes, I am that kind of person! As one could expect, booking in advance is a must. I scored one reservation at a small unpretentious restaurant called L'Affaire Est Ketchup.
The restaurant is so modest, it doesn't even have a proper kitchen. The magic of cooking takes place right behind the bar counter where you can see a regular 4-burner stove. My best description of this place would be "fancy food in casual setting" because the dishes look and taste top-notch! Guinea fowl I ordered for main was stuffed with trout and goat cheese. Let it sink in: a bird is stuffed with fish! Following Anthony Bourdain was a good idea!
Where to find it: L'Affaire Est Ketchup
Address: 46 Rue Saint-Joseph Est, Ville de Québec, QC, Canada
Traditional Turkish Breakfast in Istanbul
This was my second time visiting Istanbul and, once again, it was a 24-hour layover. But if you have a friend who is willing to take a flight from Izmir to Istanbul only to spend that one day with you, even 24 hours can become a wonderful adventure. My friend Berna took me to a small café serving traditional breakfast of a little Turkish town called Van. Fresh bread, eggs, several types of cheese, three varieties of olives, tomato paste, jams – you can't see the table once all the plates are set in front of you! And one of my favorite Turkish customs – bottomless tea. Once you finish a cup, a new one appears in front of you magically.
Where to find it: Van Kahvalti Evi
Address: Kılıçali paşa mah, Defretdar yokuşu 52/A, Istanbul, Turkey
Neapolitan Pizza Margherita in Boston, MA
The month of April was spent in Boston where I was introduced to authentic pizza Margherita. Since I have never been to Italy, I can't rely on my own judgment, so I asked my Italian friends what their favorite pizza place is. All of them recommended Mast' Restaurant and Drinkery. That's how I met Marco, a proud Napoletano, pizza lover and co-owner of Mast'. Marco and his pizzaiolo Fabio showed me the process of making pizza from scratch which, as unbelievable as it sounds, takes 1 minute and 17 seconds! The best pizza I have tried anywhere so far! Man, how I want to visit Italy! Universe, can you hear me?
Where to find it: Mast' Restaurant and Drinkery
Address: 45 Province St, Boston, MA
Sri Lankan Rice and Curry by Yashasvi
This is the only meal on the list that you won't be able to find unless you befriend my dear Yashasvi and ask her to cook it for you. This girl is one of the most passionate foodies and one of the best cooks I have met. Her Sri Lankan food is especially dear to my heart because Yash can find the perfect balance of spices that will highlight every ingredient in a curry instead of overpowering it and making it plain spicy. Her kalupol wattaka made me fall in love with pumpkin that I usually can't stand. Her chicken curry made me realize that curry can be delicious without being fatty. A meal this good had to make it to this list even if I can't share the address with you.
BBQ in Austin
And then I moved to Austin, Texas! Never in my life have I consumed so many tacos and so much BBQ! I still didn't make it to Franklin's – shame on me! But I did try a lot of local BBQ joints, and throughout the year Freedmen's was my go-to place whenever a hardcore carnivore woke up inside of me but I didn't want to wait in line for hours. I brought my brother, my parents-in-law and my best friends visiting Austin here. The holy trinity (brisket, ribs and sausage) plus two or three sides like cabbage slaw, potato salad and beans (served in jars of all things!), and I am the happiest person in the world!
Where to find it: Freedmen's Bar
Address: 2402 San Gabriel St, Austin, TX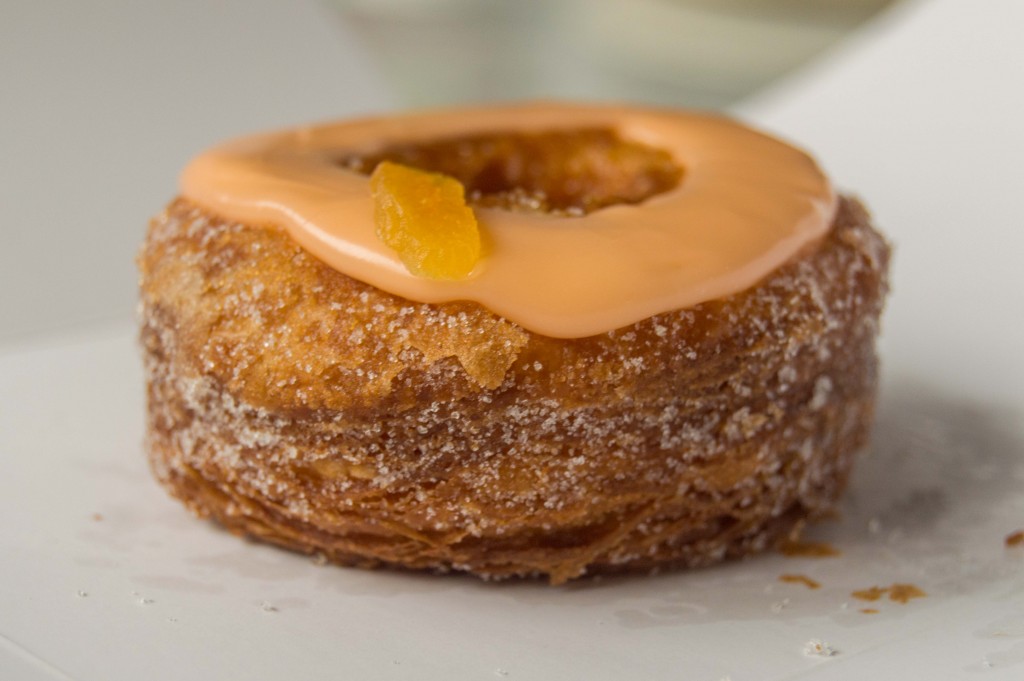 Dominique Ansel's Cronut in New York, NY
Cronut is not just a piece of delicious pastry, it's an iconic treat that every self-respecting foodie must try in New York. Given all the hype – the 2-hour waiting time, the fact that Hugh Jackman himself stood in line on more than one occasion and that some people reportedly looked through trash bags in search of leftovers – I had high expectations. I woke up at 6 AM and waited outside in the rain, but the experience wasn't as terrifying as I imagined. I only stayed in line for 45 minutes and was rewarded with a fresh apricot and toasted almond cronut. It's not exactly as simple as a cross between doughnut and croissant like some say, but rather a sophisticated mix of textures and flavors. The bakery only features one flavor per month, so I am definitely coming back to try others.
Where to find it: Dominique Ansel Bakery
Address: 189 Spring St, New York, NY
Fried Shrimp Po'boy in New Orleans, LA
I tried my first po'boy in Houston, and that was a costly mistake! I almost discarded this sandwich as not worthy of time, money or precious space in my stomach. Note to self: always try regional foods in the places of their origin! When I finally made it to New Orleans I was very hopeful that this city will change my opinion about po'boys. The problem, though, is that NOLA has way too many amazing dishes – gumbo, muffuletta, red beans and rice, jamabalaya, oysters – it took me four days of eating to realize I still didn't try the famous sandwich.
I grabbed two po'boys in a 24-hour deli just before hitting the road home. It was a risky endeavor: 5 in the morning, a tiny deli and minutes before leaving the city with no chance to go back and try other options. But we didn't have to! That fried shrimp po'boy was perfection. Eating a po'boy while driving and watching sunrise is the last memory I have of New Orleans.
Where to find it: Verti Marte
Address: 1201 Royal St, New Orleans, LA
Southern-style lunch in Savannah, GA
Another meal that required a long wait beforehand, but by now you probably realized that a line is not something that's going to scare me away. Quite the opposite! Maybe it's the Soviet mentality. If you see a line you first get into the line and then ask what we are waiting for.
I've heard so many good things about Mrs. Wilkes Dining Room in Savannah that I didn't bother to read any reviews online. As a result, I had no idea that at Mrs. Wilkes you don't order a la carte. We were seated at a table-for-ten with complete strangers and dozens of plates with food set in front of us. Fried chicken, corn bread, collard greens were all amazing, but what made this meal unforgettable is the fact that we enjoyed it alongside with people from all around the world, passing plates around the table and chatting.
Where to find it: Mrs. Wilkes Dining Room
Address: 107 W Jones St, Savannah, GA
Let 2017 bring delicious food that won't break the bank or make my waistline disappear! I am already thinking of my foodie bucket list for the next year that includes a Michelin star restaurant (shall I forget about not breaking the bank?), Franklin's BBQ (after almost a year in Austin!) and Neapolitan pizza but this time in Napoli!
PS. Featured image is of the Ethiopean meal I had in Washington D.C. Injera bread with meat and veggie curries which were incredible, but I had to select only 10 best dishes.
What were some of your most memorable meals in 2016?